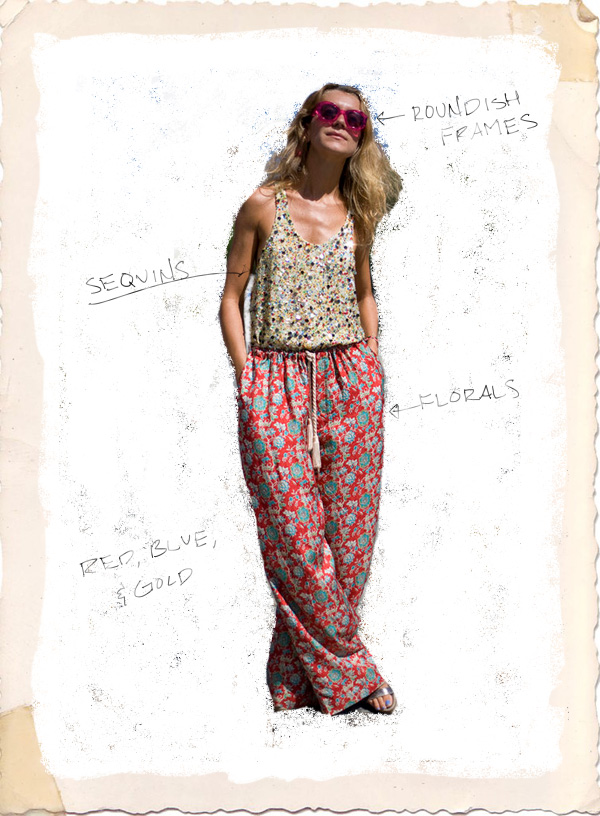 This week I'm pleased to have Kara Haupt, of I Just Might Explode, with me for a new Outfit to Scrapbook feature. She selected this sophisticated, bohemian outfit from Street Peeper as inspiration, and we both set out to translate the look into scrapbook/art journal pages. Check out our floral, glittery creations below, and if you join in on the fun, be sure to send the link to your blog post/gallery in the comments section!
Kara drew from the Summery feeling of the Street Peeper ensemble with a bright yellow translucent background and cheerful imagery from magazine clippings and photographs. The florals and sequins are a very literal translation of the outfit, and add an extra pop of playfulness to her art journal page.
To capture the shimmery, summery look of the outfit in my own project, I painted a grid of circles with Mod Podge and doused them with glitter for a shimmery background. I added strips of floral paper to tie in with the patterned trousers and selected wood letters to accentuate the casual, natural beauty of the blonde sporting the Street Peeper look. Lastly, I added a couple of rows of sequins to the scrapbook page to tie in with the sequins in the outfit.