Brigitte Bardot Inspired Hair Tutorial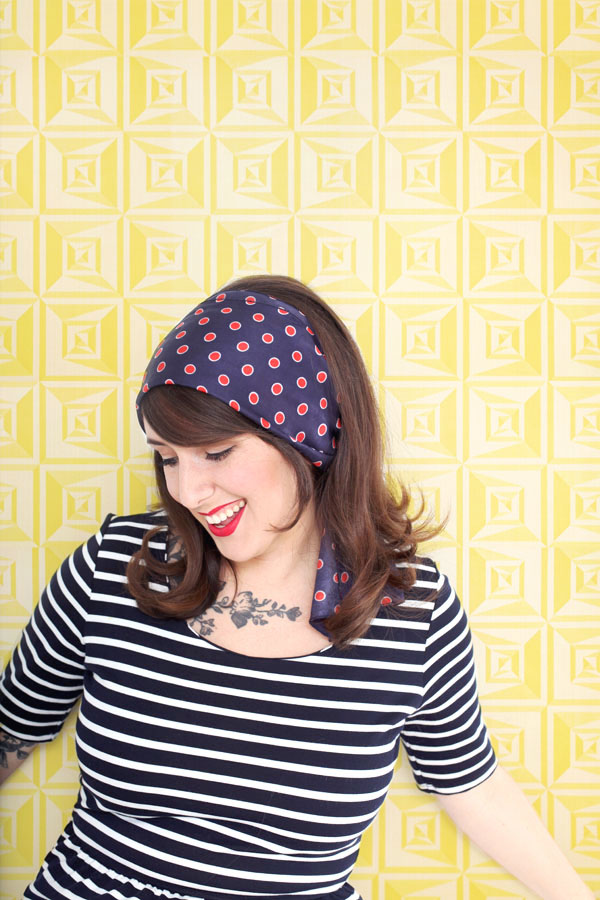 Brigitte Bardot is probably the babeliest babe that has ever existed. This isn't really debatable, though I've presented my arguments once before. And while I don't feel the need to have sexiness ooze out of my every pore as she goes, I do think her va-va-voom hair is amazingly fabulous and wish I could snap my fingers to make my own brown locks like her famous big, soft, sexy sixties' style. I can't do it with a snap of my fingers, but! I can recreate my own version of Brigitte Bardot's hairstyle with some hairspray, rollers, and a headscarf. No extensions or weave necessary!
I'm so glad my hair is finally long enough to do recreate Brigitte Bardot's hairstyle with medium-length hair, but I'd like to try this look with extensions too. But that's for another day! For now, click through to check out the full hair tutorial where I transform my boring tresses that you see below.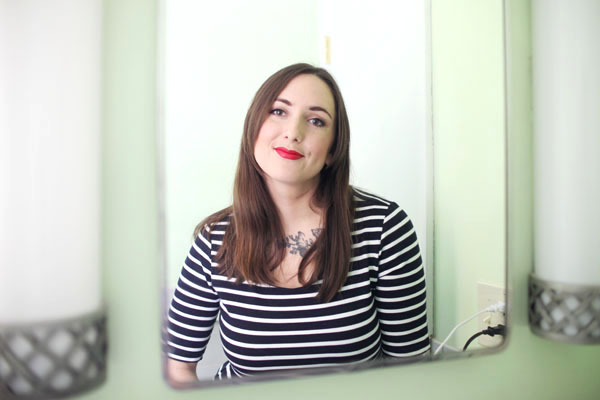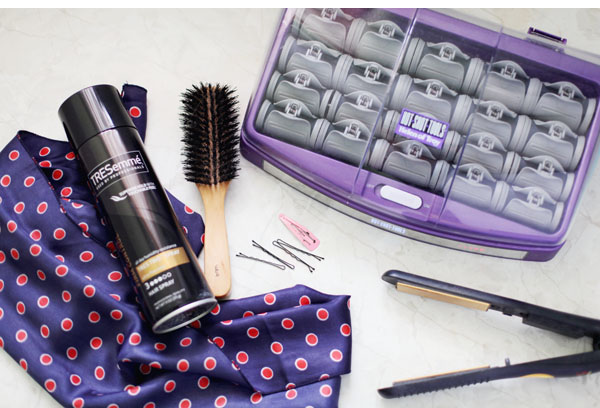 For this hairstyle, you'll need an aerosol hairspray, a bristle brush for optimum teasing (but a fine-tooth comb will do), a flat iron, a nice set of rollers, a head scarf, and a couple of bobby pins as well as a snap clip or two. I couldn't find my roller set available anywhere online, but it's a nice set of medium to smaller sized flocked rollers with heated clips. Any medium-size rollers will do, but I recommend a set with hot clips, like this set. For hairspray, I've experimented with several less expensive brands, and enjoy TRESemme and L'Oreal's quick drying spray the most.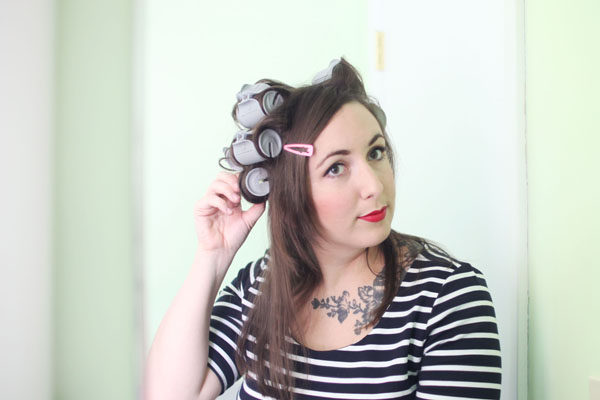 First, part your hair on the side and put it all up in rollers as shown above, having the each segment of hair roll downward. A good technique is to brush each segment of hair upwards before spraying with an aerosol hairspray and then rolling with the hot curler. If you have different sizes of curlers, use the bigger curlers on top, and smaller ones on the bottom. If you have bangs or are growing out bangs, like I am, leave them out of the rollers.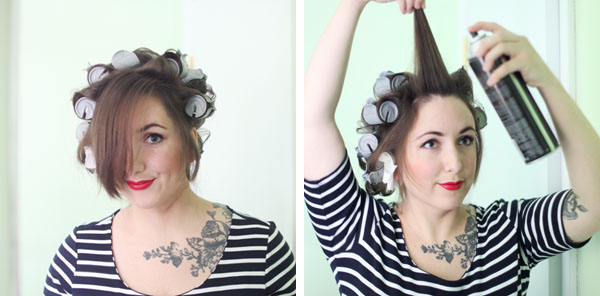 While your hair is setting in the hot rollers, work on beefing up the front bangs section of your hair. If you don't have bangs, you'll do this part after you have taken out the cooled rollers. Pull your bangs upward and spray generously with a (preferably quick drying) aerosol hairspray. I use a bristle brush to do my teasing, because I find it's really efficient in teasing a large amount of hair in less time than a fine-tooth comb. So, hold your hair upwards, and brush downwards towards the roots. Go ahead, be aggressive. It'll look pretty crazy, but you can smooth it out so that it looks like my hair below to the right.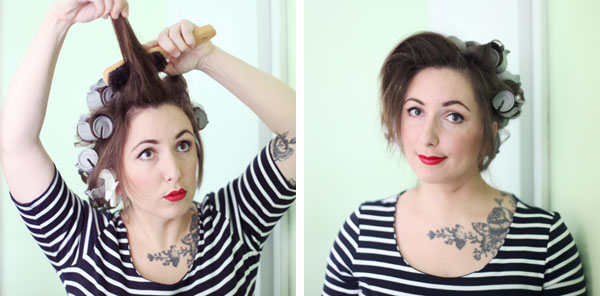 After you've smoothed out the tease, work at shaping the bangs with a flat iron so that it has a nice wave and can easily be pulled off to one side of your head, like mine in the below right image. It might take a bit of trial and error, but be sure not to overheat your hair or it will lose its ability to hold curl until its next washing.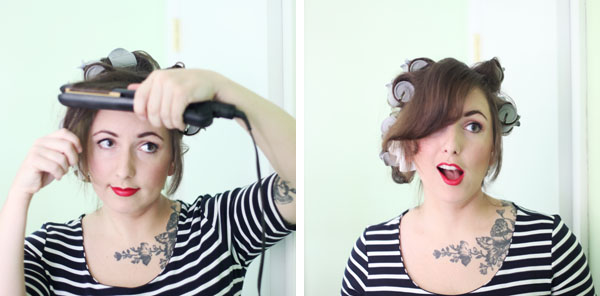 You'll want to let the rollers cool completely before removing them, so during this time, you can tie the headscarf around the rollers and carry on with any other duties (manicures excluded) that your little heart desires, like making a cup of tea, catching up on your e-mails, or even running to the grocery store! (Hey- I've done it, and I'm pretty sure if you put on red lipstick, you can get away with wearing scarf-covered rollers to the store! A completely vintage ensemble will give you bonus crazy lady points.)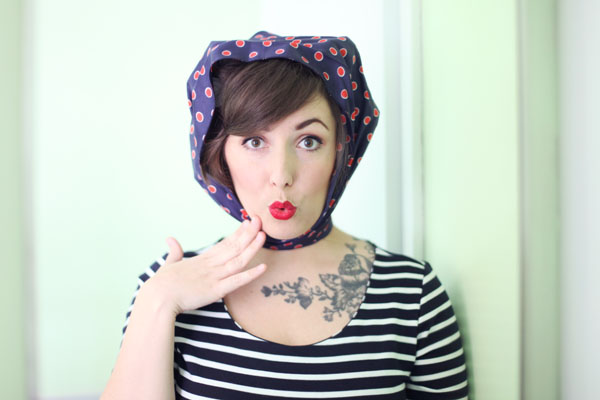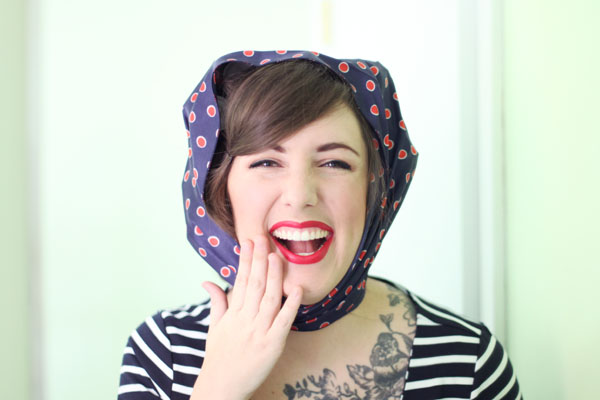 When you take out the rollers, you should have nice, soft curls like the photo below right, but actually that's not what we're going for. So, brush 'em out, why don't ya?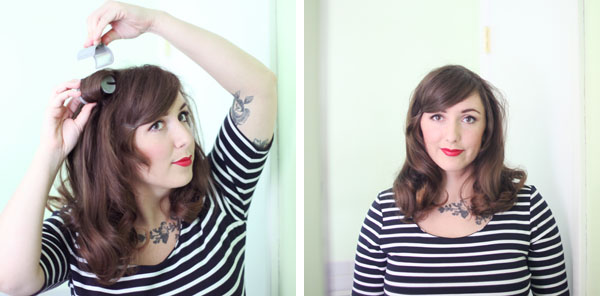 Pin your bangs off to the side, and start teasin' the crap out of the rest of your hair. I start at the top, pull up a not-too-thick section of hair, spray it generously with hairspray, and go to town with my bristle brush. I start in the middle of the section of hair and brush downwards to the roots, on all sides of that section of hair. Then, I flop it up and to the side to get it out of the way, and get to work on the next section of hair below it. I do this all the way around my head until I look like a raging lunatic. This is when you might want to avoid spontaneous trips to the grocery store.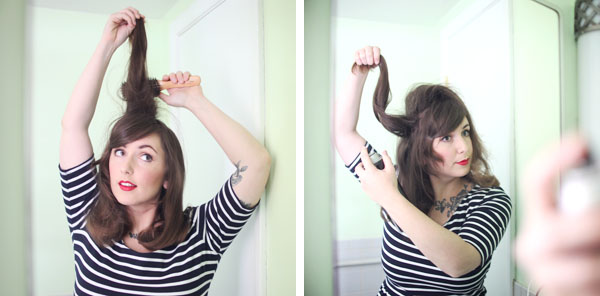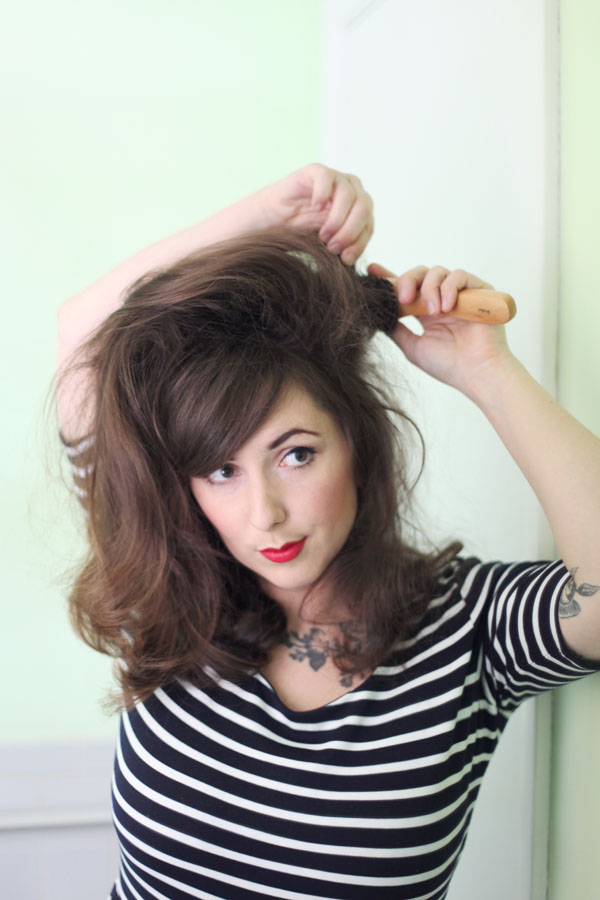 (But like I said- red lipstick = anything goes! Almost.)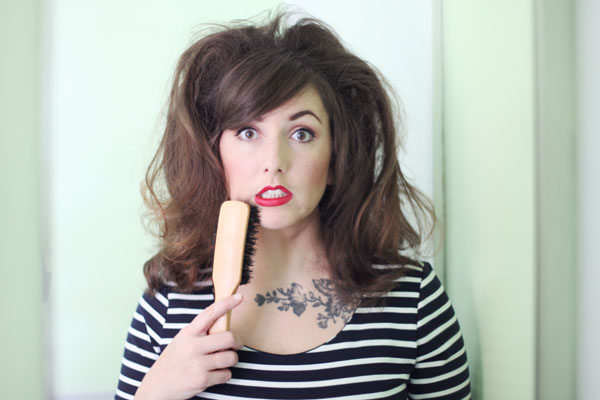 Alright, so you have the maniac look down pat. Now what? Well, don't worry, now you can gently brush down the hair so that it looks more under control, like the image below left. Don't brush out your tease, you just want to smooth out the craziness a bit. The top part of your head will probably be flatter than the rest of your suddenly voluminous locks, so you'll want to go over that area again with a generous teasing, focusing more intensely on the hair that is right up against your scalp and right along the part. This is where a fine-toothed comb is actually better than the bristle brush, but I'm usually too lazy to switch out tools at this point. So, bristle brush it is!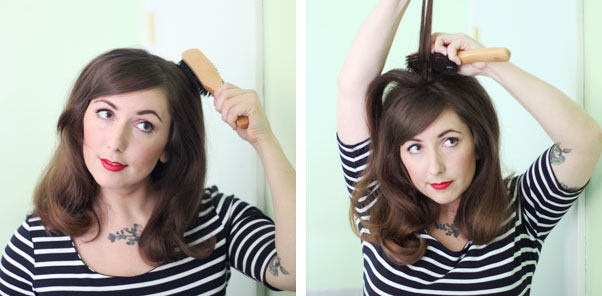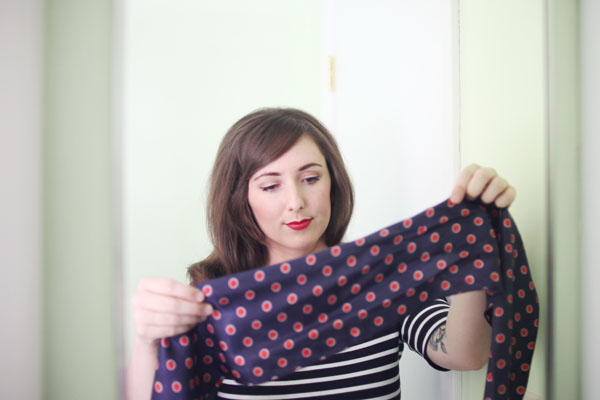 Now you'll want to make sure your bangs are a wee bit fluffy, combed to the side, and pinned in place. Fold your headscarf so that you have about a 6-8″ wide section that will rest on the top of your head. It's really up to you and your headscarf! Tie it not-too-tightly at the nape of your neck, off to one side (I chose the side that my bangs swoop towards), and then secure it in place with one or two of those snappy clip things. Now you won't have to worry about the silky headscarf shifting around. Wonderful!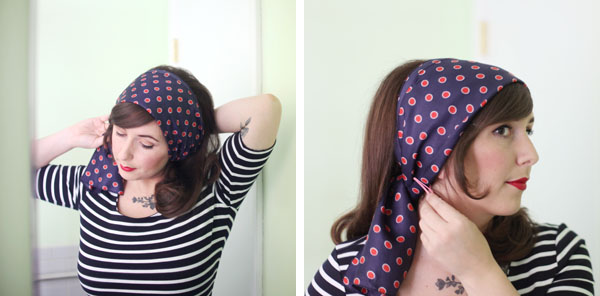 I left the ends of my bangs hanging out of the scarf and curled them just so with my flat iron. I like that little bit of curl, but you can tuck your ends away if you don't like hair tickling your nose every time you lean forward, or, if your hair's just too long (jealous!) to let it hang out. Finish with any touch-up teasing necessary and set the look with a light coat of hairspray.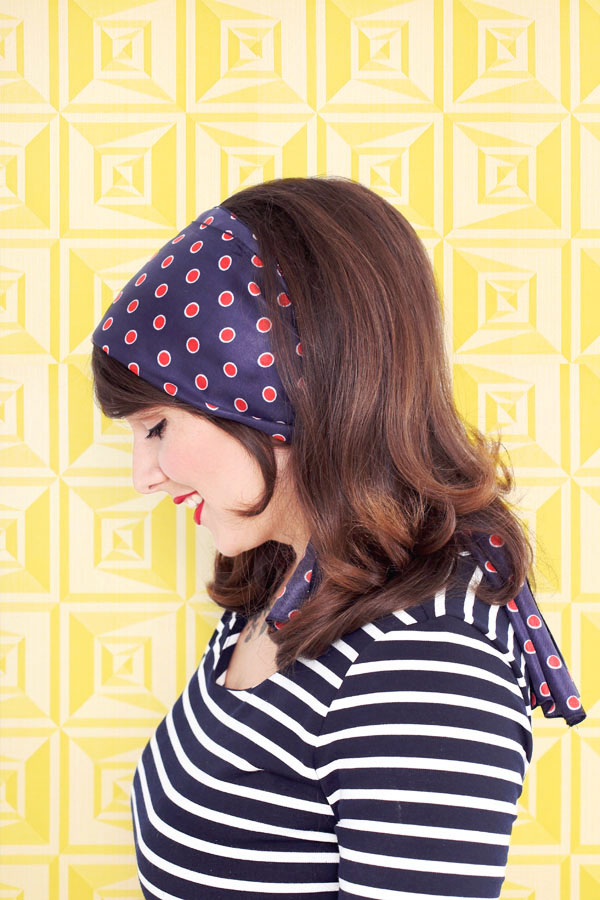 Brigitte would rock a nude lip with over-the-top eye makeup, but I stuck to my signature red lip color and a subtle cateye. This quintessential sixties' look really sends off good vibes, and not to worry- If you're concerned about looking too dated, this headscarf style is actually a great vintage look to try out without feeling like you're in costume. So fresh and so fun!