DIY | Structured Pouf/Ottoman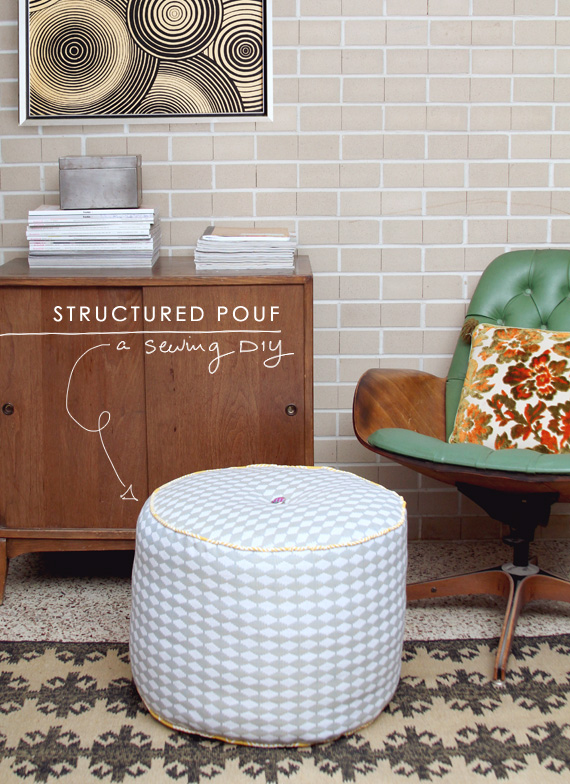 Sadly, it seems that lately I've had less and less time for DIY action 'round these parts, thanks to baby prep. I have a feeling it will just get worse once the little girl is here. (Obvious statement of the year!) While most of my projects lately revolve around the nursery (this one not excluded), I hope you can still be inspired to create projects using similar techniques! This pouf-style ottoman is certainly a project anyone with minimal sewing skills can whip up, whether you'd like to prop up your feet in a nursery or living room. Don't be intimidated as I was! It took me a month with these supplies to actually get going.
I began this project with an idea of an end product in mind, but with no clear directions for how to go about it. What I wanted was a structured pouf, not those DIYs you see where they stuff batting inside. No, I wanted to be able to sit on this puppy and not have the whole thing collapse under my weight. Also, I wanted something with a nice cylindrical shape to it- not just a blob of a foot rest. So, I set about to create something like that, and while it's not perfect- it'll do the job just fine! Check out my process below.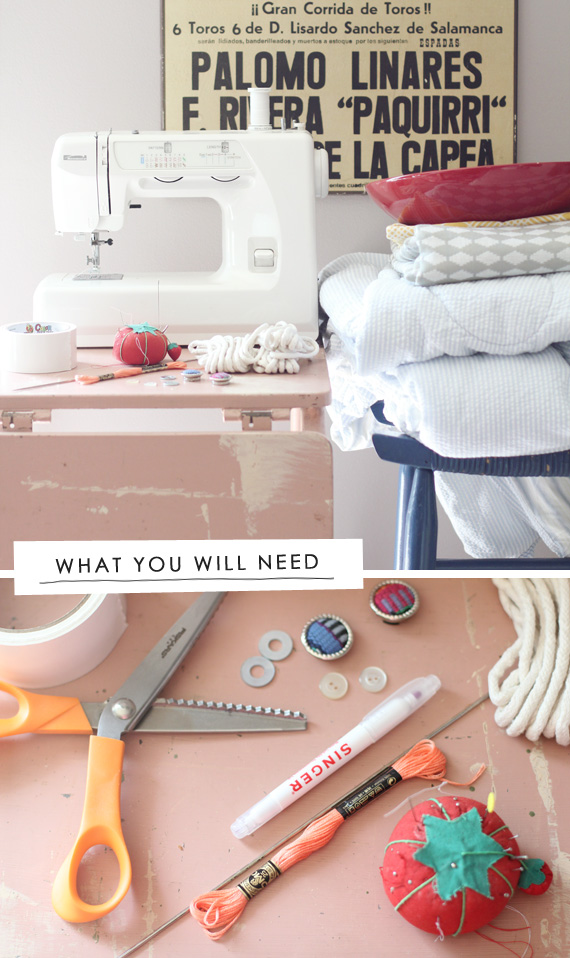 3 twin/full size comforters (Yes- that many! I used old ripped up ones I had laying around. Also easily found and cleaned from the thrift store)
Approximately 2 yards of woven fabric (depending on how large your end product is)
A round object to use as a stencil (You will need something the size of your wrapped comforters) (I used an end table, shown is a large serving bowl, or you could use a pencil/thread compas like this)
Scrap fabric and cording for piping
Embroidery floss and sewing thread
Sewing, darning, and large upholstery needle
2 metal washers and two decorative buttons
Straight pins
Fabric marker
Fabric sheers
Duct tape
Sewing Machine
Tape Measure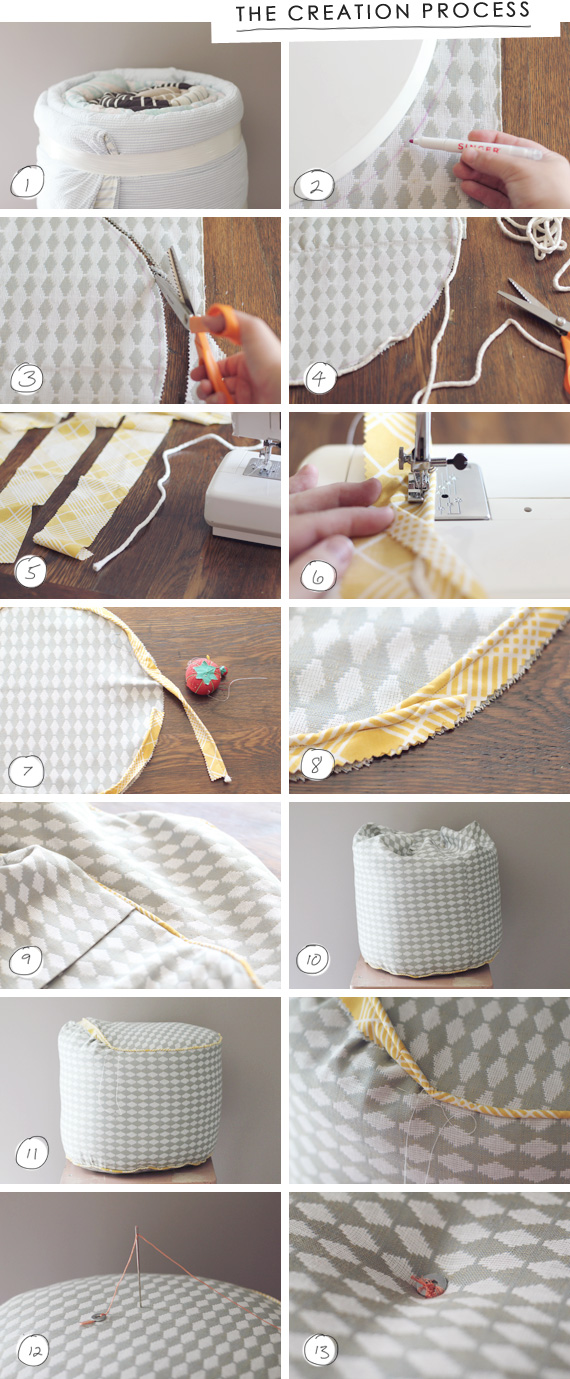 STEP ONE: Take three like-sized comforters, and fold them into quarters, and roll one very tightly together, duct taping it secure, then wrap the next one, and the next one in the same fashion. Make sure you use enough duct tape to secure it, but not too much to detract from the softness of the comforters' batting.
STEP TWO/THREE: Find a like-sized object to the diameter of your rolled comforters. Mine happened to be a round end table. You can also use a pencil/thread compass like described here. Trace over two layers of your fabric, and cut out the circle with fabric sheers.
STEP FOUR: Determine how much cording you will need for piping by stringing the cording around the perimeter of the circle you just cut. Trim out a little extra, just to be safe!
STEP FIVE: Cut out long strips of your scrap fabric to cover the cording for your piping. I ended up using smaller scraps, so I had to join them together before the next step.
STEP SIX: Using a zipper foot (cording foot) on your sewing machine, wrap the scrap fabric around the cording and stitch it closed to make your piping.
STEP SEVEN: Pin the piping to the perimeter of each circle, and closely around the piping's edge. It is helpful to do this in a contrasting color thread, so that you can easily see where to stitch for step nine.
STEP EIGHT:  To finish the edges of your piping, just cross them over slightly and sew along the edge, as shown in the photo.
STEP NINE: Measure the height of your wrapped comforters, and the perimeter of your circles. This is the size of fabric you will need to cut out for the sides of the ottoman- plus one inch for seam allowance. Stitch together the sides of this fabric, creating a cylindrical shape which will be stuffed with the comforters once one of the circles have been attached to the bottom.
STEP TEN: After you have sewn together one circle to the bottom of the cylindrical sides you just made, fill the shape with the wrapped comforters. At this point, I decided to add batting to the top and bottom of the fabric sleeve, but this is not shown in the photos.
STEP ELEVEN: Now you can add the top circle. This part is tricky, because you have to stitch it by hand. A bit rough on the fingers and your patience! You will use a slip stitch here, slipping the needle under the piping and then through the fabric which makes up the side of the ottoman.
STEP TWELVE: Thread your large upholster needle with embroidery floss, and wrap one end of the floss around a washer. Push your needle from one side of the pouf to the other, and once you have it through, switch your needle to a darning needle, press down on the top of the ottoman, and wrap the thread around the other washer, creating a tufted effect. I went through the pouf a couple of times with the large upholstery needle to make sure the washers were secure. This is a little tricky with just two hands- because you have to hold down the pouf and secure the washer at the same time.
STEP THIRTEEN: This image shows the secured washer on one side. But since washer's aren't cute, I covered mine with a button cover. If I did not have a button cover, I would just sew a regular button on top of it. Decorate it however you wish!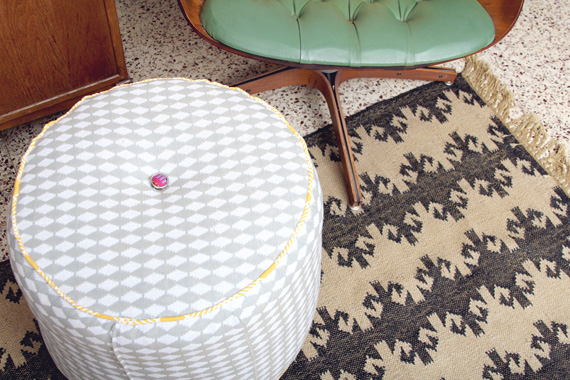 I'm sorry the directions aren't more precise, but this is a project that can be done in any size, and I honestly didn't know what size it would end up when I started! Sometimes I fly by the seat of my pants like that. If you have any questions, please ask them in the comments section and I will answer them to the best of my ability.