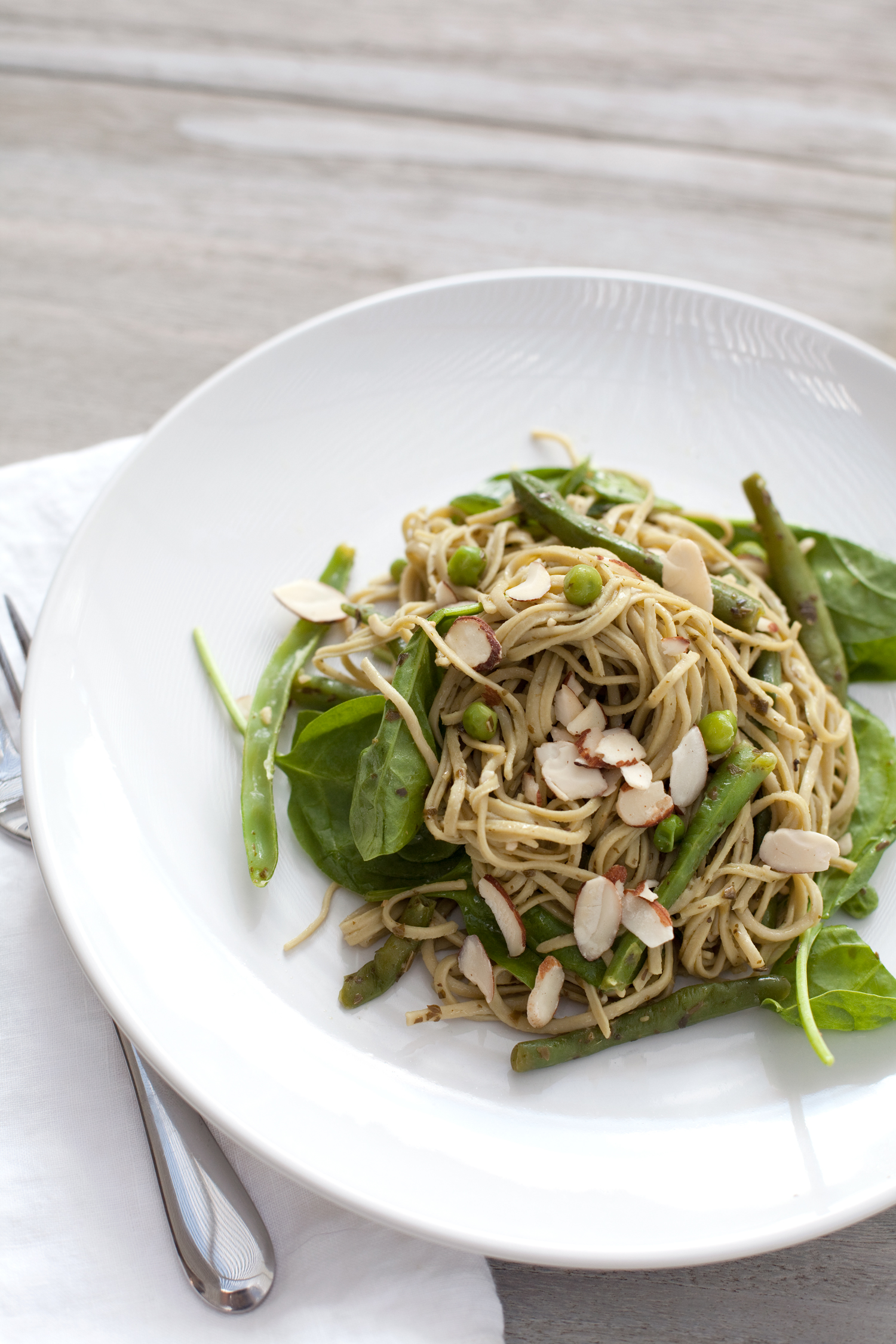 Are you trying to fit in more vegetables, less meat, more protein, less carbs? It's a lot to think about! But this vegetarian pesto pasta dish has it all, thanks to the edamame spaghetti I used, rather than traditional wheat-based pasta. It's also a one-pot meal, so there's very little cleanup involved with food prep or cooking. It's serious the answer to all of my problems! (Or at least the problems that arise during dinnertime!)
I've struggled with eating healthy during the past year of home renovations. There's so much mental and physical work involved, not to mention time, that it often feels like very little motivation and attention is leftover for planning and making nutritious meals. But lately I've committed to doing better with our family dinners, and not resorting to pizza, or french toast, or whatever sounds good after a long day of work.
I've been trying to figure out a few core meals that everyone in our family, even the little kids, can enjoy, without feeling like, "It's okay for a healthy meal." You know what I mean? This protein-packed pasta dish was devoured by everyone without complaints, and I didn't mention one word about it being health. I'd say it's definitely a keeper! So much so that I had to bring it to my blog to share with you all.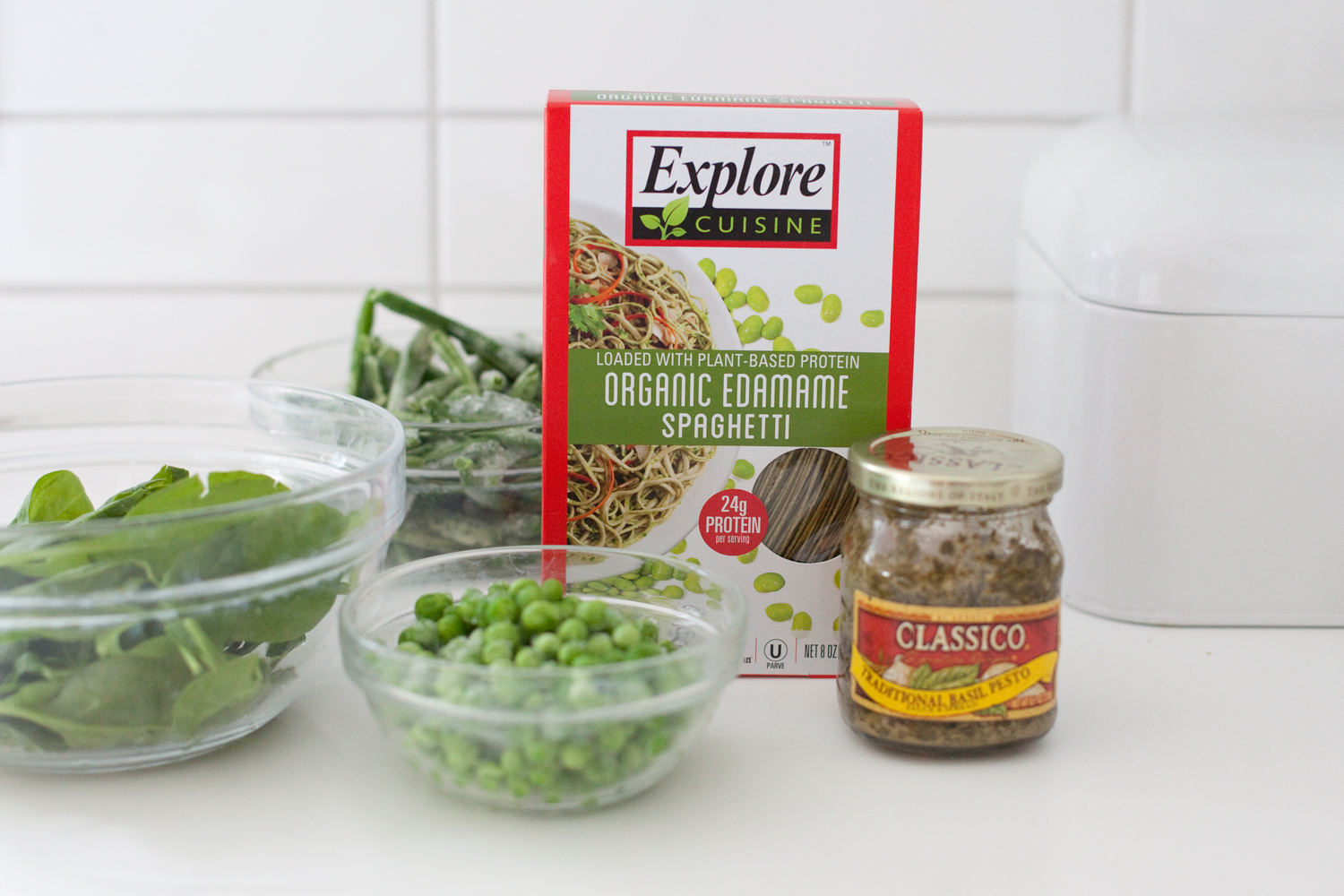 I used frozen peas and green beans as well as canned pesto, just for convenience. I always have those items on hand so I can throw together a meal without a lot of leg work or planning. Of course you can use fresh vegetables and homemade pesto if that's your jam!
INGREDIENTS
1 8oz box of edamame pasta
1/2 8oz jar of traditional basil pesto
1 bag of frozen green beans
1 cup of frozen peas
2 handfuls of fresh spinach
tablespoon of chopped or slivered nuts (optional garnish)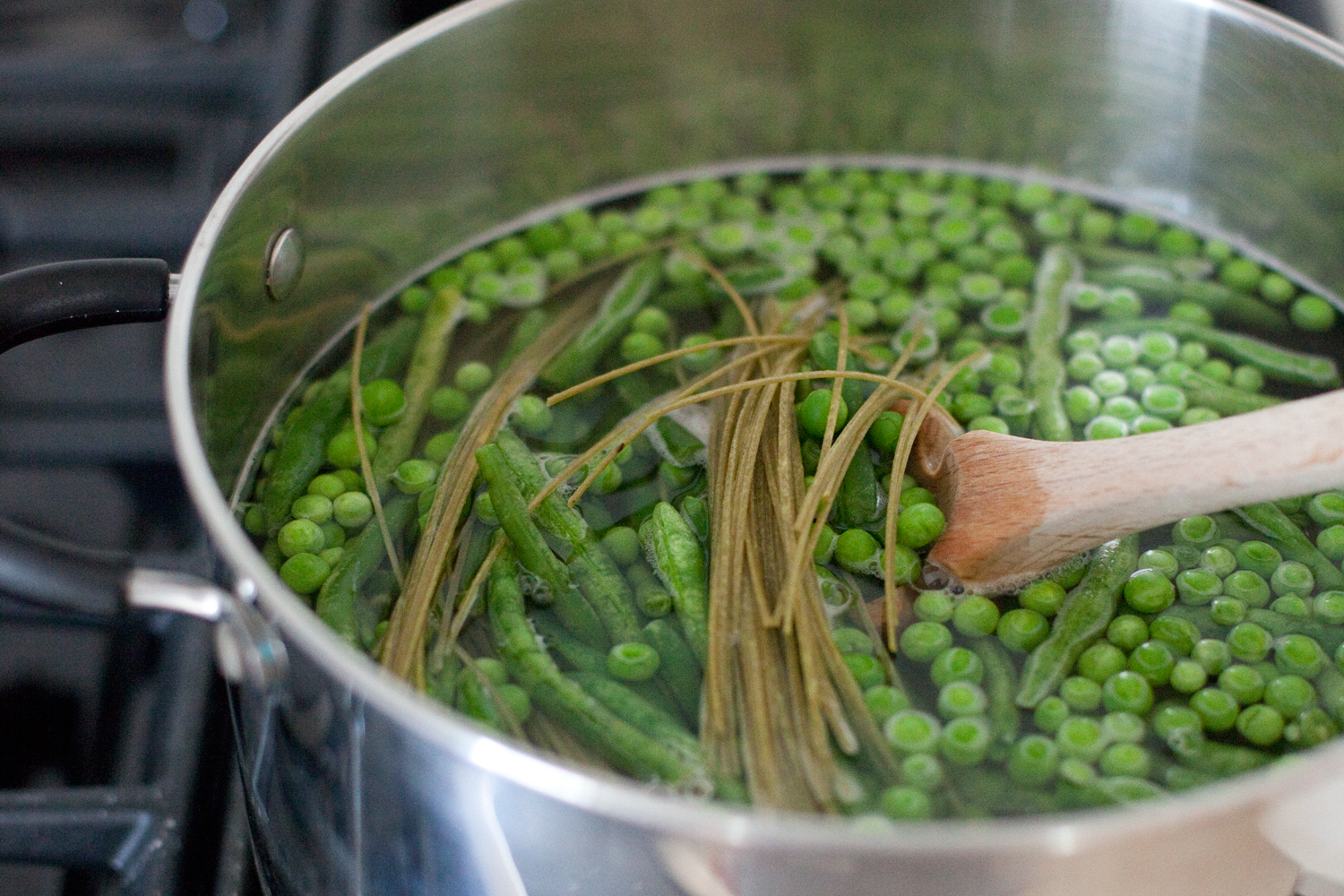 This is gonna be so easy, I promise! All you need to do to make this dish is get a big pot of water boiling, and dump in 1 cup of frozen peas, 1 bag of frozen green beans, and the entire 8oz box of edamame pasta. Bring back to a boil, reduce to a simmer, and allow to cook for 8 minutes.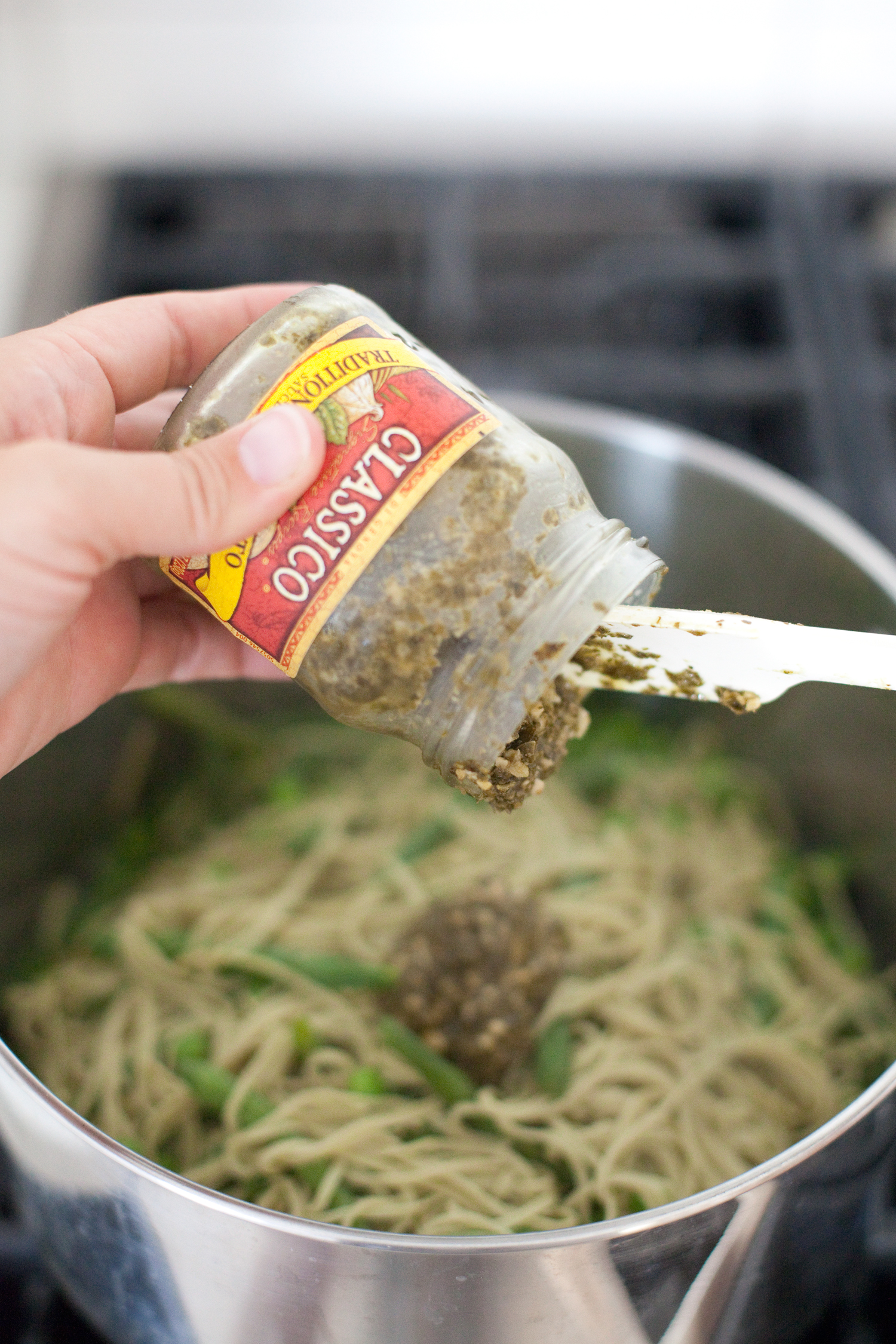 After the pasta and vegetables are cooked, drain the pot and gently mix in half of the jar of pesto.
As you serve the pasta, mix in some fresh spinach until barely wilted, and top with the chopped nut of your choice. I chose sliced almonds because it's what I had on hand, but pine nuts would have been amazing!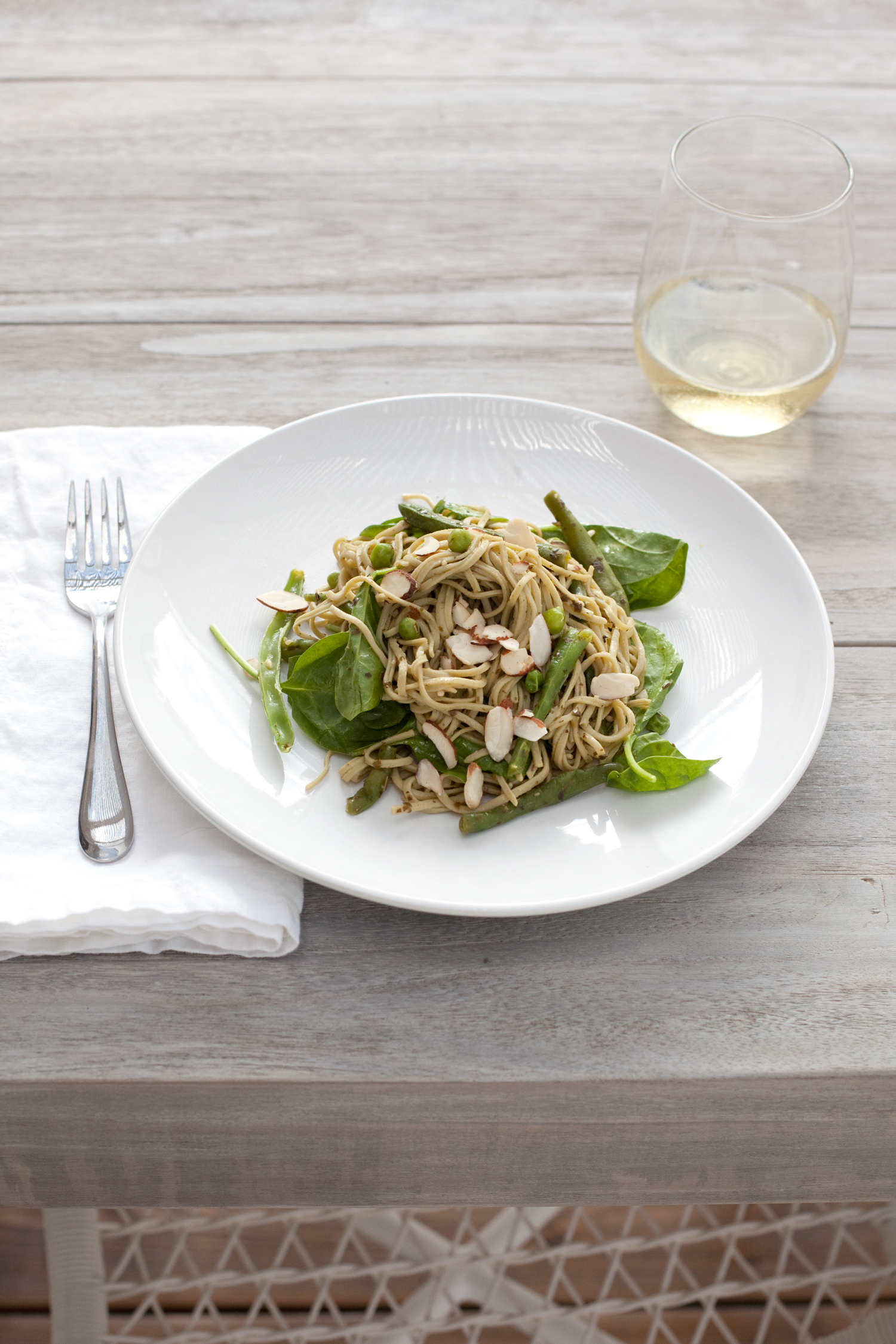 Such a delicious and satisfying meal! Sometimes I also serve it with sliced sausage for extra heartiness and protein. Just enjoyed a reheated bowl of leftovers for my post-workout meal today and it really hit the spot! Let me know if you give it a try. :)