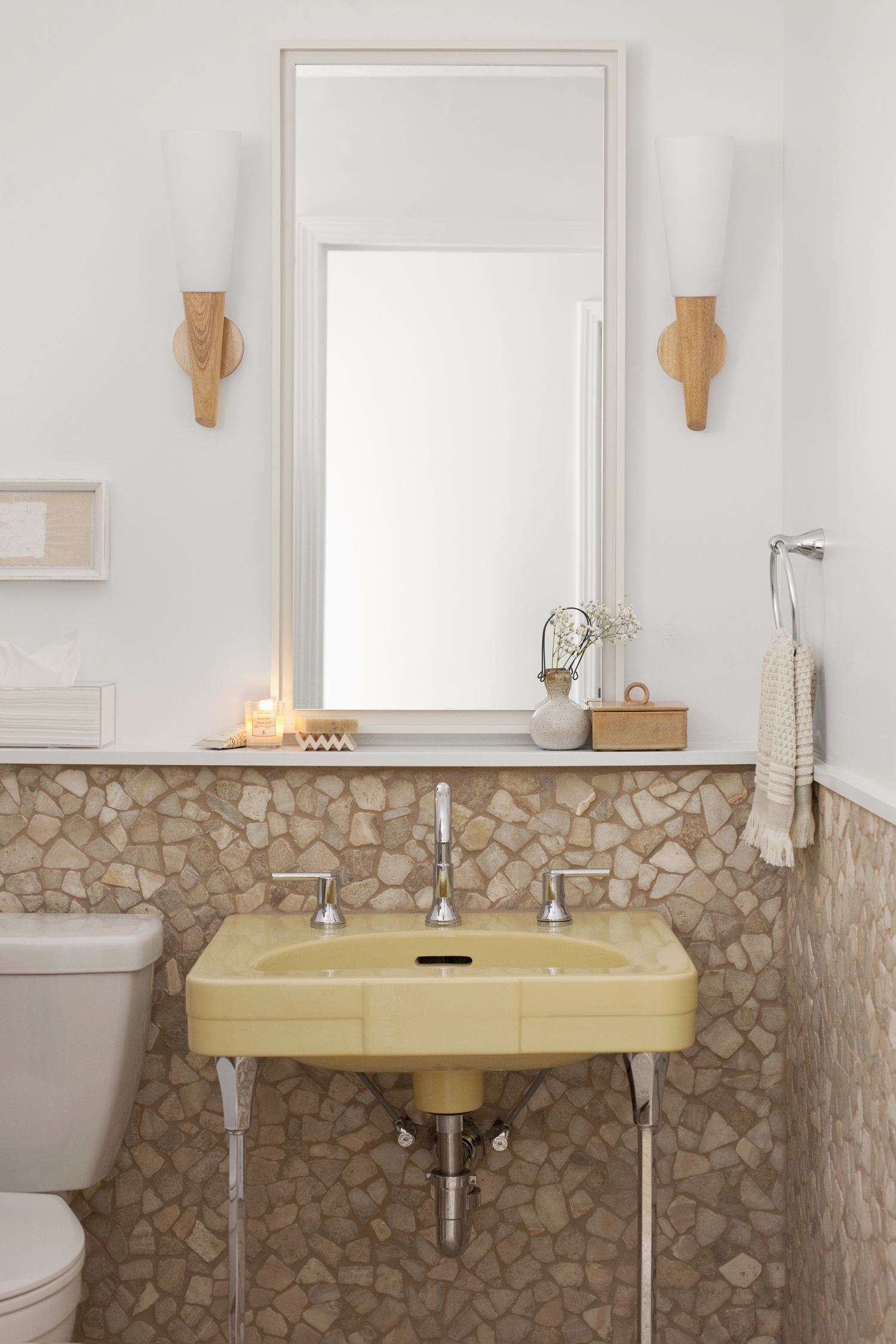 I'm so excited to share the final images of our powder room makeover with you! I had a lot of fun planning this space, a mild amount of fun tiling this space (okay, so not really that much fun— though I did listen to a lot of podcasts!), and even more fun reveling in the "after!" Check out the "before" of this space below.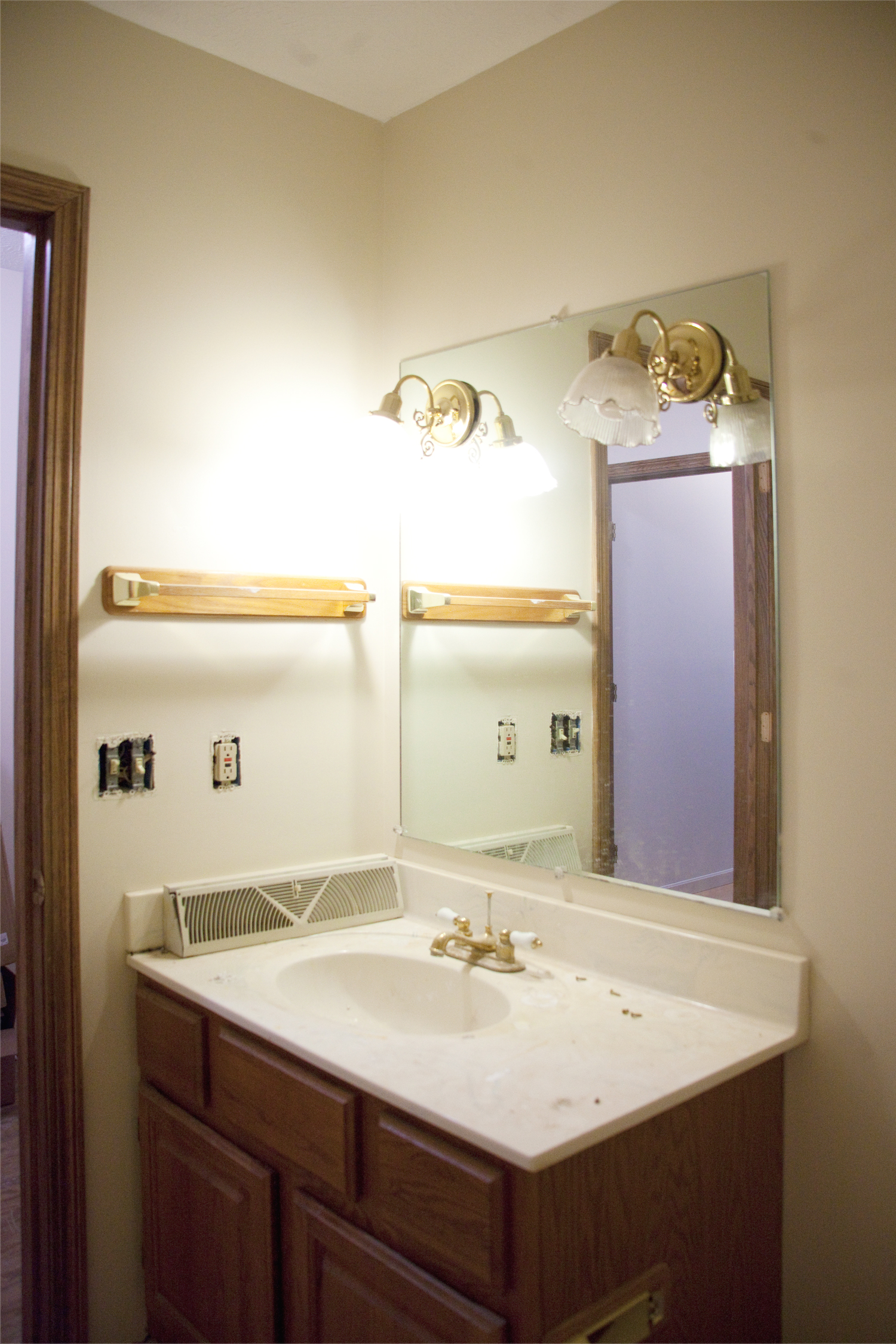 I know the design of this space is not for everyone, and that's okay! Because most of you won't be actually using this space on the daily. :) We're really happy with how it turned out, and I feel like it's exactly that I was going for. A little mid century desert design in a tucked away corner of our home. I brought in elements from elsewhere, like the fieldstone fireplace, yellow accents I always love, and mostly neutrals. with handmade and textural finishes.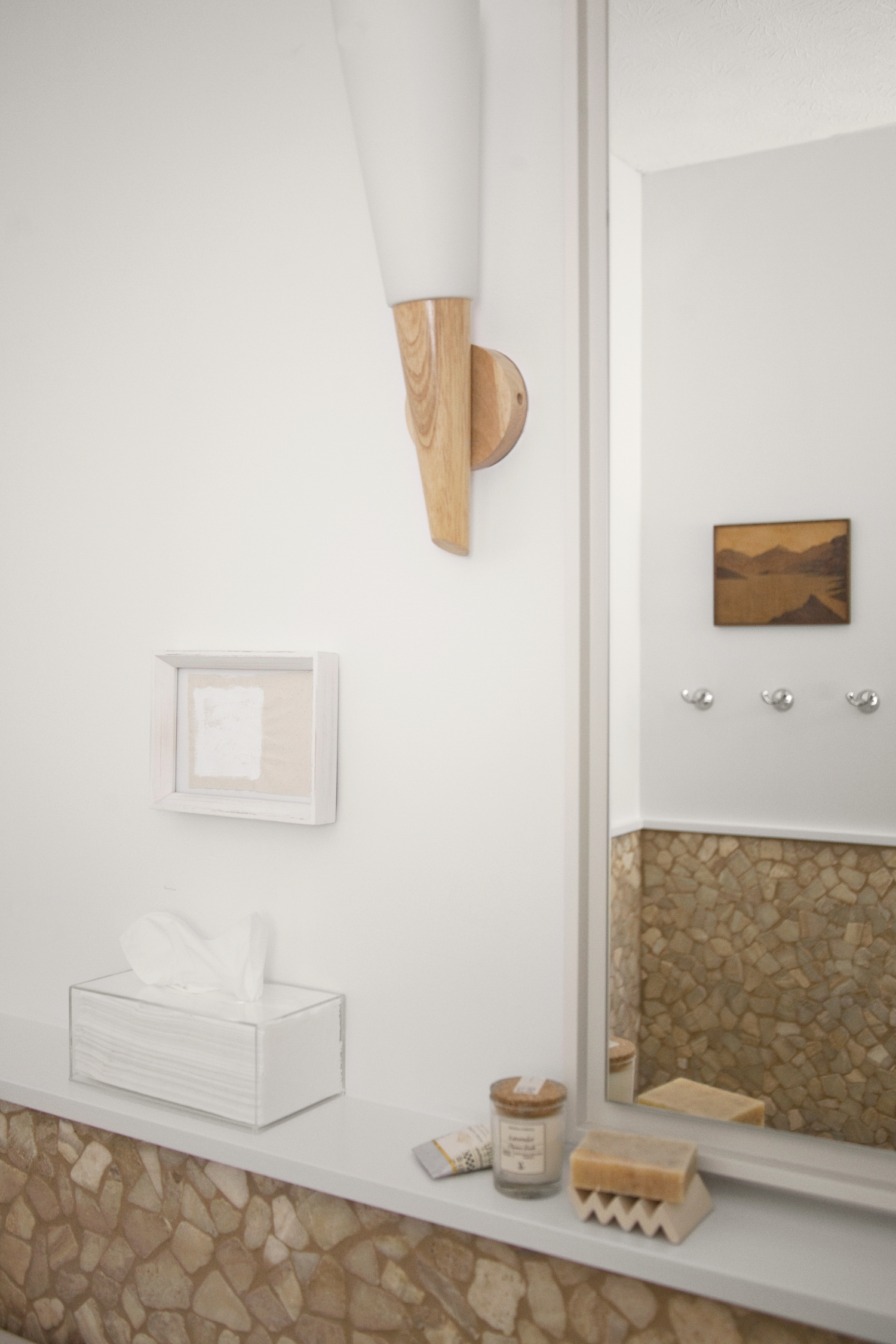 Since we did away with a cabinet-style vanity, I added a ledge to this wall to store necessary items, such as tissues, soap, candles, and a little box for feminine products that my guests may need. Since this bathroom is across the hall from our laundry room, and major storage isn't necessary. (Oh, and I added a chrome TP stacking unit in the corner near the toilet.)
This project was sponsored by Delta Faucets for A Beautiful Mess, so we were provided with some of the material needed, including this sleek chrome faucet that I selected for its simplicity and air of graceful and modern design. Plus— I'm all about that chrome! We also worked with J&J Plumbing to move our existing plumbing to new spots, and to hook everything up. If you're in need of reliable and knowledgable plumbers in the Northeast Ohio region, be sure to give them a call!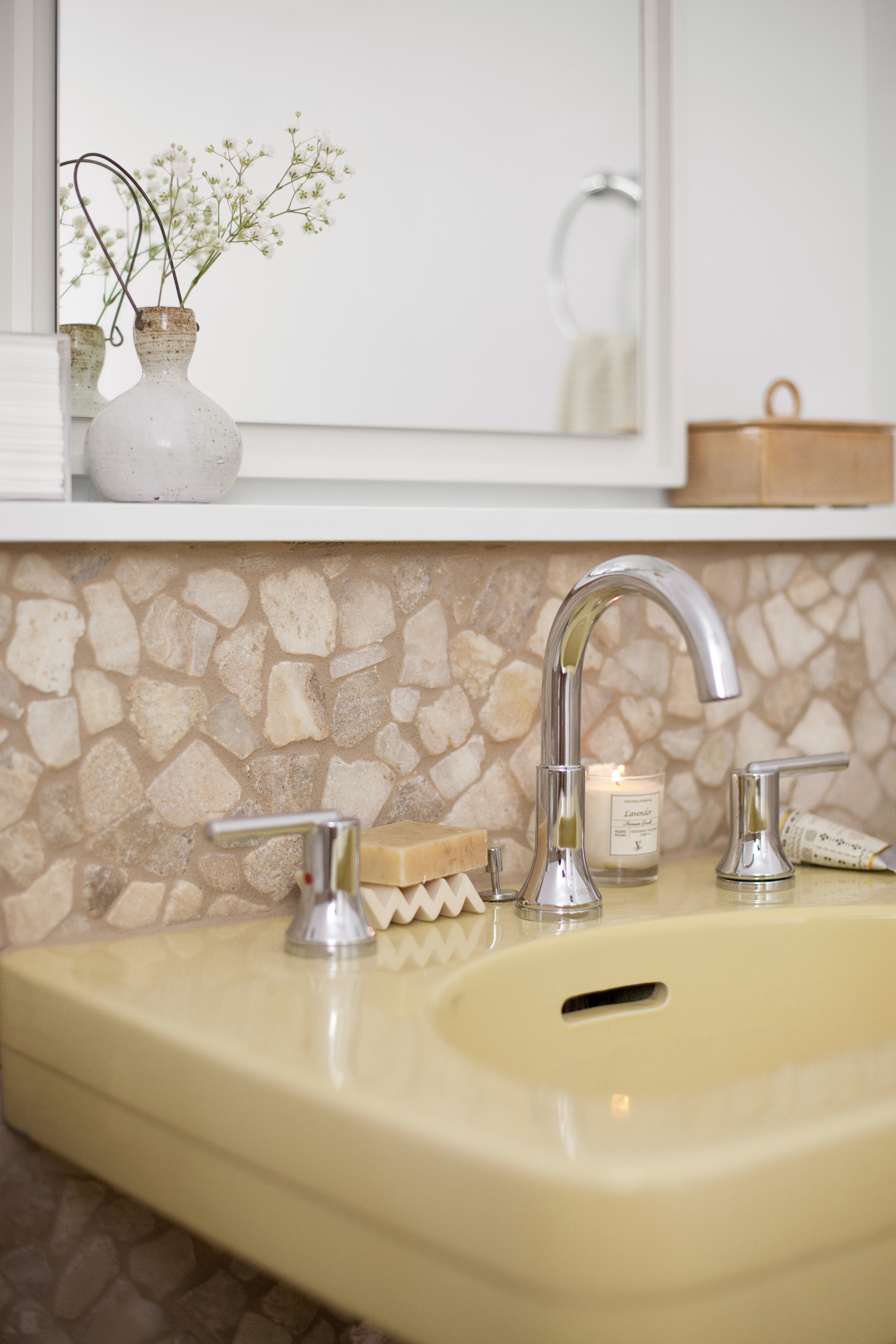 If you would like to check out the planning posts for my powder room makeover, check them out here and here. The full reveal, details of building, and info on working with a plumber is here at A Beautiful Mess. There are links to everything I used here at the bottom of this post too!
As most rooms in my home, I'm sure this one is bound to evolve over time, but for now it feels almost perfect. There are some things I'd like to add, like a rug that's better for here (this one will be moving out to our garage entry), a wall-mount magazine caddy, and moving the sink and light situation to the right about three inches. I'll be sure to share with you if I make any major changed in here!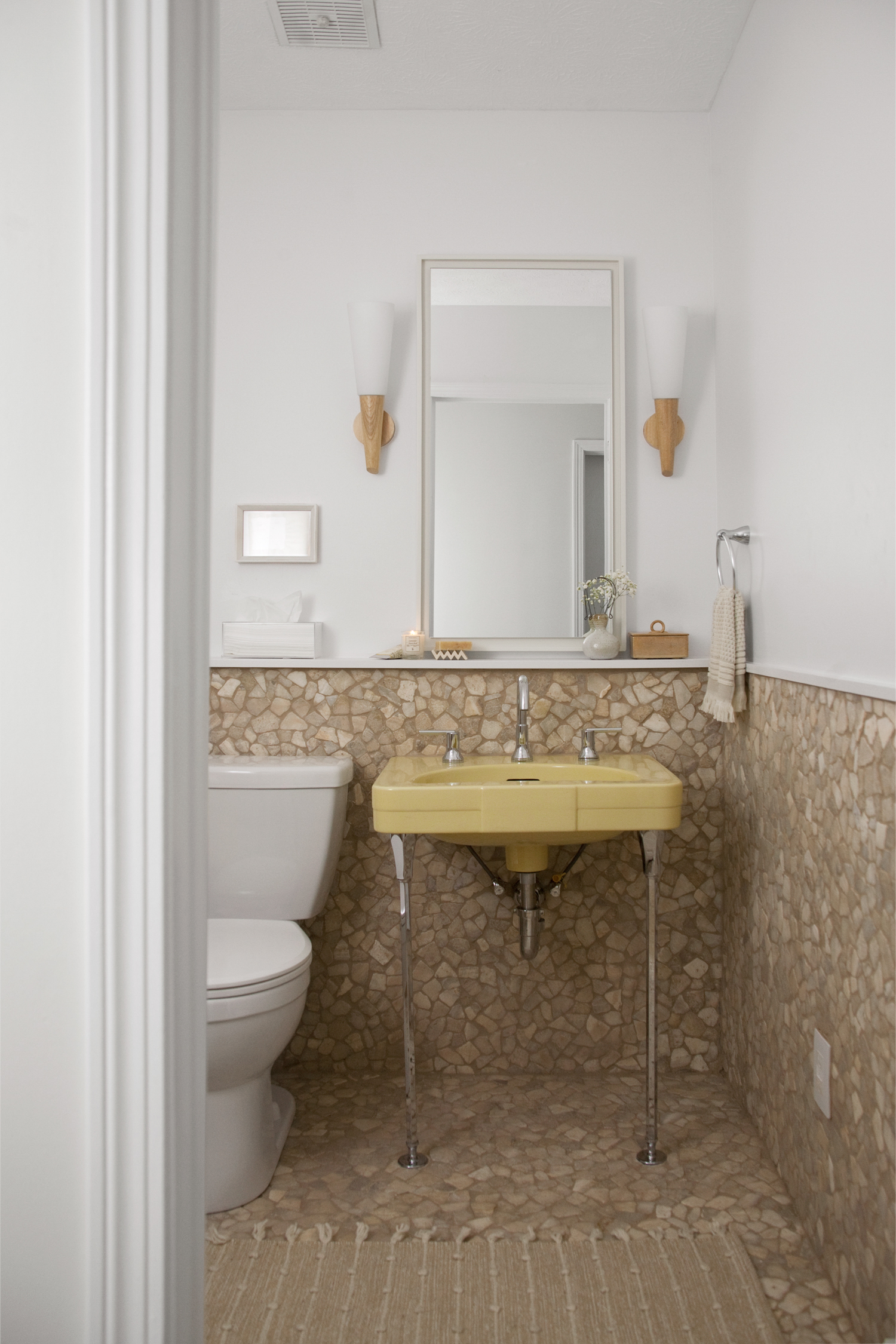 Thanks as always for following along with me! It's a lot of fun for me to invite you all into my home and share projects with you. In case you're curious— next up is the entryway! I'm super excited for the changes that will be happening in there. Spoiler alert: I'm have my tiling work cut out for me!
Materials:
faucet: Delta
toilet: Delta
tile: Home Depot
grout: Haystack from Home Depot
towel ring: Delta
toilet paper holder: Delta
wall hooks: Delta
mirror: West Elm
sconces: Etsy
tissue box: Amazon
soap holder: Etsy
ceramic box: Etsy
sink: vintage via Craigslist