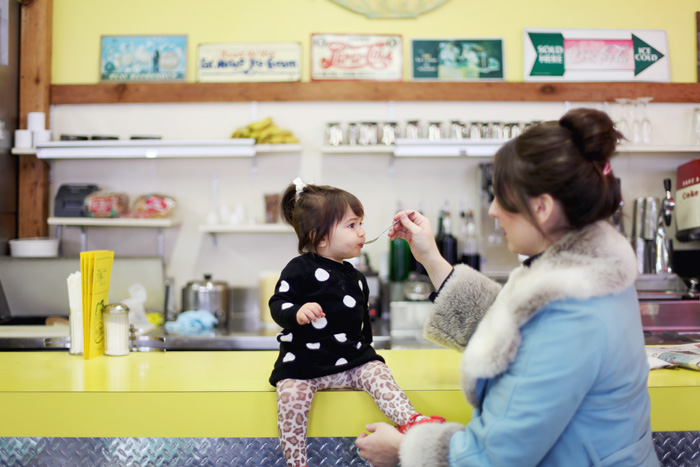 The snow fell so heavily and for so long that not many people wanted to brave the roads for their morning lattes. I was sent home early from my barista gig and decided to seize the day and take Lucy out for ice cream! Ice cream before lunch! Because it's my job to teach Lucy about appropriate activities for snow days.
A few months ago, Lucy had her very first taste of ice cream at Milk and Honey, our favorite Canton ice cream parlor. Her world was changed forever. We make healthy balanced meals for her at home, but seeing her delight in the occasional indulgence is such a joy for me! Besides, Lucy won't let me eat treats in peace any more without tugging on my arm and squealing and signing for more. I'm learning quickly that whatever I do, she will want to do too. I've thought a lot about making a complete overhaul- not eating sugar, no gluten, etc, to set a good example for our family. But the fact of the matter is that would make me miserable. So I've just come to terms with the fact that Lucy will enjoy eating ice cream and donuts. And that's normal. And that's okay. And I'm letting go of the guilt.
P.S. I know I probably haven't mentioned it here on the blog, but I did get a job outside the home working as a barista. I'll tell you more later about what's been going on with my life. I've been stepping out of jobs and into new ones- it's overwhelming and exciting and just all so new! I'm learning a whole new balancing act, but things are going really well.
Right now I'm off to work on some exciting new projects as well as to make a couple of pies to share with family tomorrow. Happy Thanksgiving, friends!
Lucy is wearing this dress, I'm wearing all vintage
photos by Phil Johnson