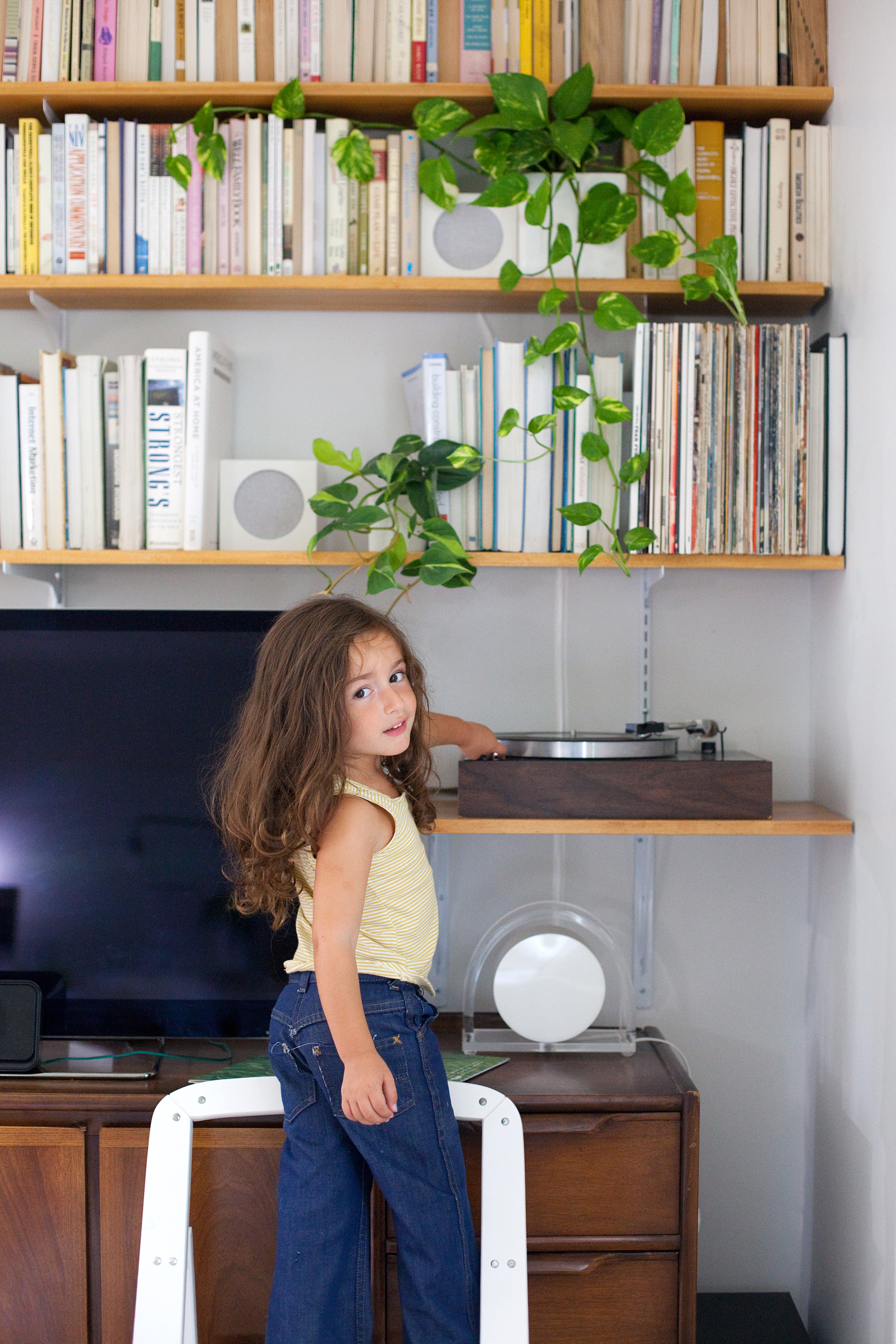 You guys! Our living room revamp is so close to being completed! I'm just waiting on one piece of art to be custom framed (it's been sent out, I'm waiting for a call to pick it up), and then I'm callin' it. I thought in the meantime I would discuss one of my favorite aspects of the revamp: the media center!
First, let's take a trip on the way-back-machine. The first image below is from right after we moved into our home from our big, gorgeous 1920s apartment. (You'll have to browse through old posts in my "home" category to see the beautiful old apartment and my granny-chic style.) Things from our old home didn't fit or feel right in our new home, but because money was an issue, we just had to ride that wave for a while.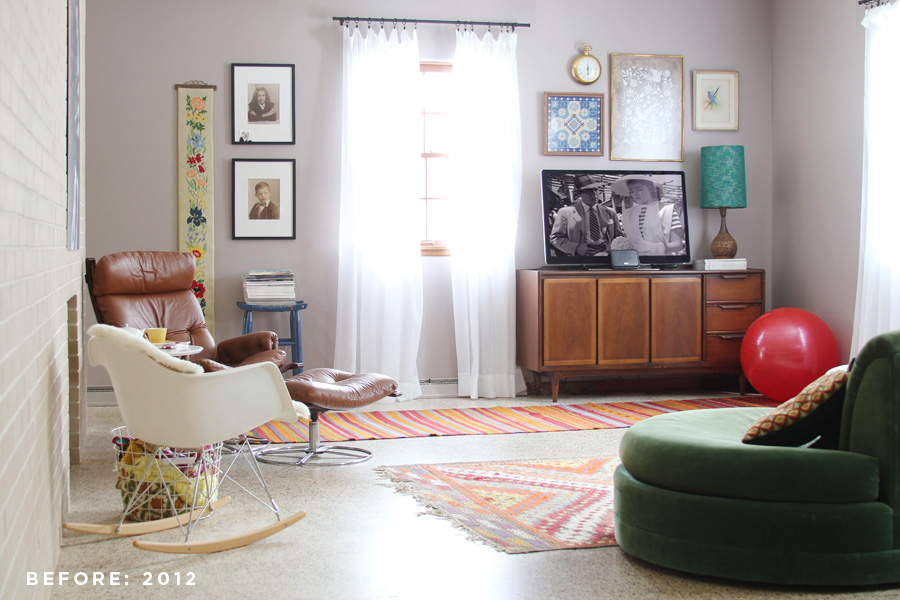 We literally saved up money in an envelope until we had the funds to buy an Ikea sectional. Along the way I collected some plants, rearranged art, and found a pair of orange armchairs at a garage sale for $5! It all was an improvement for our space, but still wasn't tailored to our taste. But it fit the price point, and that's all that mattered, really.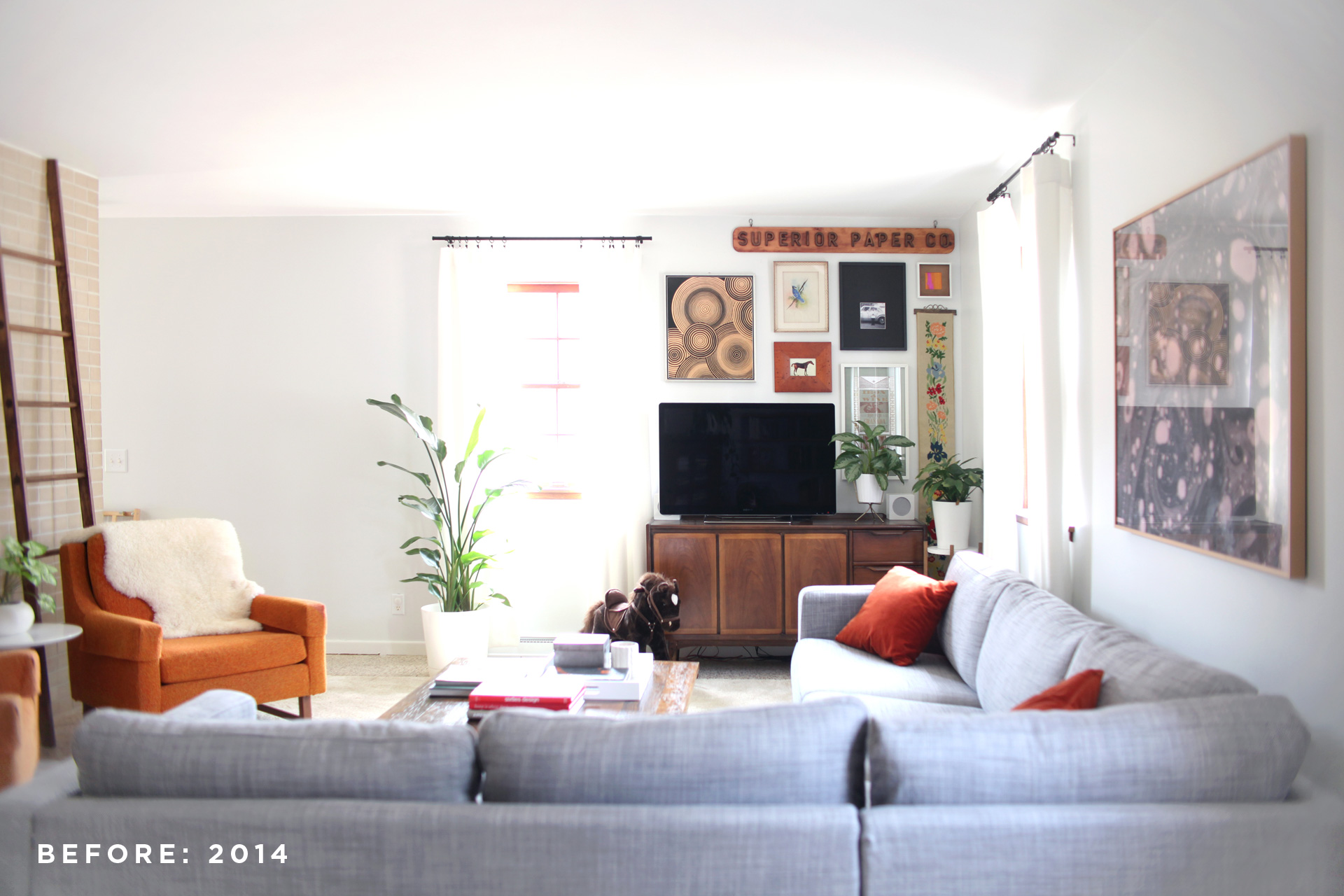 Finally, four years later, we've slowly been able to make enough changes to this room by selling off some things (rugs, art, furniture) in order to buy some new items which fit the style of our home as a whole and also went along with a more refined color palette and aesthetic. In addition to swapping out items, tweaking the arrangement of objects has made a large impact in the space. Removing the gallery wall and installing shelves to create a media center is one of the biggest changes we've made as far as the balance of the room goes. It feels much more calm, and is way more useful than the random assortment of art, which may have helped our t.v. blend in a bit better, but maybe didn't suit our needs so well in the end.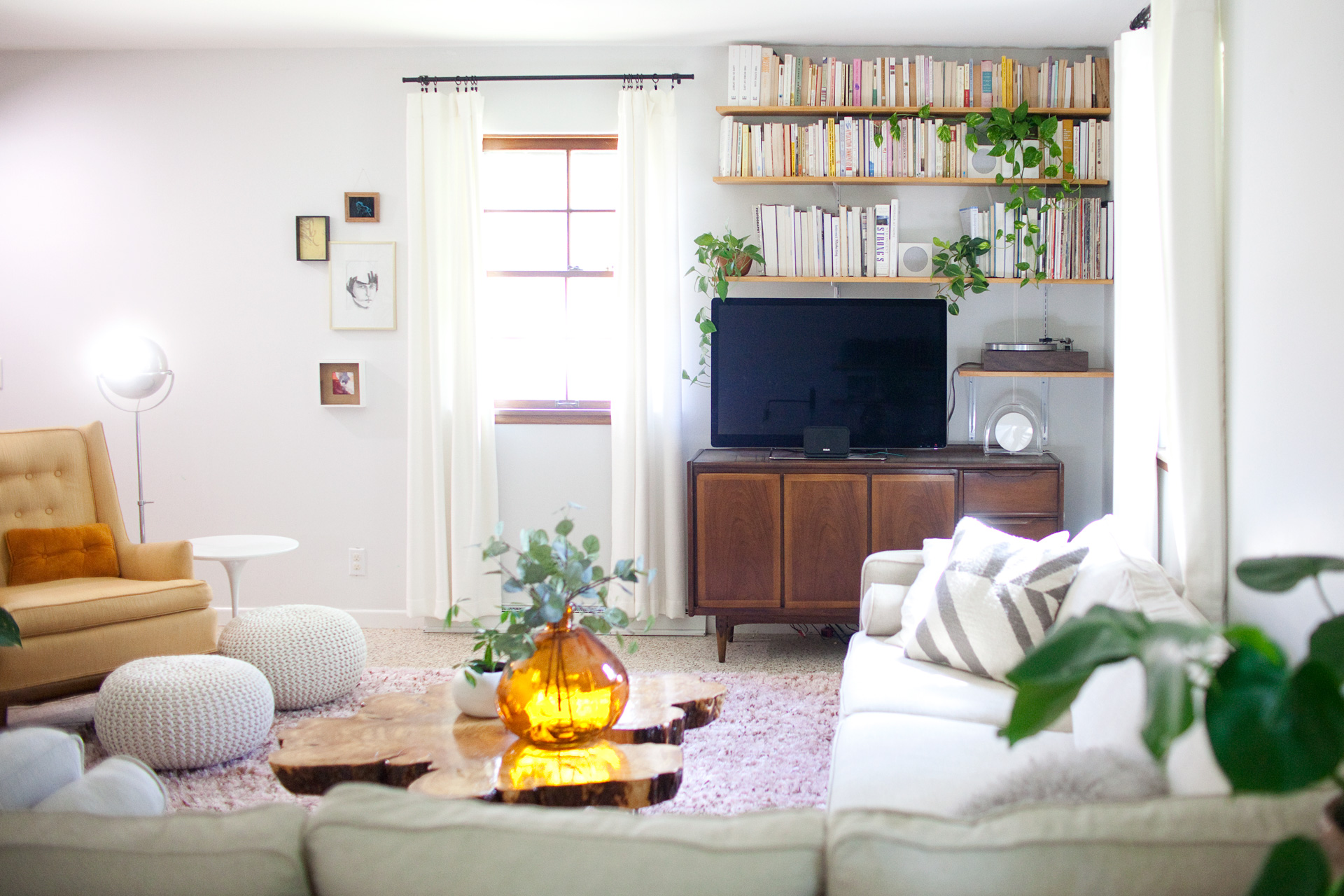 So here it is now! I purchased some new boards which are supported by a shelving standards system I had taken down from the the wall on the other side of the room when we installed our office set-up. (See the post about our office wall here at A Beautiful Mess.) Finally our record player is set-up in a convenient place with access to our receiver and speakers. We have movies, blankets, and media equipment stored in the sideboard, and— no longer in hiding— our t.v. enjoys prime real estate, because let's be real guys, we watch a lot of t.v. Ain't no shame in that! (I call myself a movie buff to make my habits seem more refined.)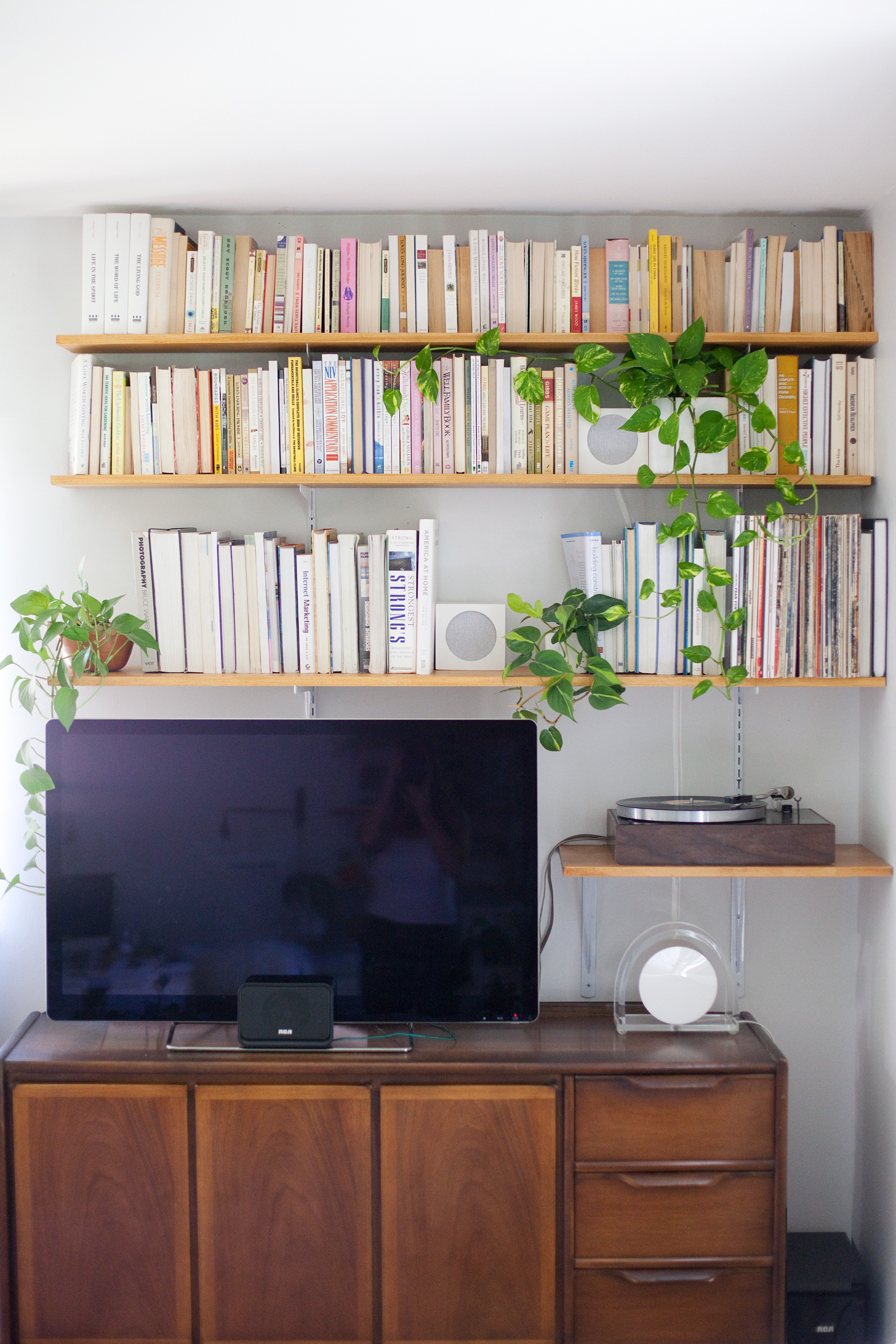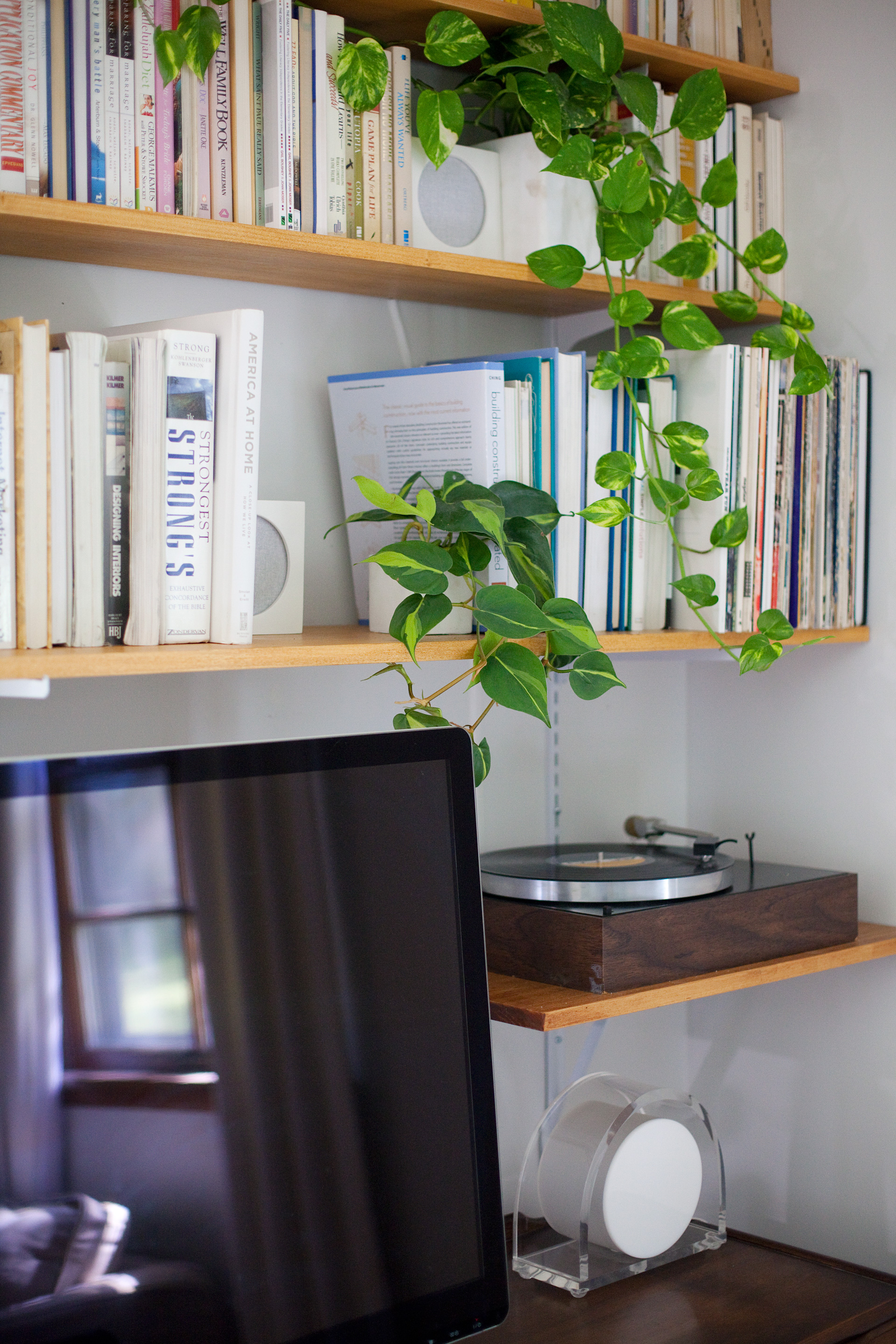 The girls and I have been listening to records almost every day now, and our room feels way more put together with this set-up than it had before. I still need to work on some cord control, but overall, I'm really pleased with how it has affected our overall enjoyment of our living room.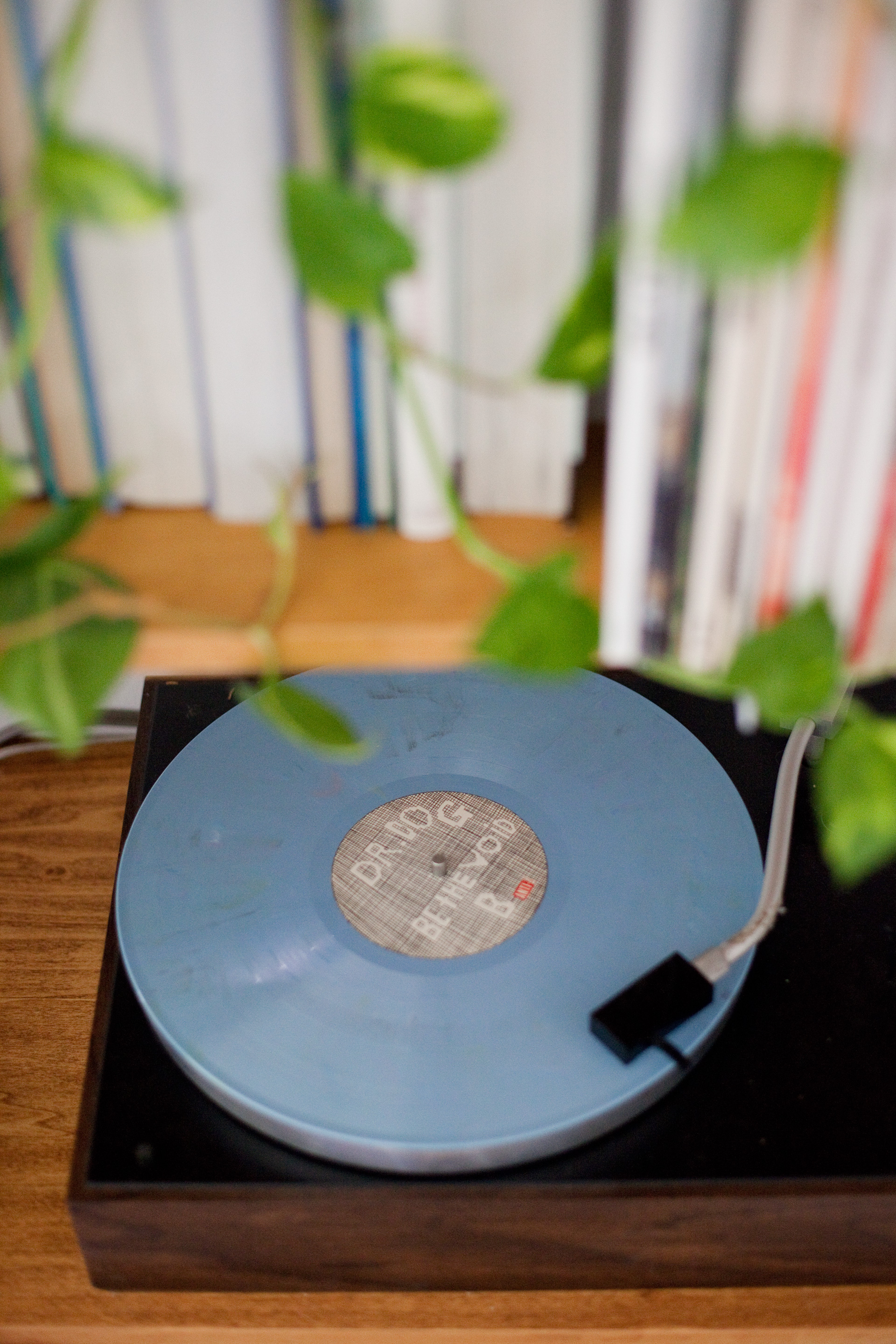 I can't wait to share the rest of the space with you, and! Our new slipcover, which arrived last week during a really frustrating and dark time in my Summer— so I just couldn't be happier about it. What a fun experience this revamp has been! So happy to share the process with you all. -Mandi