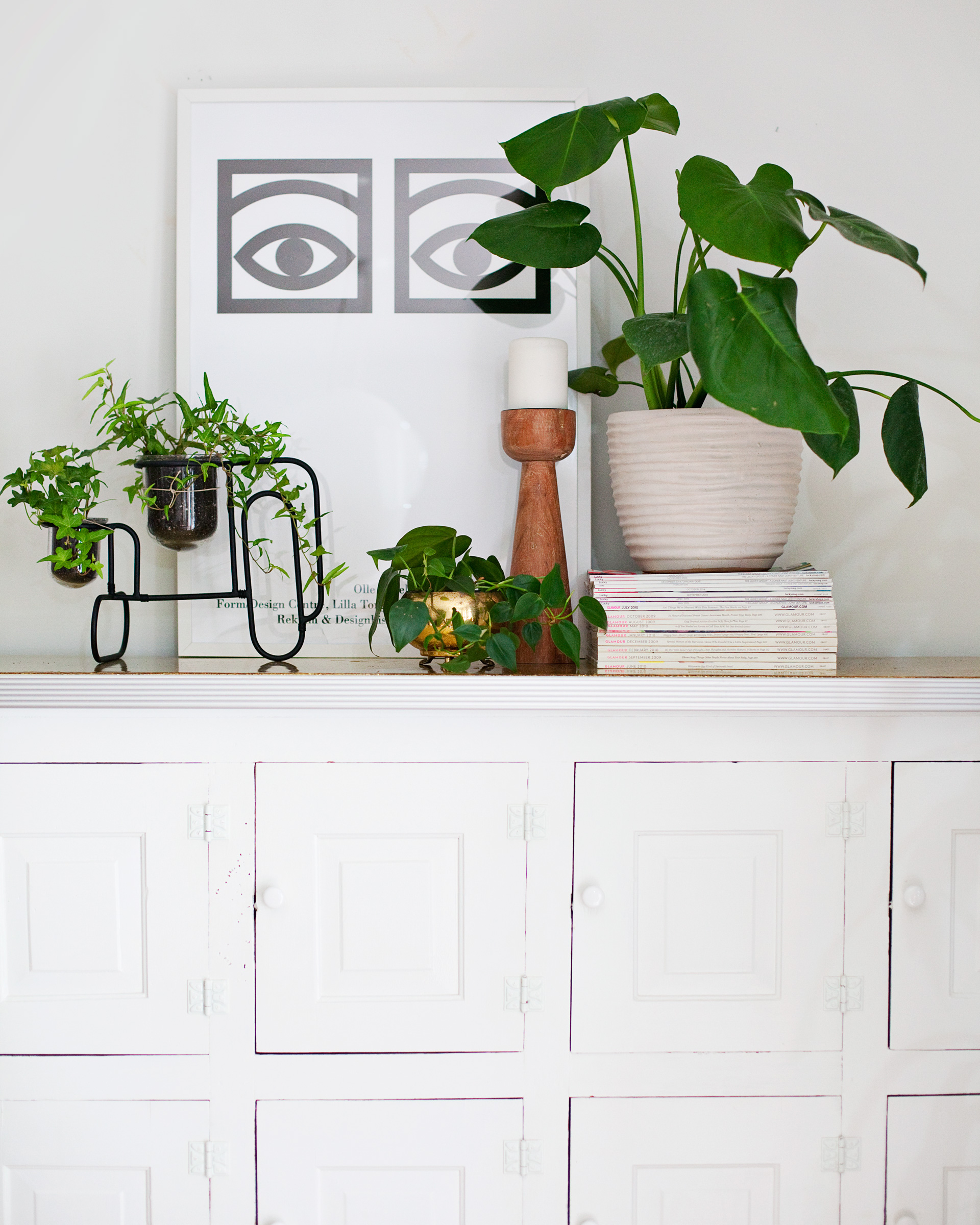 It seems like everyone's bringing a little more green in to their homes these days, and I'm not just talking about paint! Even brown thumbs are giving houseplants a go, and with good reason! They add such warmth and liveliness to a space, and for those who like a good challenge, the right plant will fill that void in your life. Ha! As if we need another living creature to take care of, eh? Well, now that I've mastered the art of nurturing the houseplants I've had for years, I've been all about adding a few newbies into the mix, which in turn launched a hunt for a few new (old) pots. I really love the way vintage planters put the icing on top of my houseplant cake, adding a whole new element of texture and character to the decor of a room.
Now that I've claimed dibs on my favorites (they're en route to my house as I type! Yippee!), I figured I ought to share the fruits of my vintage planter hunt with all of you, in case you're in the market for a new houseplant or two. I mean, whose home couldn't stand a new little green guy, amiright? Check these out, though! Very nice planters simply oozing all the cool mid century vibes.
(above planters on my dining room cabinet from left to right: West Elm; thrifted ; Lowes)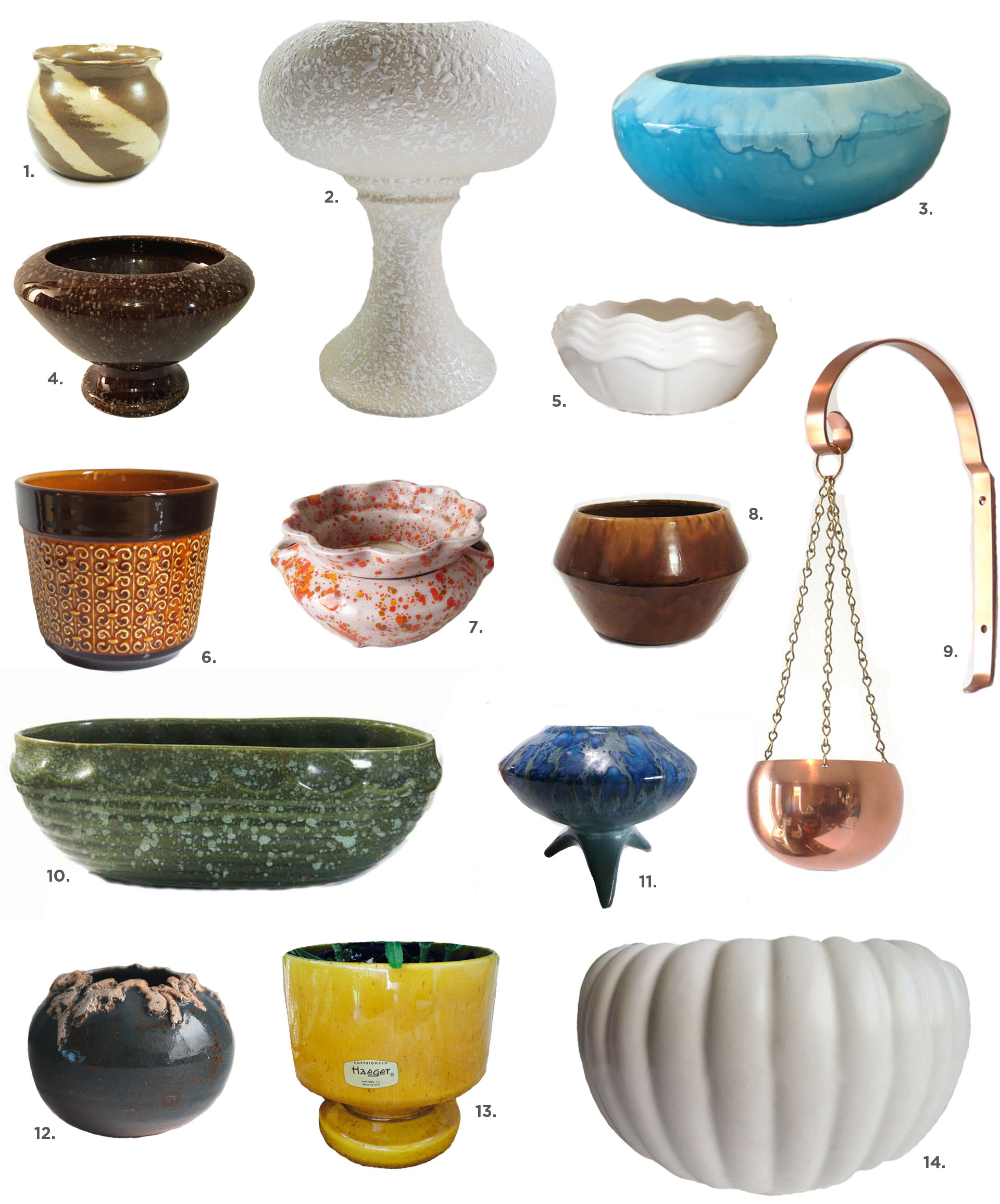 Spiral Stoneware Planter (5″ x 6″) // $20.00


White Splatter Pedestal Pot (6.5″ x 8″) // $26.00


Turquoise Drip Glaze Dish (12″ x 4.5″) // $30.00


Brown Spatter Pedestal Dish (5.75″ x 4″) // $10.00


White Scalloped Bowl (6″ x 3″) // $19.95


Two-Tone Brown Portuguese Planter (3.5″ x 4″) // $14.84


Orange and Lavender Speckled Planter (5″ x 3.75″) // $18.00


Brown Glazed Planter (5″ tall) // $14.00


Copper Hanging Planter (2.5″ tall pot) // $48.00


Green Splatter Dish (9.75″ x 3.5″) // $20.00


Blue and Teal Footed Planter (5.5″ x 4.5″) // $60.00


Black Stoneware Globe Vase (4.5″ x 3.5″) // (etsy shop on break)


Goldenrod Yellow Pedestal Planter (5″ x 5″) // $10.98


Large White Pumpkin-esque Planter (10.5″ x 5.75″) // $78.50
And for good measure, I thought I'd share some new plants I have in my home! Hanging pothos plants are my fail-safe houseplant that I can use in dimmer lit rooms. I'd been wanting to hang something in our bathroom for quite a while, and finally got these cool diagonally glazed planters from CB2. I think the pothos will grow pretty long and look beautiful in here!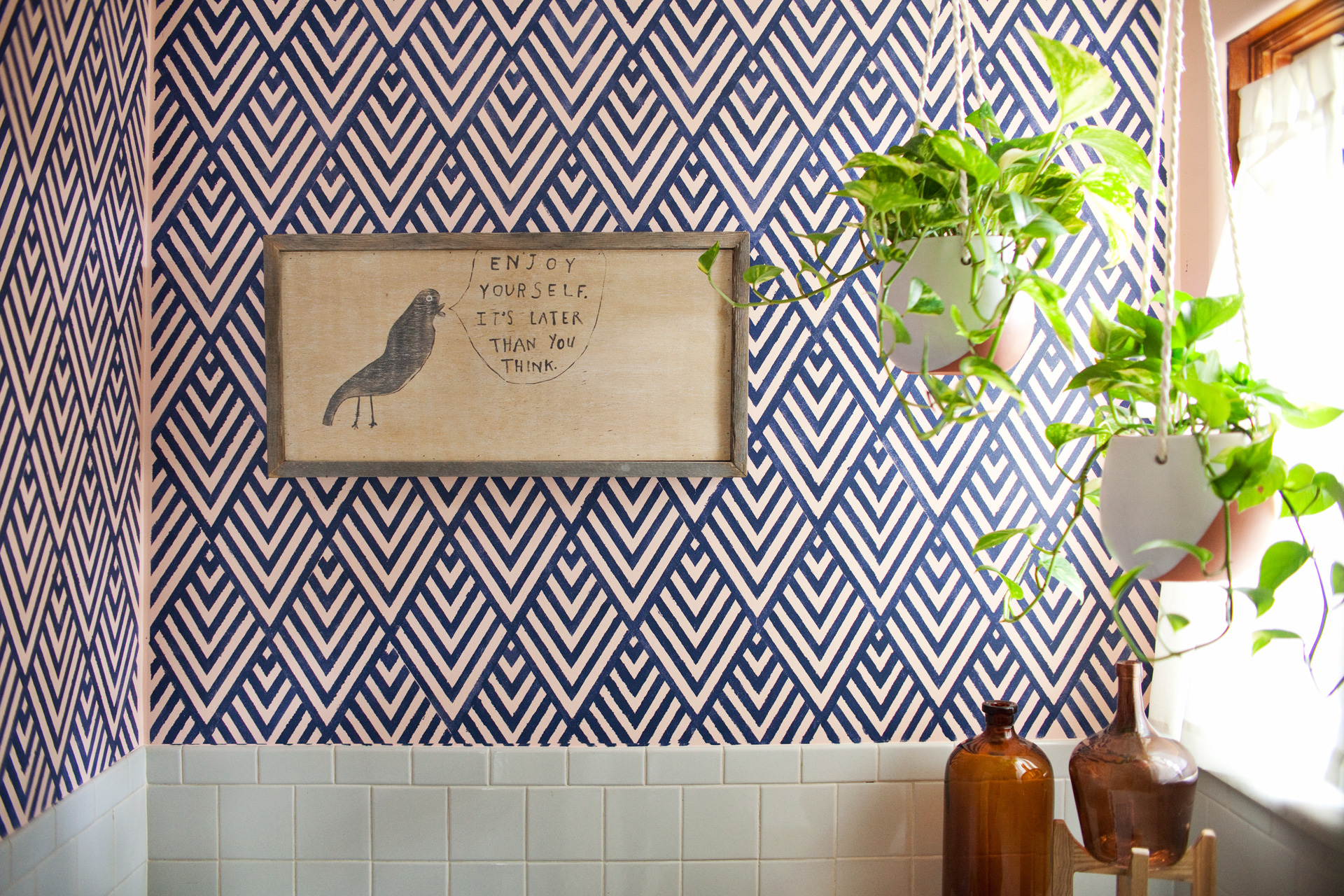 I found this ficus tree (below) on Craigslist and took Lucy on a two-hour road trip (four hours there and back) to go get it. We're crazy like that! (Super fun experience, by the way! We talked all the way there and back!) I was really nervous about having this ficus in our home, because I heard they are notorious for dropping leaves in shock when moved to a new location. I love the tree and while I would've been disappointed to lose the money (just $30) and waste the effort I put into the tree, I mostly just really felt like this tree is exactly what our living room has needed. So, I have lost some leaves, but I've also have a lot of regrowth and feel pretty good about this guy! It's a great sculptural element to jazz up the simple white brick fireplace wall in our living room.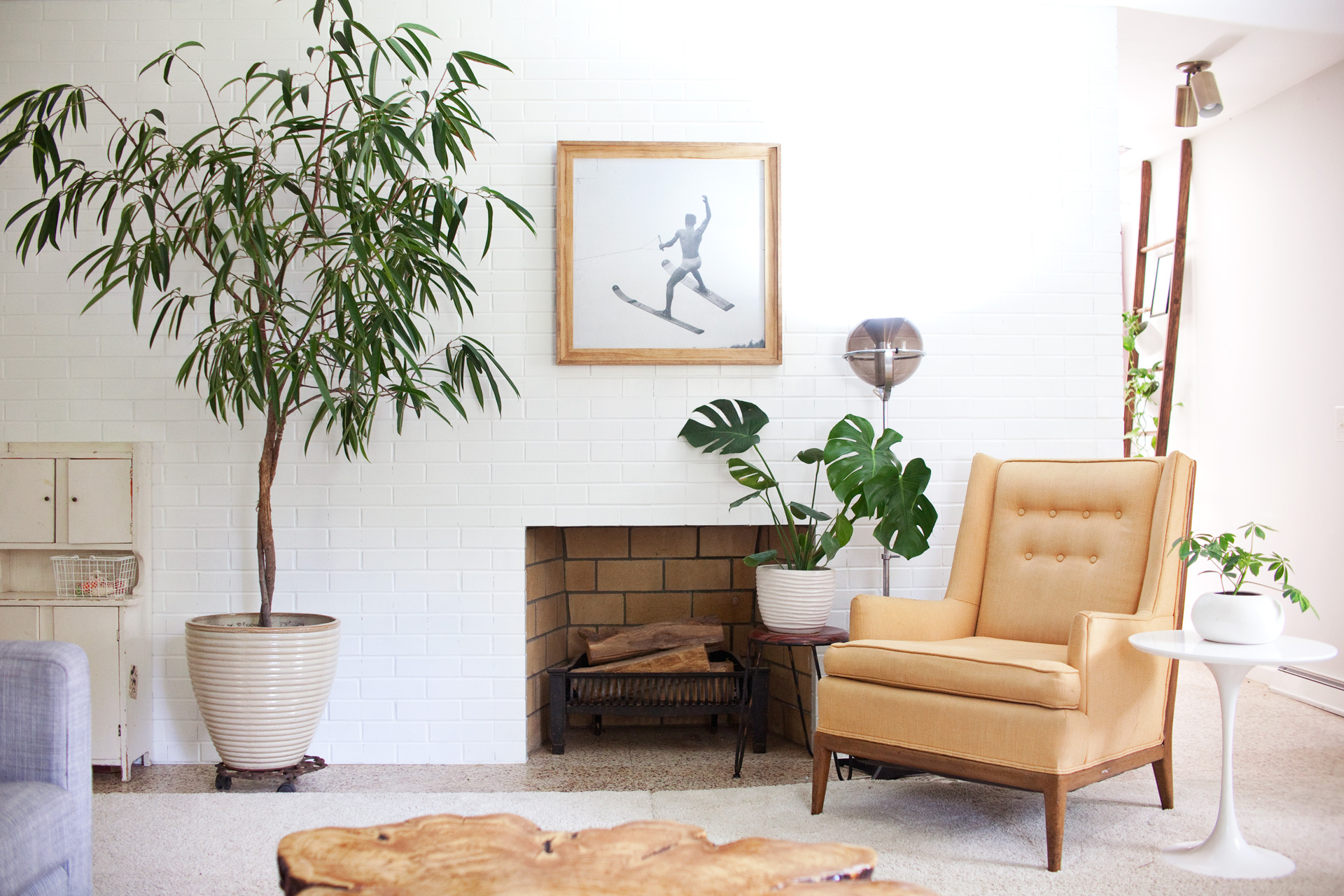 And last, but not least, I decided to challenge myself to grow a couple of cacti in our home (one pictured below). I've been convinced that they're very easy to maintain, and I've been reading lots about them, but they're so different from anything I've grown, I definitely feel challenged and a wee bit worried.
(above planters in order of left to right: West Elm, Vintage, Home Goods, Amazon, Ikea)
Side note: Am I the only one who stays awake at night worrying about my plants and reading up about them? I feel a a bit like a crazy person. Crazy plant lady. It's the new cool thing to be. I'll accept the title gladly.