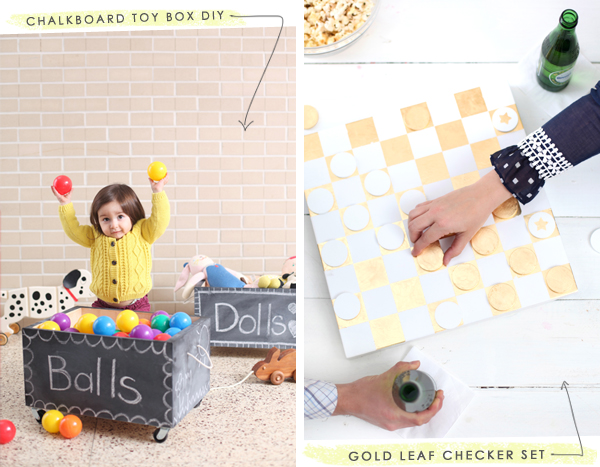 Last month, my projects for A Beautiful Mess were all about getting organized, making this pretty, and having fun! Check out the links below for more photos and the full tutorials for completing each project in your own home.
DIY Chalkboard Toy Box on Wheels // Lucy's been having a ball with this one! And look at how beautiful her baby penmanship is. So proud of my little girl.
Make Your Own Gold Leaf Checkerboard // We love board games at our house, and pretty board games are even better. Phil's already been beating my pants off at checkers since I made this set, so I think I'd better practice up.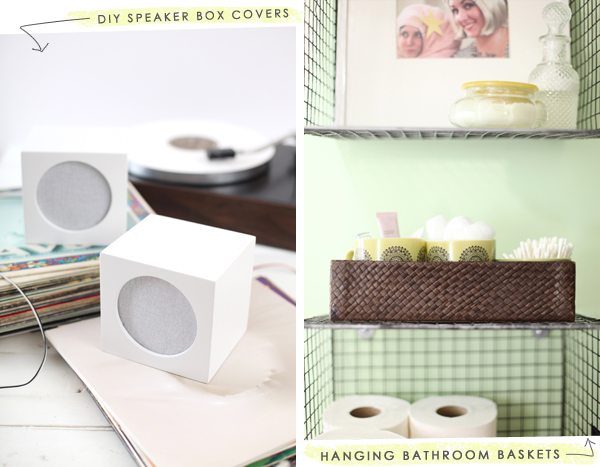 DIY Speaker Box Covers // Making our ugly sound system prettier has been on my to-do list for a while. I'm so glad I finally got around to it! It's made a big difference in how our media set-up looks in our living room.
Try This: Hanging Baskets for Bathroom Storage // We've been getting a bit more organized around here, starting with toilet paper and hand towels! These basket crates were a great storage solution in our tiny "master" bathroom. They were really easy to hang, too.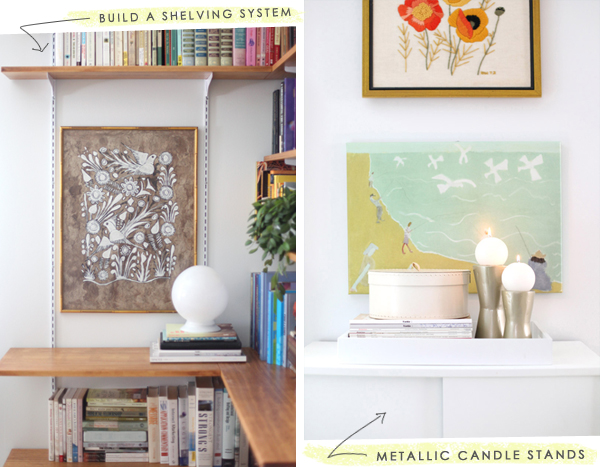 Build & Organize a Corner Shelving System // I shared the details of how I planned and built this handy dandy shelving system in an empty corner of our home. It's much less expensive than buying a system at the store!
DIY Modern Metallic Candle Holders // The days are short, and the nights are cold! So we've been getting cozy with candlelight 'round these parts. Check out how I made these fancy candle stands- they're so easy.