My Little Pony Birthday Party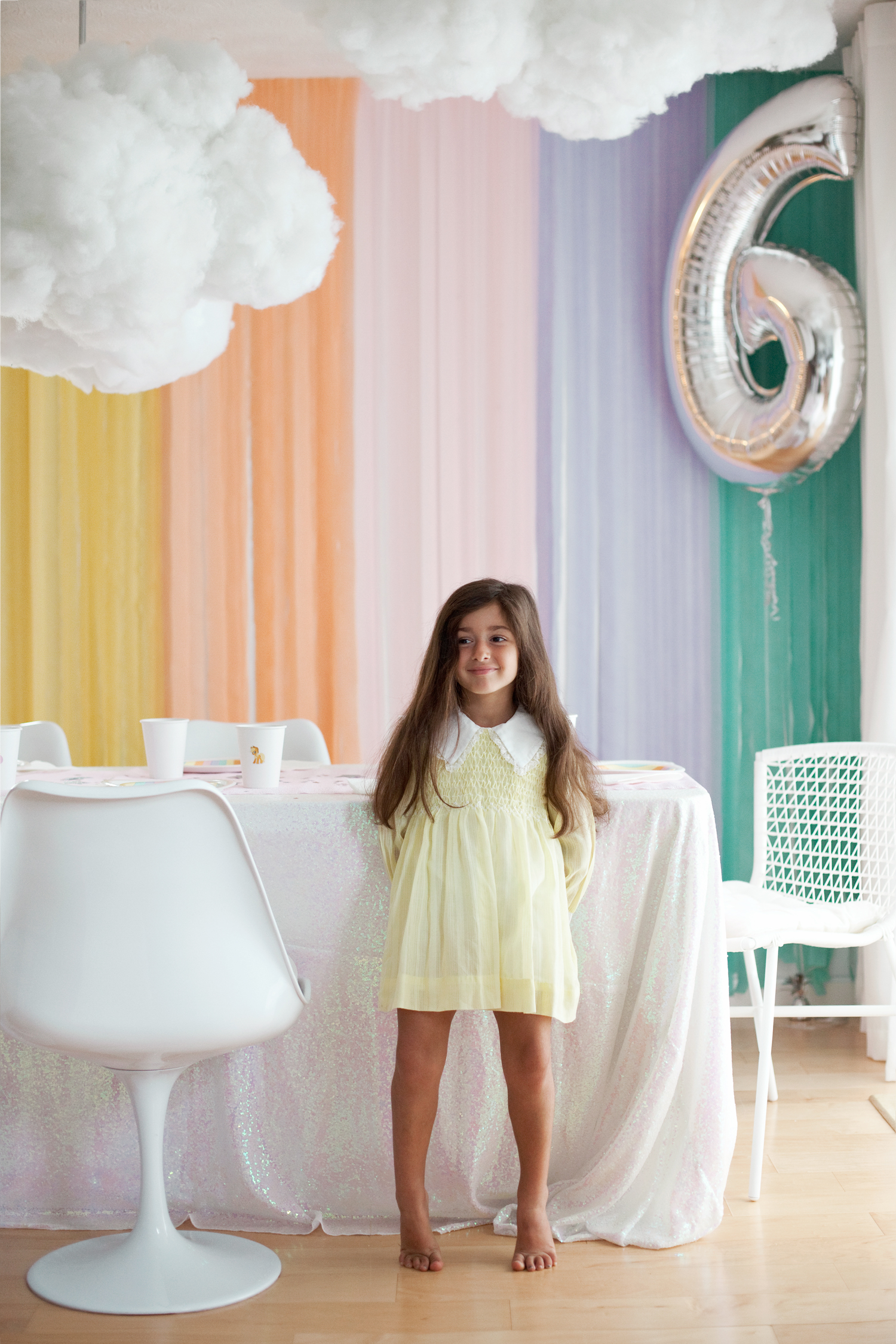 Lucy is now a six year old, you guys! I can't believe it. She had her first friends-only birthday party last weekend, which made me feel completely justified to go all out with decorations to make the day super special for Lucy and her little friends! And, who am I kidding— I've been dying to plan fun parties for my kiddos, every since I was a little girl myself!
I haven't blogged the girls' parties in a while because I've been pretty busy with home renovations and honestly haven't done much besides themed sticker cups and grocery store cakes. Nothing wrong with that, but honestly I enjoy doing more! I put more effort into Juniper's puppy party this summer, which you can see here at A Beautiful Mess.
Lucy requested a My Little Pony party this year, which was a little bit of a challenge for me personally, because of the style. The new version of the My Little Pony characters are pretty wild with bright colors and anime eyes, unlike the more pastel and cute versions of my own youth. Everything I could find in line with the My Little Pony theme felt sooo tacky to me. Lucy wouldn't have cared a bit, but I wanted to see how much I could elevate the theme to something Martha Stewart might be inclined to publish her her magazine. :)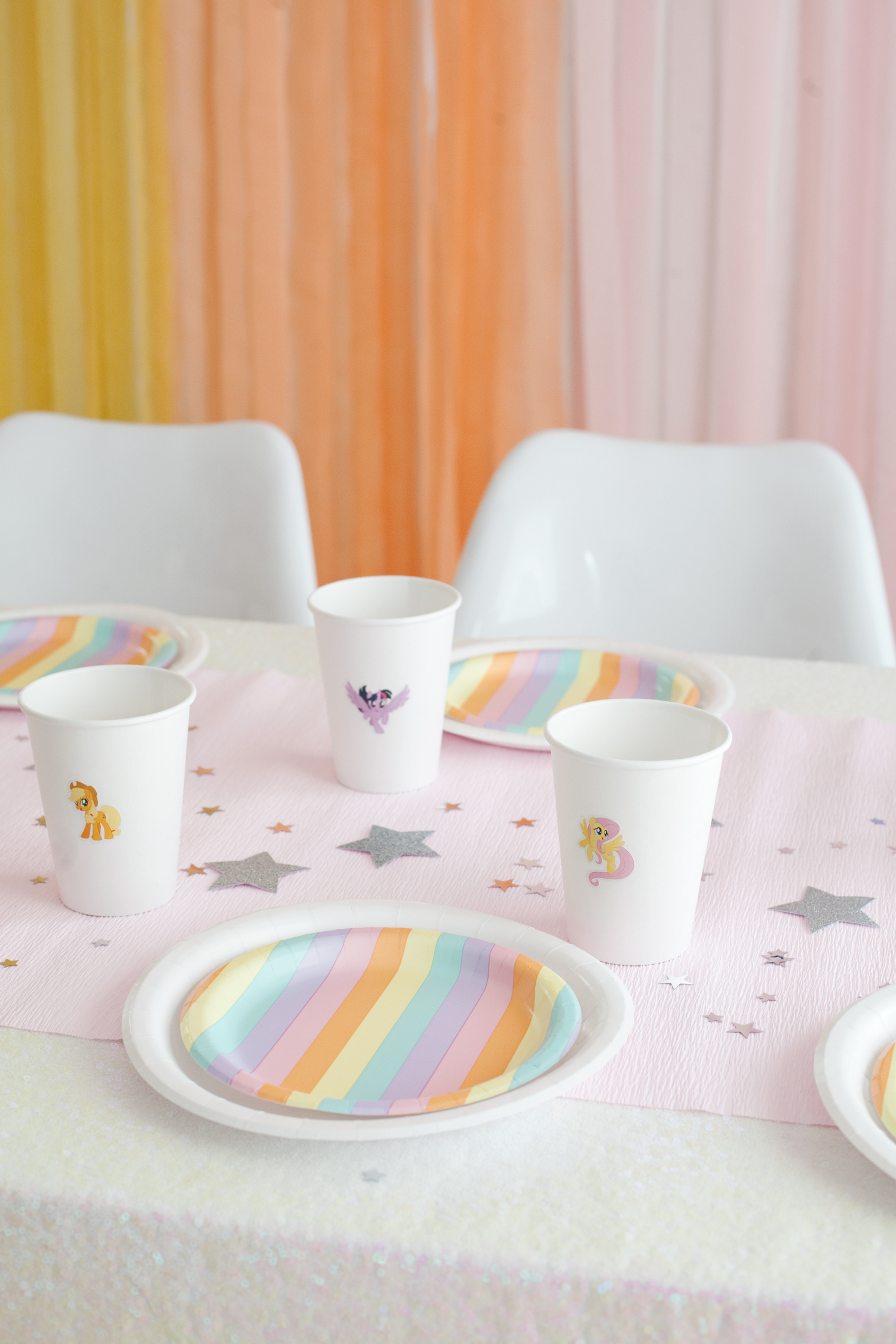 My Little Pony Paper Cups
I made my own version of My Little Pony paper cups by purchasing plain white paper cups and decorating them with simple My Little Pony character stickers. I had purchased a pack of stickers to use as party favors, so I didn't end up needing to purchase anything extra here. It was also helpful for each girl to keep her cup separate without needing to write her name.
Rainbow Paper Plates
I found these rainbow cake plates at Target, and snatched them up immediately! They felt like they fit the mood of My Little Pony, without having characters on it, which would overdo the place setting in my opinion.
Simple Table Decor
I used a sequined tablecloth to create a magical base for the table and topped it with a crepe paper runner. Then I laid out some silver glitter stars I had made with a star punch and filled in around them with silver star confetti. For table decorations, the combo was simple, but effective!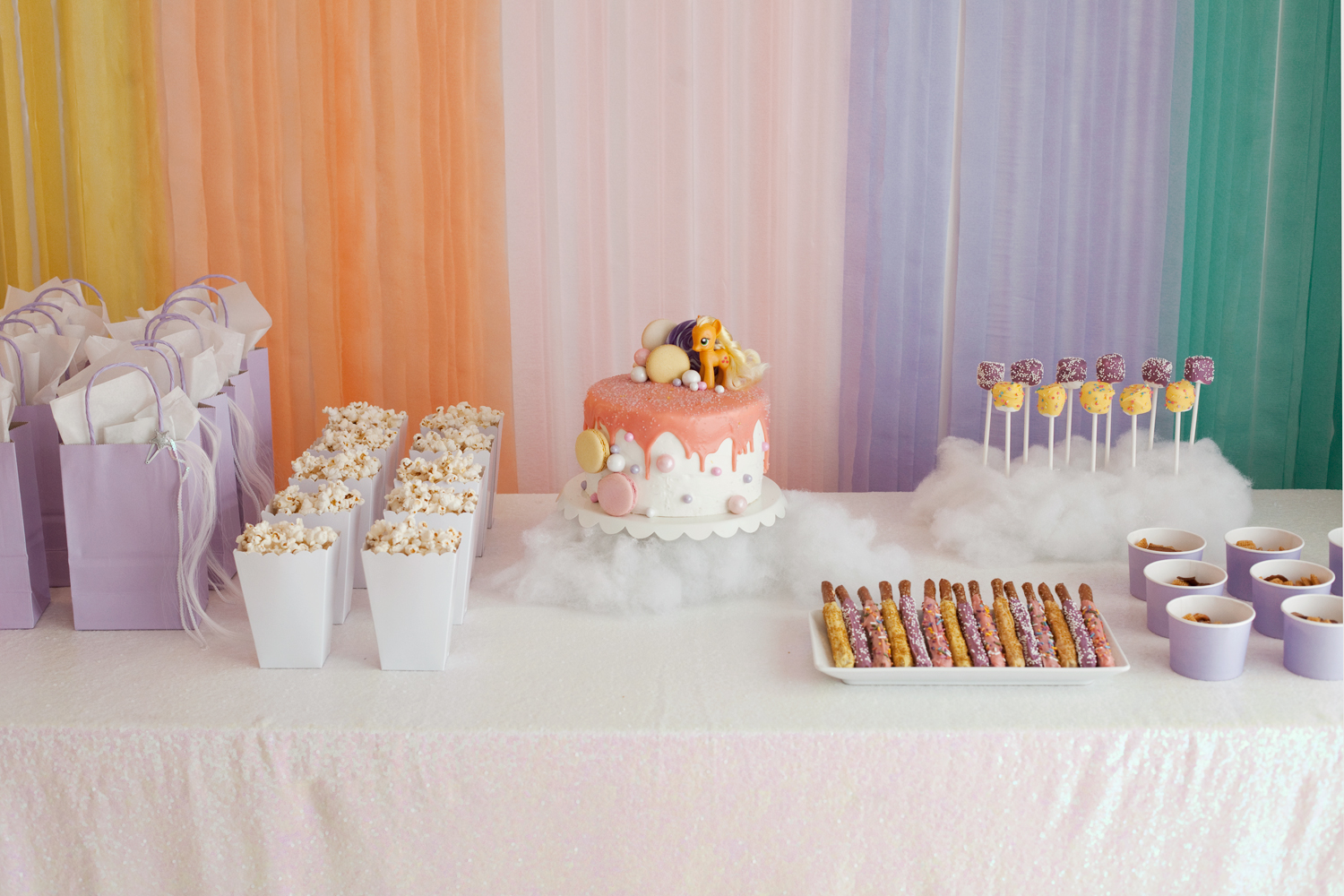 Rainbow Streamer Wall
I made a rainbow backdrop for the party by taping up 5 colors of crepe streamers that matched the rainbow cake plates. I couldn't find a muted orange or yellow from a party store, so I ended up ordering them online on Amazon instead. The colors ended up making the perfect muted rainbow wall! Here are links to the streamers I used: yellow; peach; baby pink; lavender; teal
My Little Pony Food Table
I purchased a very long sequined tablecloth from Amazon (which I plan to use for lots of future parties!) to add a magical feeling to the table. Across the table I arranged gift bags, popcorn, Lucy's birthday cake, candy pretzels and pops that we made, and cups of Chex Mix. I also filled a three-tier plate with PB&J sandwiches and made a rainbow platter of fruits and vegetables. I ended up moving the food table to our kitchen island and used the sequin table for the girls. I had planned for them to eat on the patio, but it ended up being a bit too chilly for that.
The purple gift bags and snack cups were purchased at Target, and the paper popcorn containers were from a party store. I used a piece of floral arranging foam to display the pops, and added batting around them to look like clouds. I also added batting around the cake stand.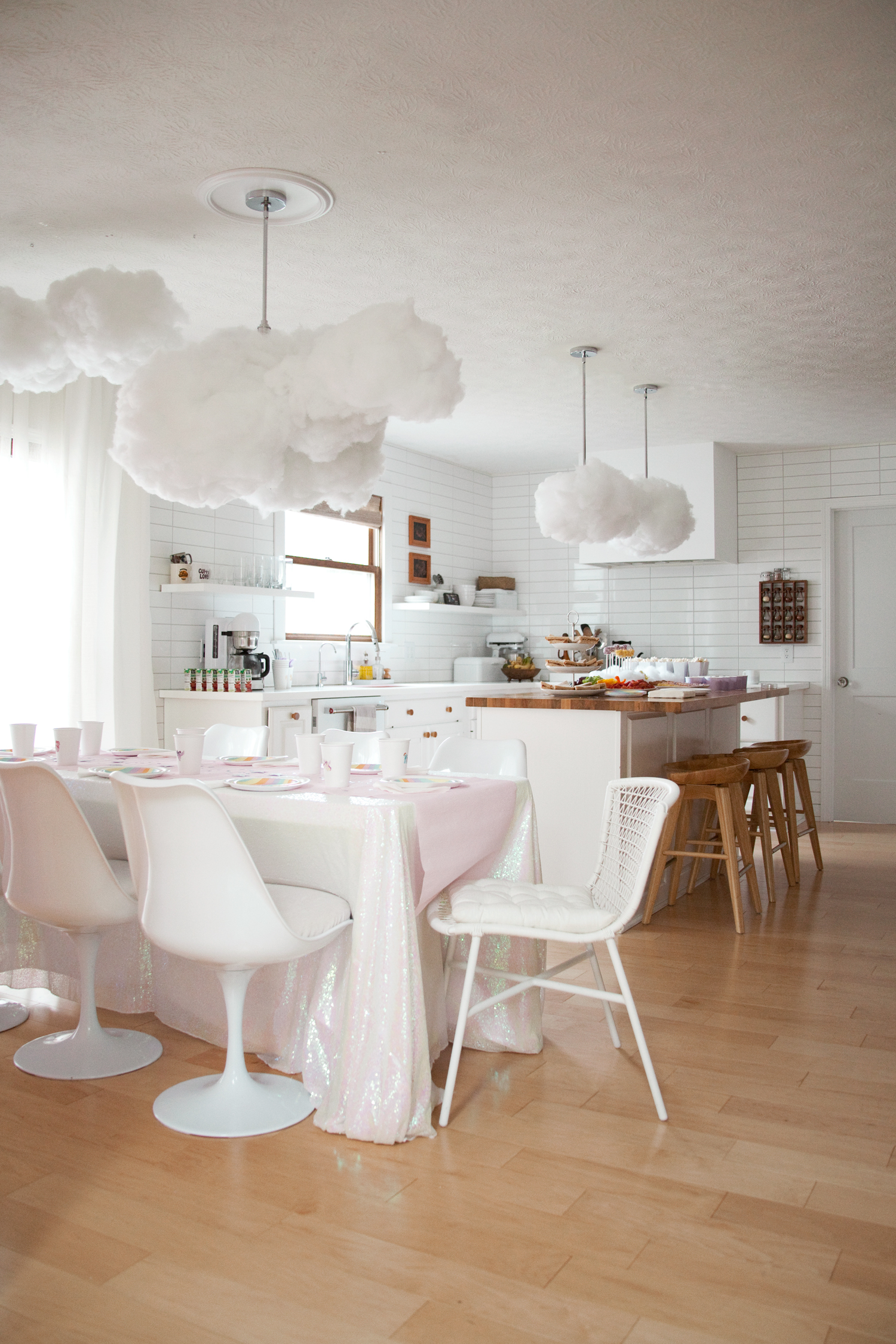 DIY Floating Clouds
Definitely the best part of the decorations were the floating clouds! They were so simple to make, though it did take a bit of time. I took it as a nice excuse to sit down and watch some television. :)
To make the floating clouds, I put together this set of paper globe lanterns in various sizes. Then I used a hot glue gun to attach lumps of batting. I didn't focus too much on the shape of the batting, just making an effort to attach it to the paper lanterns.
Then I used fishing line to hang the clouds from the ceiling, attaching them into the plaster with white thumbtacks. I also took off the glass globes over my ceilings lights and slipped the paper globes in their place. Once all of the clouds were hung, I used a chopstick to tease out the batting and connect the various sizes of clouds together.
To make the clouds realistic, I grouped different sizes near each other and teased them together. Hanging them individually wouldn't have looked as good, in my opinion.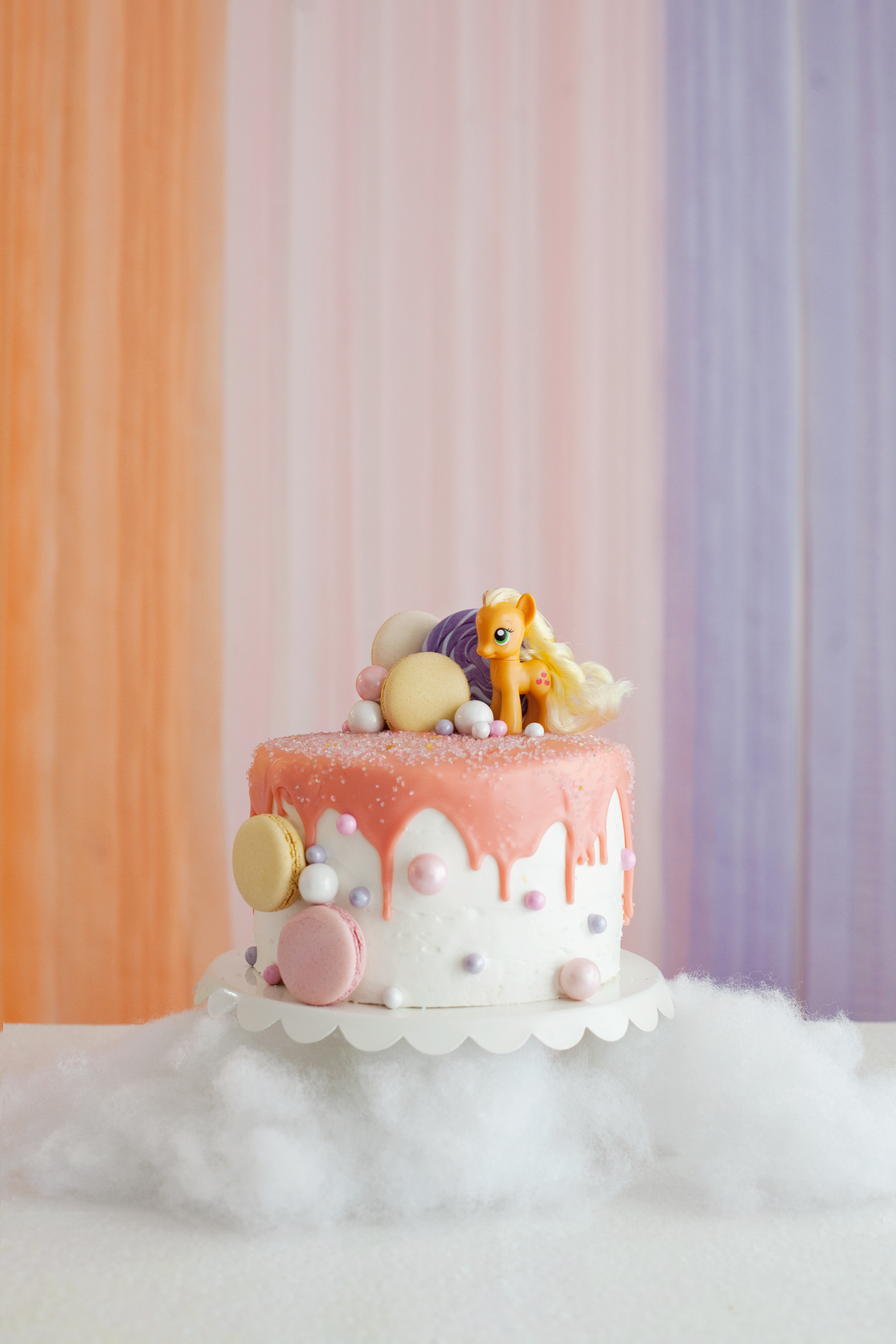 DIY My Little Pony Cake
So, I'm a pretty decent baker, but with everything else I had going on, I figured I should leave the birthday cake up to a professional bakery. However, I wanted to decorate it myself! So I ordered a plain white cake, picked it up early in the morning on the day of the party, and decorated it when I got home.
To decorate it, I did a white chocolate ganache drip-glaze. This was my first time attempting a drip glaze, and I thought it went pretty well! I used 4 parts melting chocolate (they were already this color) with 1 part heavy cream. I melted it slowly in the microwave (you can also use a double boiler), stirring in between 30-second increments. Then I let the ganache cool for a couple of minutes and poured about 1/3 of the ganache into an icing bottle with a medium size tip. The other 2/3 of the ganache I poured on the top of the chilled cake and smoothed it out towards the edges with an offset spatula. Once it neared the edges it began to drip down the sides. At this point. I added extra drips with the icing bottle. It sets up super fast, so this part has to be done quickly, or perhaps you may want to make your ganache a bit thinner than I made mine.
The buttercream icing held up well against the ganache because it had been chilled. Pouring the ganache on the chilled cake also aided the hardening of the ganache, so keep that in mind as well.
As soon as I poured the ganache, I began decorating the top of the cake, to take advantage of it as an adhesive element. I used macarons (from a bakery) , one lollipop, and sixlets and gumballs I had purchased from a party store. Around the edges I used some royal icing to glue the decorative candies, lest they fall off the side of the softened buttercream.
Decorating a grocery store cake was a lot of fun, and I plan to do it again for various themed parties!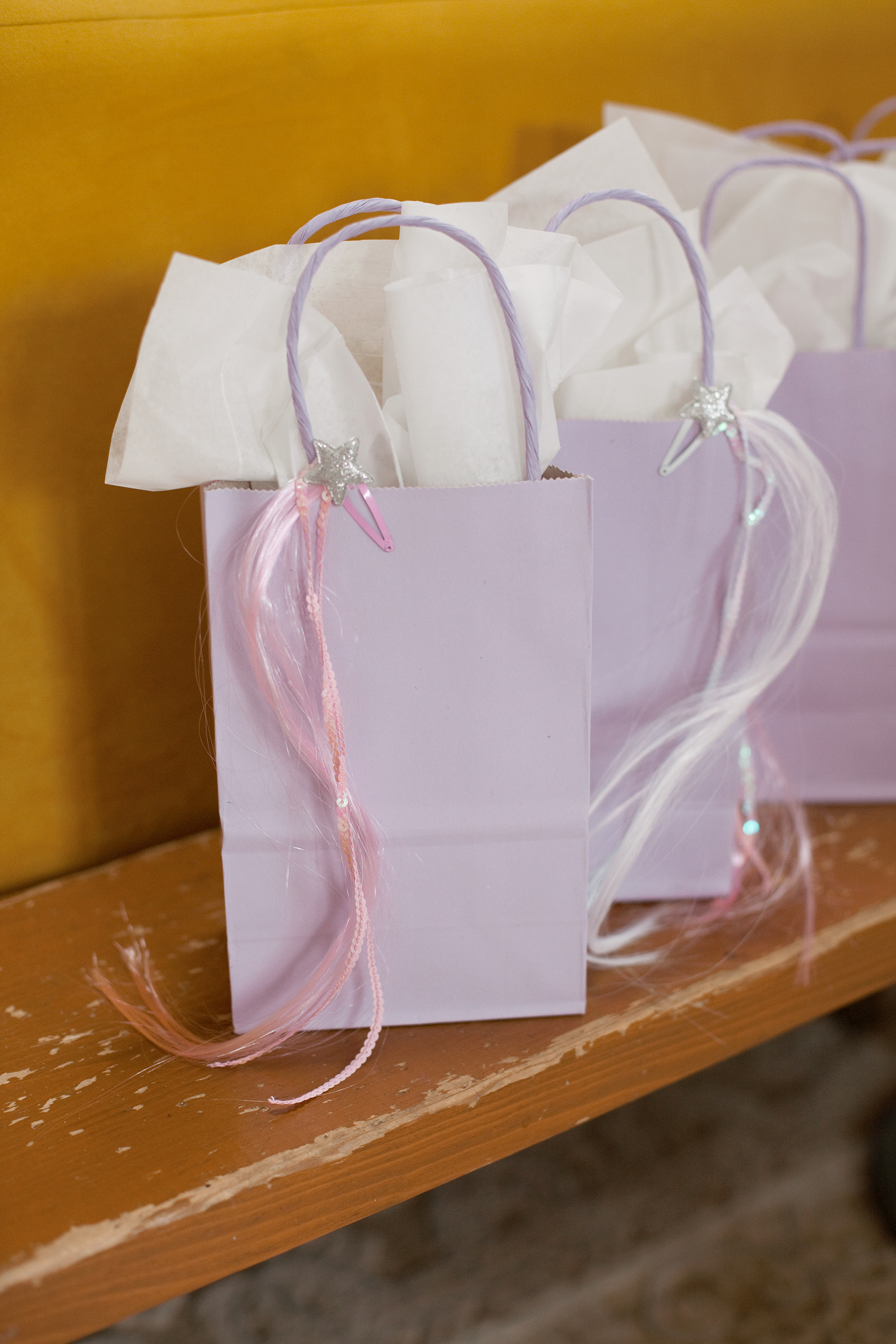 My Little Pony Gift Bags
I didn't feel the need to buy pony gift bags or craft any special gift bags, but I did keep the contents on theme. I filled the bags with My Little Pony stickers, My Little Pony rings, My Little Pony tattoos (from a party store for $.99), one 4″ My Little Pony doll (found at the checkout line at Target for less than $3 each!), and these clip-in fake hair clips that I also used to decorate the outside of each bag.
After Lucy opened her gifts, I had each of the little guests select a party bag and open them together. I think the girls really loved their gifts!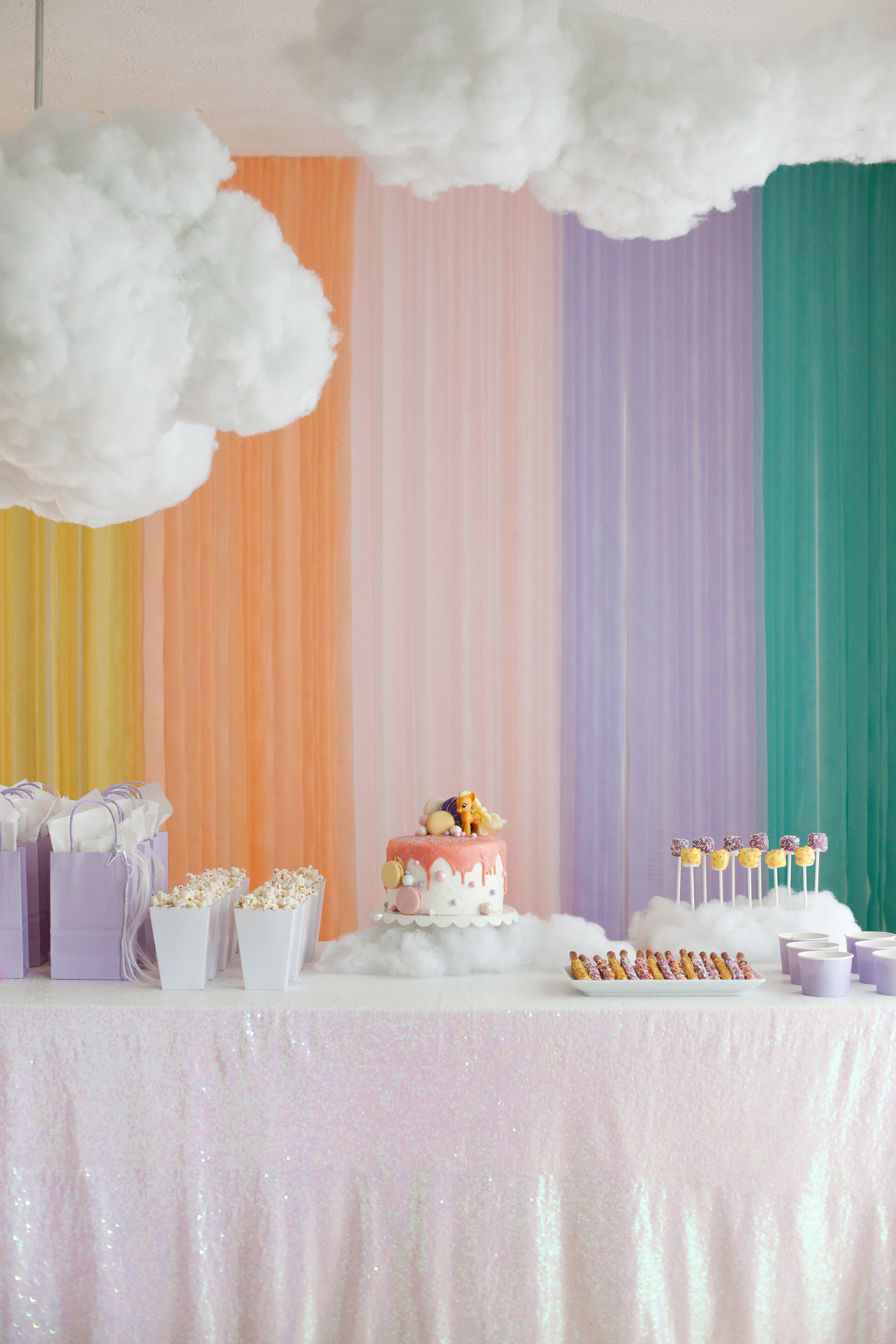 Here's what the food table looked like when I was setting up, before I decided 64 degrees was probably too chilly for the girls to eat out on the patio dining table. Then I moved the food over to our kitchen island and set up this area for the girls to eat and craft.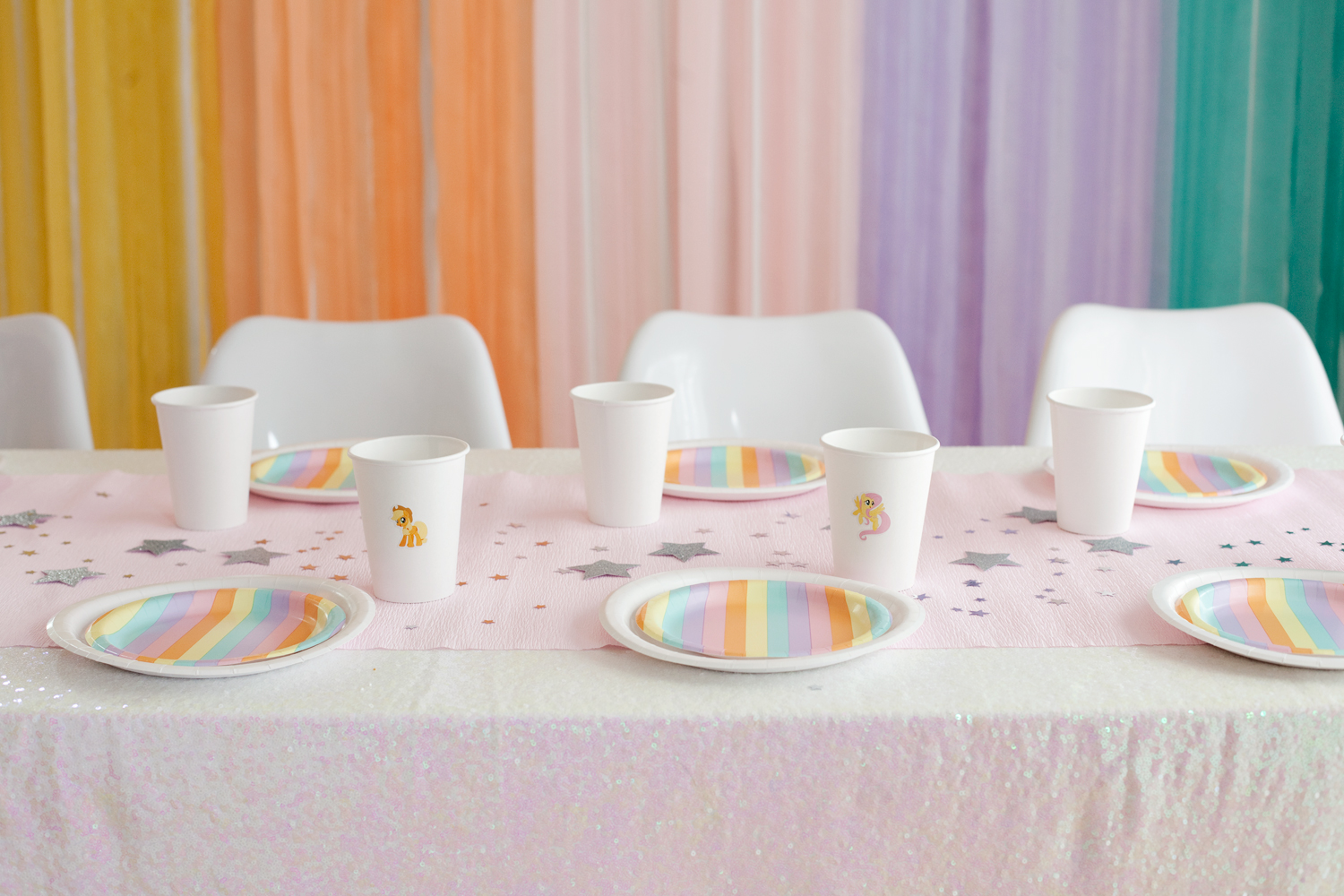 After eating, I brought out ice cube trays full of beads for the girls to make their own necklaces. Then we served cake and sang to Lucy. After cake, we moved the party to the living room where we did presents and then the girls played a favorite school game, Four Corners.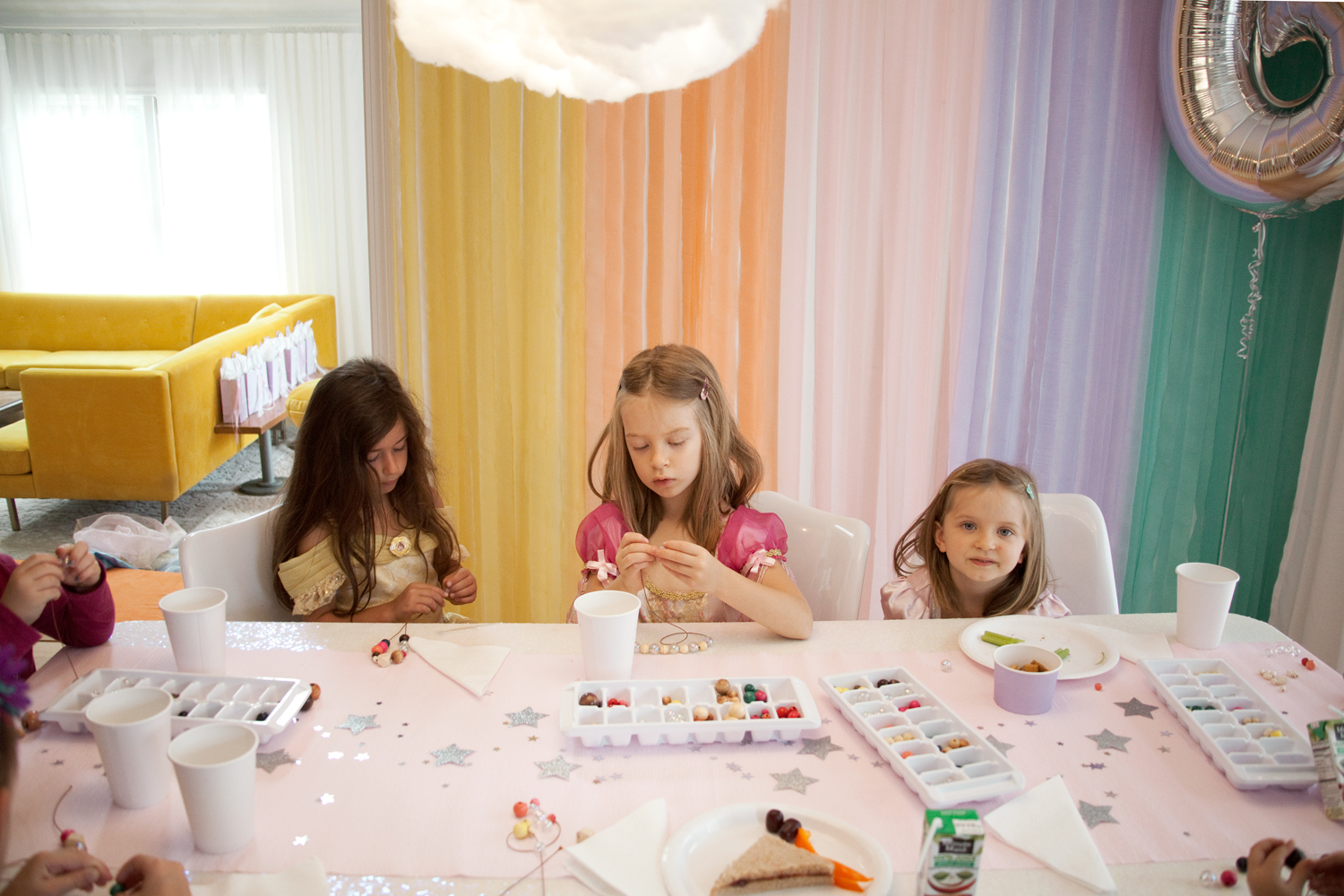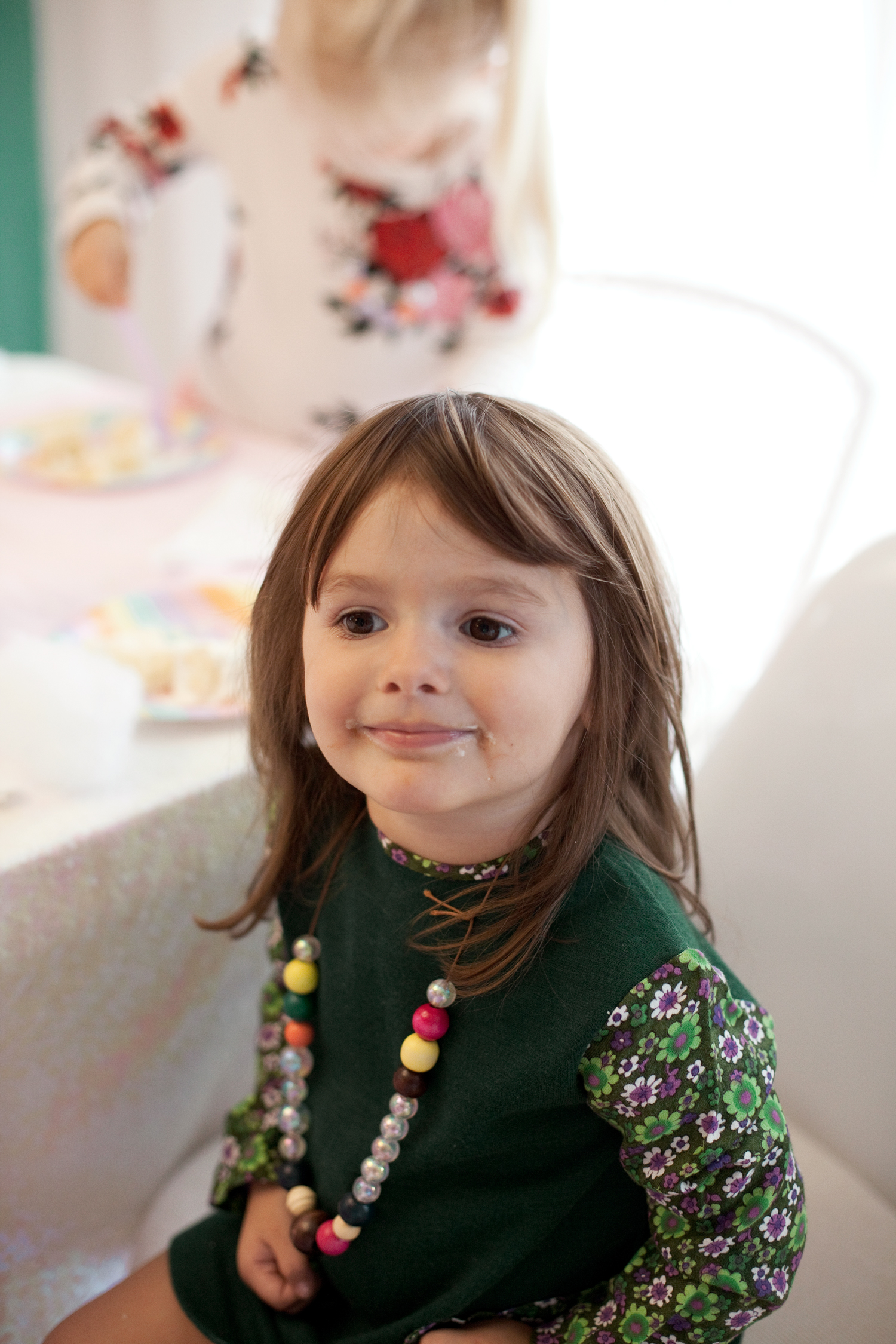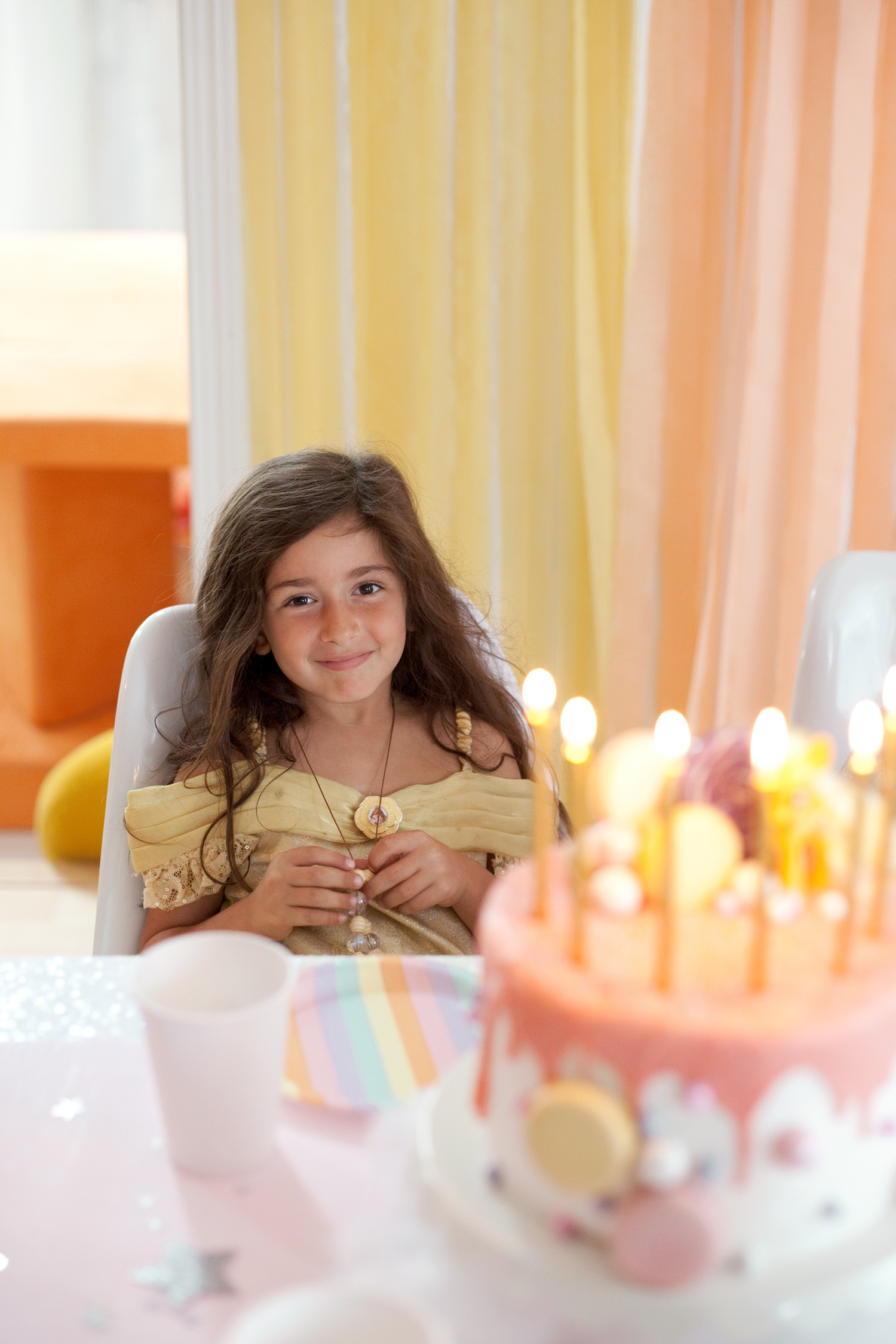 It was honestly a lot of fun having the house overrun by girls! I suppose I am cut out for this parenting job after all. :) I'm sure the girls had a lot of fun, and I'm glad I survived and managed to have some fun as well!
Let me know if you have any questions about any elements of the party, and I'll be happy to answer it in the comments below.