How to Make a Butterfly Wreath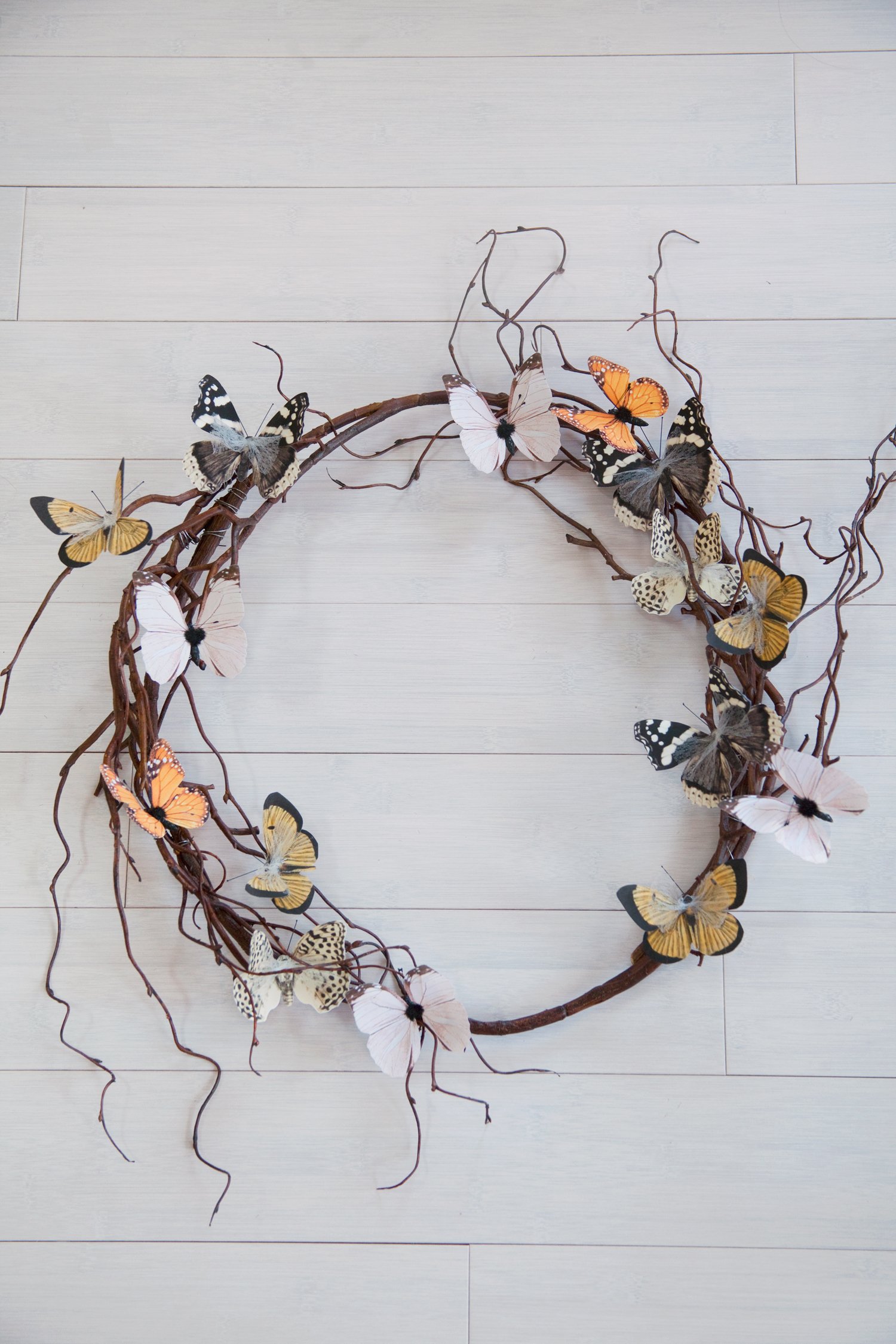 My favorite way to celebrate a new season is by hanging a new wreath on our front door! Just this one little touch of decor always inspires me to freshen up our house with a good cleaning and organizing so the few seasonal accessories I put out are highlighted and make our home feel extra special.
I partnered with Hobby Lobby to show you how to make this simple and delicate wreath that reminds me Springtime in Ohio, where tree branches are still leggy as the green earth around them are preparing for blooming bulbs and the arrival of new life. Hobby Lobby has a nice selection of Springtime decor, but making my own decorations gives me more creative freedom, plus— making things is obviously more fun!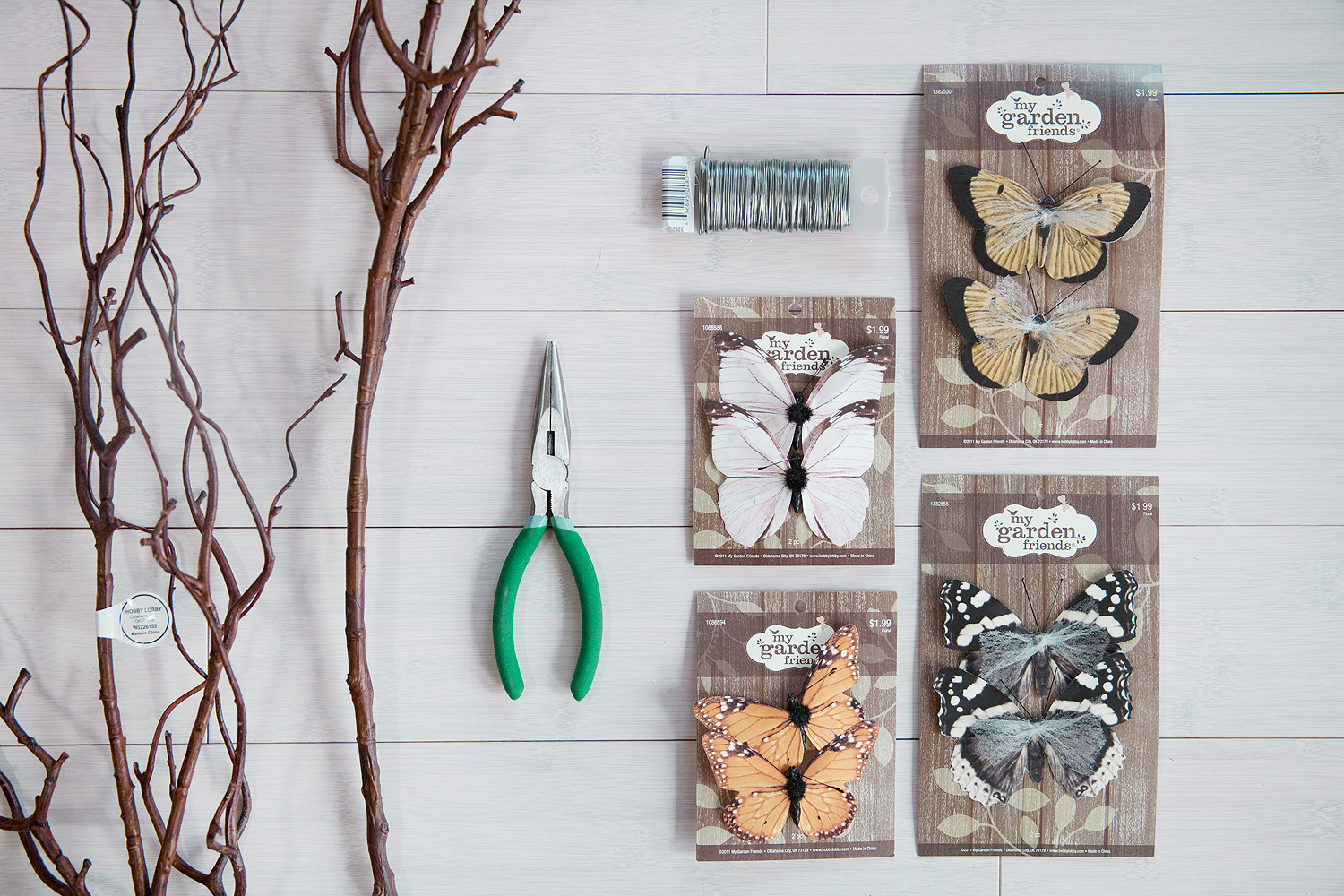 2 wired faux branches from Hobby Lobby's floral section
Fabric butterflies from Hobby Lobby
Wire Cutters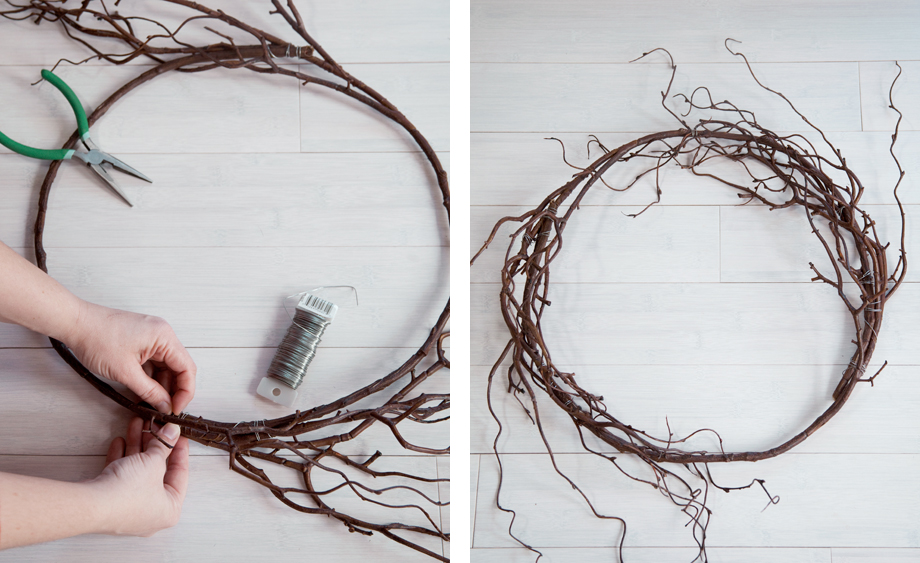 STEP ONE: Bend each of the wired branches into semi-circles, then wire them together to create a hoop shape.
STEP TWO: Use additional wire to secure the flyaway pieces to to hoop, allowing some pieces to still pull away giving the wreath base a wispy look.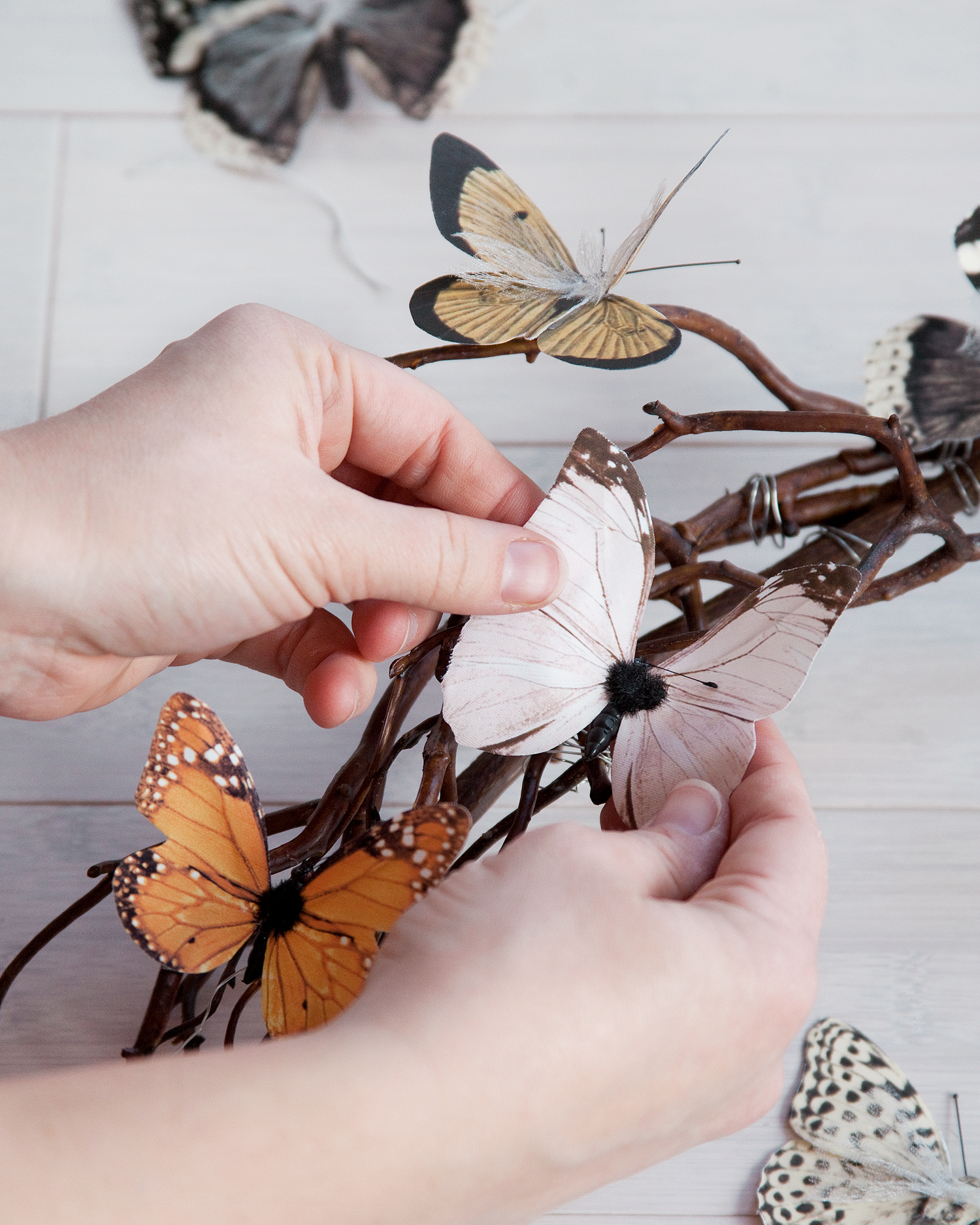 STEP THREE: Attach the fabric butterflies to the base. The more the merrier!
These butterflies are made of very thin printed fabric that feels a bit like paper, but won't crease like paper. I found them in one of the floral supply aisles at Hobby Lobby. The butterflies have attached wires which make it very easy to attach to the branches. Then simply shape their wings to look like real butterflies who've just landed on your wreath.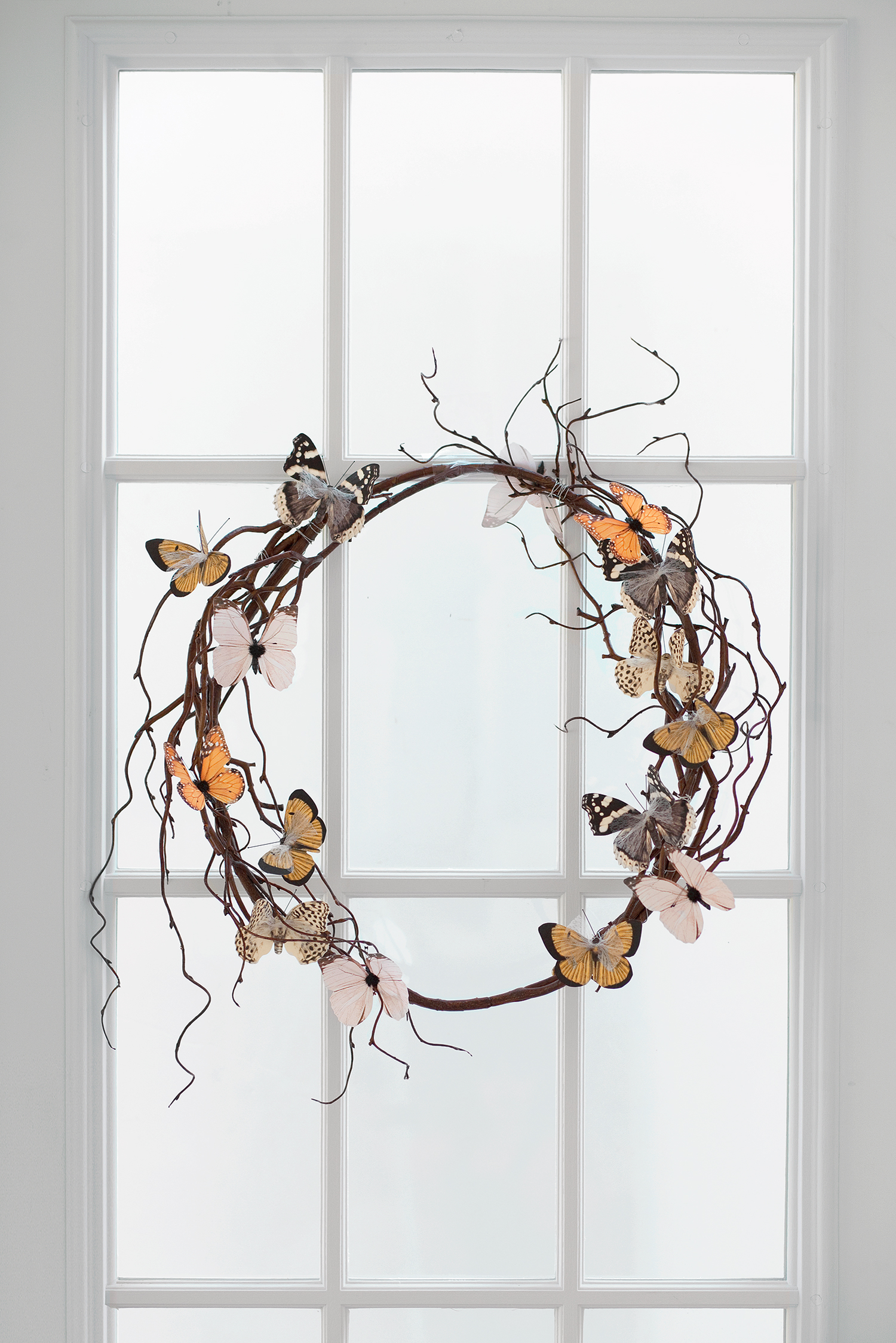 I love the delicate look of this butterfly wreath, and think it looks particularly lovely hanging in front of this windowed door with warm light streaming in around it. This is the door inside our sunroom — a spot I chose because I can see the wreath from our living room.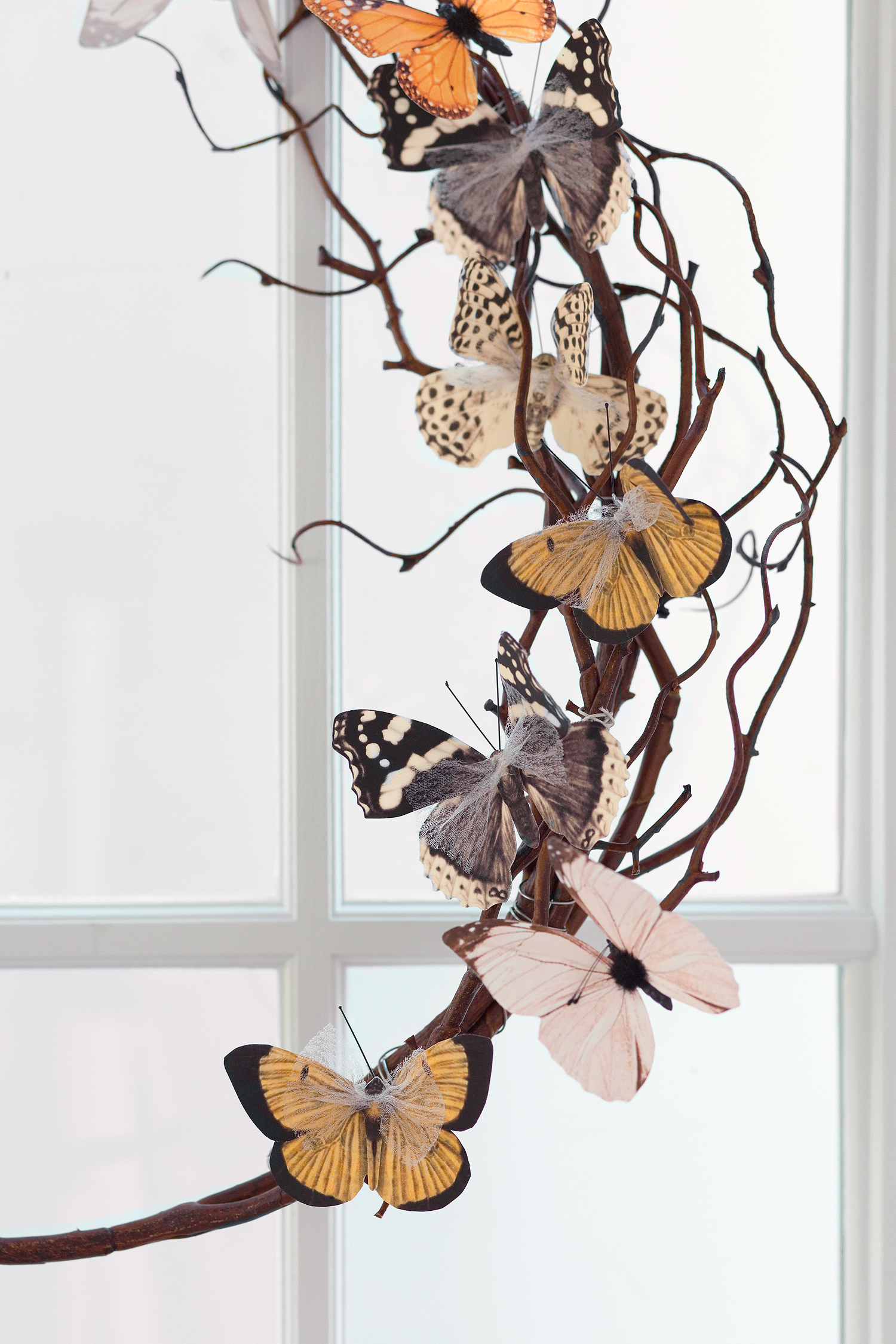 After watching me make this wreath, my girls have butterfly fever, which have made the wheels in my head begin to turn once again! I'm thinking a butterfly themed birthday party would be a beautiful kiddo birthday party theme! I'll definitely be keeping this wreath handy for when that day comes.
What's your favorite way to decorate for Spring's arrival? Don't forget to check out Hobby Lobby for wreath making supplies and other home decor. Bring this coupon with you for 40% off any regular priced item. Happy Spring crafting!
This is a sponsored conversation written by me on behalf of Hobby Lobby. The opinions and text are all mine.