The Sunroom // Makeover Reveal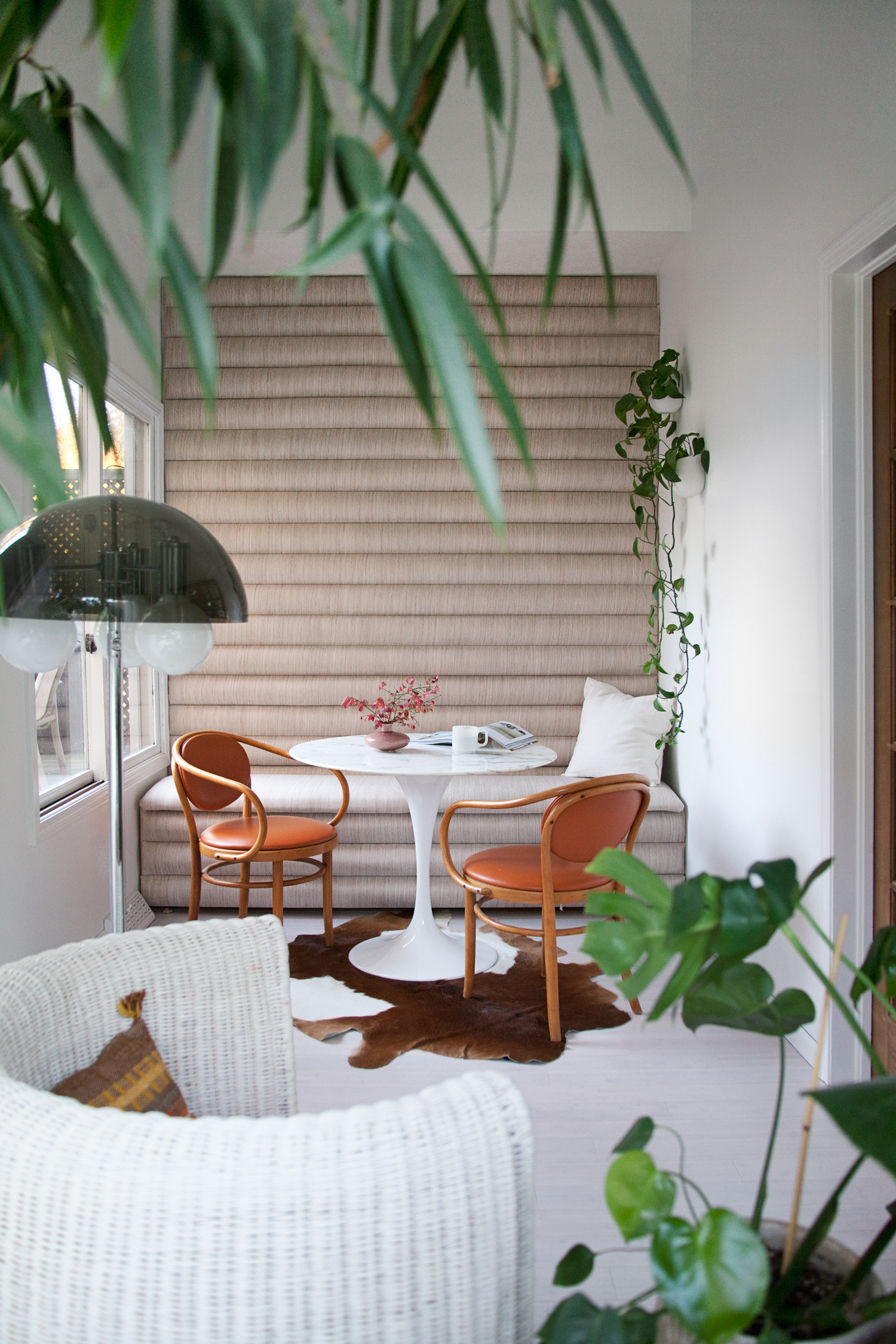 Here it is! The first room I set about to fix-up in our new home, and I'm calling it done-zo. When we first viewed this house, before it became our home, Lucy and Juniper were enamored with this little room, closing the doors and declaring that no grown-ups were allowed inside. Now the space feels very grown-up, but the kiddos still commandeer the sunroom for assembling puzzles on the floor, for staging road-trips for their figurines, or for hours of play-doh fun at the table. I'm so happy this little room is a part of our home, and hey— I think my plants are pretty happy about it too. (Yeah, I'm lookin' at you, Mr. Ficus!)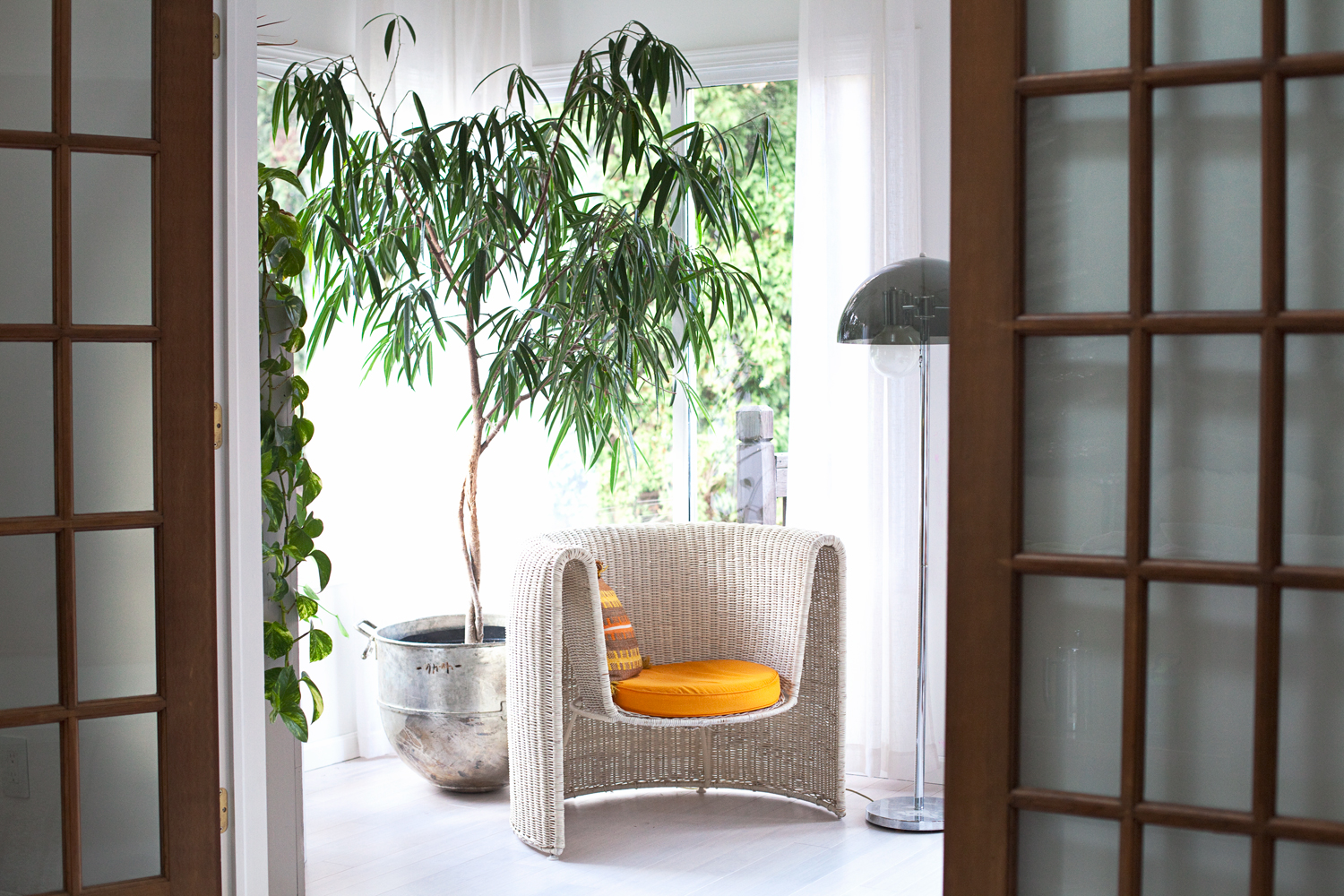 The sunroom is adjacent to our living room, separated from the space by these two french doors. There was a lot of back-and-forth in my mind about painting these doors white, or leaving them wood, and many of you expressed strong opinions in favor of both options on my Instagram posts. In the end, Phil said he liked them wood, and it was just the tipping point I needed to make a decision I most certainly do not regret. These doors add a quality of warmth to both the sunroom and living room, and tie in with the shelving wall in our kitchen.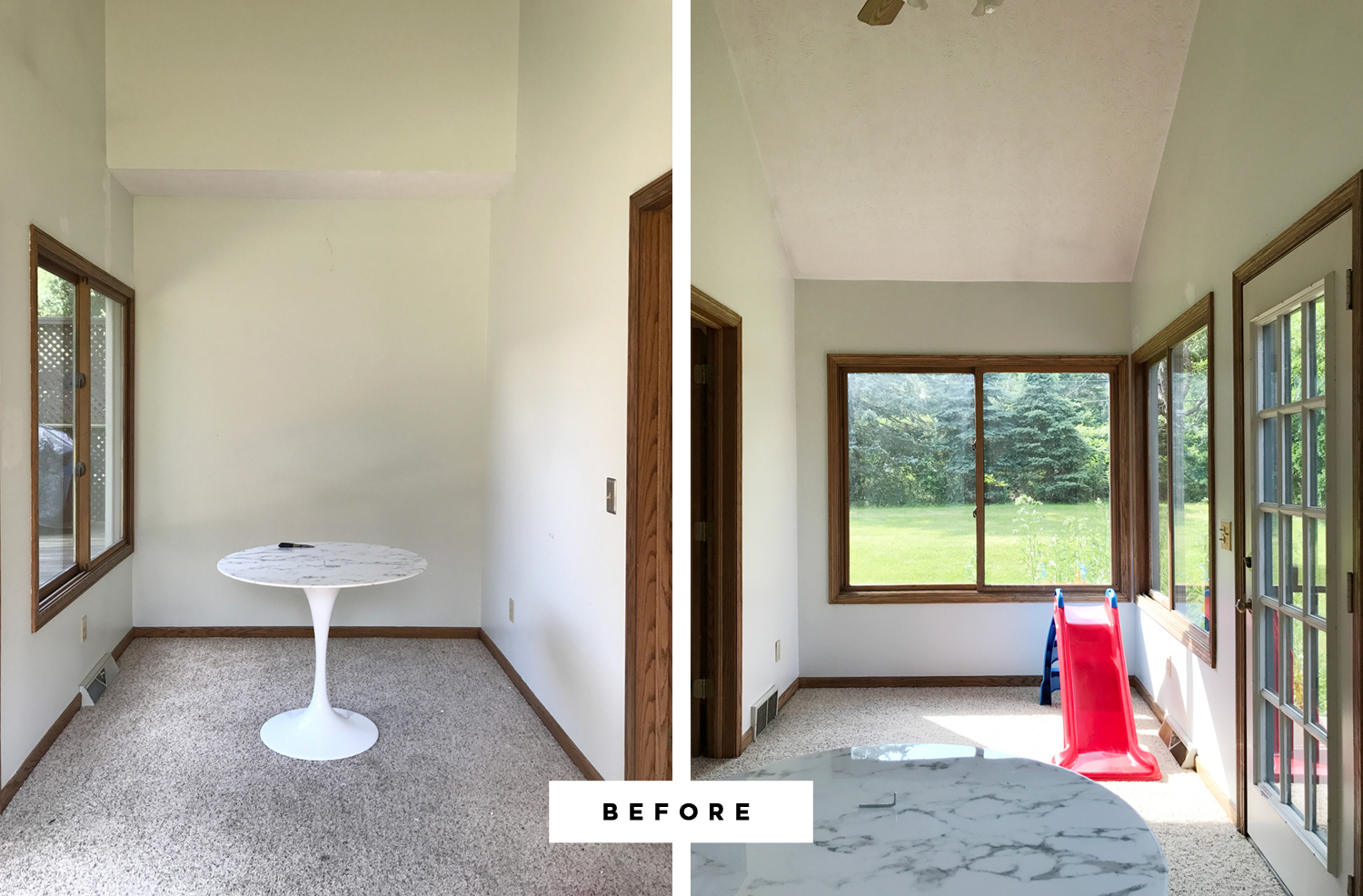 Above is how the room appeared when we first moved in. Full of bright light, a pleasant light minty blue color, and not-so-pleasant dingy shag carpet. It felt like it fit right in here in my Northeast Ohio suburban neighborhood, and that's not exactly what I wanted. So, first things first, I ripped out all of the carpet the day we signed the papers to make this house our home, Then I set about painting everything a perfect shade of white, à la Benjamin Moore's Super White. I used the same shade of white in the sunroom, living room, kitchen, and entryway— semigloss for the trim, and eggshell for the walls.
Sidenote: This was the first time in my life I have hired a painter, and let me tell ya— I felt très fancy. We had some very high ceilings we were working with (17′ in the entryway), and what would've taken me ages, and maybe cost me my neck, took my painter a couple of afternoons. Very much worth it.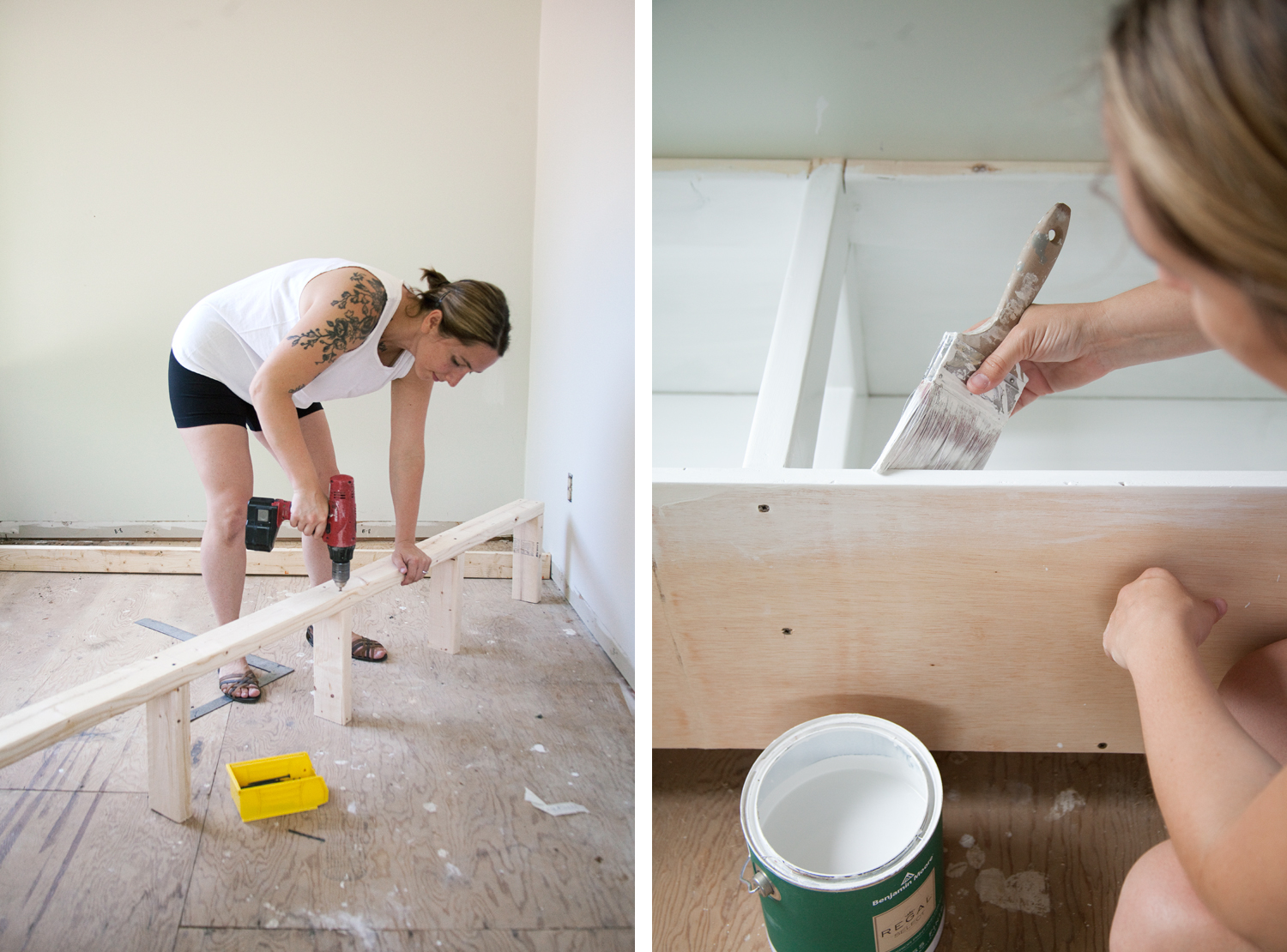 THE BANQUETTE
After the floors were stripped and the walls were painted, I built my much anticipated channel-tufted storage banquette in the nook underneath the soffit in this small room with soaring ceilings. When we first moved in, the soffits annoyed me. But now I appreciate the dimensionality that they give to the architecture of our home, and I like to think I'm harnessing the full potential of the soffits in here and the living room.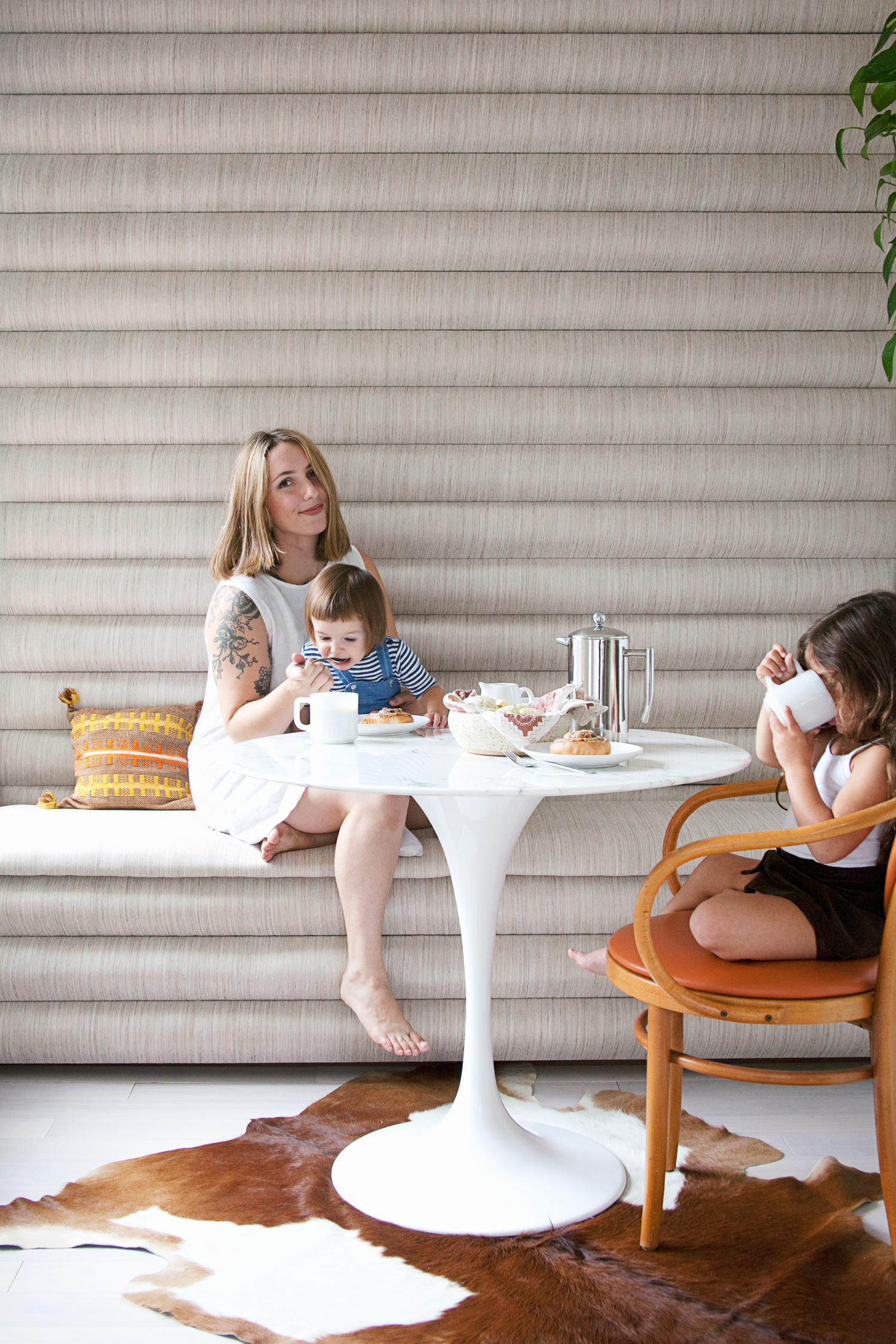 Because of the small footprint of the sunroom, I do feel like it's a "you just have to be there" kind of space, but I hope that these photos do it justice! The banquette might not seem like much of a nook in these photos, but in real life it fits right into the soffited area in a space with such high ceilings— it feels cozy and the perfect way to treat an otherwise sparse and awkward space.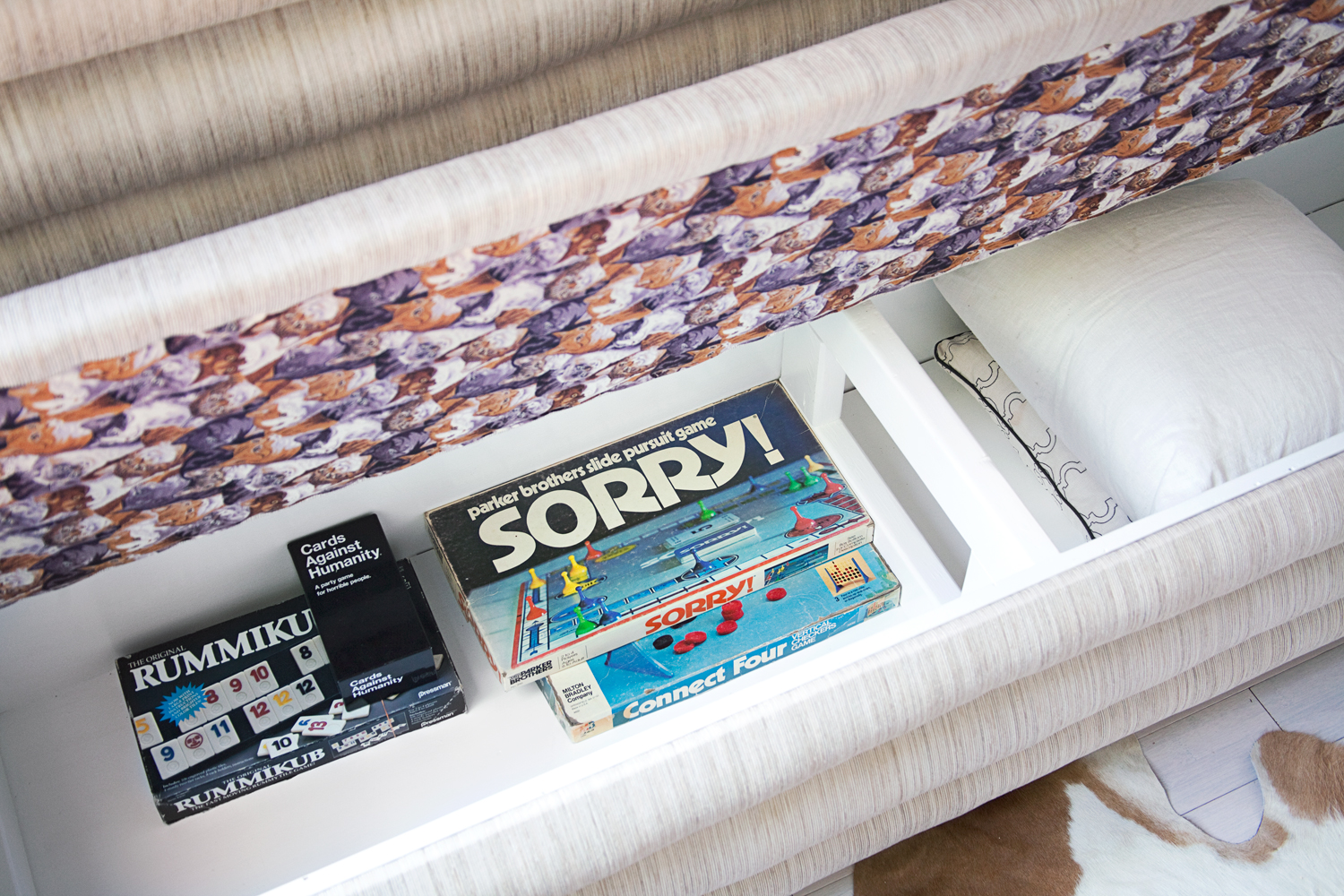 You can check out the full DIY at A Beautiful Mess, but suffice it to say I'm so glad I built this bench with ample storage, because we have since unpacked
all of our games and puzzles, and this bench is now packed to the brim with fun things! I used hinges that stay open, so the girls can come in here during the day and pull out puzzles to work on, or ask my permission to get out play-dough. (That's something we've had to work on… ha!)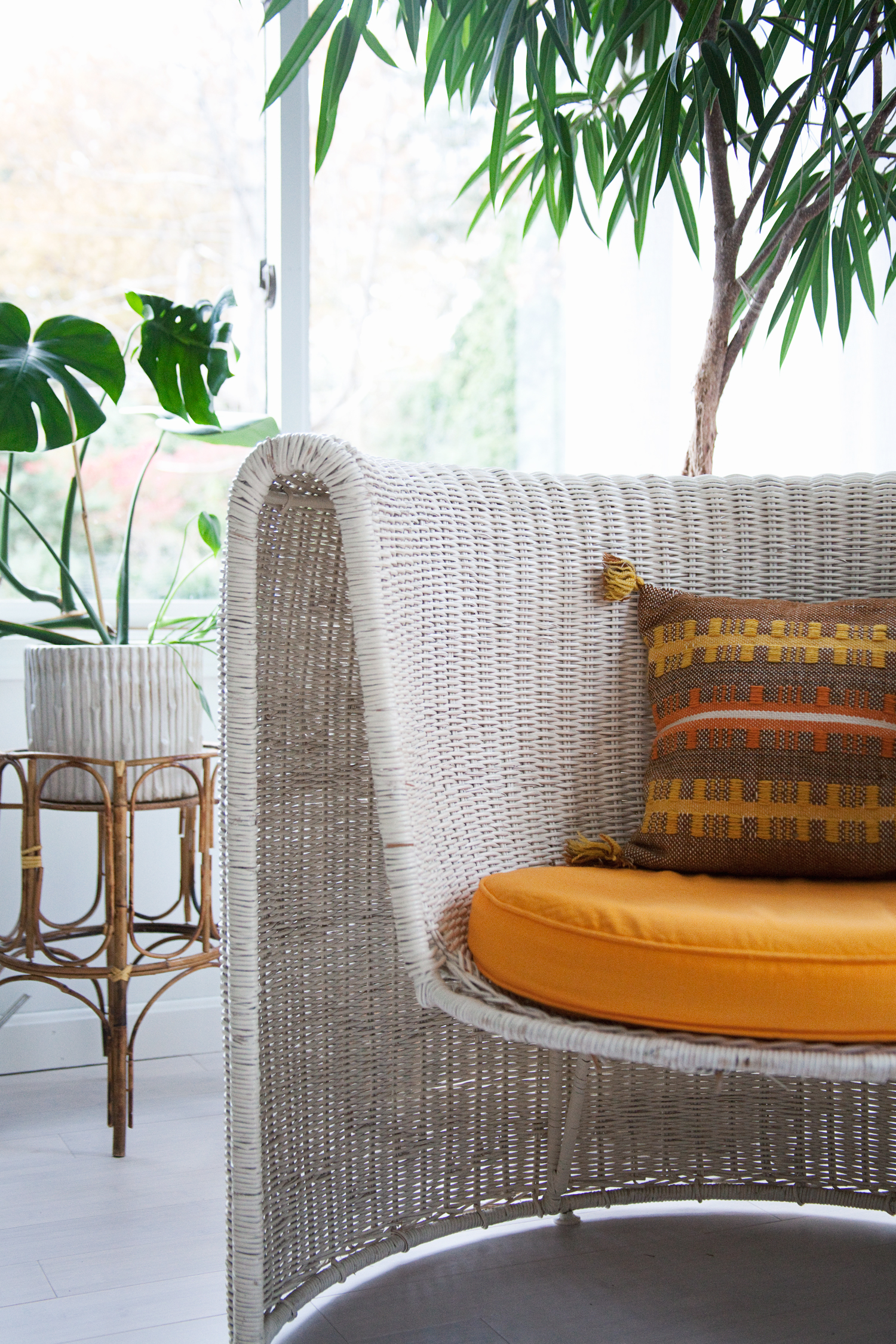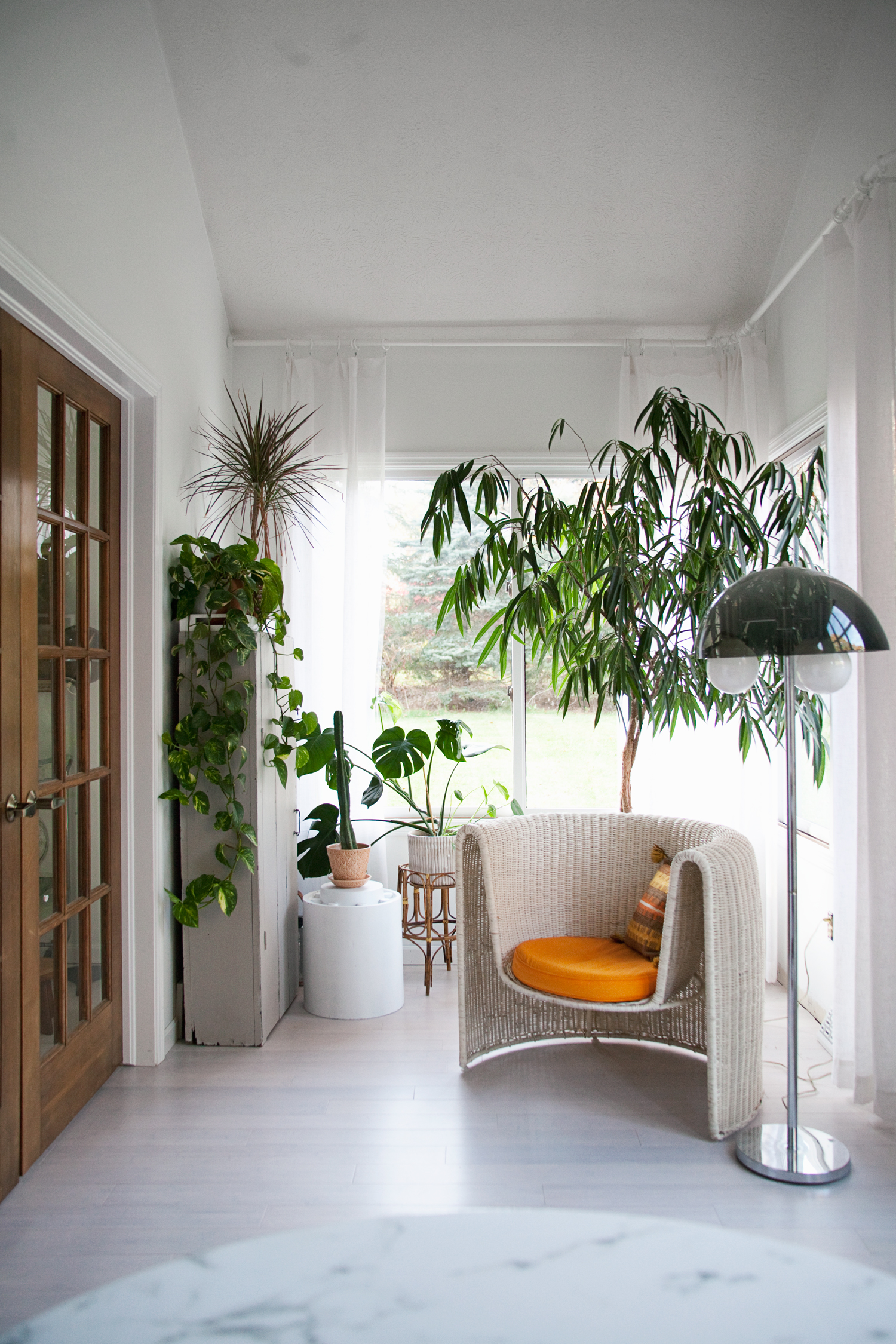 PLANT ELEMENTS
In our new home, I won't be using plants as decorative elements in the same way as I did in our old home. Of course I still love my plant babies! But I'm drawn to a less junglicious design sensibility in most of the rooms of this new house, and now that I have this convenient sunroom, I can have a spot to escape to, full of plants, which also happens to be within view of our living room. It feels like a pretty good balance. (And yes, I still have some plant babies throughout the rest of our home too! Just scaled back quite a bit.)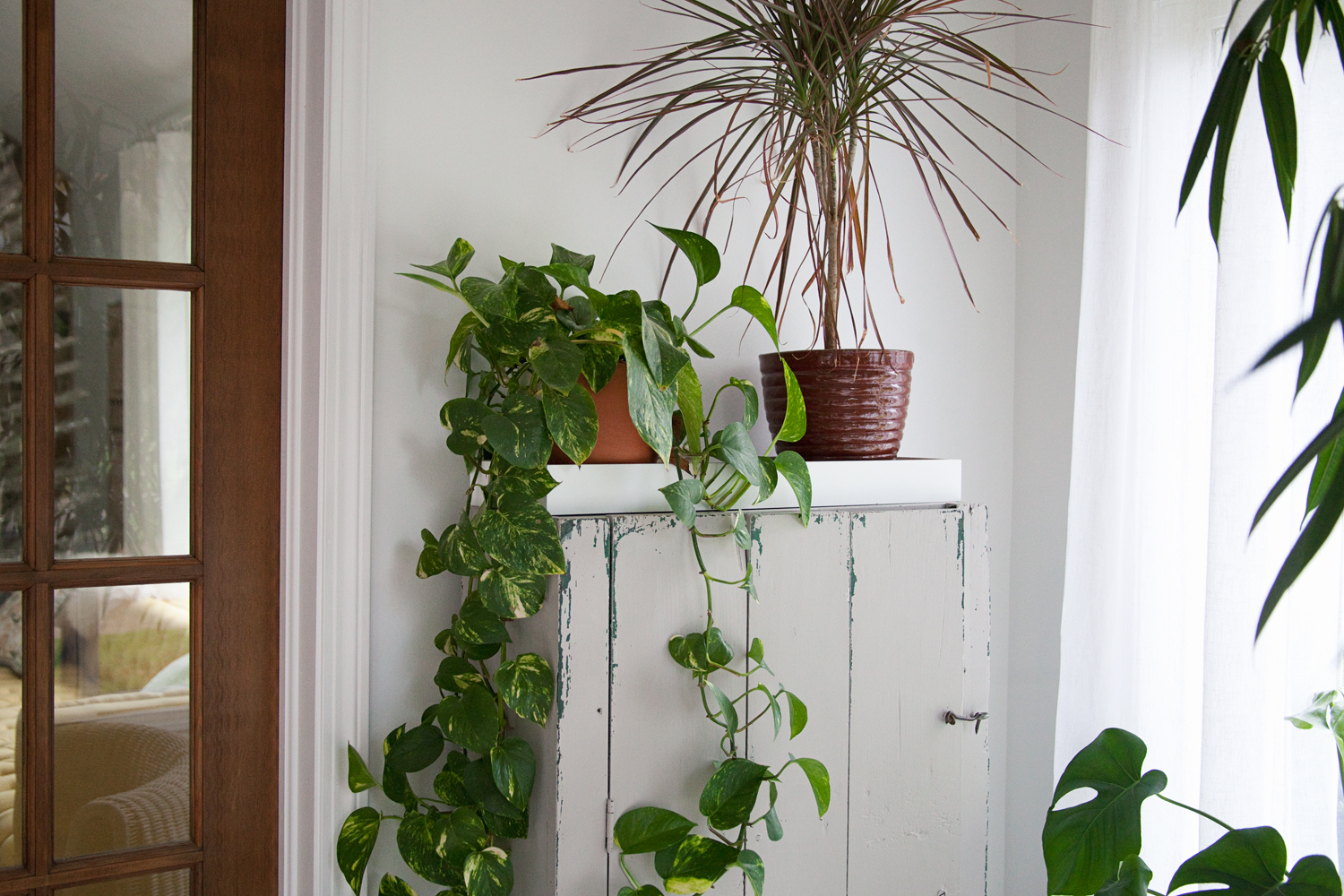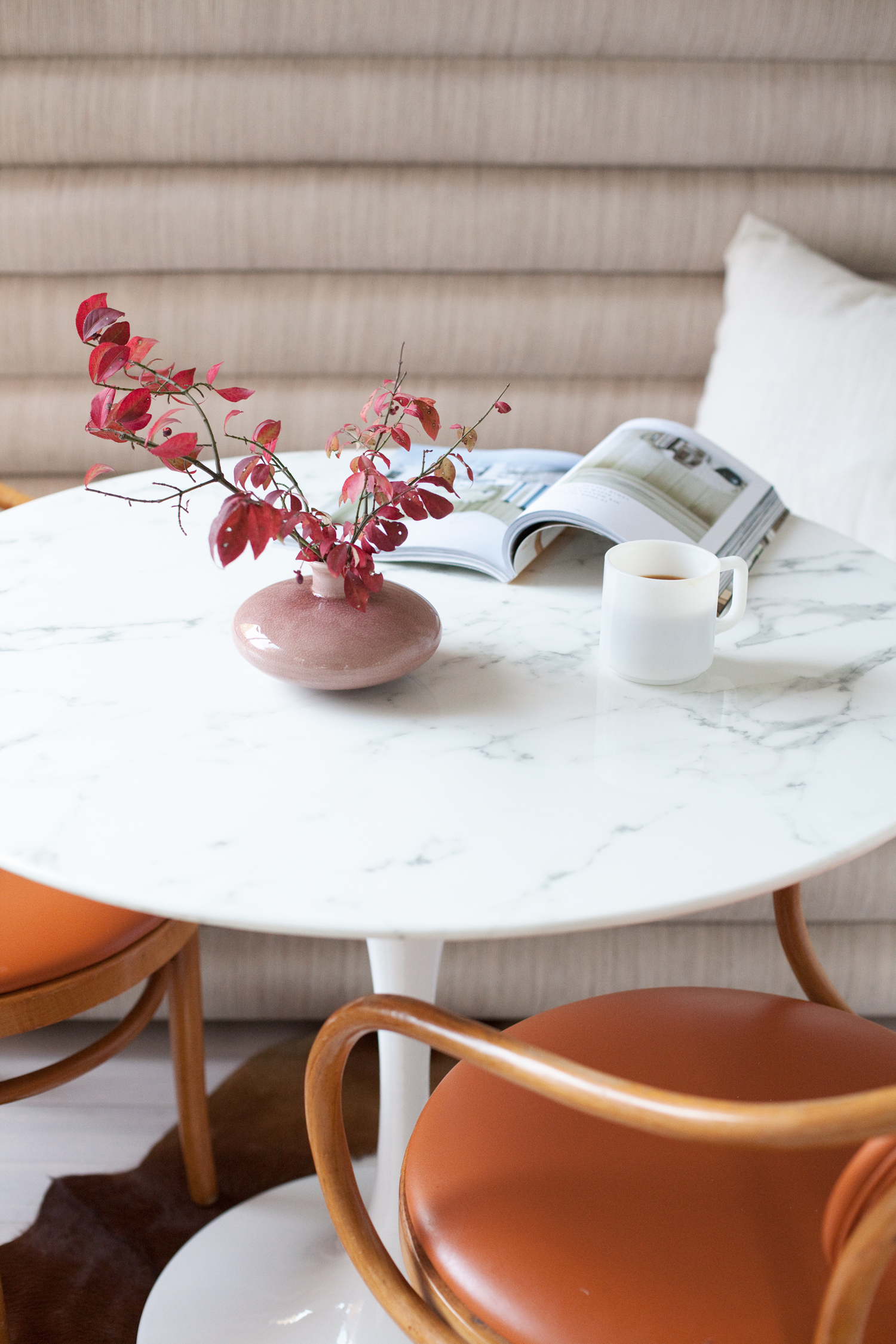 DESIGN CHANGES
The design for the sunroom has undergone some changes from my initial conception back when I shared my first concept sketches early last June. At some point, I decided on doing this ambitious channel-tufted wall, but originally I had planned on making it orange. YES, orange. Such a controversial color, but a great love of mine. Somewhere along the line I came to my senses and decided to use a calm neutral color instead. Oh— I remember when it was! I was trying to select the perfect orange or pink while standing at the store looking at upholstery fabric. And I felt suuuuch anxiety about all of the options, until I found this textural swatch of neutral fabric. Then I knew. Orange just wasn't in the cards. Or at least, not for the banquette itself. But soon enough I would find my dream chairs in another delicious shade of orange!
Remember the post I wrote way back in June planning the furnishings for the sunroom? At the time, I had planned on using a (free) pair of white coated Bertoia chairs my brother said I could indefinitely borrow, but I was so enamored with the Thonet bentwood chairs I shared, and received such strong feedback about those chairs on Instagram, I was swayed to purchase these chairs on Etsy, and I will never ever regret it! They're beautiful, but also so comfortable! I'm not sure I'll keep them this particular shade of orange, but right now they feel pretty perfect in here.
Another change I made was deciding not to use the wicker pendant in my initial sketches, because I didn't like how it took away from the bold banquette wall. What you can't see (but can barely see in my before pics) is a ceiling fan hanging down from the vaulted ceilings in here. It is an eyesore (that I don't notice anymore), which I will eventually replace, but it is also a source of light and a handy air circulator in the warmer months. I'll most likely be using the wicker pendant in the playroom instead of the sunroom.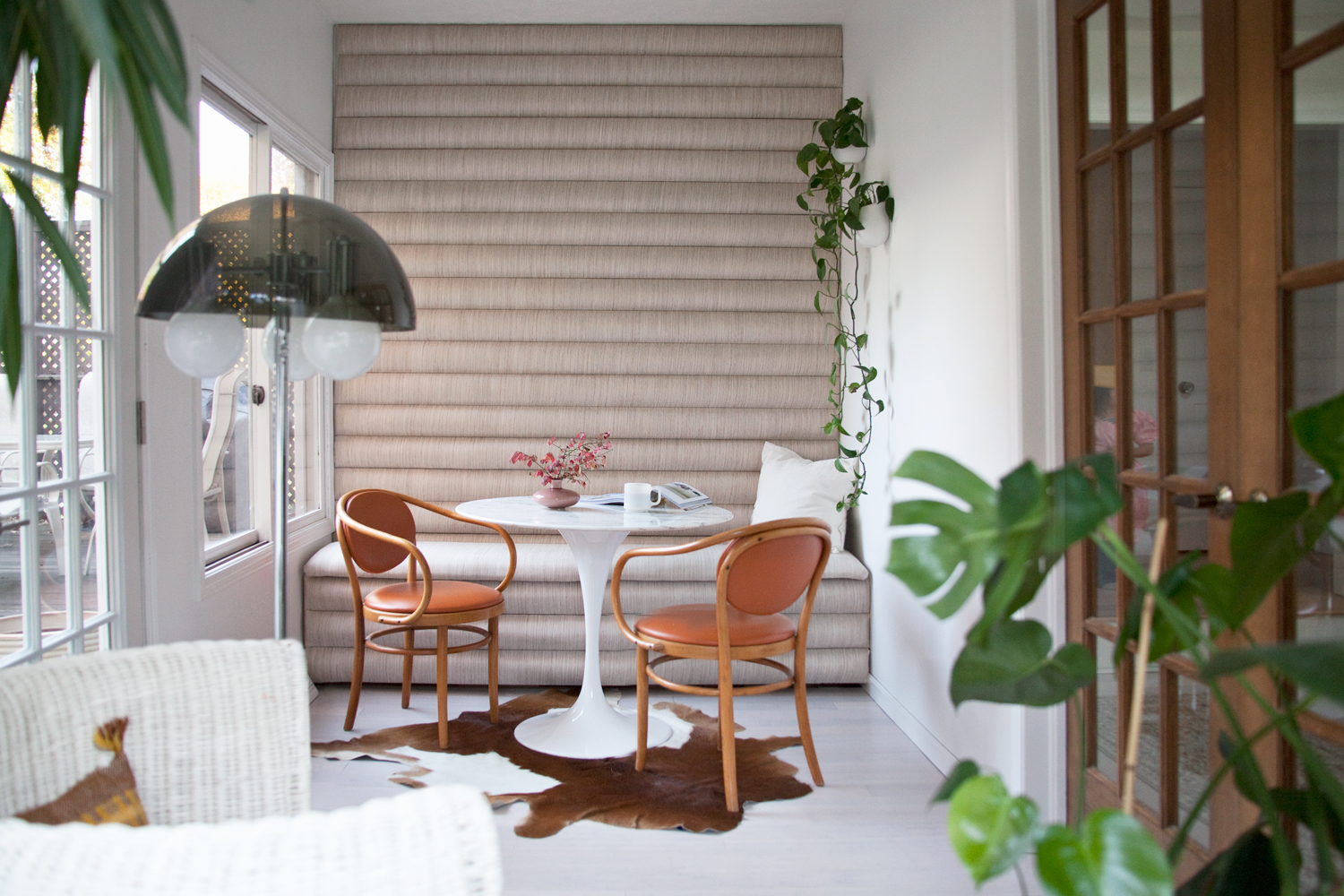 I'm so happy with how this space turned out, and it feels really good to have one room completely finished in our house! Next up we're finishing up the last details of the kitchen and sunroom, and I'm getting pretty excited to share those with you too. Thanks for following along!
PRODUCT SOURCES: