KITCHEN PROGRESS: Adding The Final Details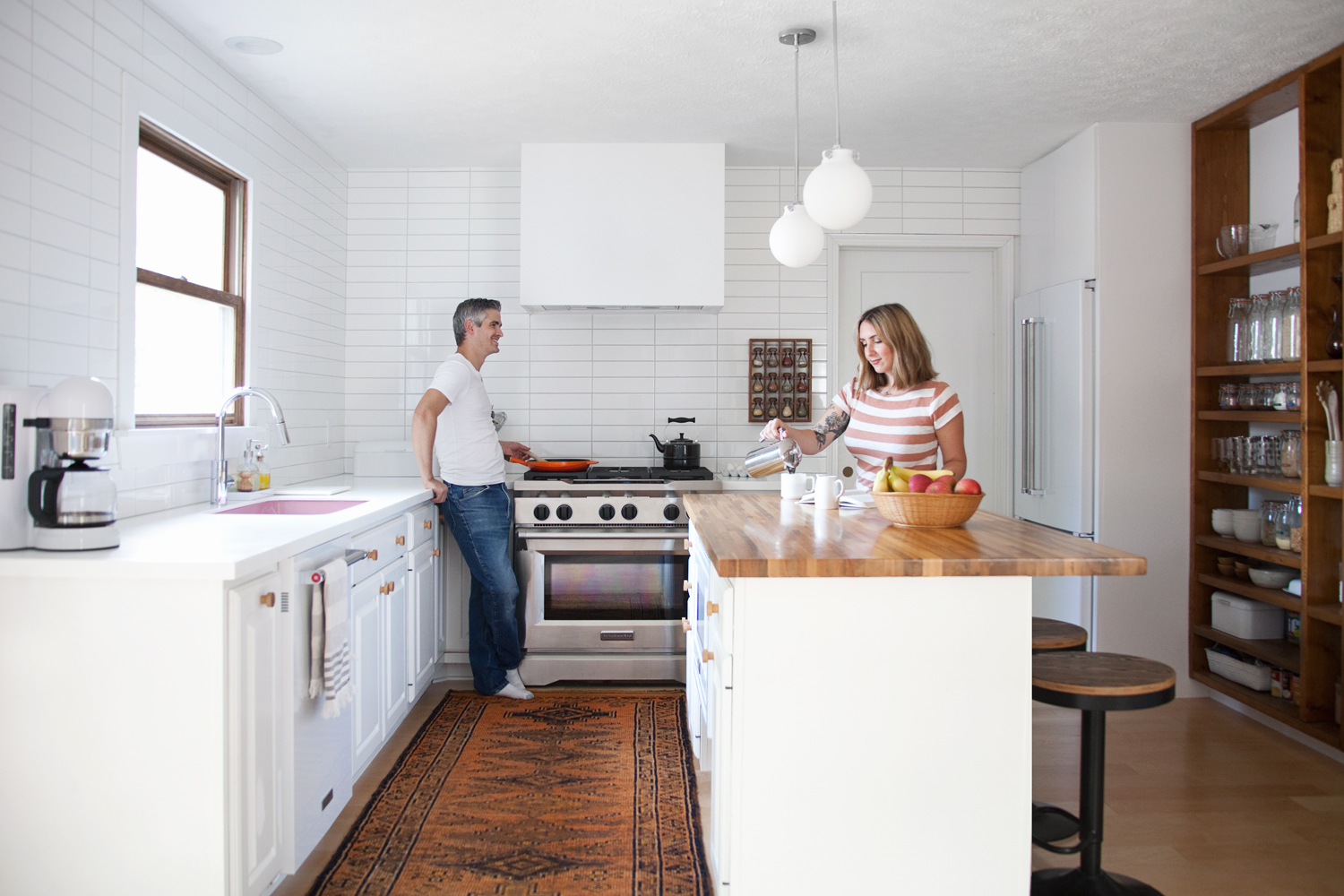 You guys! We are SO close to being finished with this kitchen progress. I still have to add some details, such as the shelving on either side of the window, a door knob to the playroom, caulking in some places, and a shade for the window. But look! It looks so close to my final vision!
I wanted to share some special details about the nitty gritty stuff today. Things like, how I hid a wall switch inside a 2×10 board of my shelving wall, what kind of switches and outlets I've used, and how I patched the texture of my ceiling where we installed two hanging pendants.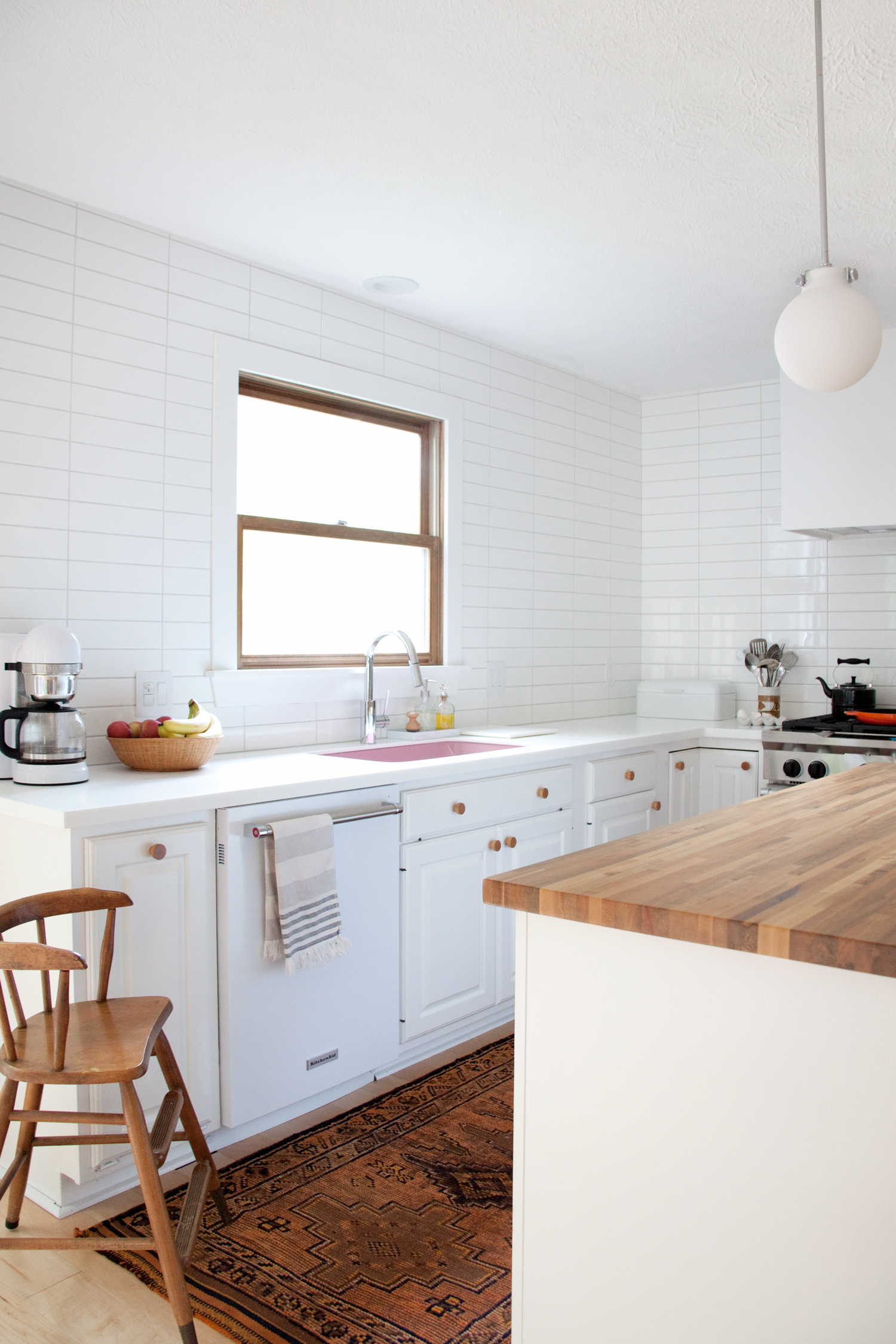 Now, let's play a little game. It's called spot the outlets. I have four outlets and two switches on the kitchen window wall, and am so pleased with how they fade away without making a visual statement at all. I used Legrand's Radiant line of switches and outlets, and their wall plates are actually screw-free, so they look very minimal— to the point where you really have to look for them in photos. A blogger's dream.
Replacing my outlets and switches wasn't even on my radar when I began this process, but when all of the newer elements began to replace the old, I realized how dingy and outdated all of the old electrical fixtures looked by comparison. I'm so glad we replaced everything— these are the little things that make a big difference!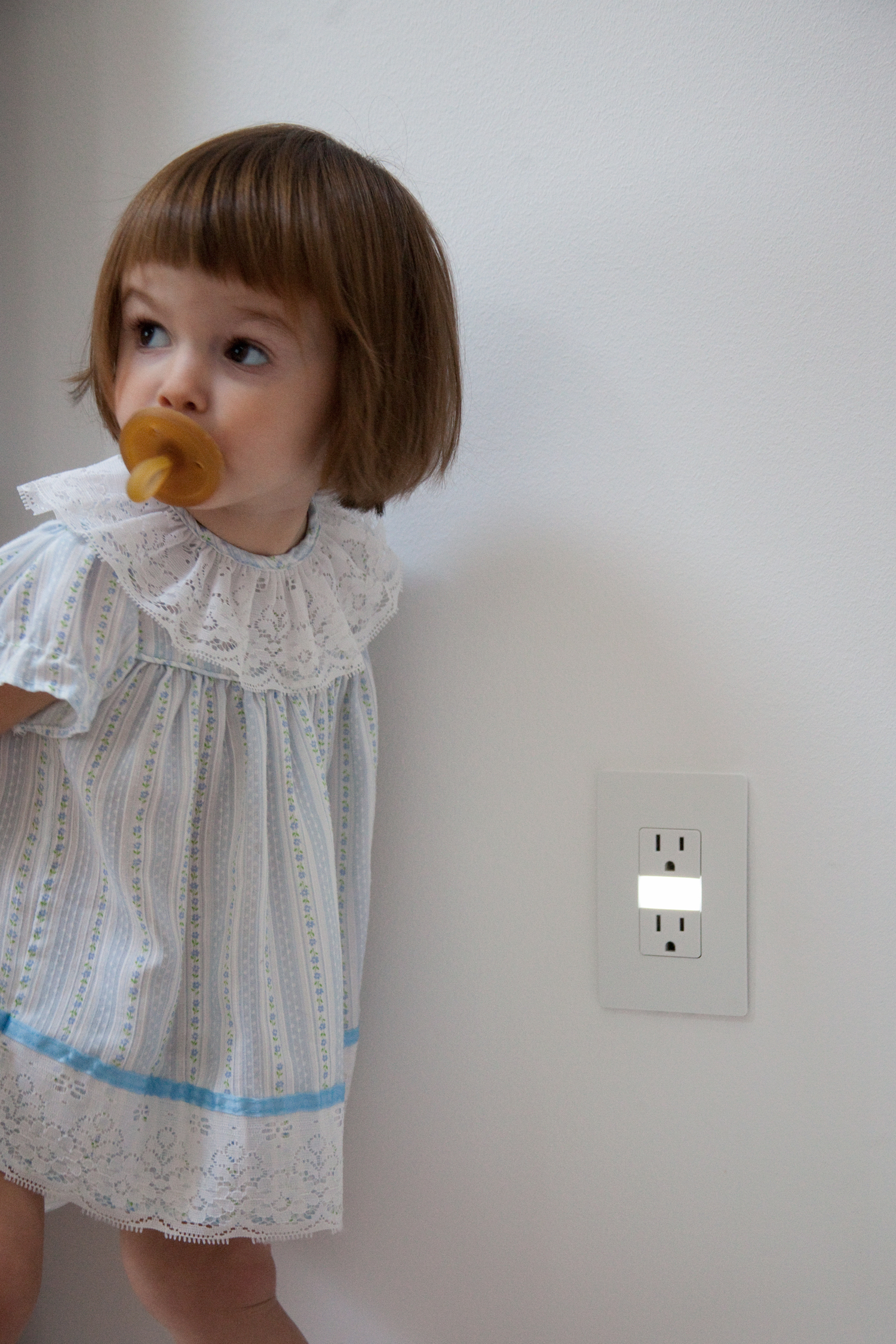 We also utilized some specialty items in the Legrand Radiant line, like outlets that have 3-setting nightlights which you can set to automatically turn on in dim lighting, wall chargers, and synced master/remote dimmer switches.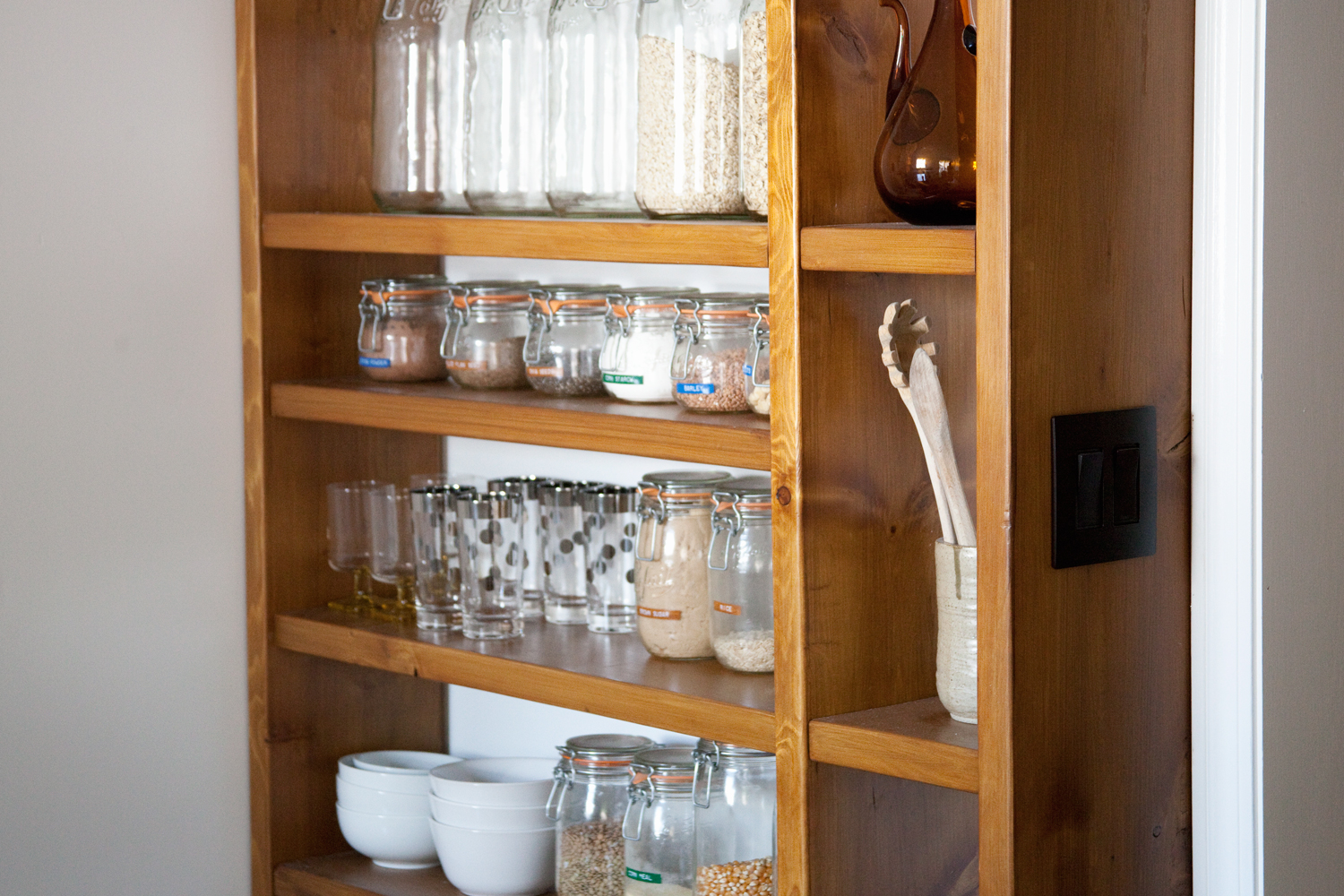 When I planned the shelving wall in the kitchen, I realized that I would be building shelves around the switches for the kitchen lights, which meant we would've had to reach our hands inside the shelves to turn on the light! Not a great idea. My dad recommended I use a shallow electrical box (like this one) and router a space for it on the outside of the shelf. Genius! He drilled a hole through the back of the shelf for the wires to enter the routered section, and now it looks like there is some kind of magic electrical situation going on. We covered the old box with a blank cover plate.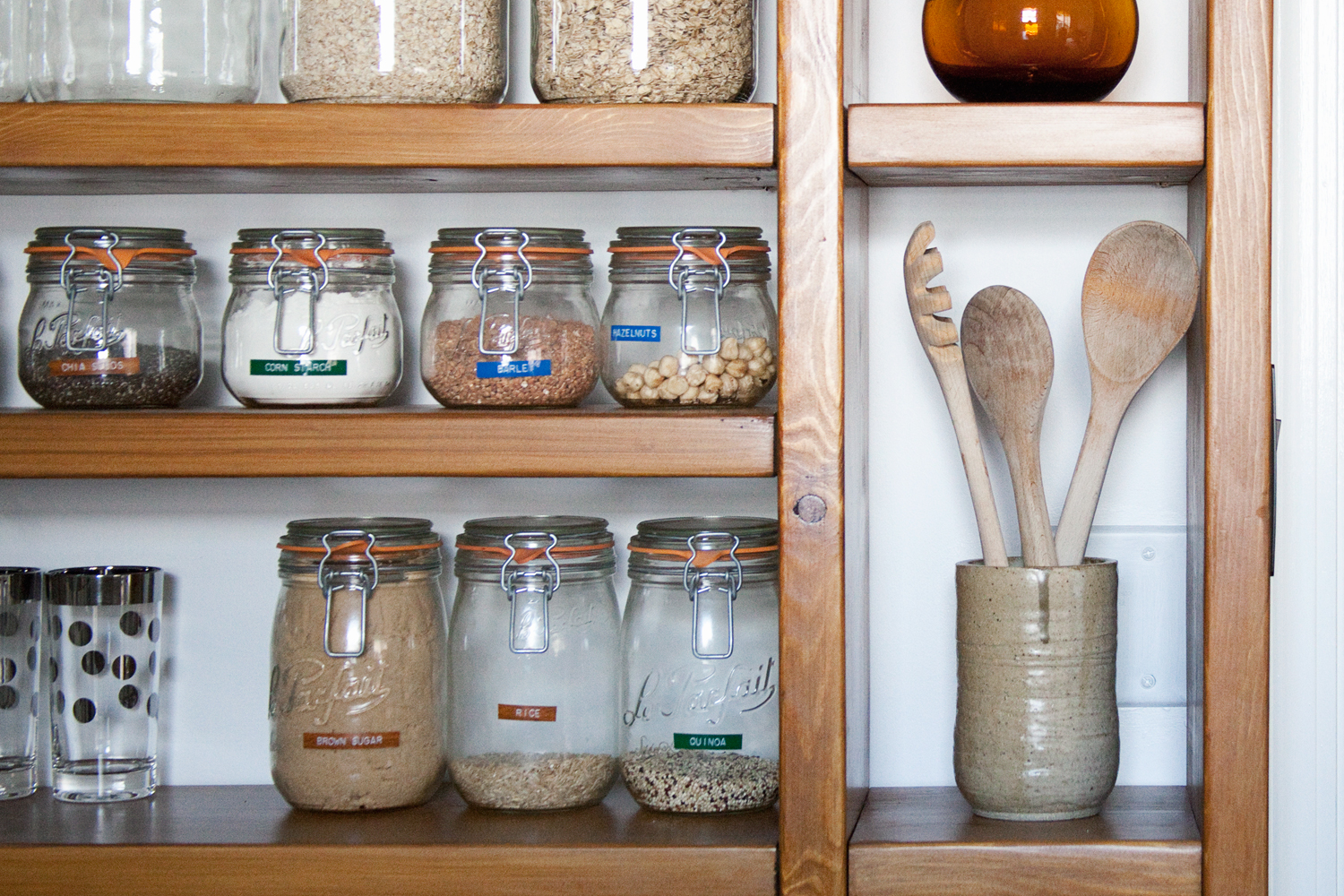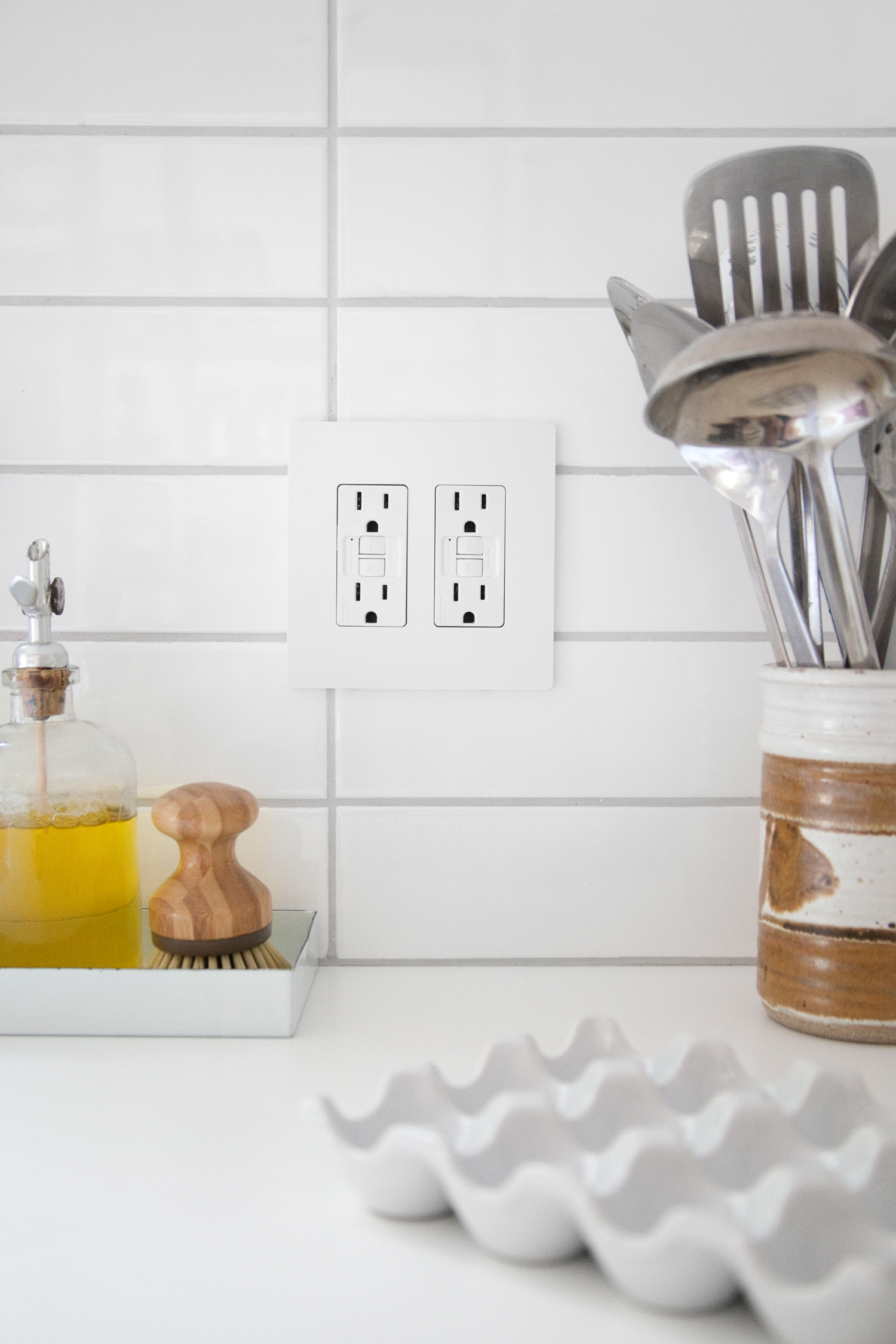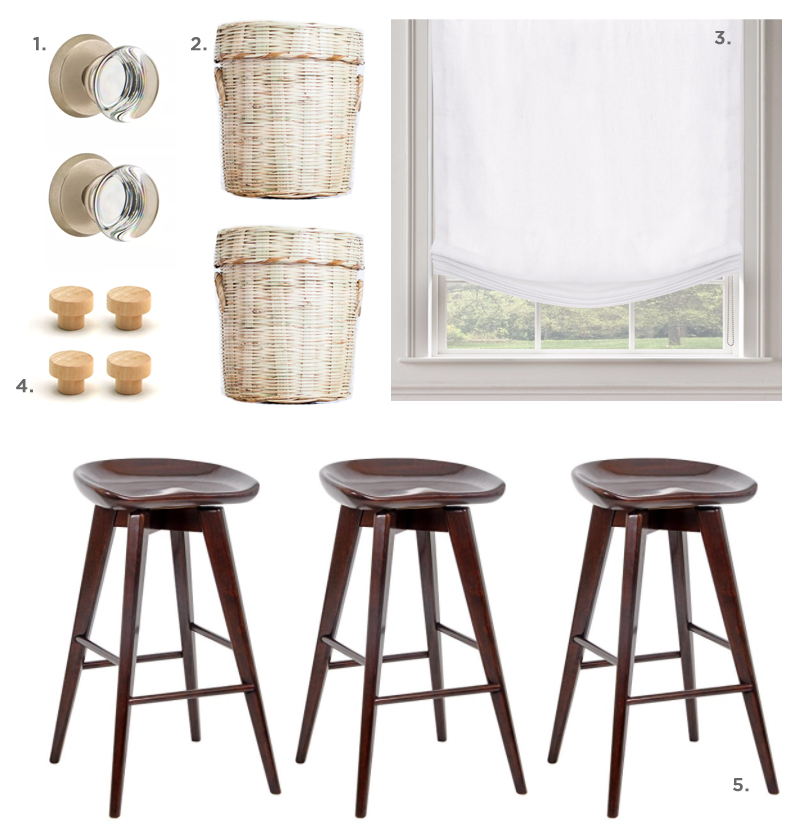 As we've been finishing up the details of the kitchen, I realized I need to make up my mind about a few final details. I decided to upgrade my door knob selection, and possibly my island stools as well. What do you guys think? I ordered an Emtek knob set for the playroom door and one for the pantry (pantry not shown in these photos), and I think the crystal and tumbled white bronze tie in well with the sophisticated feeling of my appliances and lighting, but also mimic the shape and style of my simple, modern wooden knobs. I also decided to do a white linen relaxed roman shade over the window, and got a few great baskets to put on my shelving wall. Still haven't made my mind up about the stools though. Decisions, decisions!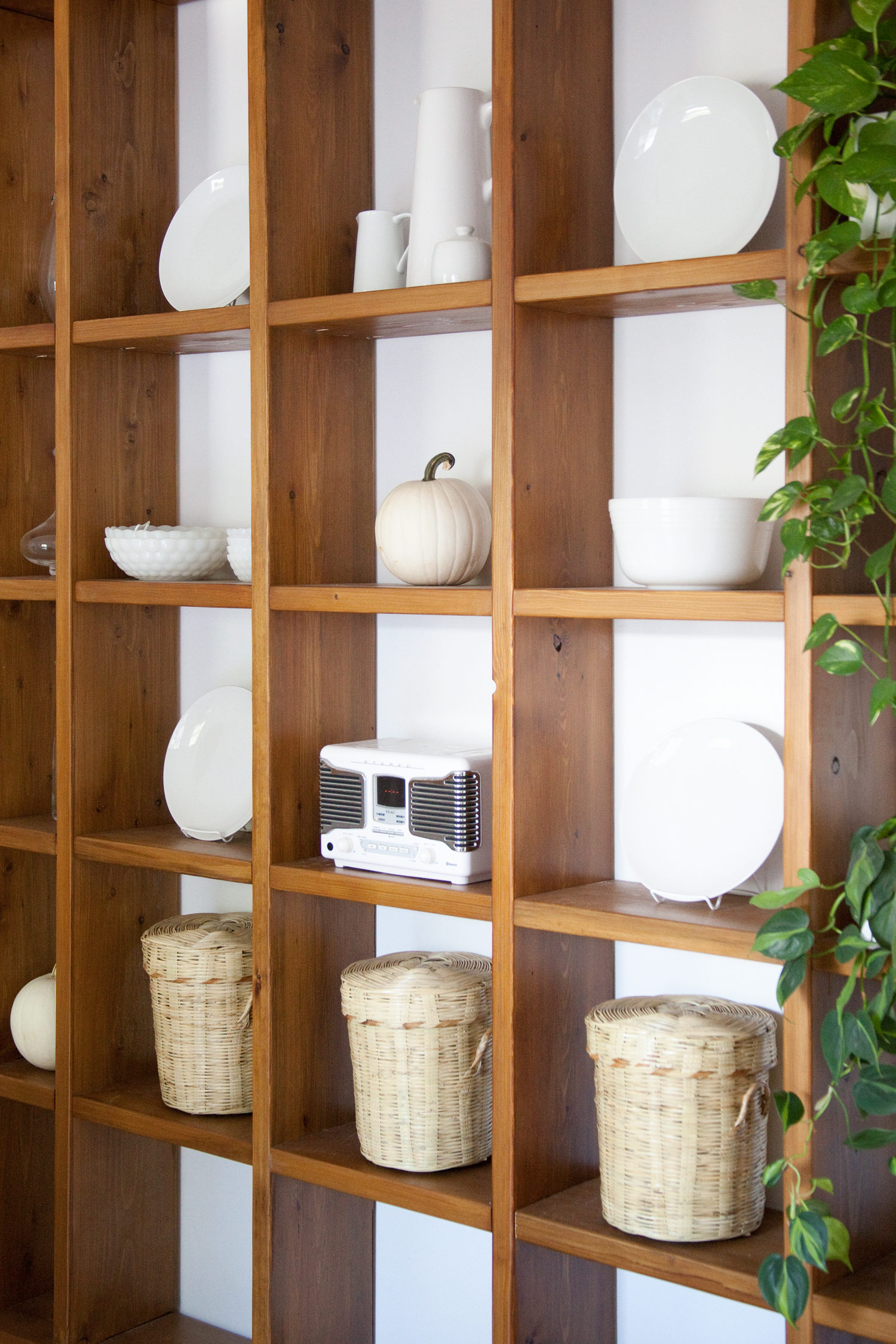 Just for fun, I had to share a before and after— well, before and during picture! It's from a slightly different angle, but when you're taking before pictures of a space you've never photographed before, it can be difficult to know what the sweet spots will be for taking after photos. Oh well!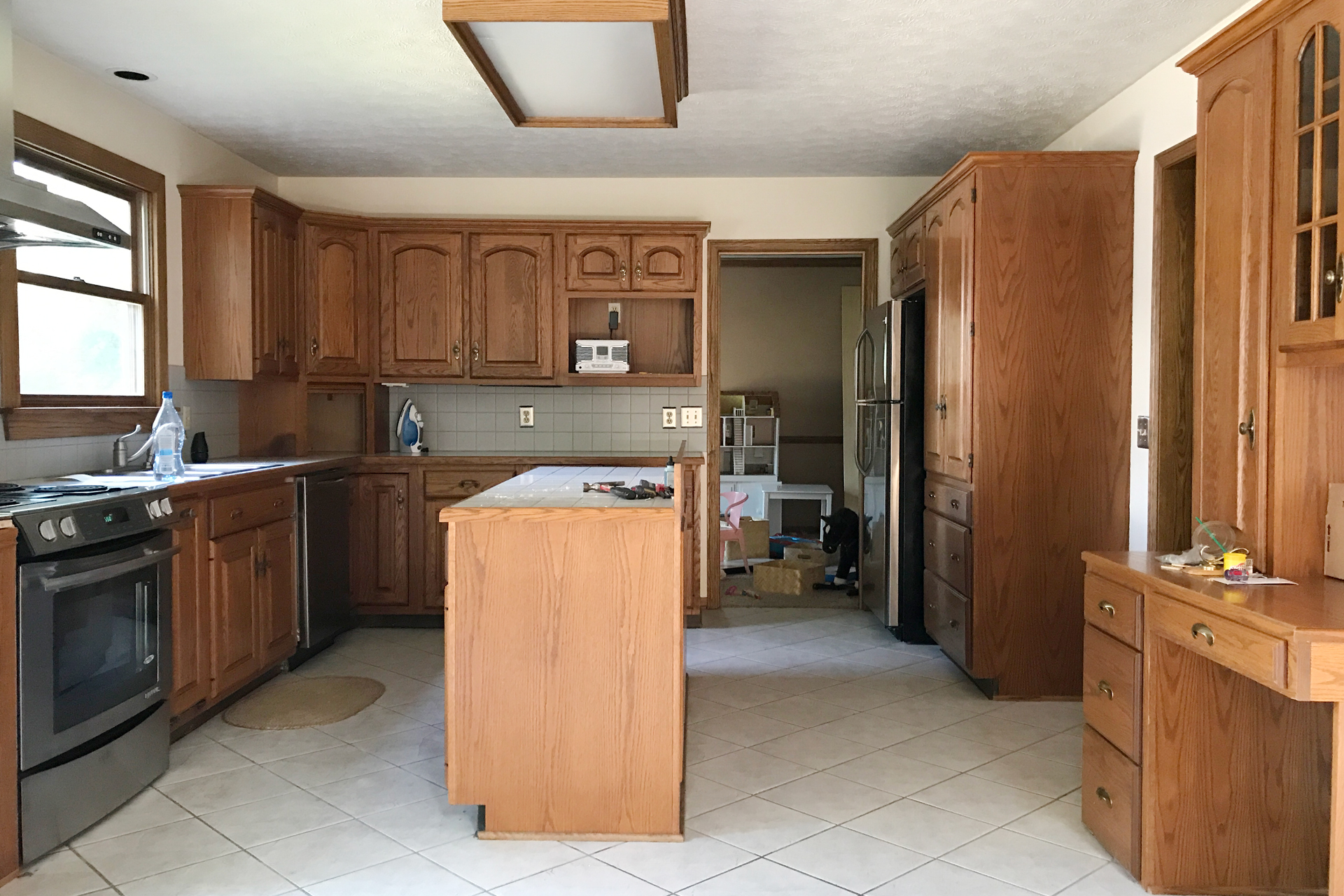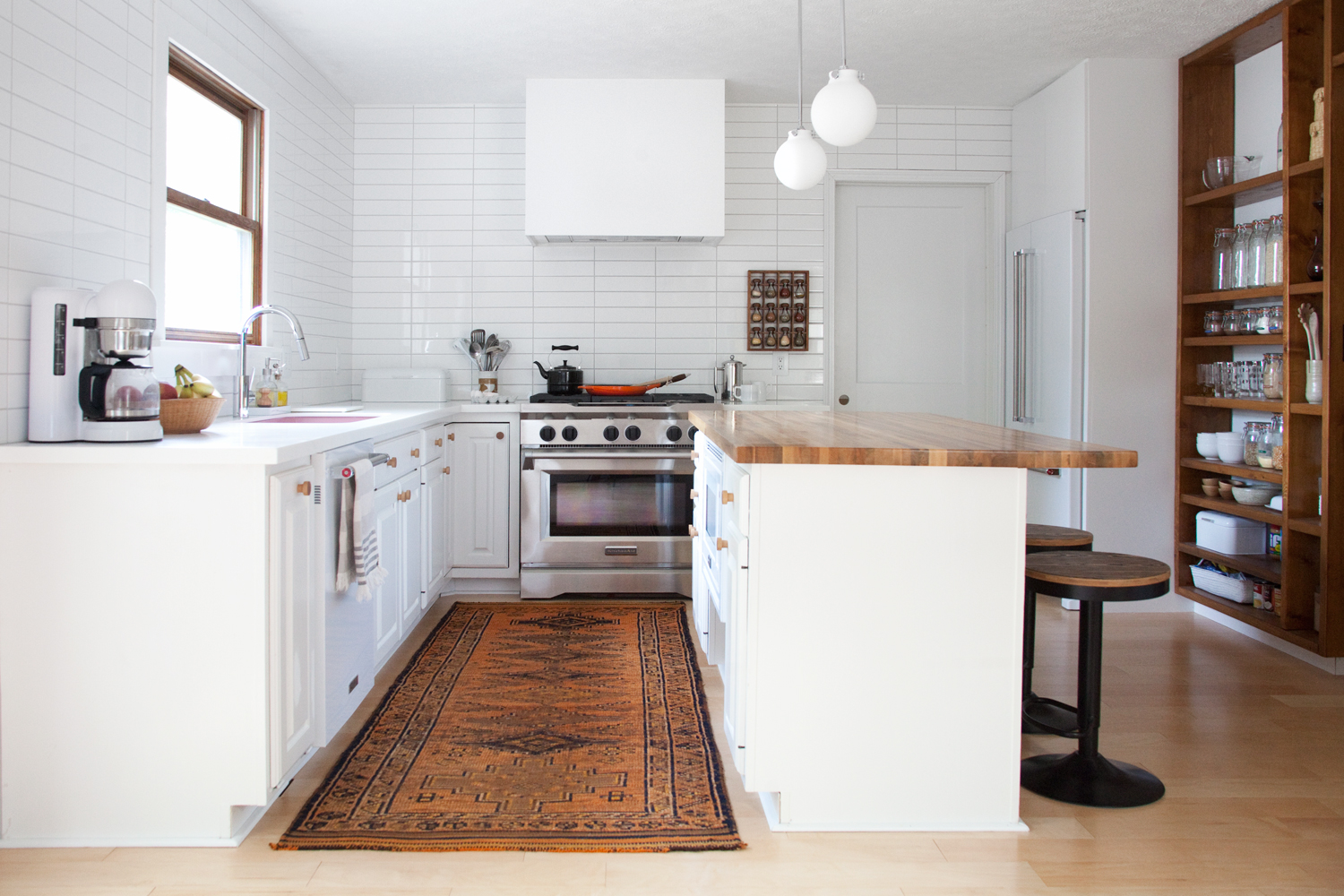 I'll share more photos of the shelving wall and other details as I begin to share more posts on the kitchen project at A Beautiful Mess. But for now, check out my post on how I built the hood vent and also my post about painting wood cabinets with chalk paint vs. latex paint.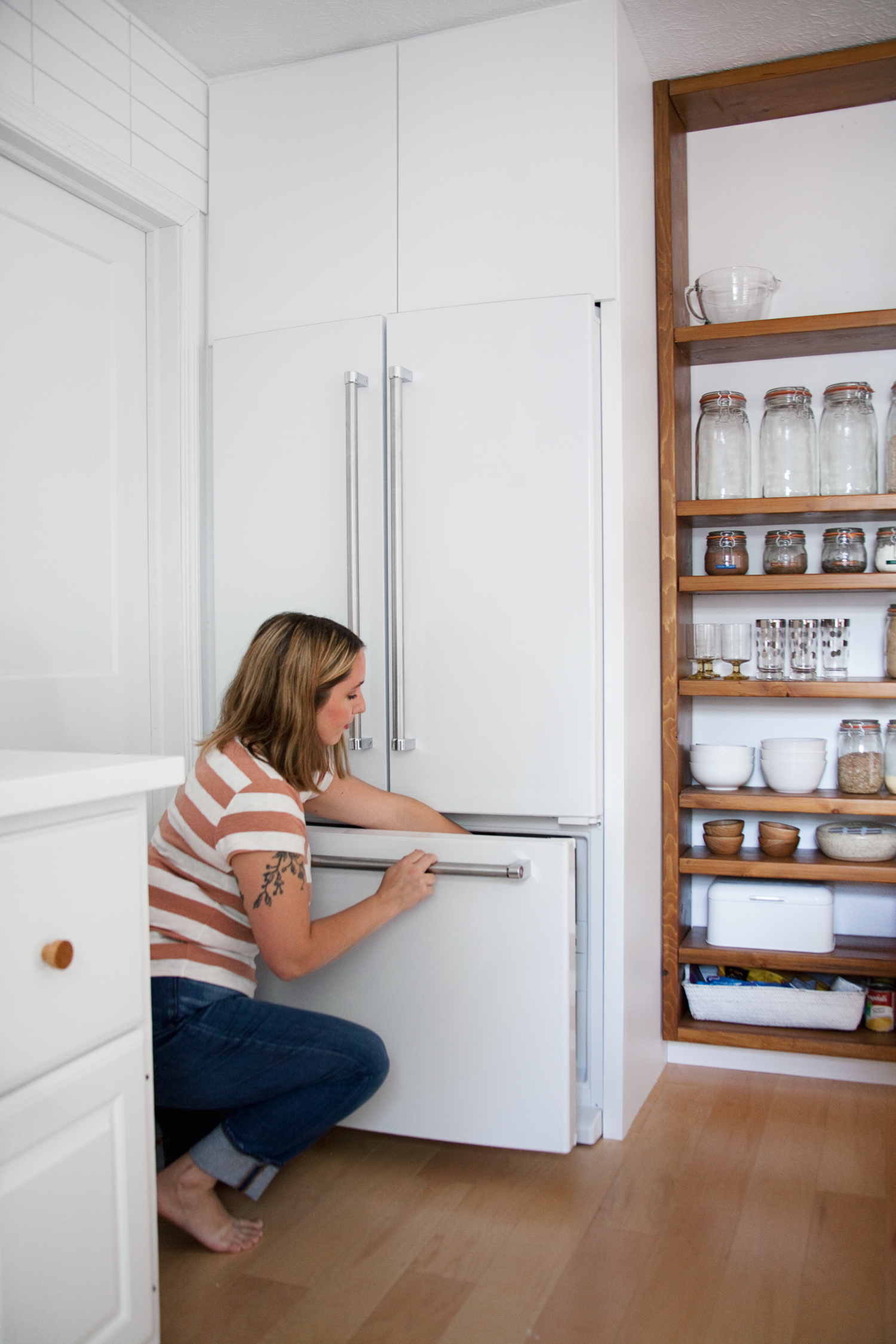 MATERIAL SOURCES
Wall paint: Benjamin Moore's Super White
Cabinet paint: Annie Sloan's Pure White
Lighting: Hinkley Congress collection
Wall tile: Home Depot
Tile grout: TEC Silverado
Outlets and switches: Legrand Radiant
Pink sink: Thermocast
Faucet: Kraus from Home Depot
Island butcher block: Lumber Liquidators sealed with Waterlox
Flooring: Lumber Liquidators maple engineered wood
Knobs: eBay
Stove: KitchenAid from Home Depot
Dishwasher: KitchenAid from Home Depot
Coffee maker: KitchenAid
Island stools: Urban Outfitters and The Classy Home
Rug: vintage Turkish kilim from Etsy