Kitchen Progress: Appliances + Finish Details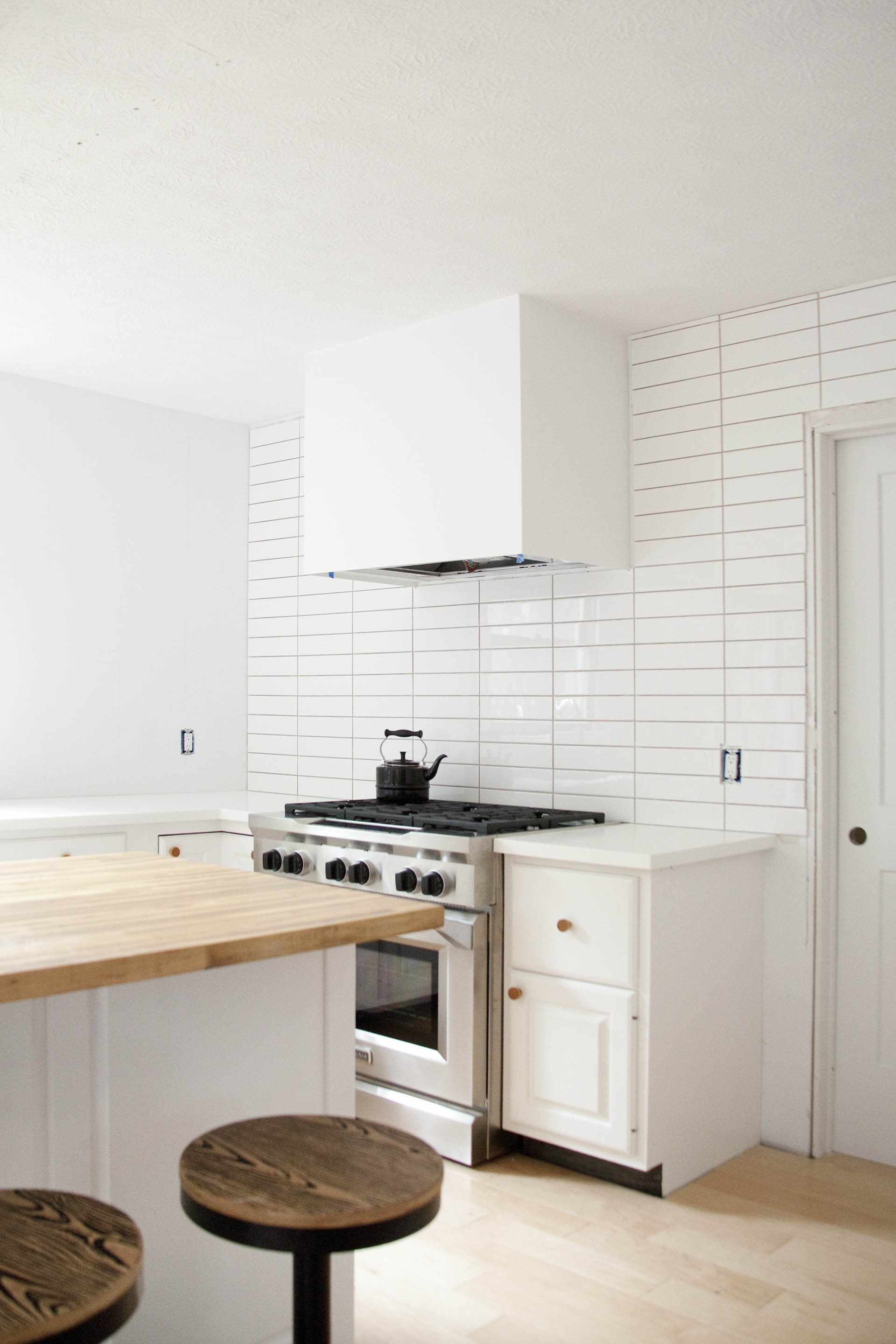 This post is sponsored by The Home Depot.
If you've wondered why I've been a little quiet lately, you obviously haven't been watching my Instagram stories! (I may or may not have been oversharing all of our home renovation details over there.) Every day I've been doing something little, or something big, to get this kitchen a big closer to completion. Unless we're talking about last Tuesday and Wednesday, when I wasted hours of my life painting the refrigerator wall 12 different shades of gray, only to come to the conclusion that gray is not a color I want for my kitchen. But! As my dad always says, it's not a waste if you learned something!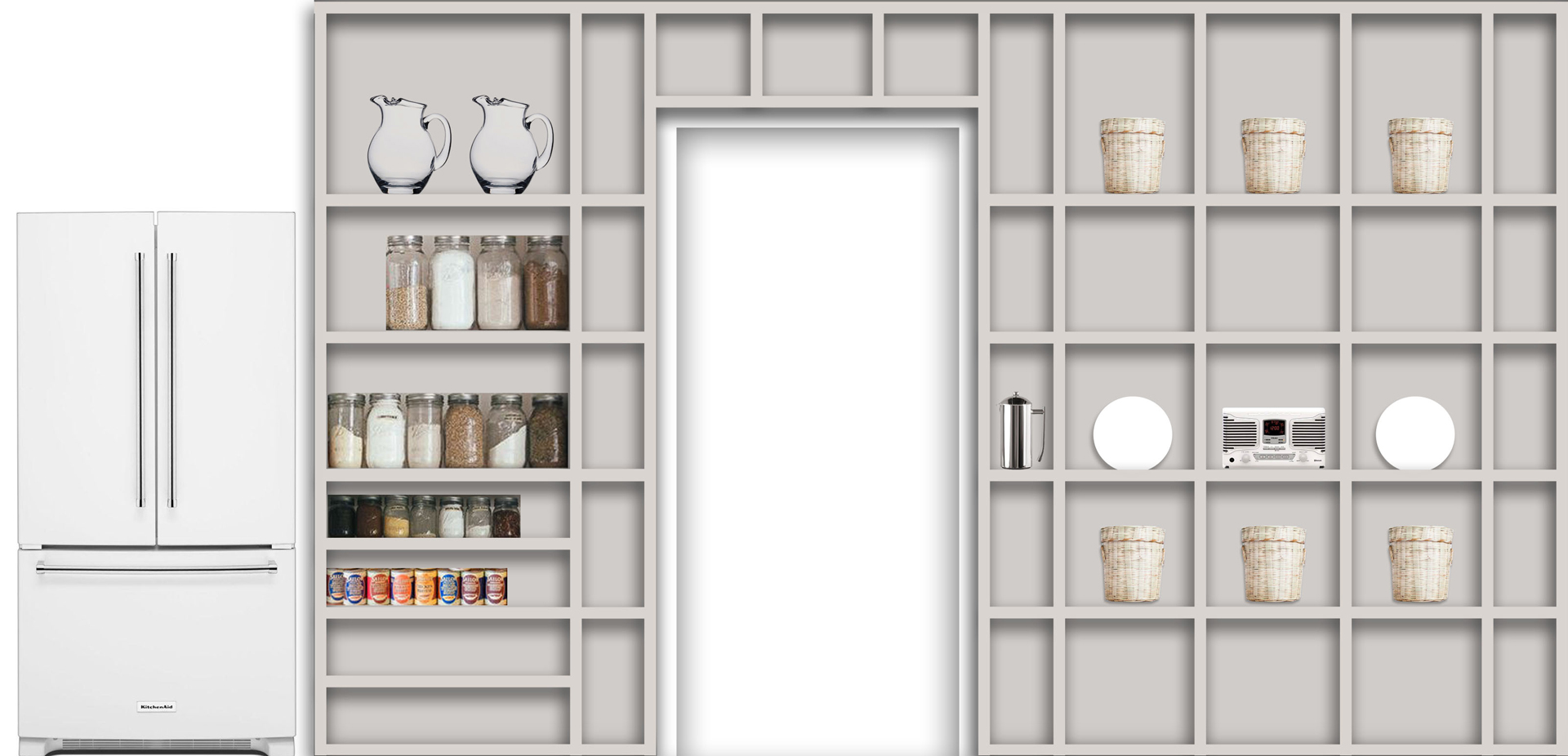 This past week, I've been getting cold feet about a lot of my decisions? Why? Well, because it was time to make the decisions a reality, and I'm simply terrified of committment when it comes to these big home design decisions. I found myself overcome with doubt about my plan for the wooden shelving wall I was getting ready to work on this weekend. So I did some mockups, and decided I'd like the wall and shelves to both be gray. I spent a lot of time mulling over gray colors, and painting the wall with samples, and decided to go back to my original plan. But like another wise man in my life once said, just because you spent a lot of time on something, doesn't mean it's any good. (That was my drawing instructor in art school.)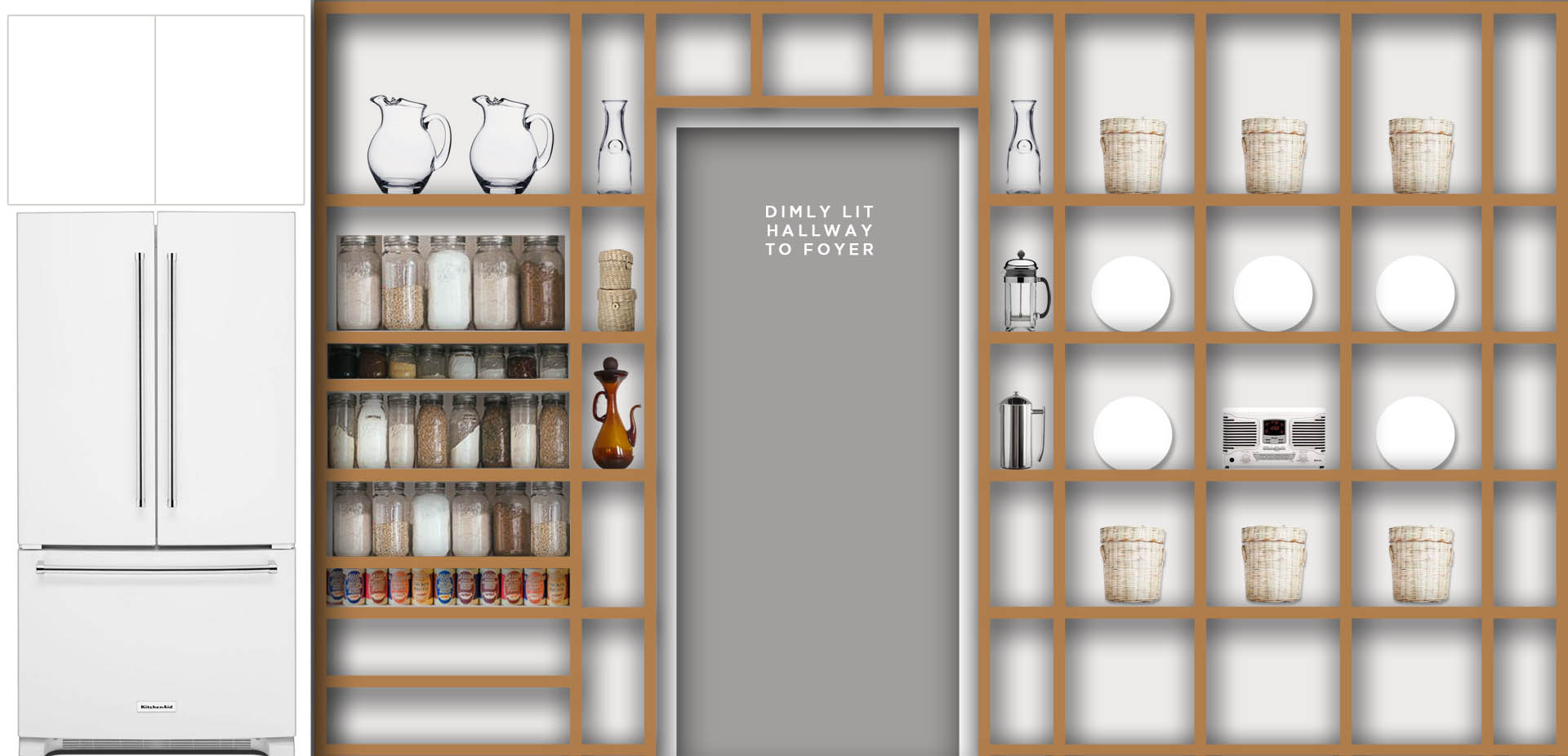 So here I am, back where I started. Wood shelves. This is the area where I plan on storing my most frequently used pantry items, near the stove and kitchen island. (I do have a pantry closet, but it is tucked around the corner at the end of the kitchen.) I was worried about it looking too cluttered with the contrast of the wood shelves with a while wall behind it. But in the end, I decided the gray felt out of place in a room with no other gray, and really am drawn to the warmth of the wood tones.
The appliances I selected from The Home Depot are very sleek and modern, and I think they fit right in with the modern stack bond tile arrangement we decided on. I especially love how the white refrigerator just blends in so well with its white surroundings, yet the steel handles on the door elevate it to look like a chic piece of furniture in the space.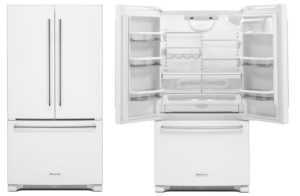 OUR REFRIGERATOR SELECTION:
KitchenAid Counter Depth French Door Refrigerator

– EXTENDFRESH Temperature Management System helps keep food fresh
– Interior water dispenser provides easy access to filtered water
-Produce Preserver helps keep fruits and vegetables fresh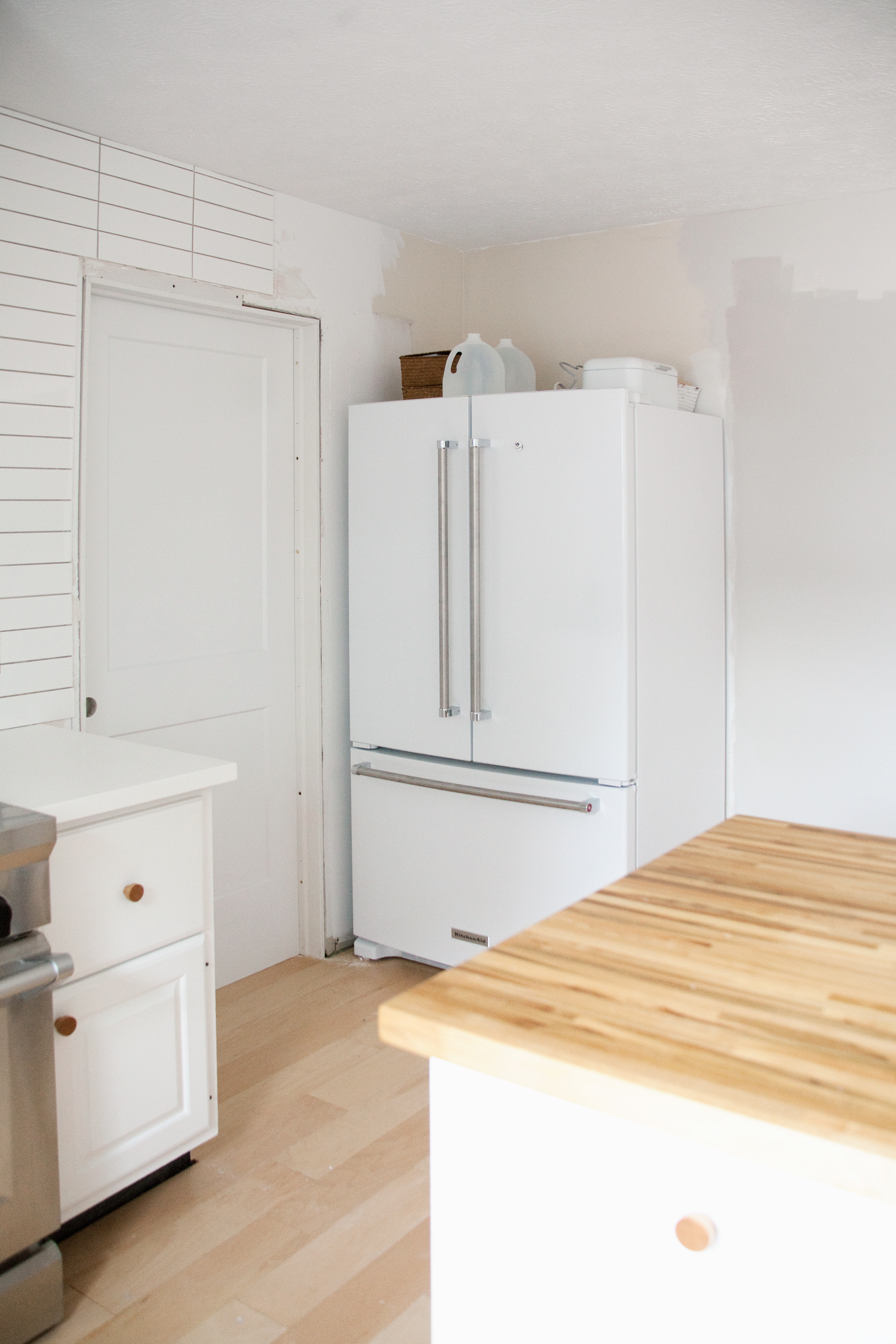 Tonight I'm working on building a cabinet to surround the fridge which will make it look built-in, but also give me hidden storage above it. This wall is going to be so amazing when it's finished! (Fingers crossed!)
Most of my accessories for the kitchen are either nondescript white dishes, or jars and baskets that definitely learn towards country. If I were to describe the style I gravitate towards, I would say it's 1970s modern with Scandinavian simplicity, a little bit country (the minimally styled primitive stuff), and a dash bohemian. I really love bright, airy spaces with mostly white and neutrals, but pops of color here and there to add personality— like my pink sink! While I do love the clean and white look, I also crave the warmth of wood.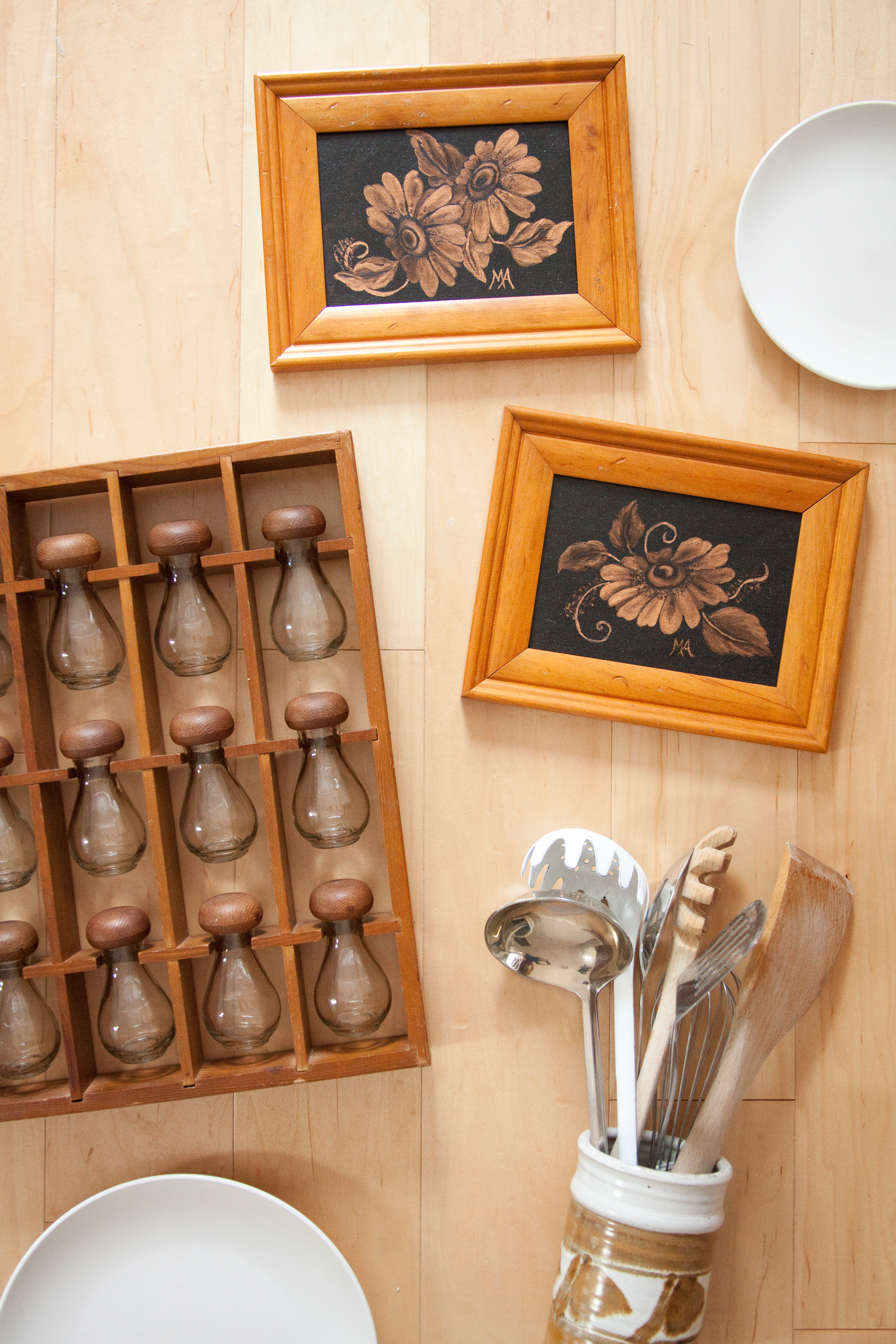 We have completely changed up the island in the center of the kitchen and topped it with the a butcher block countertop we had purchased for our last kitchen renovation— we loved it so much we did it again! The countertop is a precut countertop specifically sized for island uses, and it just so happened to be the perfect fit for our island! I sealed it with Waterlox to give it the rich color, but more importantly to give it a food safe protection from water. The flooring we decided on for most of the first floor is also from Lumber Liquidators— engineered maple. Super easy to instal! I highly recommend it for an inexpensive flooring option.
The island will also be getting a built-in microwave which I purchased from Home Depot after having such a good experience with my other larger kitchen appliances. It's white, so it'll blend in with the island, and be easily accessible for warming up my coffee for the fifth time each morning as a mother does.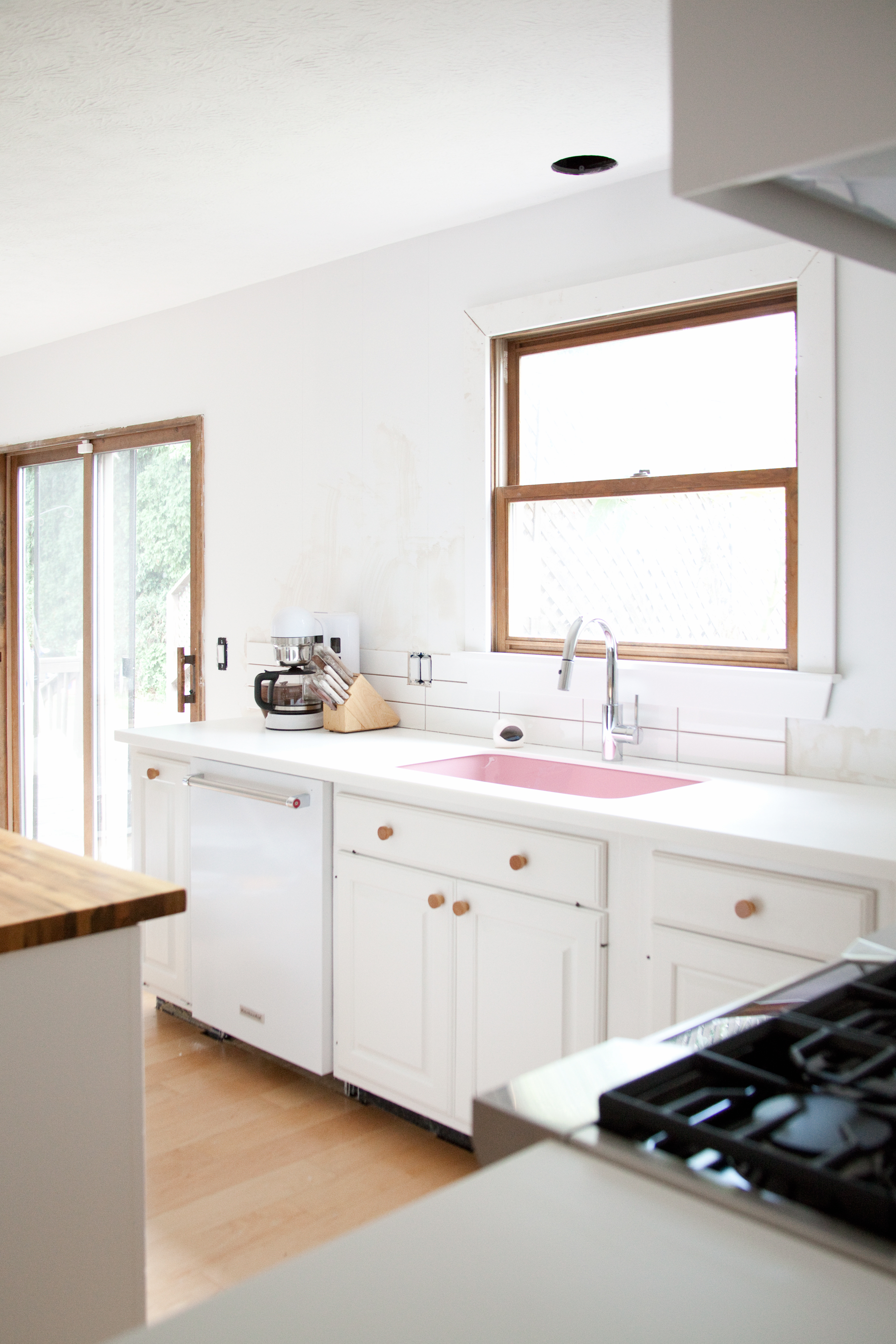 I still love the pink sink! And love it even more now that we have a new dishwasher beside it. I can't even explain how excited I was to have a new dishwasher that does an amazing job cleaning my dishes! My silverware and clear glass storage containers were all cloudy from the dishwasher at our old house. Just one time through in this new one, and most of the cloudiness is already gone! Very impressed. And I like that it matches the fridge.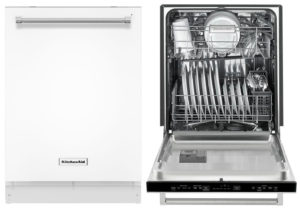 OUR DISHWASHER SELECTION:
KitchenAid Top Control Dishwasher in White

– PROWASH cycle adapts to achieve best cleaning based on soil level
– Heat Dry option w/ recessed heat element helps ensure dry dishes
– Fold-down tines in lower rack adjust to 1 of 3 positions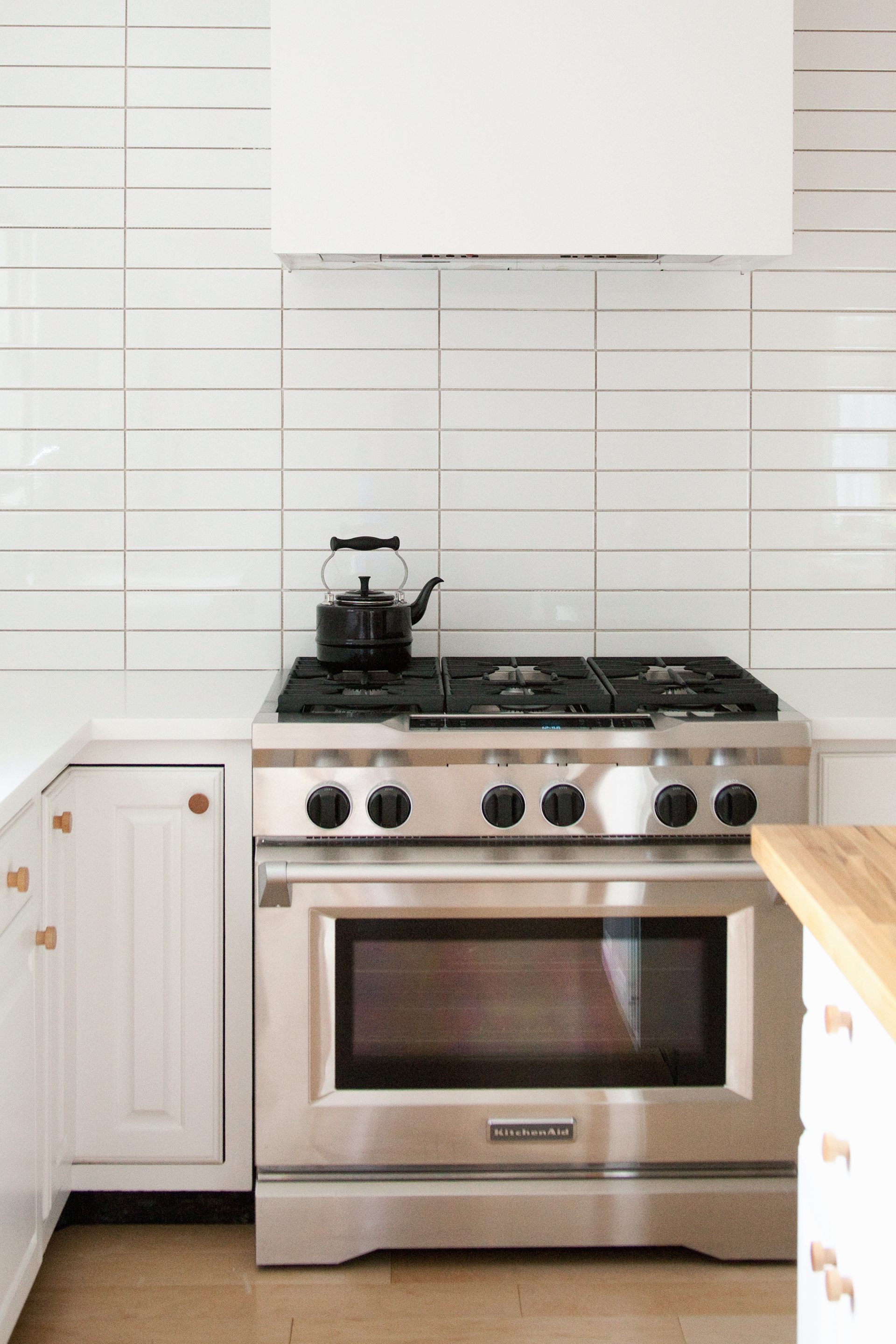 It's so exciting to have my dream stove in place, and did you notice? I built a box for my hood vent, and love the way it looks! Especially now that I've finally started to instal the wall tile. The tile will receive a very light gray grout that will allow for the stack bond pattern to still be seen easily, but it won't be as bold as it looks now, sans grout.
I can't wait until this space is all finished up and I can host my first brunch, with skillets of yumminess on each of the six burners on my new KitchenAid commercial range. It's the crown jewel of our kitchen renovation.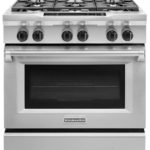 OUR STOVE SELECTION:
KitchenAid Commercial Style 36″ Range
– Dual fuel combines gas cooking surface with an electric oven
– EVEN-HEAT True Convection helps keep the perfect temperature
– 20K BTU ULTRA POWER dual-flame burner ranges from high-to-low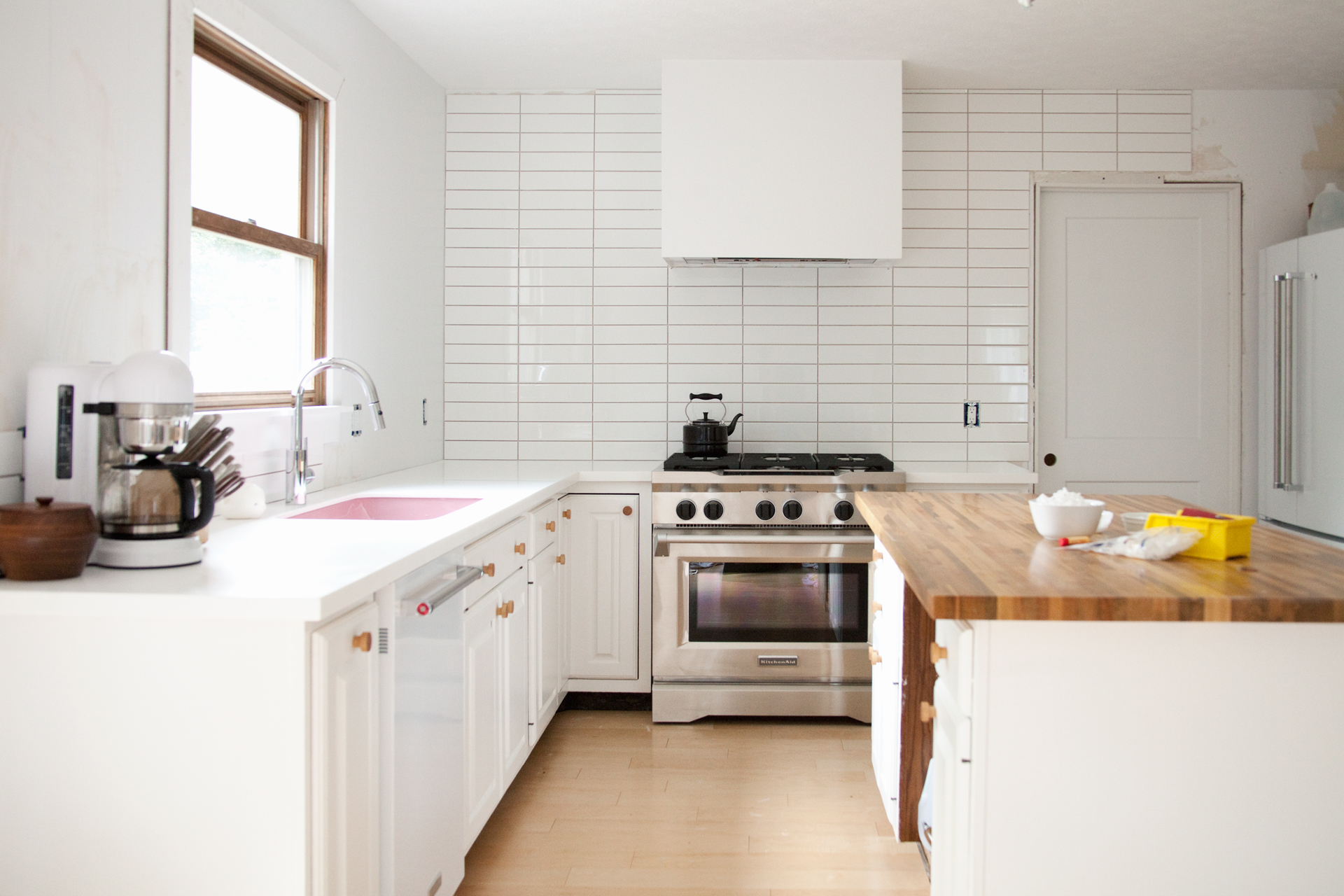 This weekend we're finishing the tiles and fridge cabinet, then next week I'm installing the floating shelves on the window wall and the wood shelving next to the fridge. After that, it's just a few small details! (toe kicks, door and floor trim, and lighting!) Thanks for following along with me on this journey. It's such a treat to share it with you!
If you want to check out my other kitchen planning posts, you can see where I started and some of the planning and demo details.
I acknowledge that The Home Depot is partnering with me to participate in the promotional program for appliances. As a part of the program, I am receiving compensation in the form of products and services, for the purpose of promoting The Home Depot. All expressed opinions and experiences are my own words. My post complies with the Word of Mouth Marketing Association (WOMMA) Ethics Code and applicable Federal Trade Commission guidelines.