Kitchen Progress: Ooooh We're Halfway There!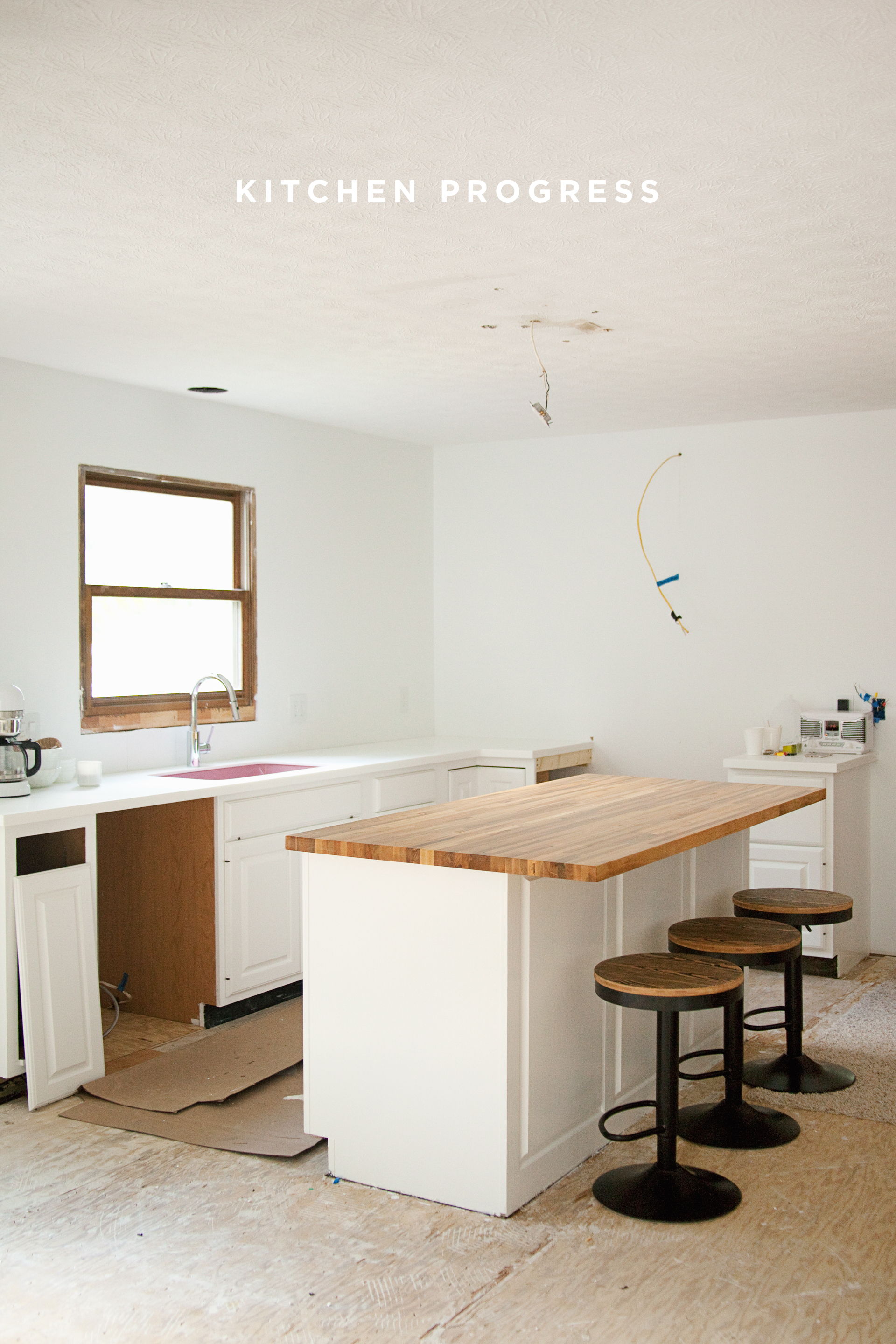 This post is sponsored by The Home Depot.
So much has happened since I last shared pictures of the kitchen! I'm happy to say we're about half way finished with this space. The big news this week is that our Home Depot appliances will be delivered! Before that, our excitement revolved around new Corian countertops being installed with a PINK undermount sink (that's right!) and a butcher block island top from Lumber Liquidators.
You know things are looking up when you can make coffee at home, but not only that— your pink coffee creamer carton matches your sink!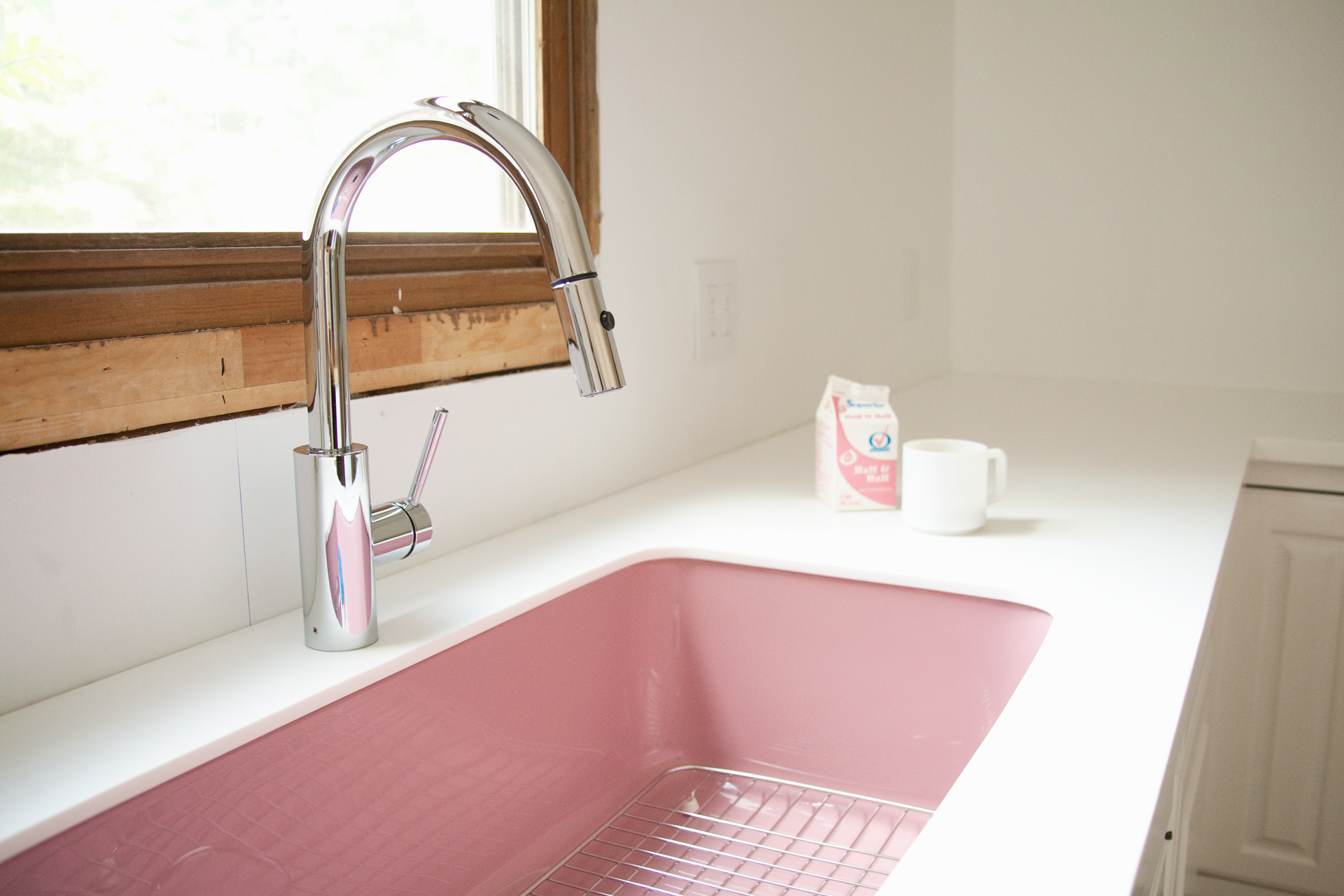 While I really enjoyed the industrial coiled-pull-down style of our last sink's faucet, I decided to get something more sleek and easy to clean. (The last faucet was perennially dusty and difficult to clean around the coils.) The faucet I chose for our new kitchen is elegant, but design-wise it's understated and lets the pink sink take center stage. I can't wait to see this area with the tiled backsplash in place! We chose this wide 3×12 subway tile that we'll lay in a modern stack-bond pattern with off-white grout. We'll lay that after the appliances are installed and after I've built the box around our hood vent. (More on that later!)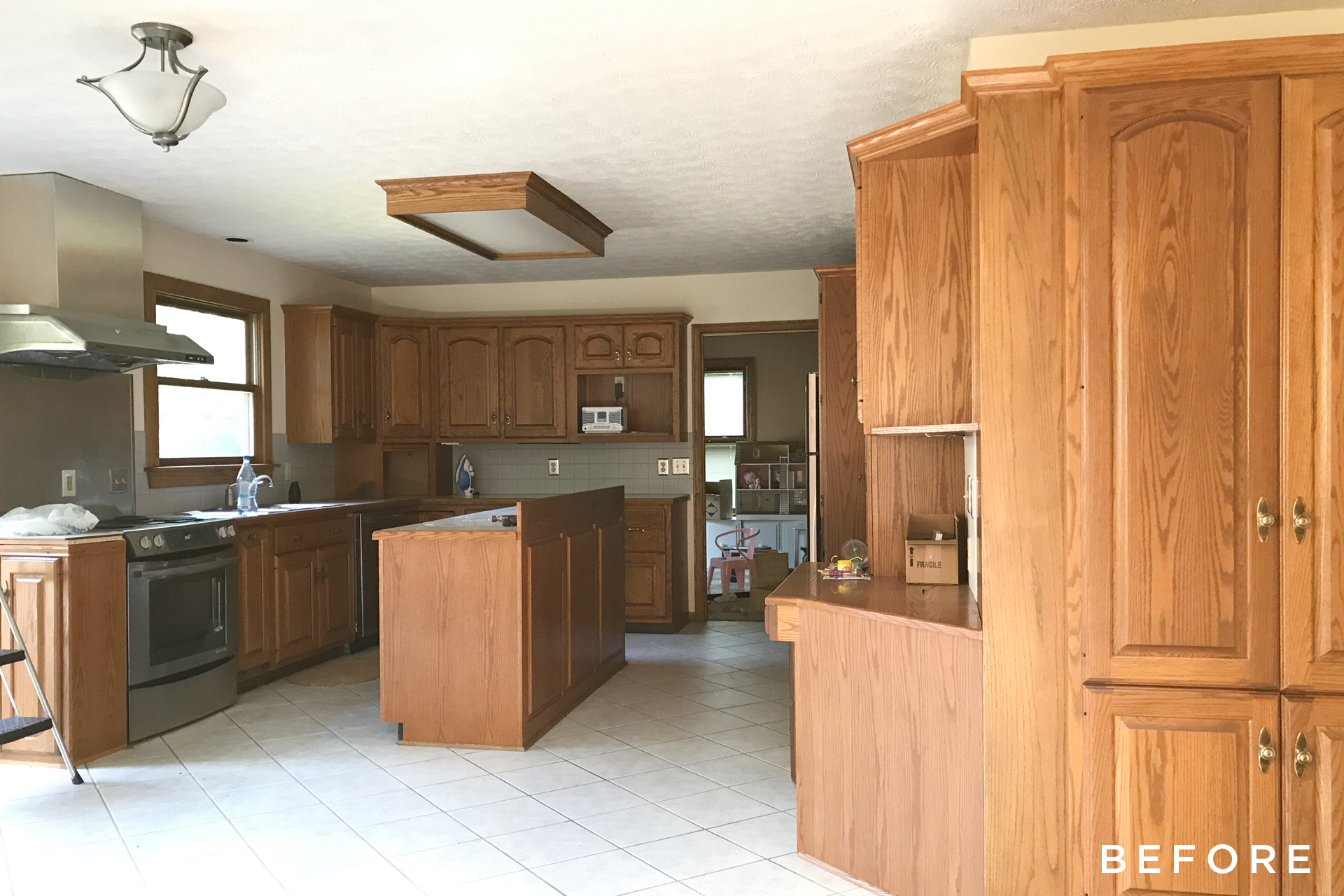 Just a reminder of what this space used to be! The first thing we did when we moved in was to take down cabinets and rearrange them to better suit our needs for the space. The cabinets we aren't using in the kitchen anymore are being repurposed in the garage and basement. The style is not my choice for cabinetry, but I wanted to use what we had if at all possible, and I didn't feel like the lower cabinets were cramping my style too badly. So they stayed!
As you can see in the floor plans below, we gave the eat-in-kitchen more space to serve as our main dining area, as well as removed all of the large cabinetry on the entry wall. Then we drywalled in a pantry where the butler's cabinet use to be. (It used to have a wet bar inside!) I will be building a wall of shelving to act as an open pantry system for prettier things (like dry goods in jars as well as serving bowls and pitchers), but that will be the last of the details I finish in this space.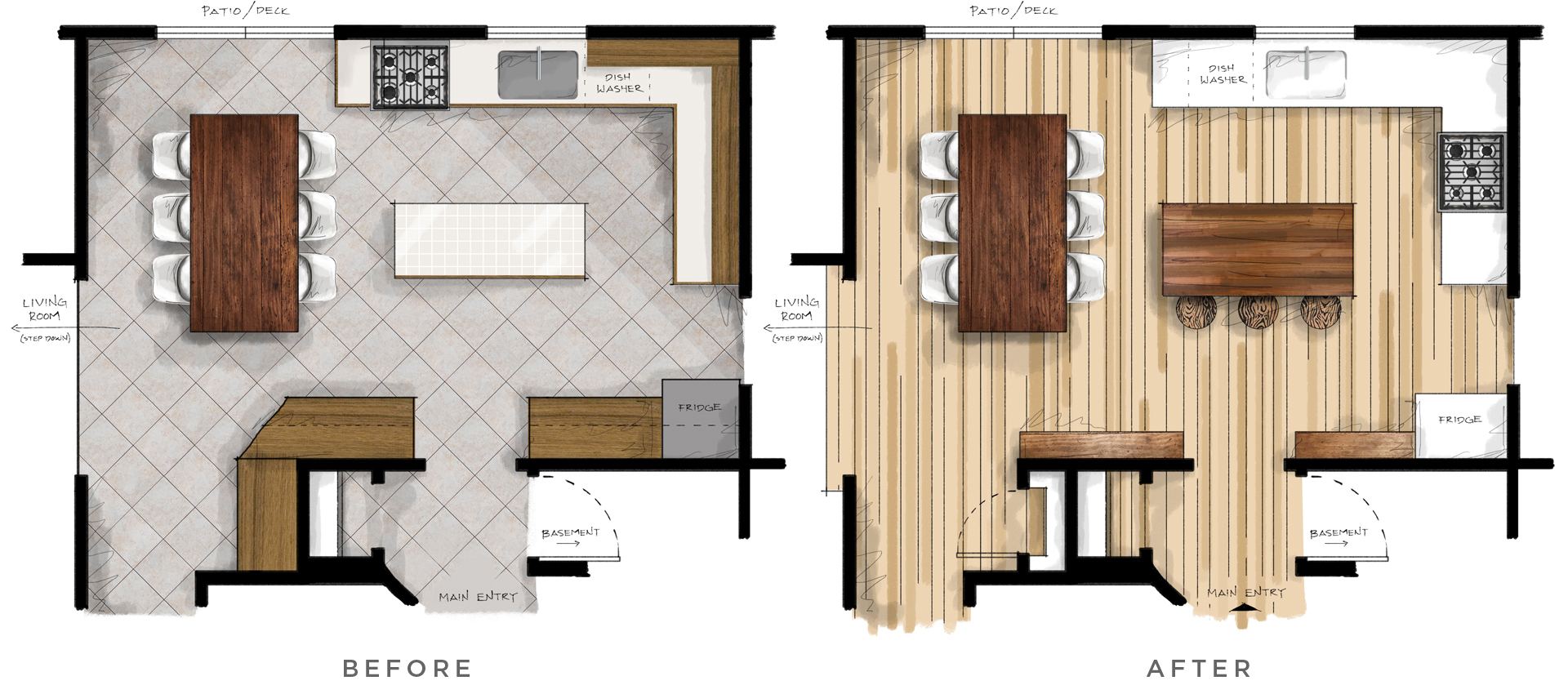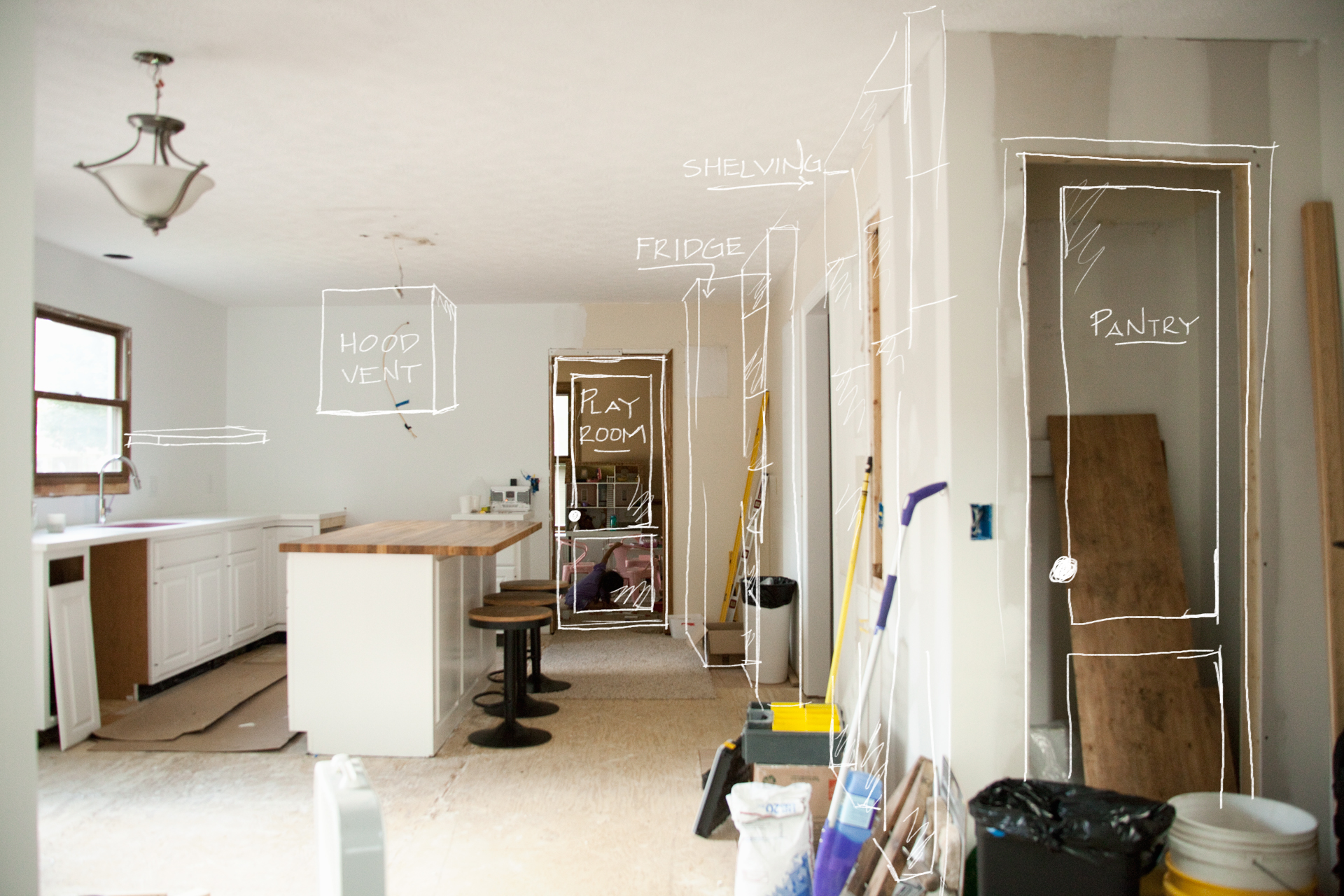 This is how the space looks now. We'll lay maple engineered hardwood flooring for starters, but with the addition of doors, trim, appliances, lighting, and finishing details like shelving and tile, this space will look pretty close to my original renderings!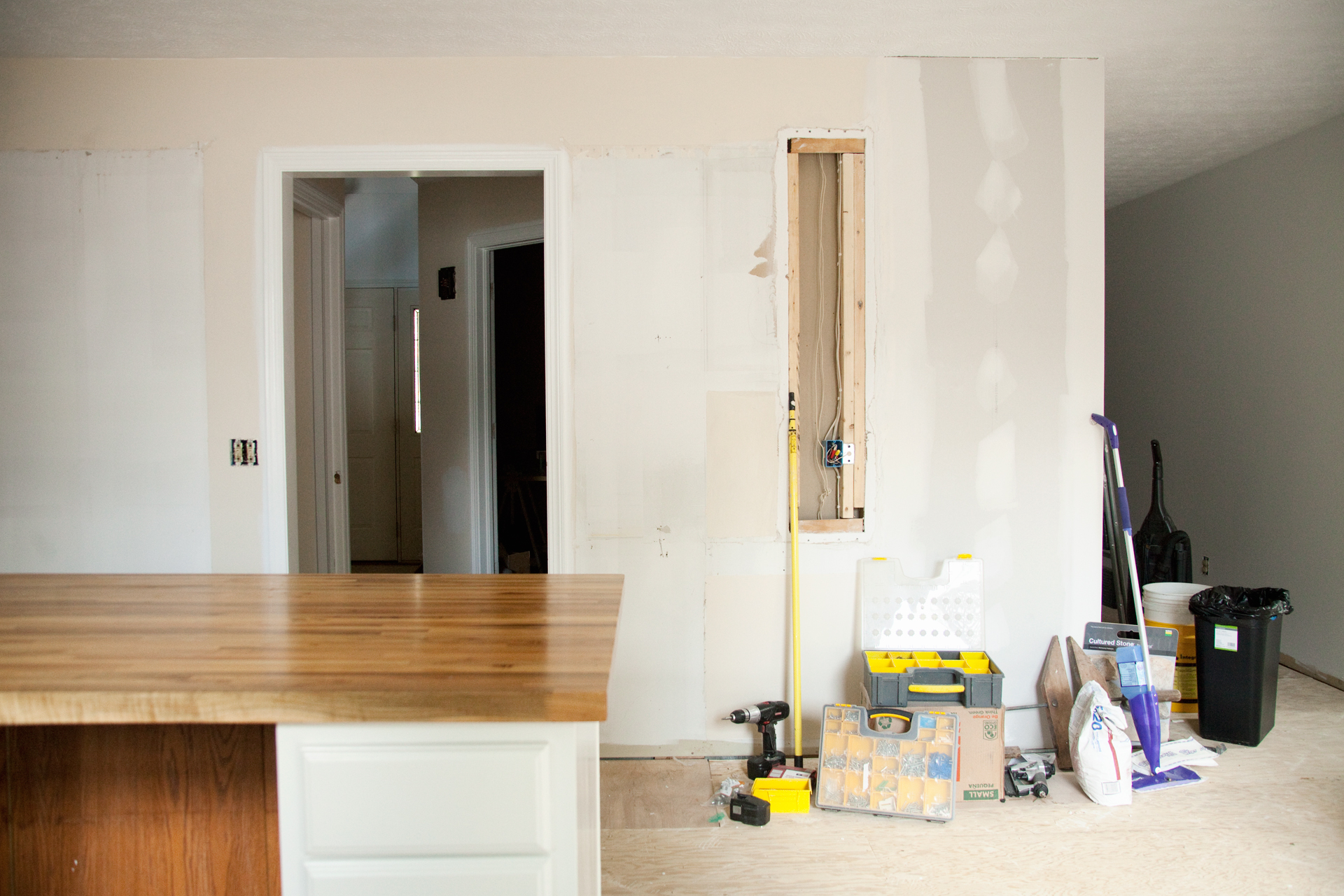 Above is the wall where the open shelving system will go. The verticals of the shelves will anchor into each stud in the wall, and then I'll instal horizontal shelves that will go above the doorway too, to completely surround the entry to the kitchen. I think it will be quite cozy and the perfect way to balance out all of the white in this space!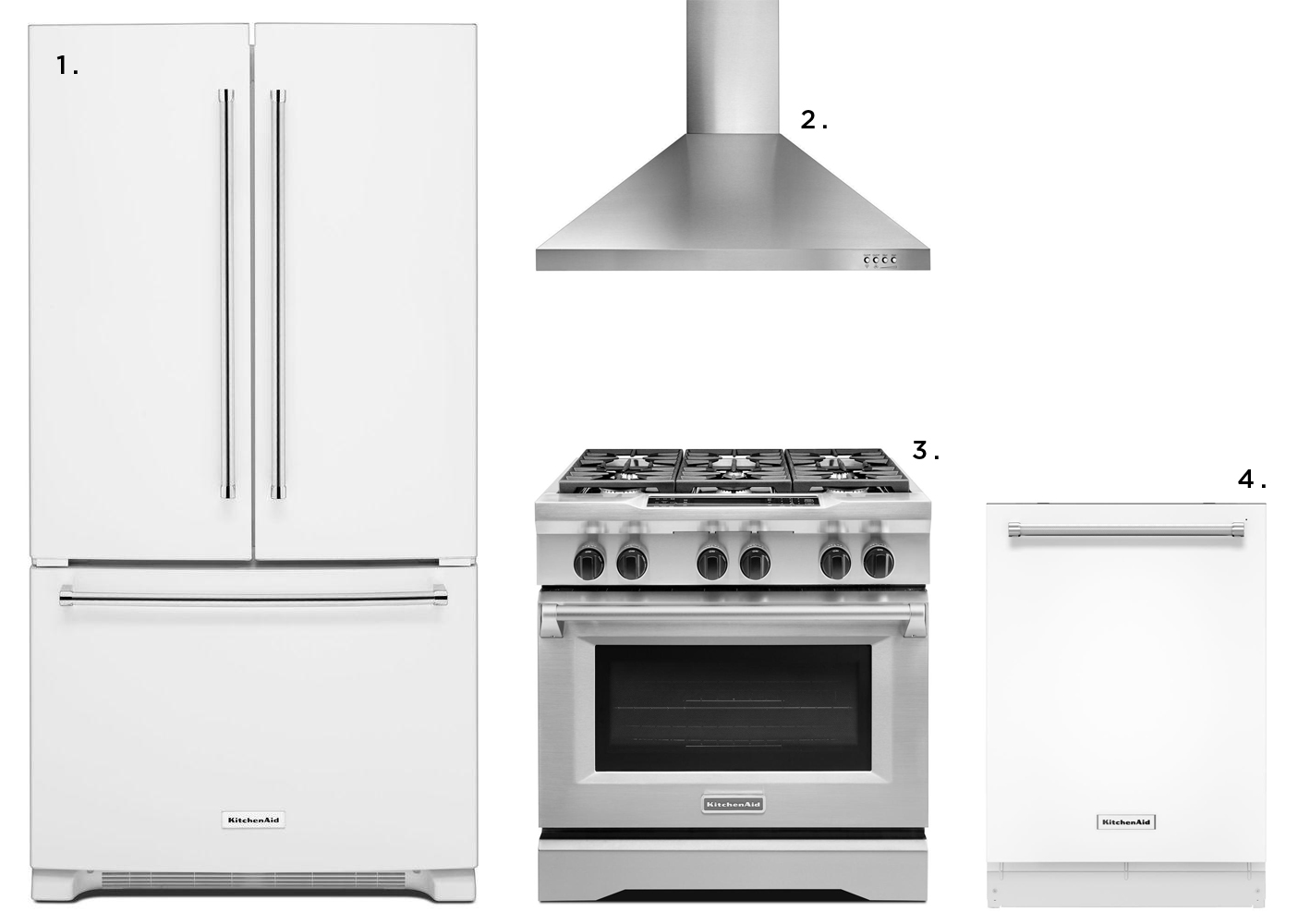 I spoke last time about my thought process behind selecting appliances for the kitchen. I'm fortunate to be working with The Home Depot on appliances for the space, and true to Mandi form, I began my hunt by searching online. I knew I wanted a slide-in range and a counter depth refrigerator. I was able to narrow the search parameters to view only those models, and selected these two models based on looks and reviews. My favorite part about shopping online (besides the fact that I can do it at midnight) is being able to confidently make decisions based on the experiences of those who have gone before me. :) After deciding on the two appliances that mattered most to me (fridge and range), I selected a dishwasher to match. Thankfully the one that matches is also well reviewed, or I may have selected a different model. But from what I've seen and experienced, KitchenAid is a great brand I can trust.
Before I placed my order, I did go into a Home Depot store to check out the appliances in person. I was able to see the dishwasher and counter-depth refrigerator I chose, but they didn't have the commercial range in store for me to check out. But obviously it's a dream range that I'll be happy to have in our kitchen! I had been worried about the stainless steel handles on the fridge I liked (not trying to clean smudges all day long), but in store I was happy to see that the handles are etched and not prone to smudging!
Here are the appliances I chose:
All Home Depot appliance orders over $396 come with free shipping, and I was able to select my delivery date online, along with appliance installation and hauling-away of our old appliances. After weeks of deliberating, everything was ordered within 5 minutes. So excited for their delivery this week!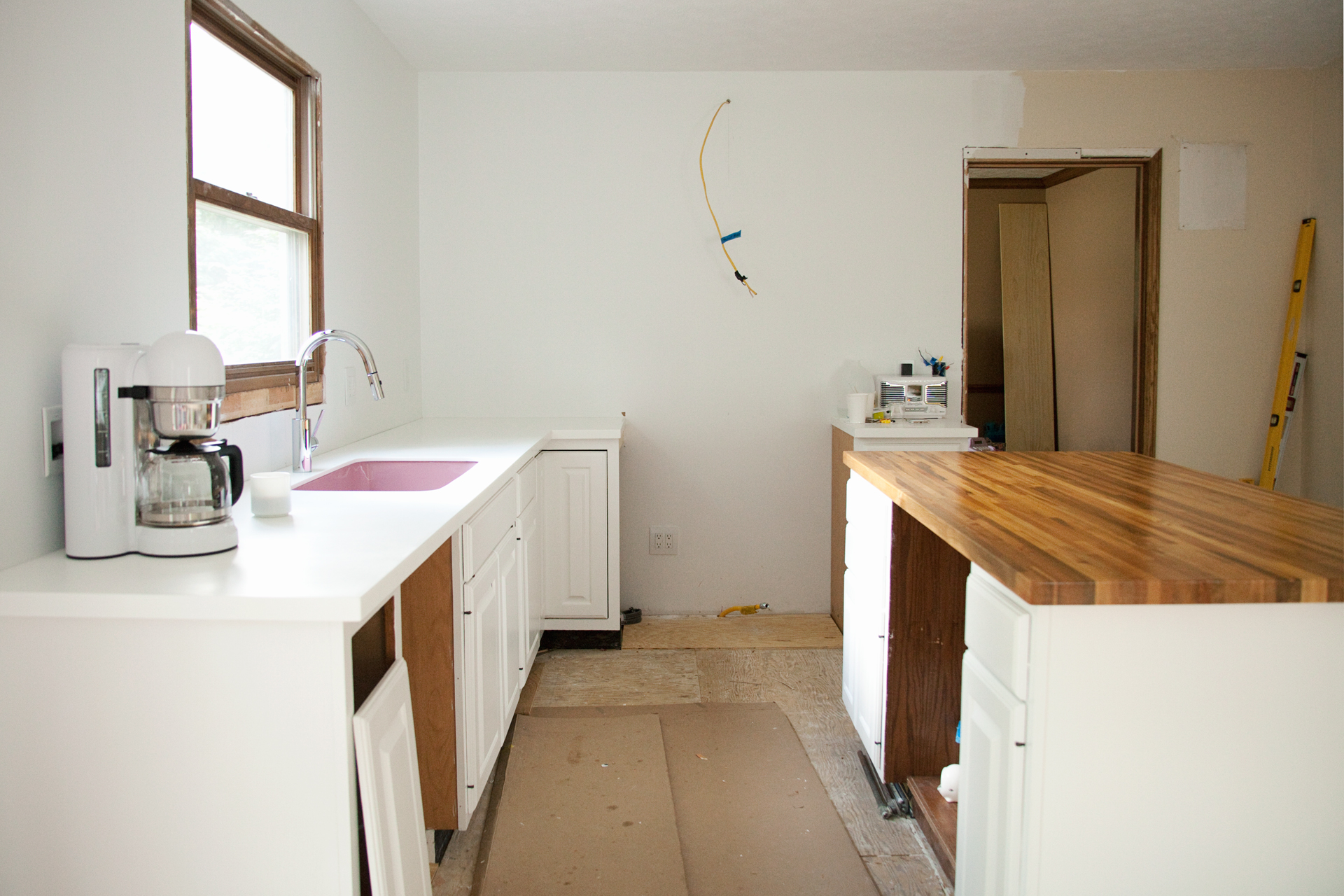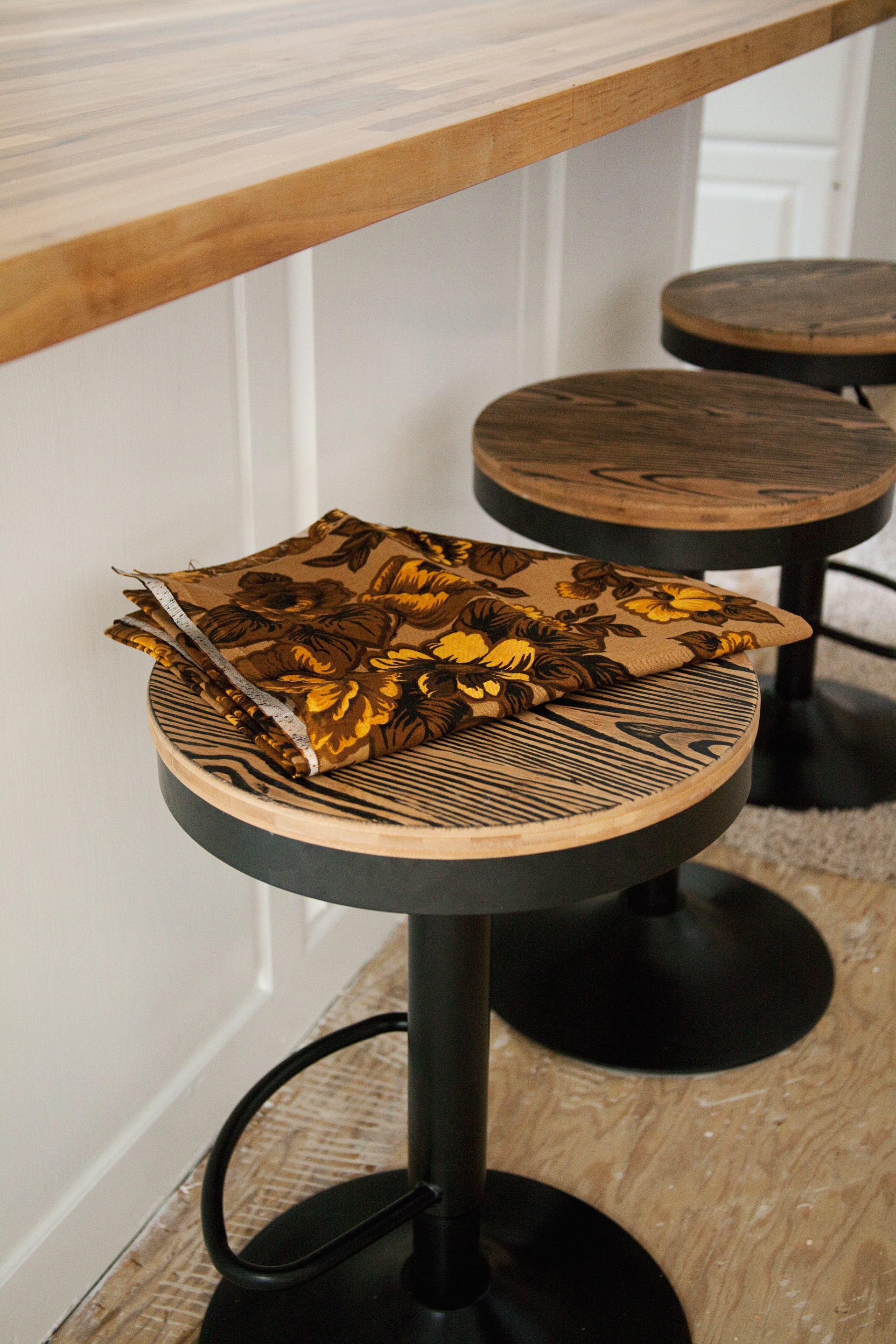 I also decided to upholster the tops of my counter stools with this vintage fabric which reminded me of my parents' bad velvety sofa from the '70s. Stool cushions are the perfect little spot for a nostalgic pop of funk like this, and will add a soft touch to a mostly white room. I love that they're the first thing you'll see when you want into the room!
Thanks for following along with me on the journey! My next kitchen update will hopefully include a finished backsplash and my gorgeous new lighting. Wish me luck!
I acknowledge that The Home Depot is partnering with me to participate in the promotional program for appliances. As a part of the program, I am receiving compensation in the form of products and services, for the purpose of promoting The Home Depot. All expressed opinions and experiences are my own words. My post complies with the Word of Mouth Marketing Association (WOMMA) Ethics Code and applicable Federal Trade Commission guidelines.