Living Room Plans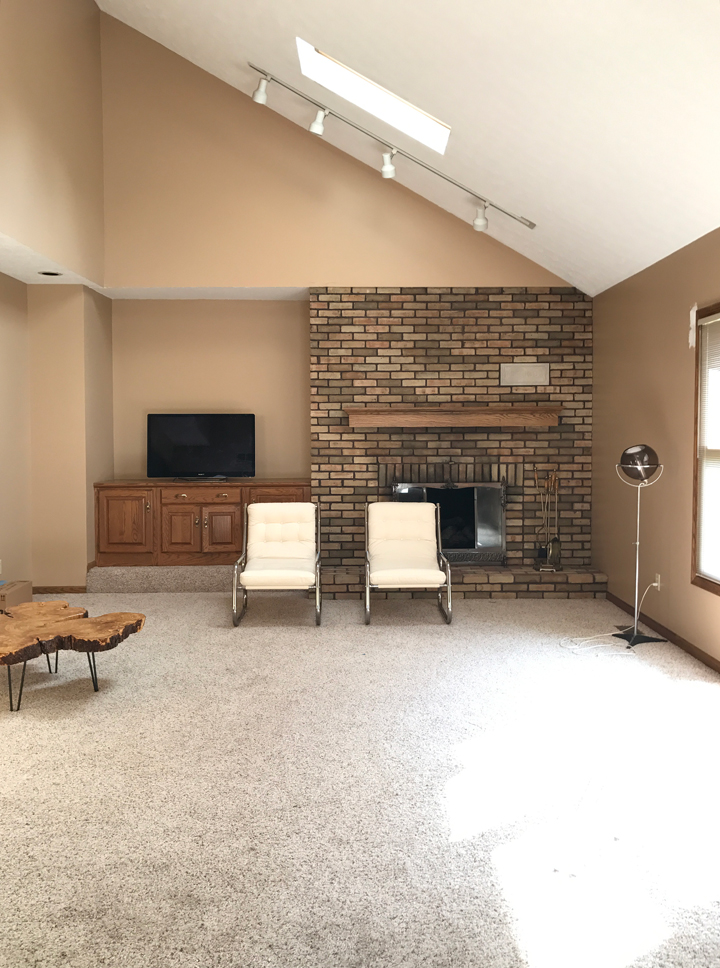 You guys! We've been living in this destroyed house for only a week, and it already feels like home. I think it's probably not normal to feel this way when living with subfloors, exposed wiring (breakers are turned off— no worries), holes in the wall, and doors missing, and no kitchen to speak of. But, hey! I'll take the warm fuzzies whenever they come my way.
Lately I've been very excited about some decisions and progress we've made in the living room. Here's what it looked like when we moved in.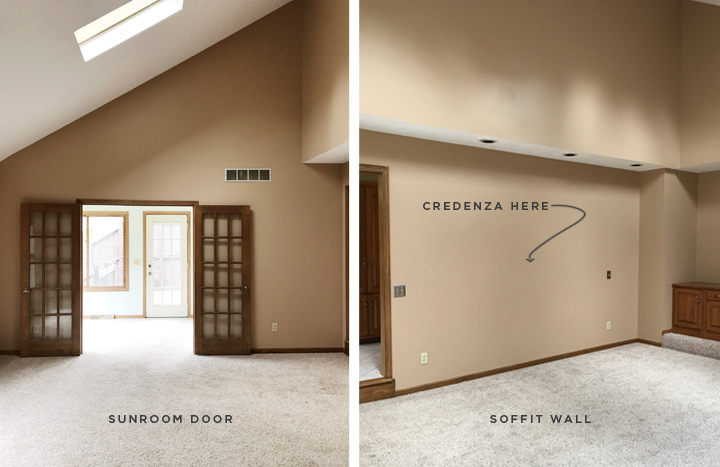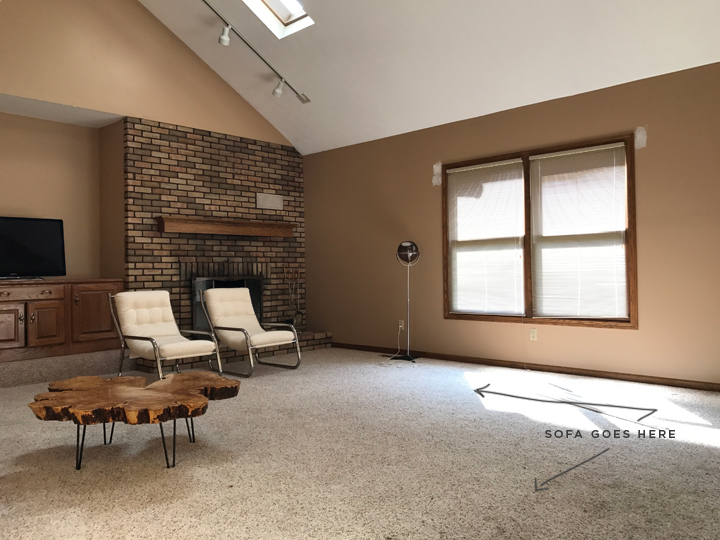 Okay, so actually there was a big red plaid cornice board and blinds on that window, so this isn't quiiite a true before. I had to rip out the cornice immediately (nothing against cornice boards, but this one was SO early '90s.), so it didn't quite make it into my before pictures. The next thing I did was rip out the carpet, remove the mantle and cabinet from the fireplace area, and attempt to rip out the platform that was below the cabinet. That was very frustrating. Below the platform was a cinderblock wall that went right up to the subfloor of the platform, as well as the vent for the basement bathroom shower, the vacuflo system (which I will probably never even use!), wiring, ductwork, and ceiling beams/floor beams. It would've been a HUGE undertaking to remove that platform, so we decided to keep it, and I sat around feeling sad about it and frustrating with this whole corner of the room. I literally laid awake at night pondering how to not hate that corner of what was otherwise a very cool room.
So I came up with a solution! Hooray! Below you can see my plans drawn overtop of the space as it was before. It required embracing the platform we couldn't remove, and doing a little drywall work around the nook beside the fireplace. (The walls in the corner column don't match up with the walls above it, and it was driving me BONKERS.)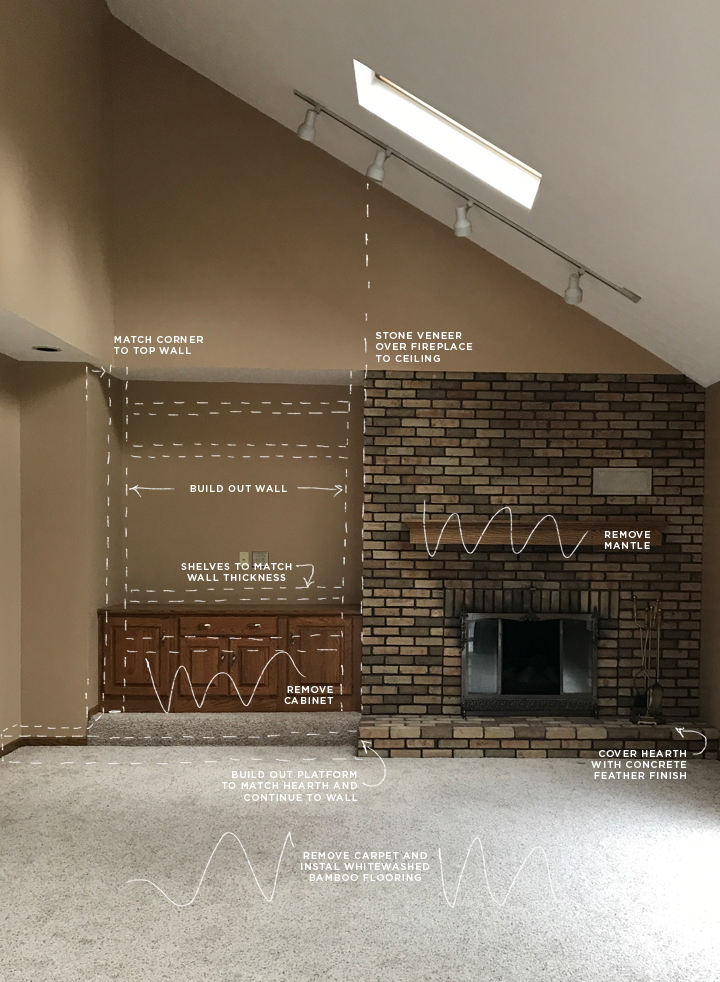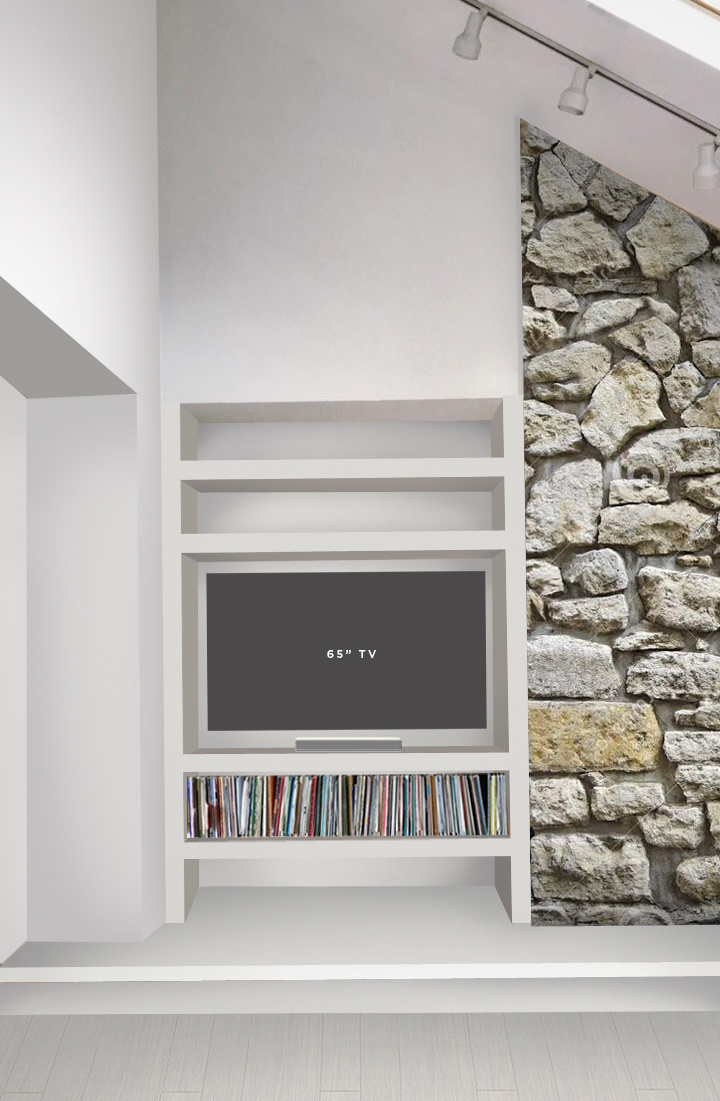 And just to verify that I was on the right track with my plans, I drew up what the space would look like, using Photoshop overtop of a photo of this area as it currently stands. I wanted this space to feel fresh and modern, adding sleek built-in shelving around a big screen tv (no shame), but also adding mid century flair with the stone veneer and hearth expansion. I can already envision friends perched on the long hearth during game nights— cushions a plenty beneath the tooshies, of course!
Now I'm SO PSYCHED about this corner of the room. And my eyes won't twitch when I look at the walls in the corner not matching up. Because in our future living room, they WILL match up.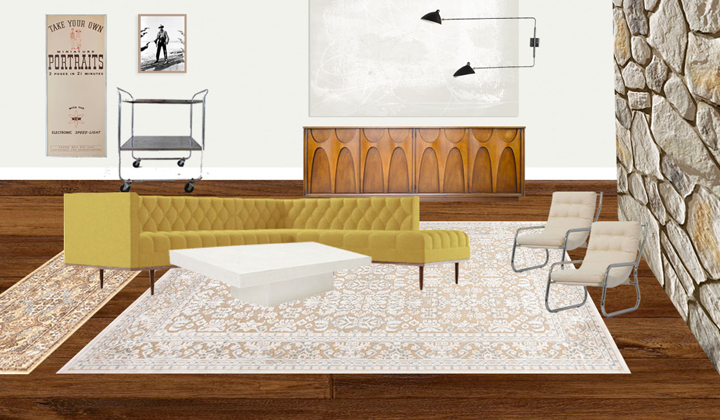 I created a few mock-ups while planning furnishings and decor for our new living room. This isn't the exact arrangement of the room, but I wanted to gather all of the elements together to see how they blend together. Making this simple mock-up on Photoshop really helped me determine big design choices, like— green sofa or yellow sofa? Dark floors or light floors? Wall sconce or table lamp? What style of fireplace stone? I had planned on using modern sixties-inspired shag rugs, but with a few clicks, I realized that more traditional rugs would balance out the space much more to my liking.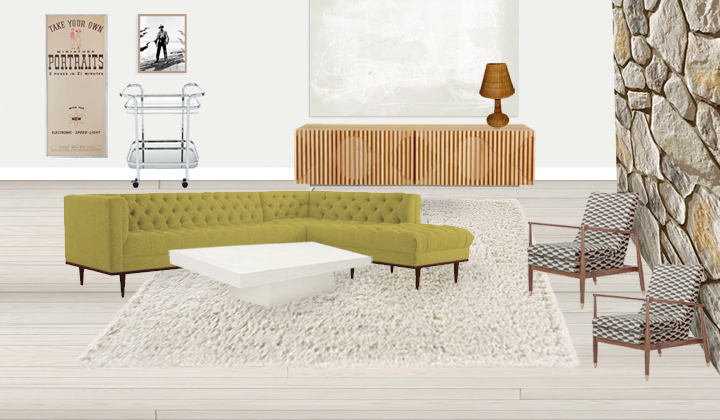 The furnishings I settled on are the ones in the first mock-up (with the yellow sofa), though I did fall in love the with bright background of the bottom mock-up, which convinced me to choose white washed bamboo flooring over the darker material.
Some of these items are things I already owned (the Jimmy Stewart poster and the vintage photobooth panel), but basically everything else is new to me— though quite a few are vintage. I've rounded them up for you below!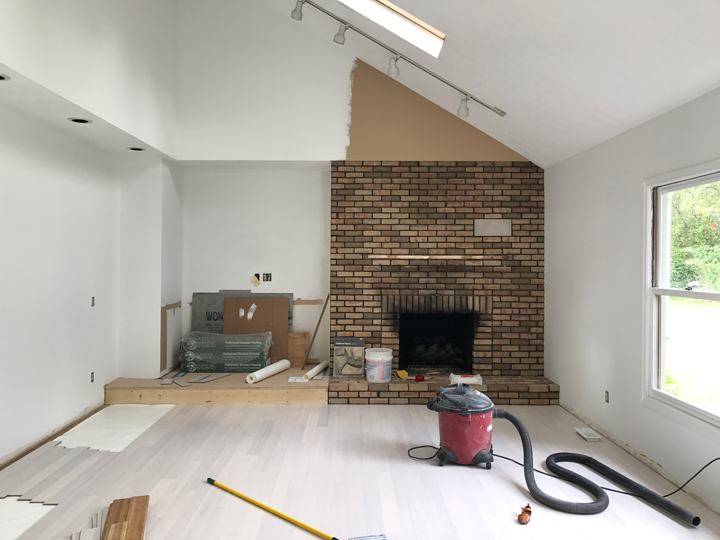 And because I feel like it's not fair to withhold progress photos from you all, here's a snapshot of what the room looks like currently! The next steps are to paint the removed baseboards, build out the drywall as described above, and instal the stone veneer. Then it's simply a matter of decorating! So excited that this room will be finished in August!