How to Stretch + Frame Canvas Art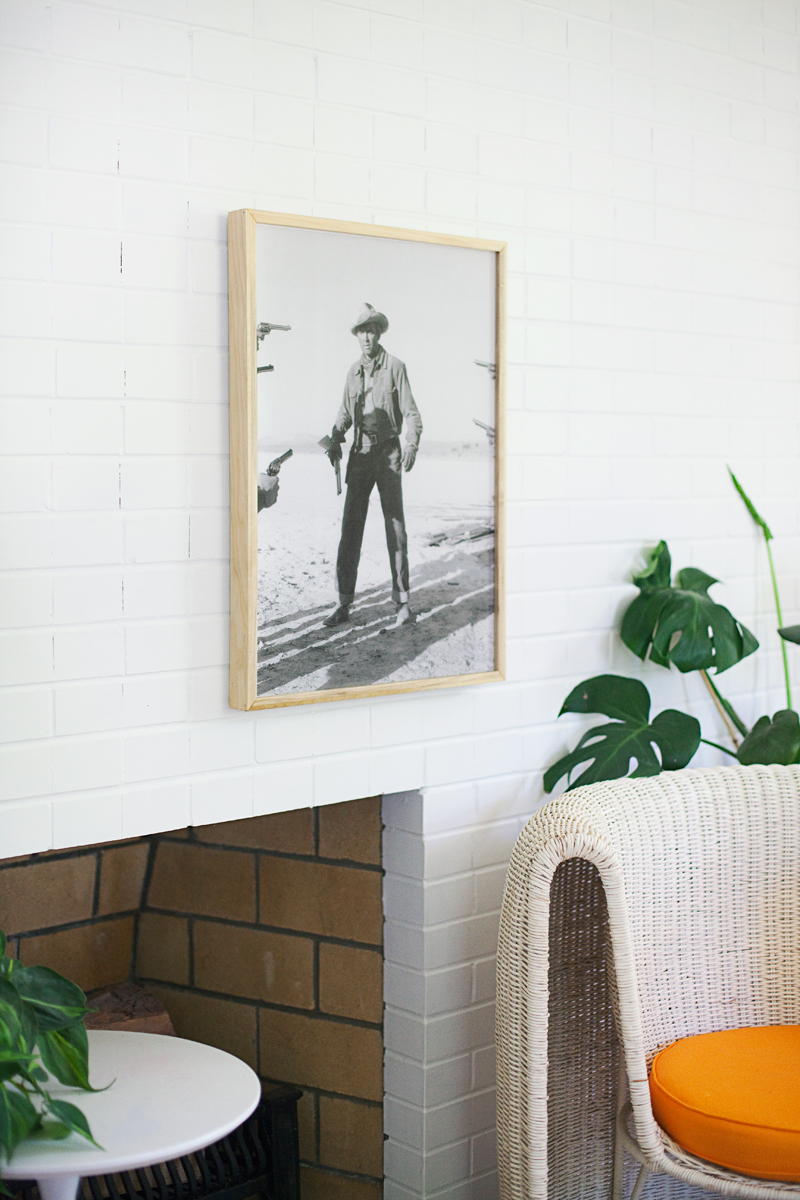 You know how it goes. You've purchased the curtains. You've painted the doors. You've selected your art. But then your decorating budget is quickly derailed when you find out how expensive all of the forgotten details can be! I'm talking about things like curtain rods, doorknobs, and picture frames. I'm a big fan of having art properly framed, and have paid a pretty penny to have it done professionally a few times in the past. But I'm also not afraid to make room in my decorating budget by doing it myself when I can! So if you're balking at the price of custom framing your canvas art, check out how simple it is to do it yourself.
Besides framing your art yourself, another way to save money is by purchasing art on unstretched canvas, then stretching it yourself. I found a website which does art reproductions on unstretched canvases, and the rails for stretching only set me back about $8 at my local art supply store. I've also purchased pre-stretched canvas art from places like Art.com. I just really love that canvas prints don't produce the glare that is inevitable with posters framed behind glass. So canvas art is my preferred choice.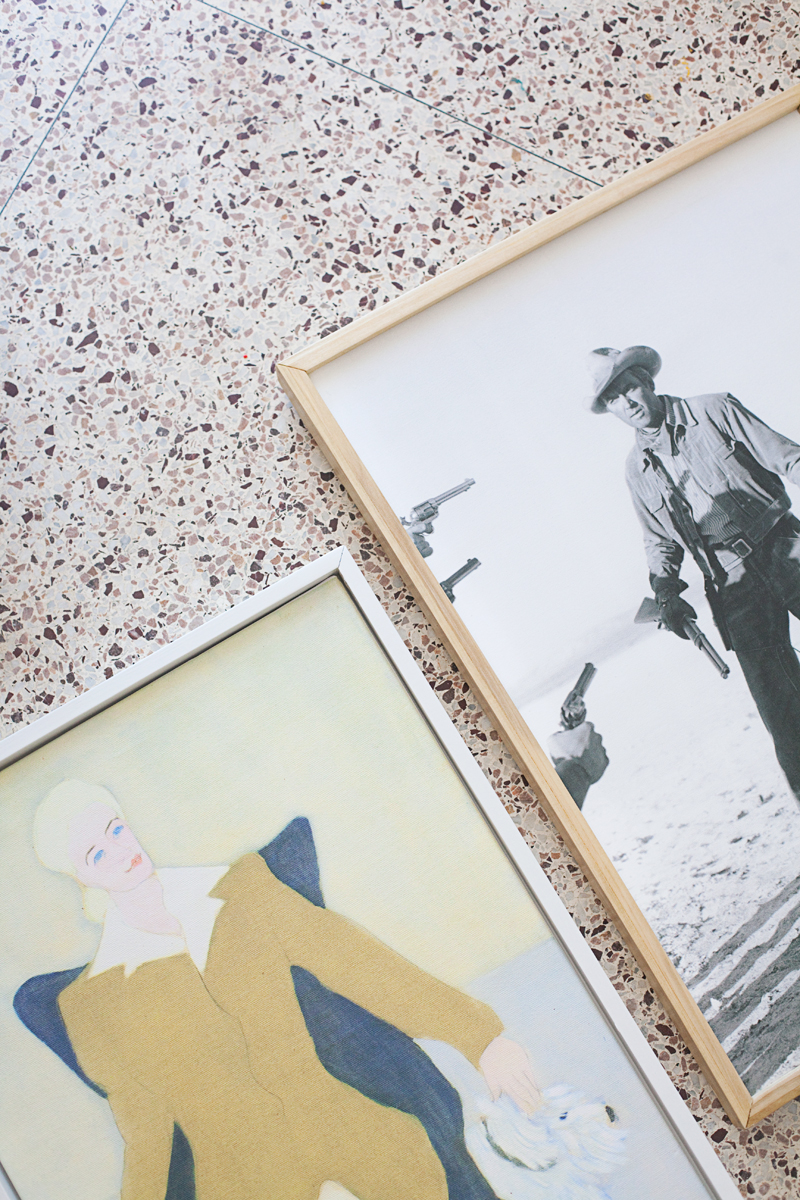 Above Left: Milton Avery reproduction available here
Above Right: Jimmy Stewart in The Man From Laramie available here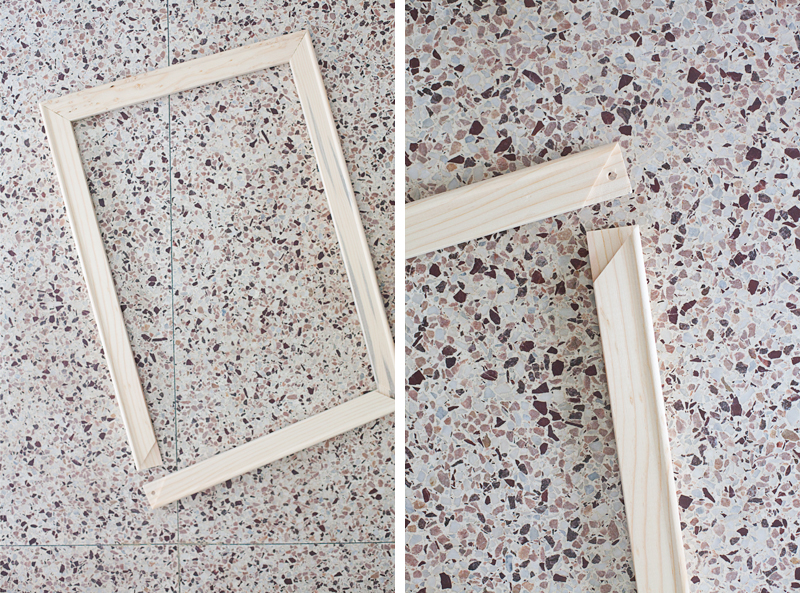 You can purchase rails for stretching canvas at any art supply store, just keep in mind that they're sized in even number lengths only. These rails totaled about $8, and are already fitted with slots to easily join the corners yourself. I didn't even glue my corners, because the fit was nice and tight. But you might want to glue yours.
After putting together the rails, I used clamps to hold the canvas in place after I stretched it as tight as I could. I used paper towels to protect the surface of the canvas from the clamps. Then I used a simple staple gun to attach the canvas to the rails, doing a neat fold at the corners.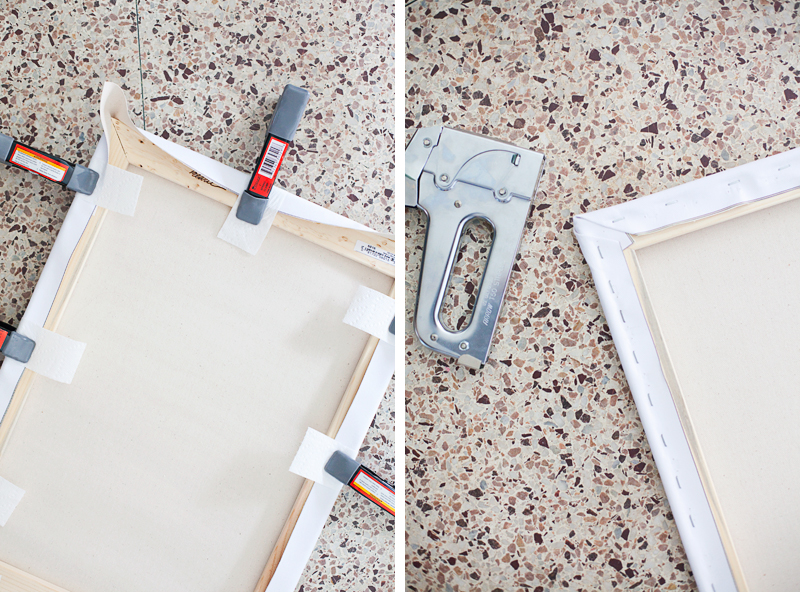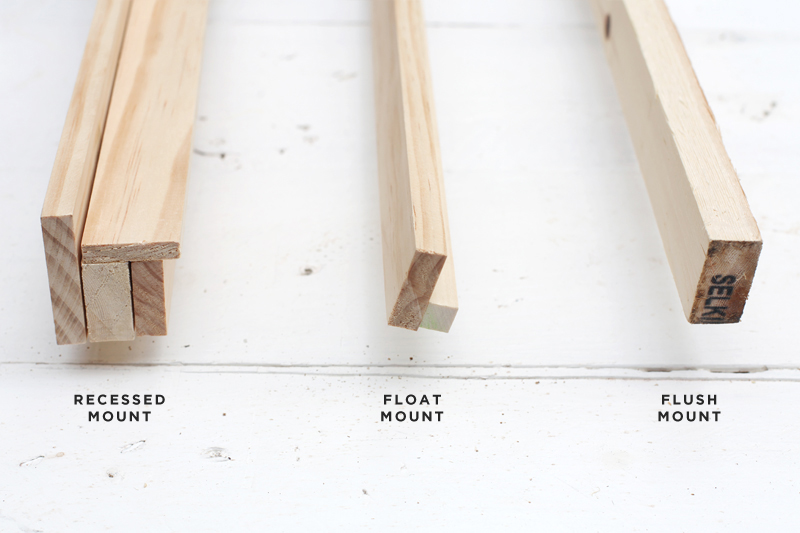 A couple of years ago, I wrote a post for A Beautiful Mess about different kinds of frames you can construct by gluing together various pieces of wood and square dowels I had found at Lowes. This time around I made one frame in the float mount technique and one frame with a simpler version of the above recessed mount. See how I glued together the recessed mount frame below. The square dowel is what provides the lip that covers the edges of the face of the canvas.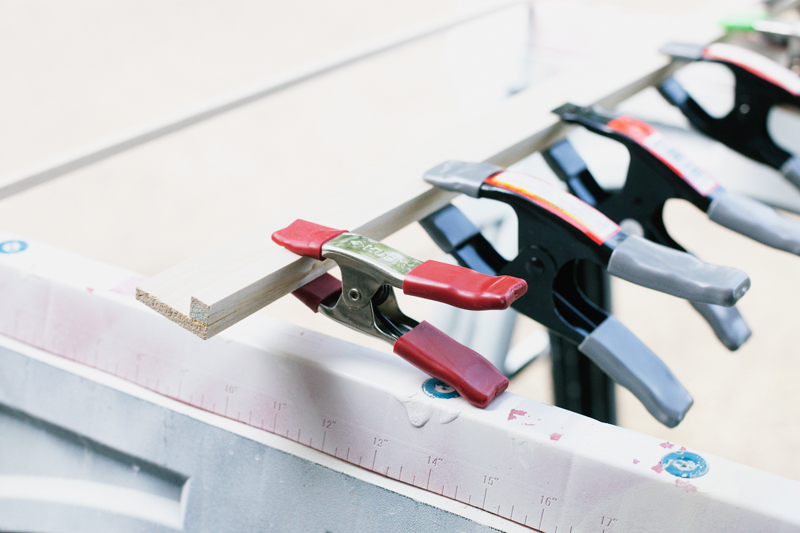 After you've decided what profile you want for your frame, just glue the wood together with wood glue, and clamp it tight. Wipe away any seeping wood glue promptly with a wet rag. After the glue has set up, you can cut the lengths with a miter saw or box saw to the lengths that will fit your art.
Below you can see my dry fit of the float mount frame I created for my Milton Avery painting. Always make your cuts longer than you think they need to be, and trim them down as needed.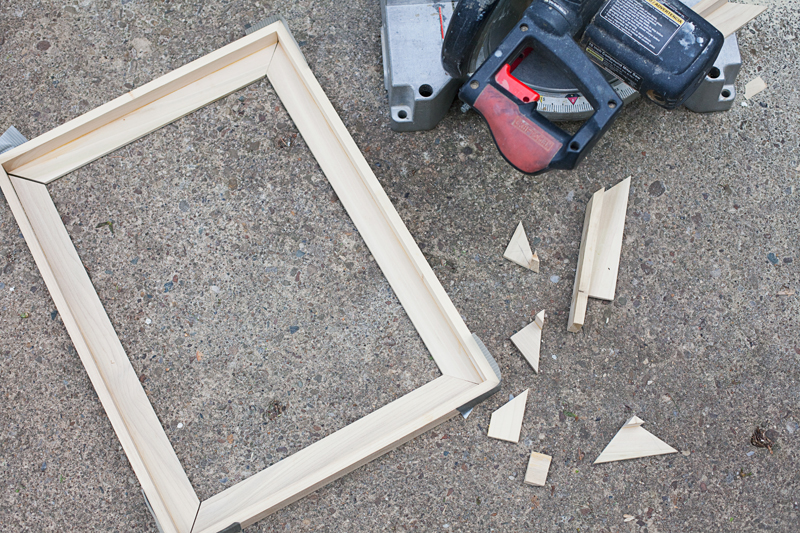 After a dry fit shows that the frame is the right side, stain or paint it how you like.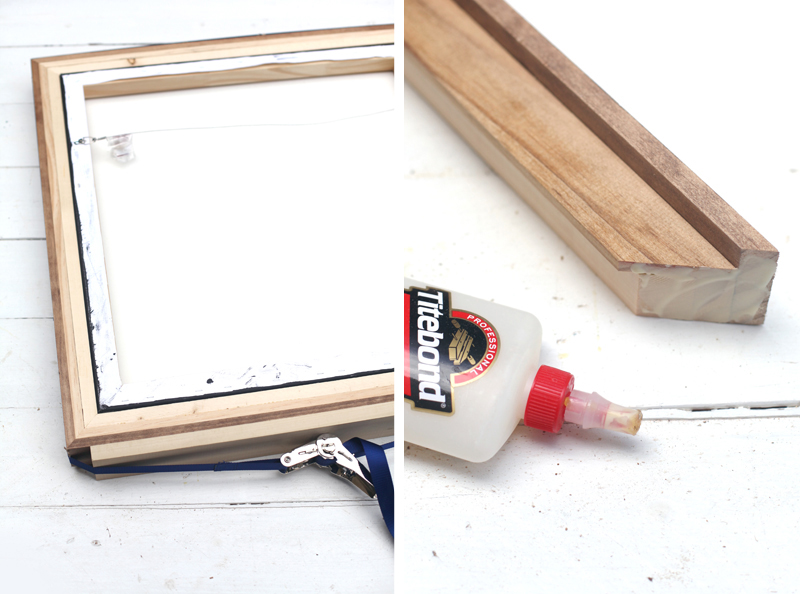 Here are some images from my post for A Beautiful Mess which show how I used a belt clamp to hold the frame tightly together. You can use wood glue, or even better, use Gorilla glue after dampening your the cut ends of your wood. The water and the pressure of the clamp will activate the gorilla glue and make for a super tight hold. Just be sure to scrape away any of the foaming glue that seeps out from the joints.
After the glue has set, and before removing the belt clamp, I recommend adding nails to secure the corners of the frame. Then, slide your stretched canvas art into place, and hammer nails on the back inside of the frame to secure the canvas to the frame. Just be sure to use wire brads that aren't so long that they'll poke through the frame or the canvas!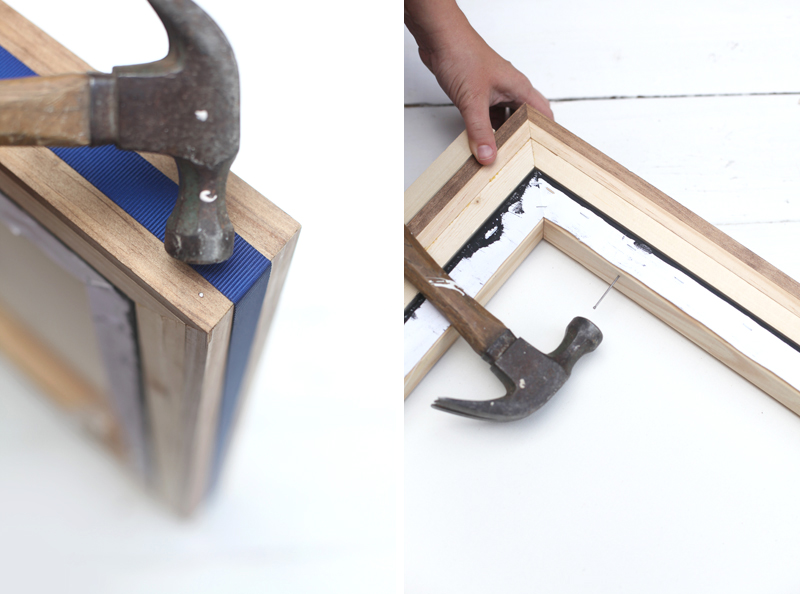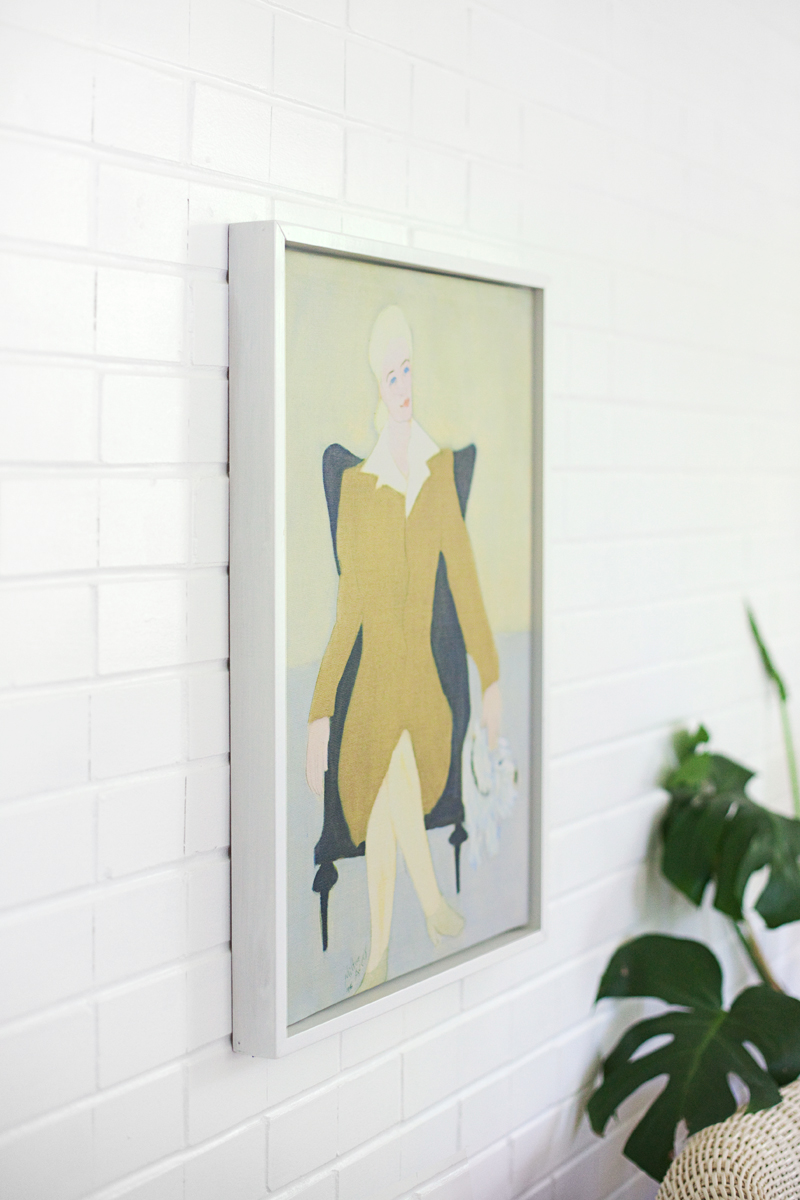 There she is! This art is going to go above a floating drawer in the entryway of our new home. Can't wait to make a sweet little vignette in front of it! I think it's a charmer.