New Kitchen Plans
You guys! In less than a month, we get keys to our new house and can begin demo on the kitchen I showed you last week. Can you tell I'm excited?! Doesn't everyone draw up kitchen plans on autoCAD and draw renderings of renovations before closing on their new house…?
As I mentioned last week, this unassuming '80s house totally caught me by surprise, but when I walked in the kitchen, I was fully inspired by the bones of the space and immediately envisioned what I wanted to change. Drawing it all out is my way of being sure of decisions and feeling confident to pull the trigger on all of the purchases and demo that we'll want to do the moment we get the keys. It's pretty overwhelming, renovating a house, eh? I'm delighted to finally have the opportunity, though, and still can't believe this is actually happening!

Above you can see how the house is currently, and I'm sure you can tell it's definitely not our style. Not only that, but it doesn't fit many of our needs. I can't wait to get my hands on the space and work some magic in here, but for now, I wanted to share all of my plans with you! I'll be doing this for each room we renovate, drawing plans, sharing my furniture and fixture selections, and talking through the process with you all. I hope you find it as much fun as I do. :)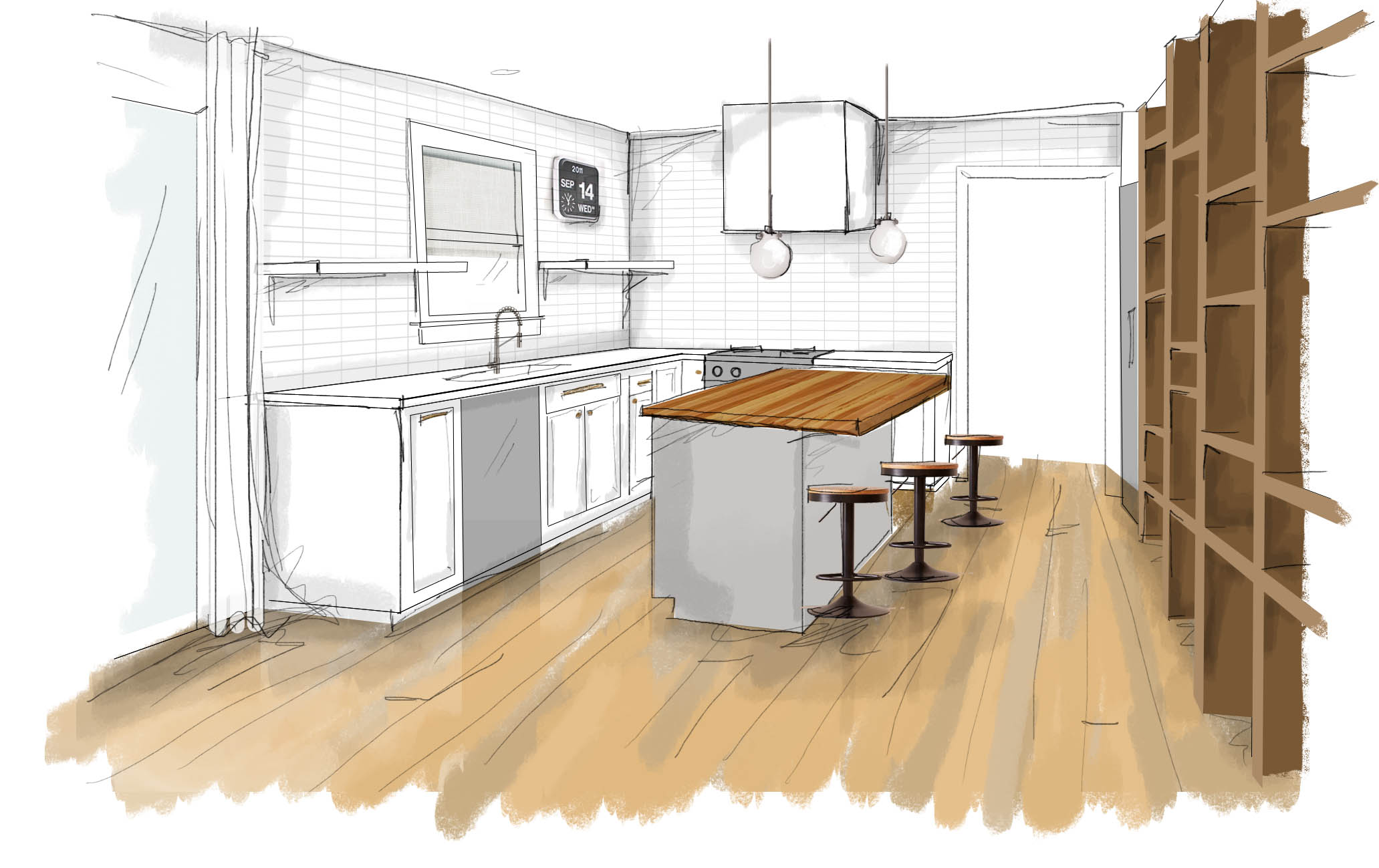 Throughout our home, my goal is to create a bright and friendly feeling space with fun, casual furnishings alongside more traditional, chic fixtures. I'm really looking to strike a balance with a variety of styles I enjoy, including '70s modern, traditional arts and crafts, Scandinavian, American mid century, and just a touch of boho.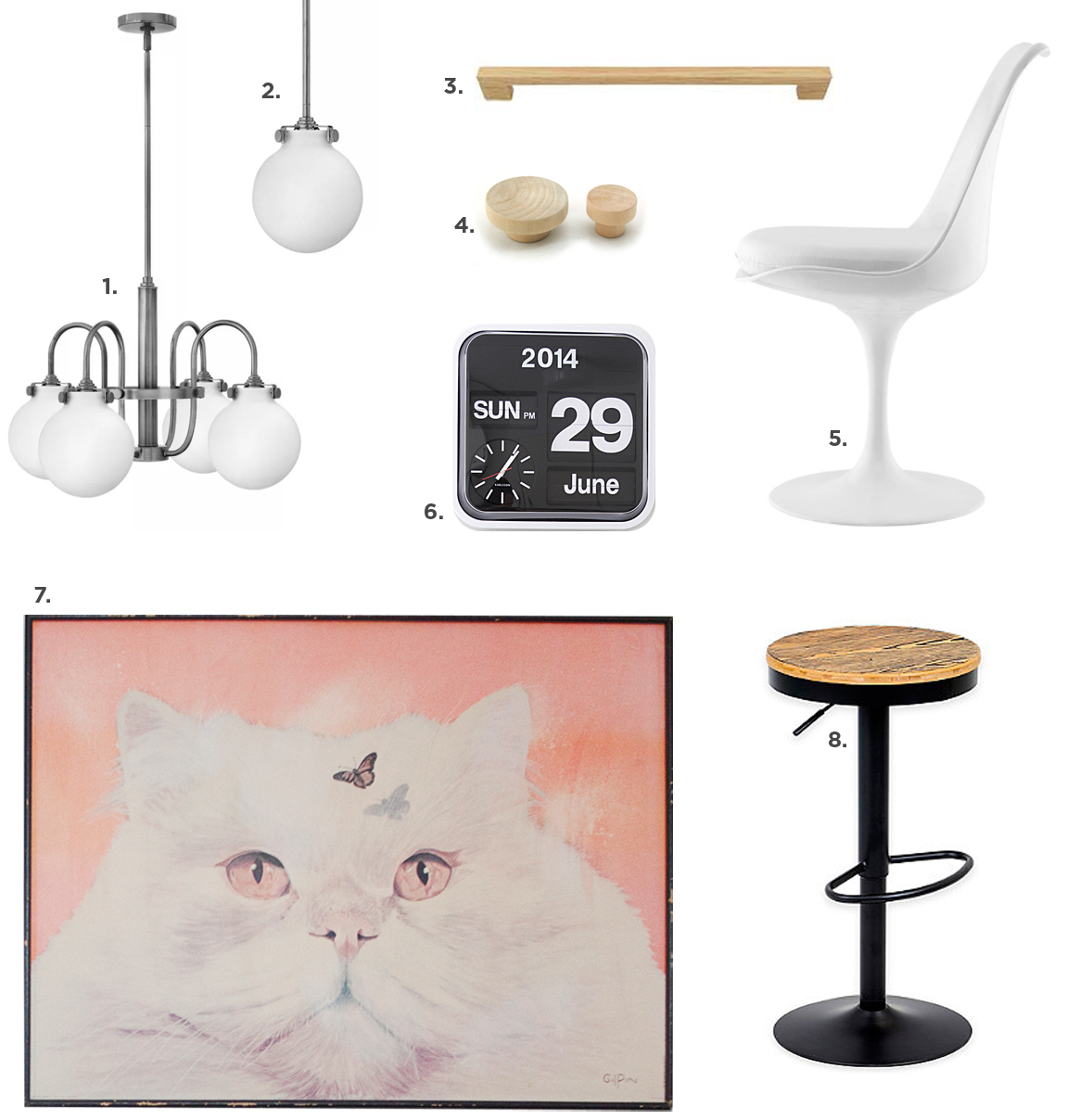 Our house was built in the late '80s and has traditional elements such as raised panel doors and cabinetry, standard builder-grade trim, turned spindles and banisters on the stairway, and glass paneled doors. I'd like to keep those elements and blend the traditional vibes into the other styles I enjoy, a prospect with both terrifies and delights me. I'm a little worried mixing so many styles will prove to be a delicate balancing act, and any wrong move will make it all feel disjointed and poorly planned. But I'm probably overthinking it, and as long as we only include elements we truly love, I think with the restrained color palette I'm using, it'll all be good!
1. 4 light globe chandelier
2. Globe pendant
3. Wood drawer pull
4. Wood cabinet knob
5. Lippa chair
6. Flip clock
7. Vintage art from Simply Chi
8. Bar stool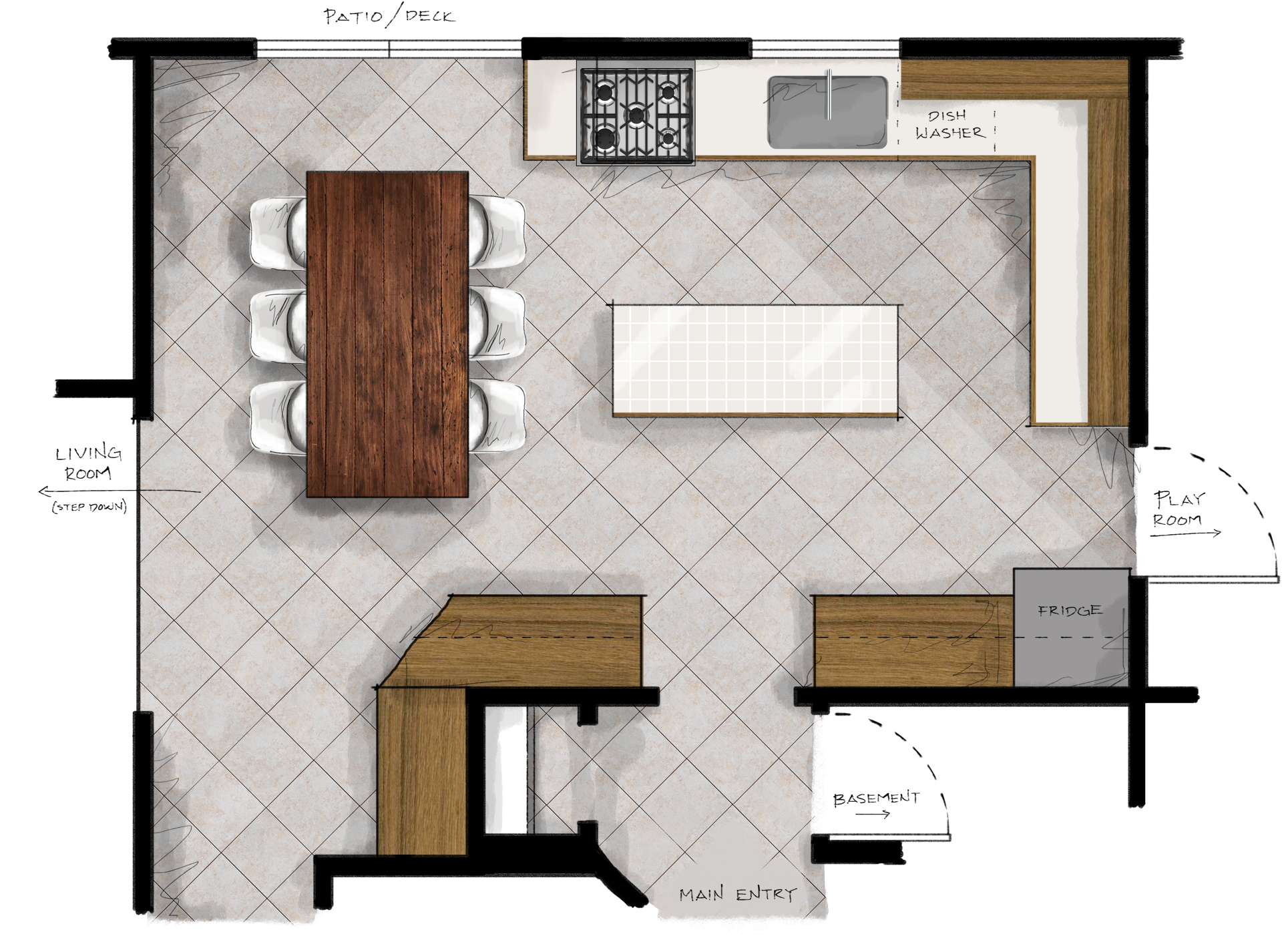 Formal dining rooms aren't really our thing, so when we looked for houses, we were wanting a kitchen area that was big enough to fit my heirloom dining room table. This house had a formal dining room, but as it is tucked away in the corner of the house beside the kitchen, we thought it would make the perfect play room. Only problem is, the kitchen was too cramped to fit our big dining room table. Not to worry! I spent a little time putting all of the existing cabinets into autoCAD and rearranged them to better suit our furniture, moving the stove* to another wall in the process. I'm so excited to be able to utilize our existing cabinetry, which means less waste and more money to spend on other areas.
*We already have to run a gas line to our new gas stove, so moving the stove won't be too difficult, providing the floor boards of the floor above the kitchen run horizontally to the exterior of the home, so we can easily tuck the stove vent in between the floor boards. We'll see about that when we move in!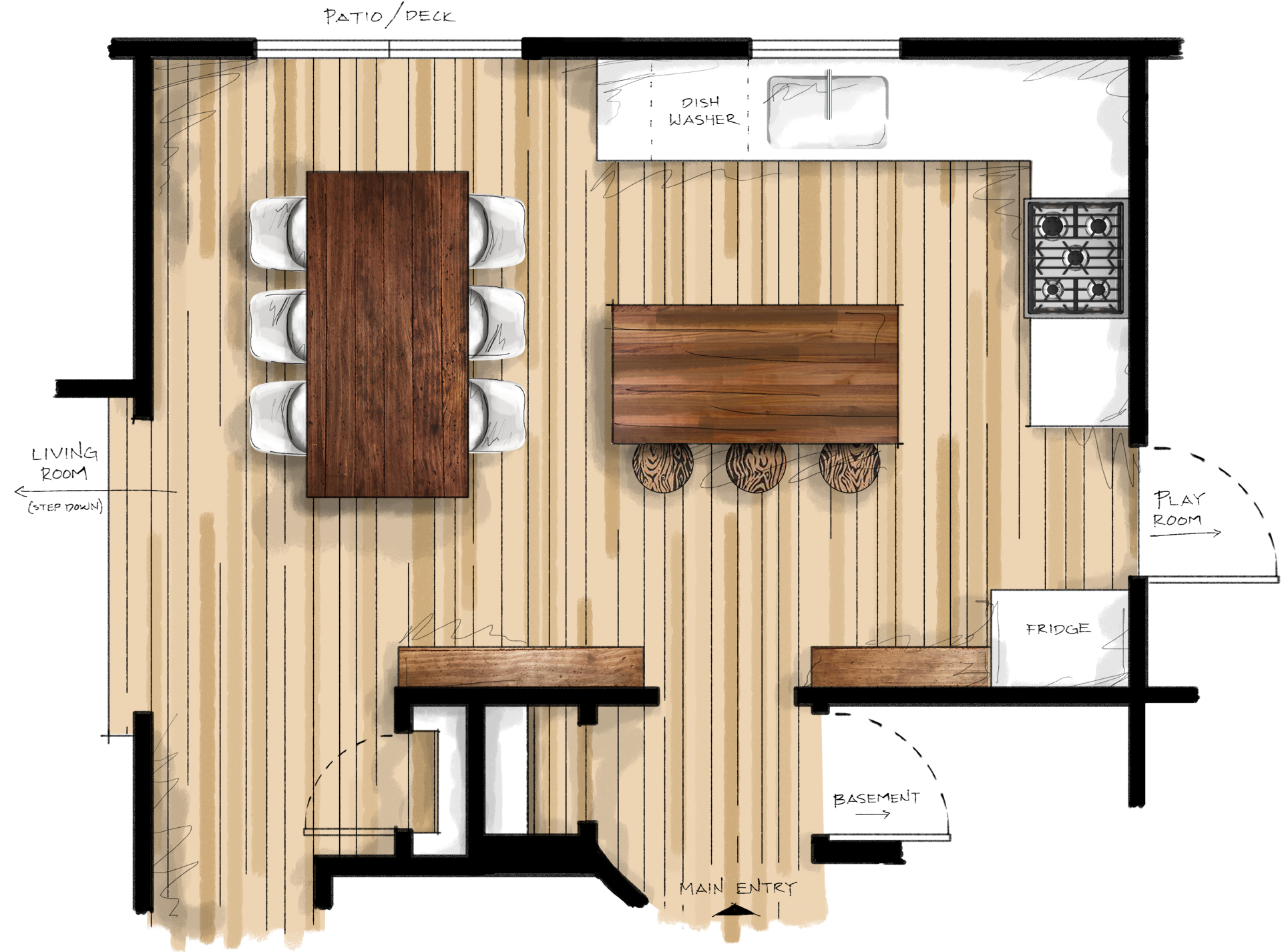 In addition to making room for our table, moving the stove means the hood vent will no longer be competing with the kitchen window, which had previously made the space feel imbalanced. I'm a lover of symmetry, so the new window wall elevation is giving me all the feels! I'm also excited about removing the large cabinetry on the refrigerator wall, making way for a slimmer open shelving system, installed from floor to ceiling for storing glassware, serving dishes, and dry pantry goods stored in pretty glass jars.
I'll still want a closed pantry area (which I've never actually had in a kitchen before), so I'll be removed the cabinet around the corner in the kitchen which currently has a wet bar inside. We'll be drywalling it in to make a real closet fitted with floor to ceiling shelves for uglier pantry items, like cereal boxes, canned goods, and all that jazz.
I have a few DIY projects up my sleeves for this space, and am excited to be sharing them with you this June and July over at A Beautiful Mess! Among them includes easy ways to make and instal floating shelves, how to instal a pantry wall like the one I've planned, and lots more! (I don't want to ruin any surprises. Ha!)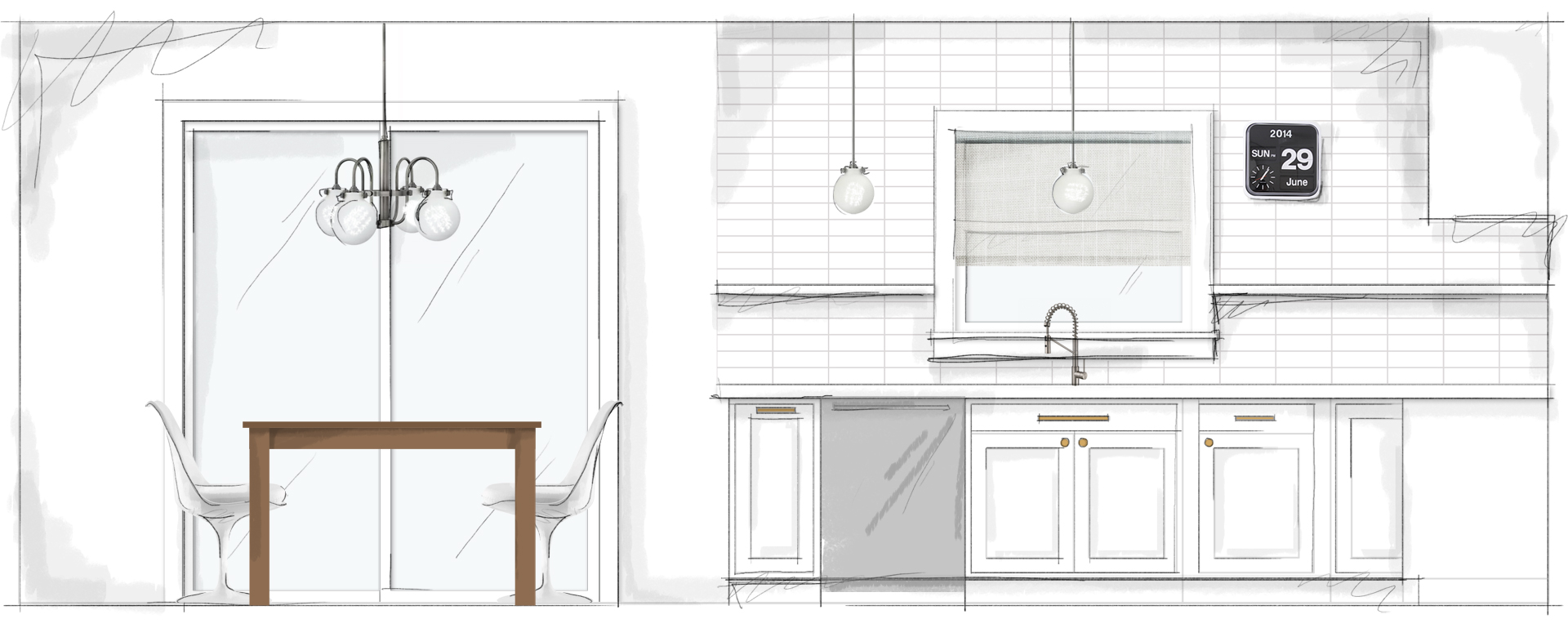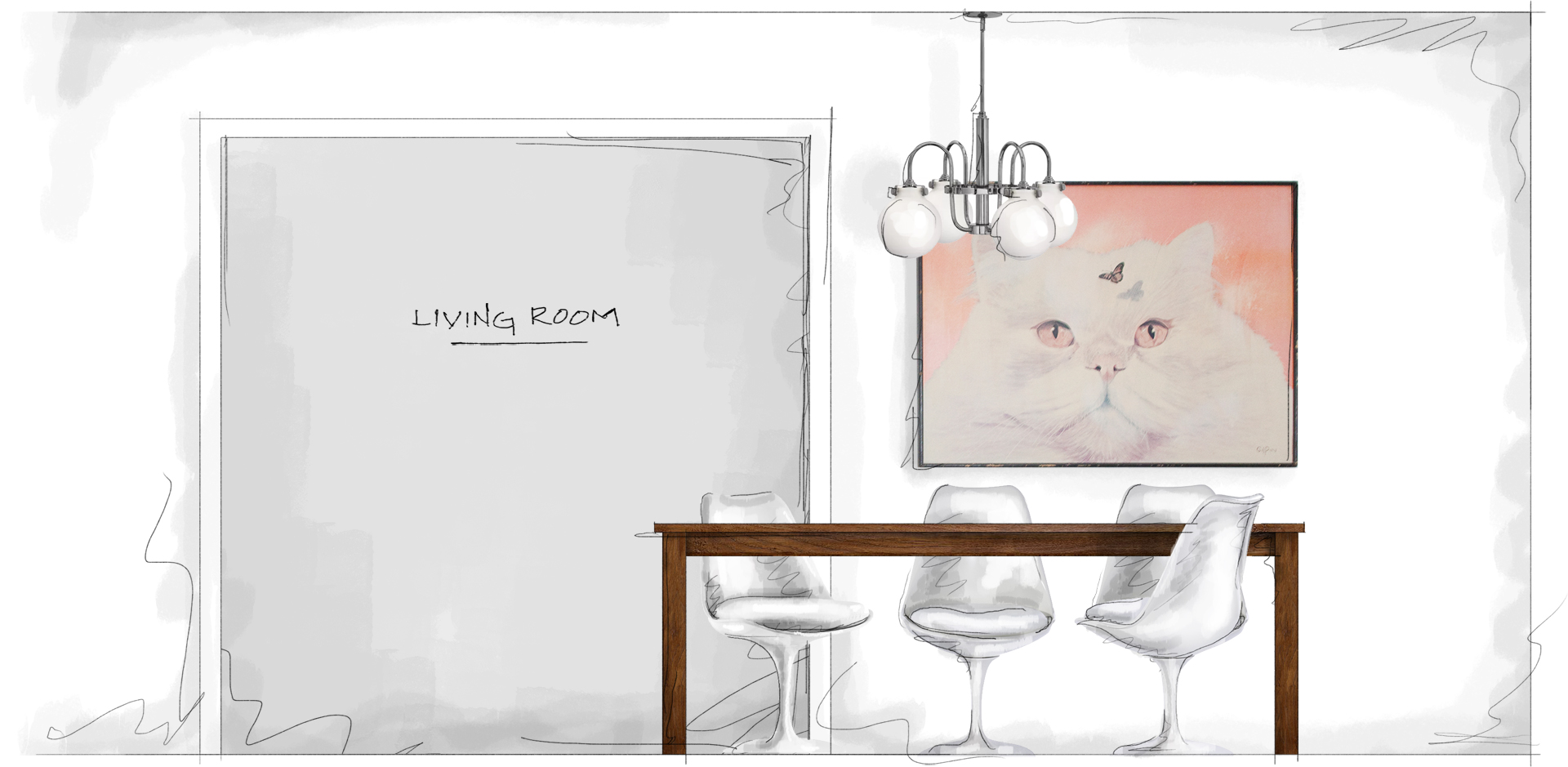 It looks like a lot of white, but I think the heaviness of the floor-to-ceiling wooden shelves on the wall opposite of the window will really warm up the space. I love a balance of cozy, earthy wood tones with the bright, clean feeling of glossy white and shiny chrome. Of course, all the white will also provide a great background for an open shelf full of white, wood, and glass dishes I'll be storing for every day use on the window wall.
I can't wait to start demo as soon as we close on the place the first week of June! Stay tuned. :)