Crock Pot // Stuffed Peppers with Turkey + Quinoa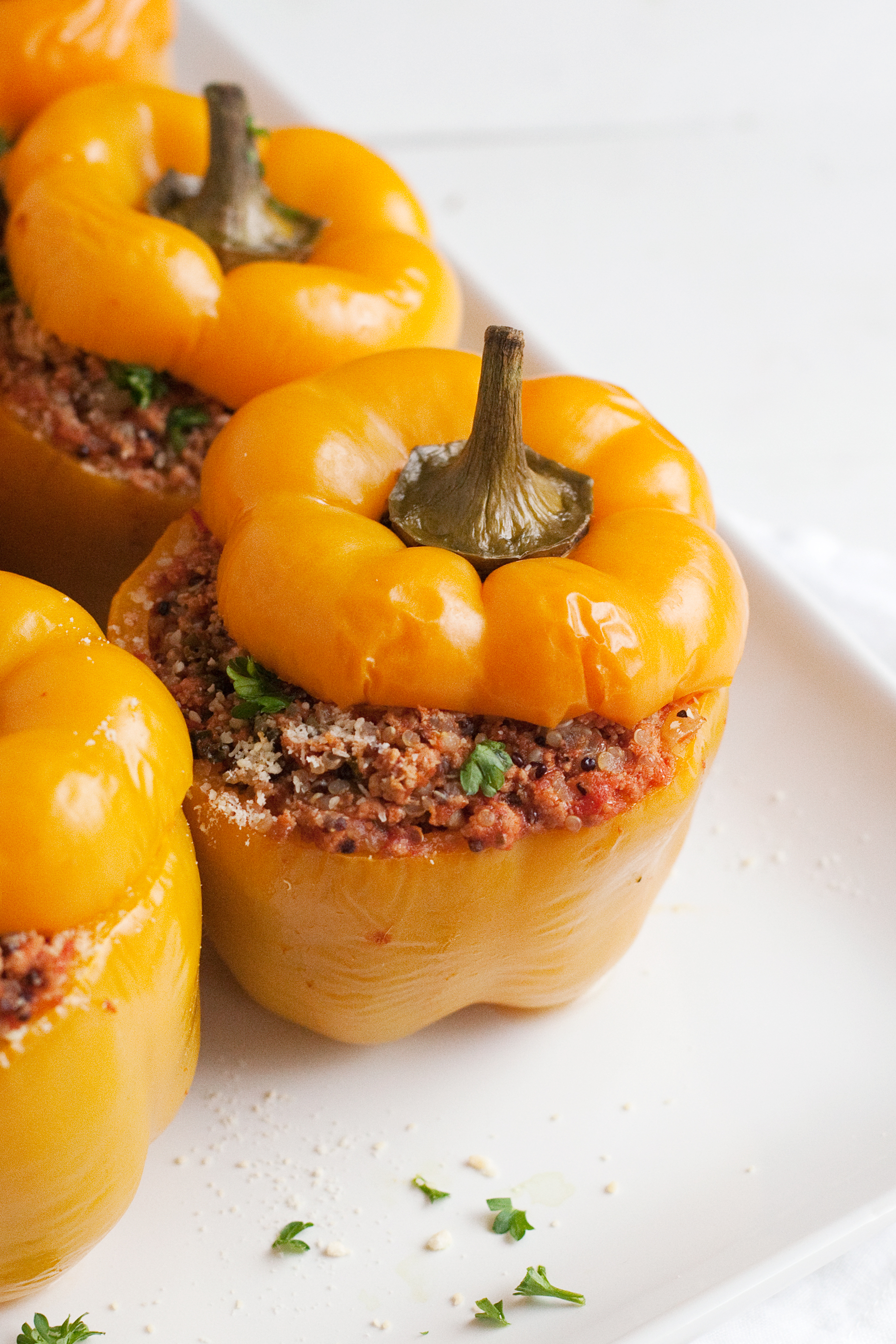 Sharing delicious food with your family is easy, but finding healthy recipes that are easy to make and enjoyed by all is a bit more challenging! I have learned a few tricks lately that make cooking healthy meals easier for me, with minimal prep work and cook time on my end. This turkey, kale, and quinoa stuffed peppers recipe has proved to be one of the easiest to throw together. What's the trick?
I like to buy ground turkey in bulk when it's on sale, brown it the same day, then store one pound increments in storage bags in my freezer. That's step one to making all of my ground turkey recipes easier. Step two? When I mix up the stuffing for these peppers, I will mix at least a double batch, and sometimes a triple batch. While it's fresh, I'll use enough for one batch (about 5 peppers), then freeze the rest, making the next time I prepare stuffed peppers as easy as thawing the stuffing and cutting the peppers. Add in the crock pot factor and this recipe is a breeze— cooking away on my counter while I go about my day, not worrying about needing to start dinner. And these are the days I feel like I'm winning at life.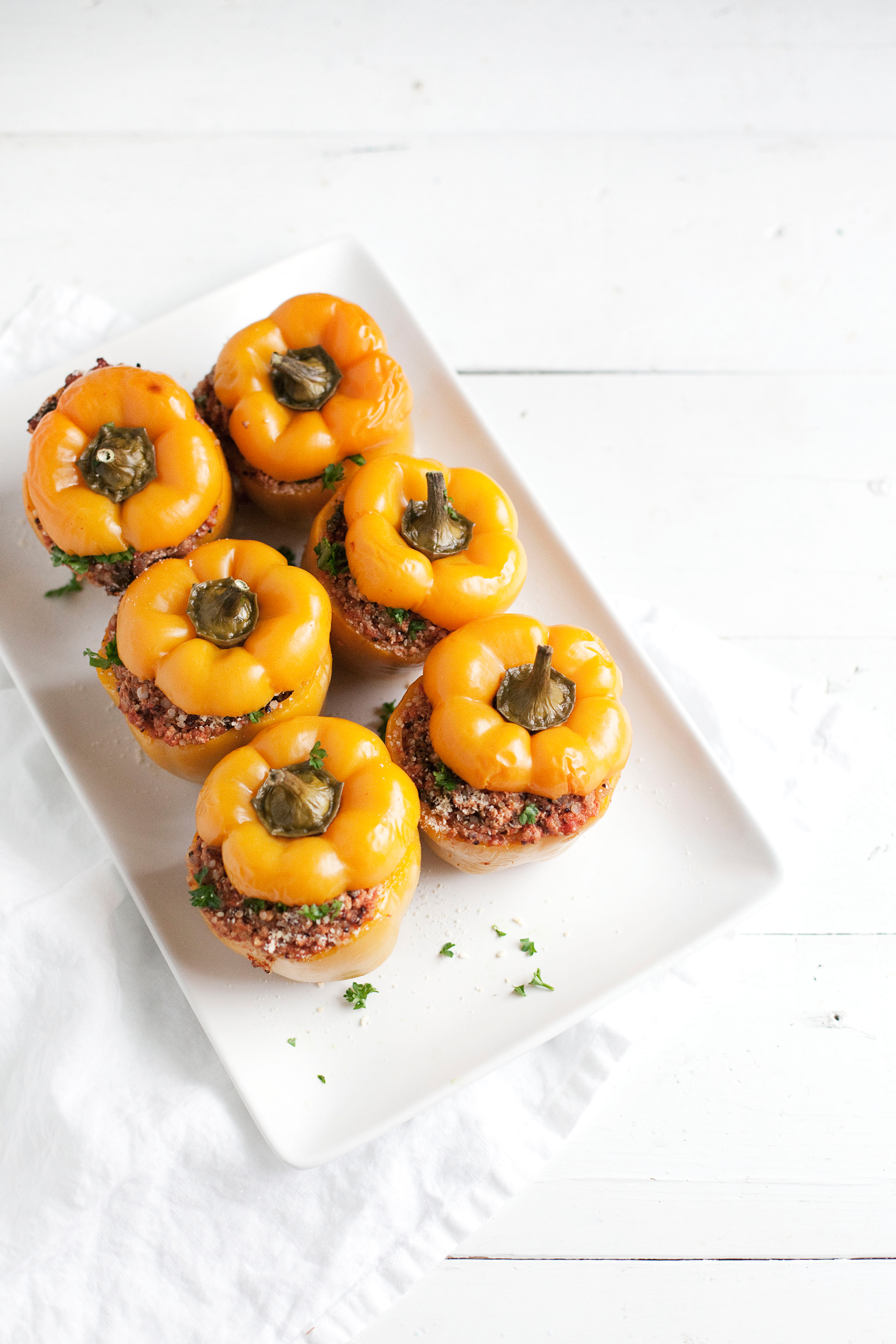 This stuffed pepper recipe also has me feeling like a boss because it just tastes really, really good. My kids eat it, my husband delights in it, and I am positively gleeful about the nutritional content. It's definitely a recipe in frequent rotation at our house! I hope you like it as much as we do.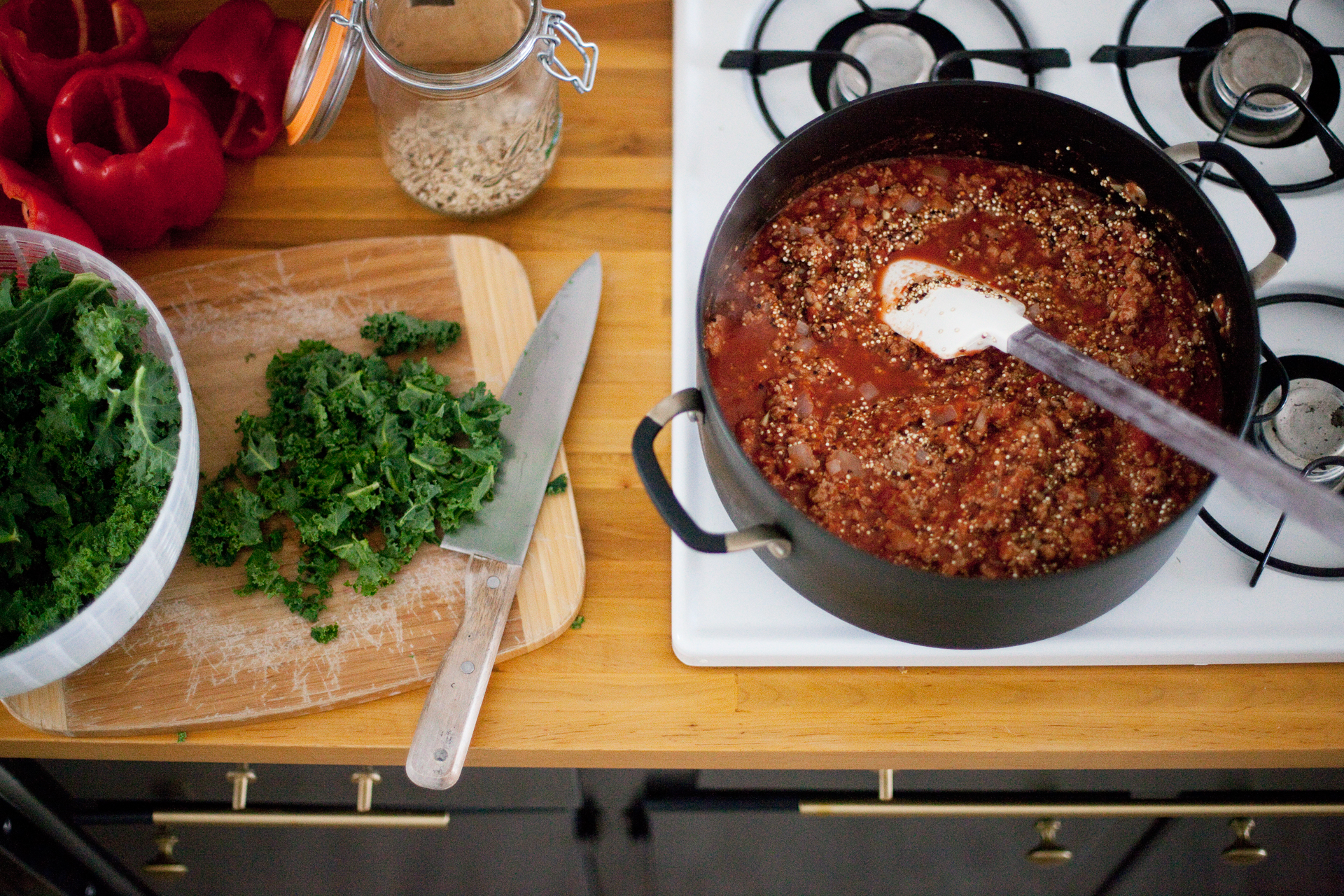 Turkey, Quinoa, and Kale Stuffed Peppers
2017-04-04 19:13:12
These hearty, flavorful, and nutritious peppers are sure to become a regular at your table!
Nutrition Facts
Amount Per Serving
* Percent Daily Values are based on a 2,000 calorie diet. Your Daily Values may be higher or lower depending on your calorie needs.
Ingredients
5 peppers (color is up to you
1 pound ground turkey
1 small onion, diced
5 garlic cloves, minced28 ounce can crushed tomatoes
1/2 cup rinsed quinoa (I used a mix of colors)
3 cups of chopped kale
1 tablespoon of Italian season or 1 tablespoon of taco seasoning, depending on your mood!
Instructions
Prepare the peppers by slicing off the tops and removing the seeds and rib of the insides. Set them aside, keeping the lids with their corresponding pepper.
Brown the ground turkey and diced onion in a large non-stick skillet, draining the fat off the meat once it has been cooked through. Add the garlic and brown for about a minute before adding the remaining ingredients. Once ingredients are combined, gradually add the chopped kale, stirring to incorporate the leaves as they wilt with the heat.Once they kale has wilted just a bit, spoon the stuffing into the hollow peppers, top with their lids, and place into your crock pot or baking pan.
Cook on low for 4 hours in a crock pot, or bake at 350 degrees in a covered baking pan for 1-2 hours, depending on how tender you prefer your peppers.
Making Nice in the Midwest http://makingniceinthemidwest.com/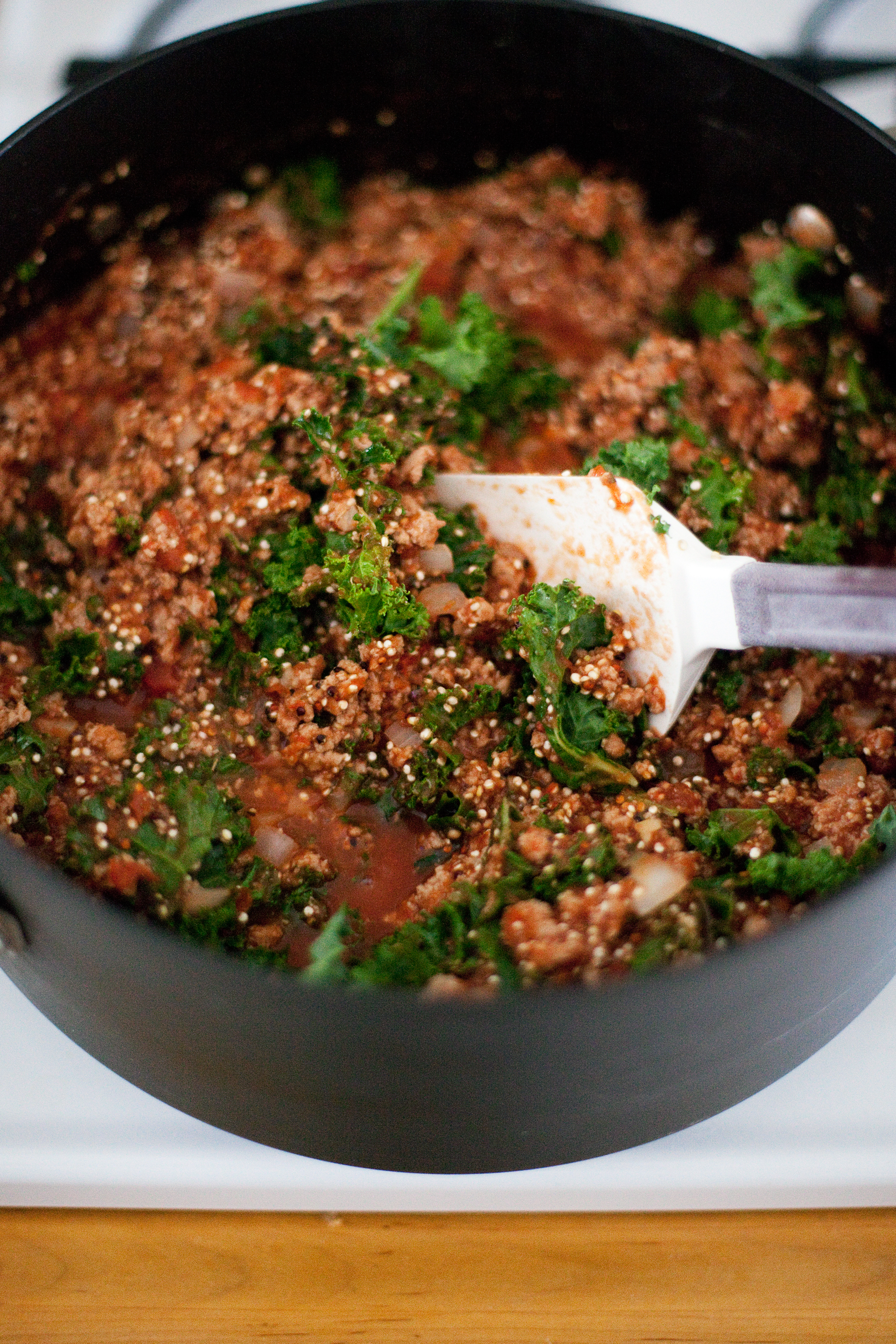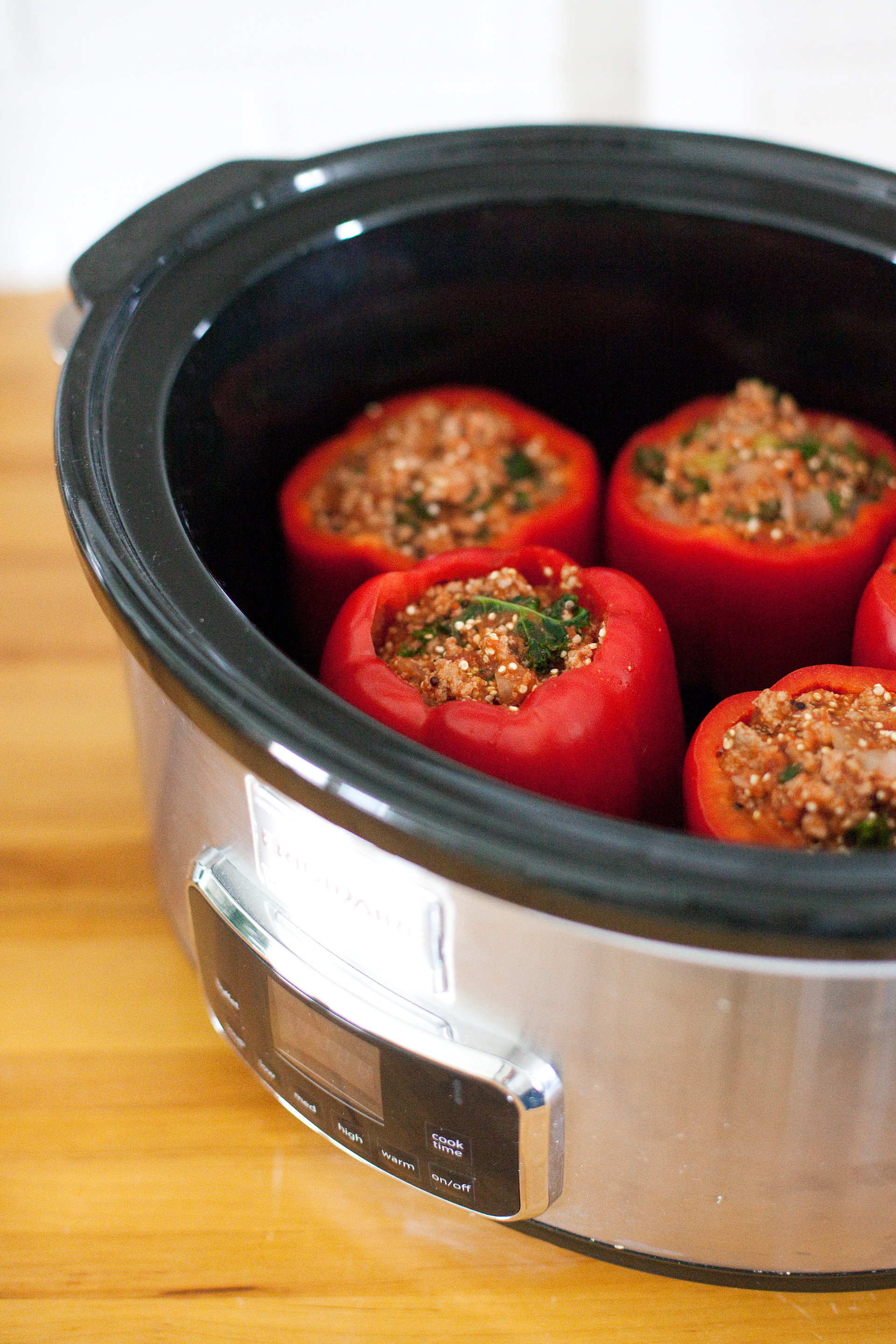 My family doesn't typically use quinoa as a substitute for rice, as it's too fine to hold onto a fork or chopsticks like rice does, and it just doesn't have the same bite and texture. But I believe this is the perfect recipe for using quinoa as a rice substitute, because it clings nicely to the tomato and meat texture, enhancing the hearty and meaty qualities you would crave in stuffed peppers. Why quinoa instead of rice? For me it's about the added protein. I'm all about that muscle mass, yo!
After my peppers cook, I like to top them with a sprinkle of cheese and fresh herbs, depending on what I have on hand. This time it was grated parmesan and fresh parsley. So delicious!