Mandi Makes a Dollhouse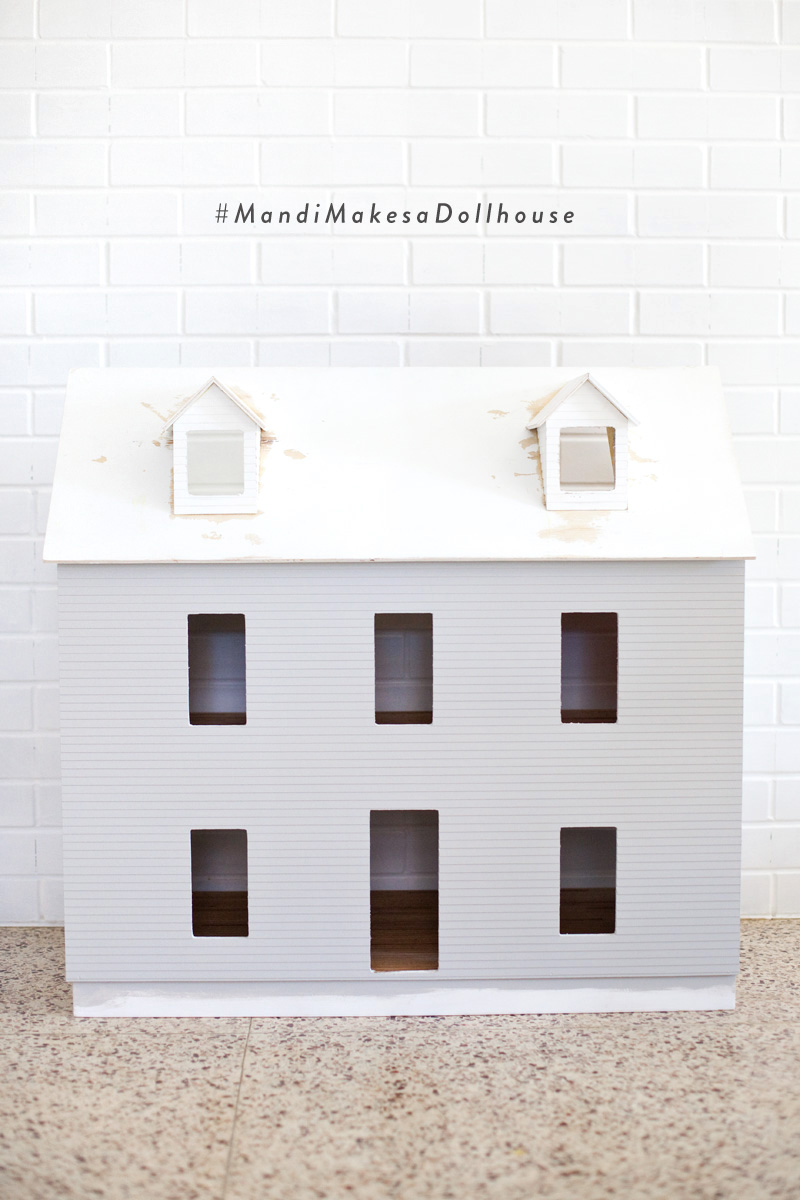 A month ago, I thought it would be really fun to make a dollhouse for Lucy's Christmas present. I was so inspired years ago by Nicole's dollhouse, and others who followed along with the I'm a Giant Challenge, and finally I have an actual excuse to make a dollhouse. It'll be fun, I said. It won't be too difficult, I said. I'm laughing at myself now. This project has basically consumed my life! For starters, I built a dollhouse that was the wrong scale (too small for the furniture I wanted to put in it), so I had to find someone to buy it to recoup my money, then I had to buy a new one and rebuild. (Kind of embarrassing to admit I did that!) So that's where I am now. Working on finishing details to the interior before the next stage begins- decorating!
I haven't been doing the best job at documenting this project, because it's just nice to not have to worry about that all the time. Hashtag blogger problems! But you can see some photos on my Facebook page and at the Instagram hashtage #mandimakesadollhouse.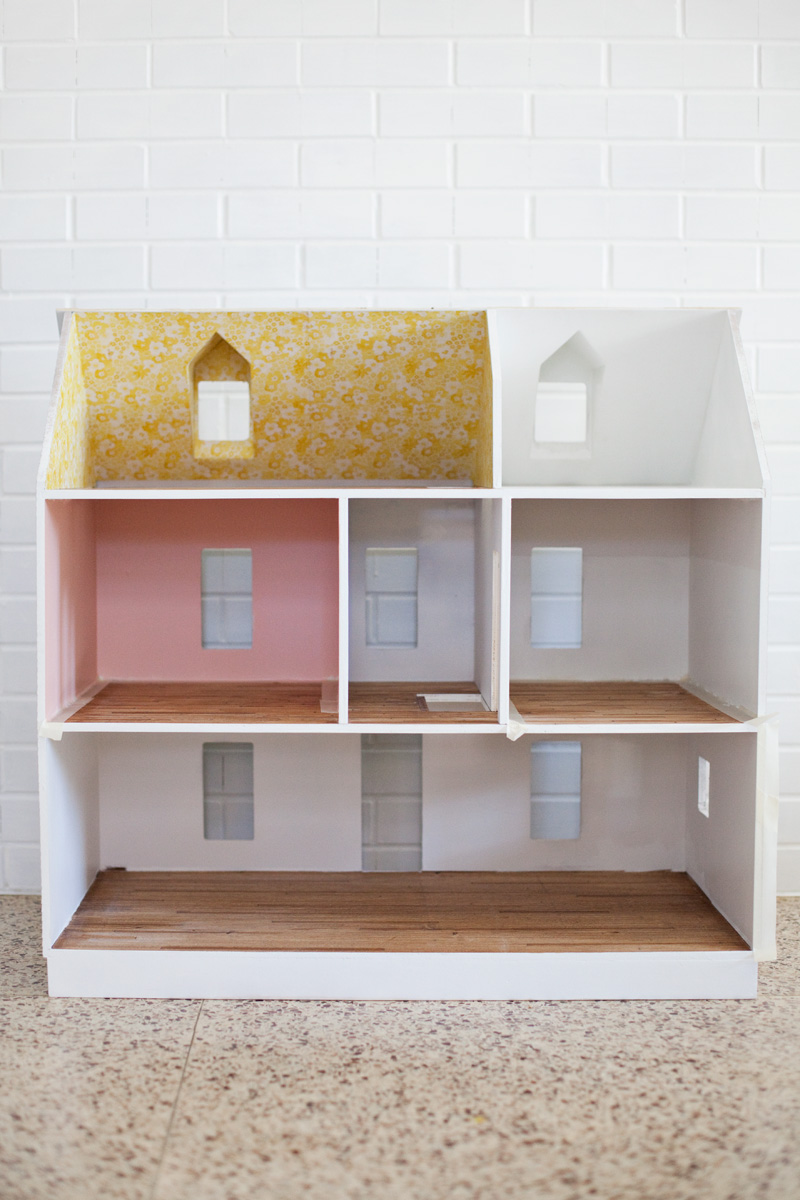 Here's the inside! You can see it before I did any painting here. I wanted to place the furniture before deciding on wall placement and colors for each room. I still haven't settled on a color for the bathroom or other bedroom on the second floor. I figure, things should be colorful, because this is a kid's dollhouse, after all! It's not just for me to play with, though make no mistake, I will be playing with this beaut when it's finished. I've decided to generally stick to pink, orange, and yellow for the main colors, with natural colored accents thrown in. Maybe I will do more of a neutral color scheme for the first floor, pinks and rusts in the second floor, and yellow on the third floor. That's my plan so far, but as you can see, I'm still working on painting (masking tape still in place), and haven't added trim or stairs yet, so anything is fair game at this point!
The dollhouse kit I decided on is pretty basic, but I decided to buy two dormer kits to add to the attic space. It was a bit challenging to add dormers that didn't belong to my dollhouse kit, but I definitely think it was worth it. Cutting out angled holes for the dormers, sanding and wood filling my heart out until they were perfect, and then wallpapering one and caulking the other was no joke! Sometimes I feel like I'm building a real house. Each tiny little detail needs to much attention. Each little stair spindle and trim piece. So much priming, sanding down the primer, priming again, painting, and sanding between coats of paint. And let's not forget hand scribing each individual plank into the plywood floors and staining it in layers to try to get the look of wood flooring. What?! Yes. Perfectionism at its finest. (Sanding down tiny clapboard is best done while frying out your brain to Gossip Girl episodes on Netflix.) I suppose it doesn't need to be that much work, but I figure if I'm going to do it, I want to do it right.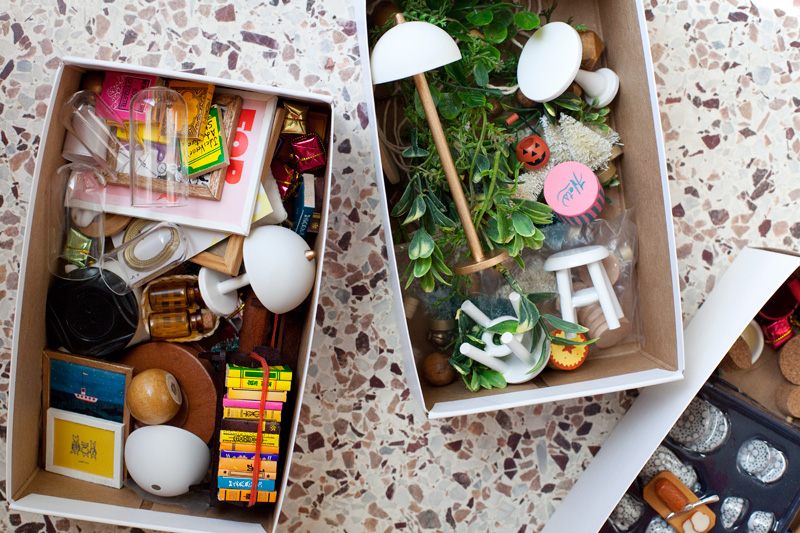 I still have to add exterior details, like windows, shingles, etc, but am not looking forward to that so much. I'm really chomping at the bit to add trim and fill the interior with all of the fun things I've been making and collecting along the way. Some of the little things are vintage, found on eBay, and other things I made myself (I'll share a couple of easy DIYs later), but here's everything I bought new. I found some of these things at local craft stores (Pat Catans and Michaels) but I've linked to everything you can buy online: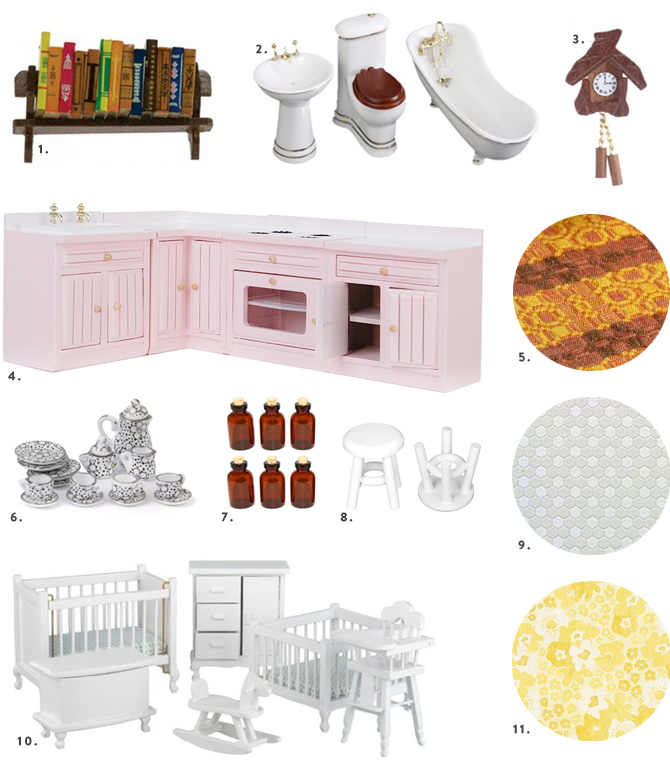 Dollhouse Kit (not pictured)
Dormer Kit (not pictured)
1. Bookshelf with miniature books
2. Porcelain bathroom set (this is getting glued down)
3. Cuckoo clock
4. Kitchen set (I painted mine)
5. Dollhouse rugs (I bought three from this shop, and am making the rest.)
6. Miniature tea set
7. Miniature Amber glass jars (I actually found mine in the jewelry section at a craft store.)
8. Step stools
9. Bathroom flooring
10. Nursery set
11. Attic wallpaper (scrapbook paper)
Here's the Calico Critter family that will live inside:

cat family available here / cat family babies available here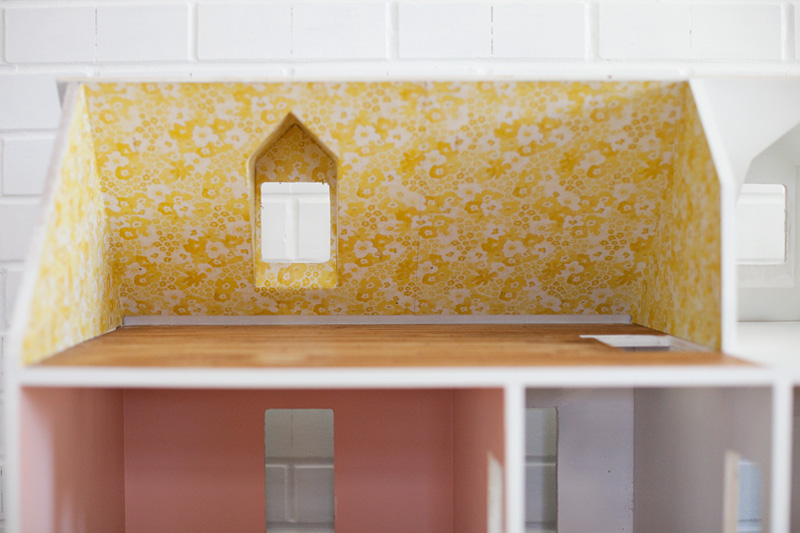 Wallpapered dormers! This intimidated me so much, but it wasn't as difficult as I thought. (I thought it would be impossible, and it turns out it was just mildly challenging. hehe) I did decide to caulk the corners of every room that wouldn't receive wallpaper. It was easy and took care of any little cracks, making it look really nice and finished. It's a good thing I have all of those random supplies already on hand (like wood glue, super glue, caulk, wood stain, and interior paint), or else I can see how all the costs would really add up!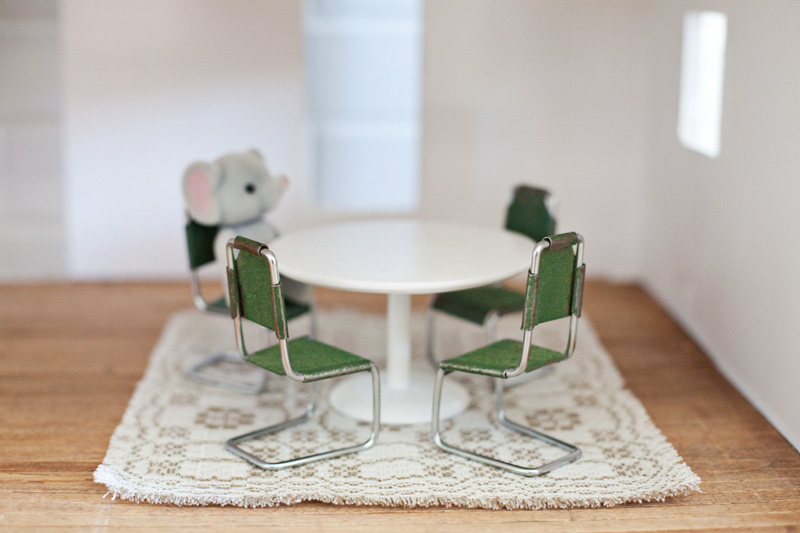 How cute is this dining set! I made the table myself, and the chairs are vintage found on Etsy. I kind of want this to be my actual dining room!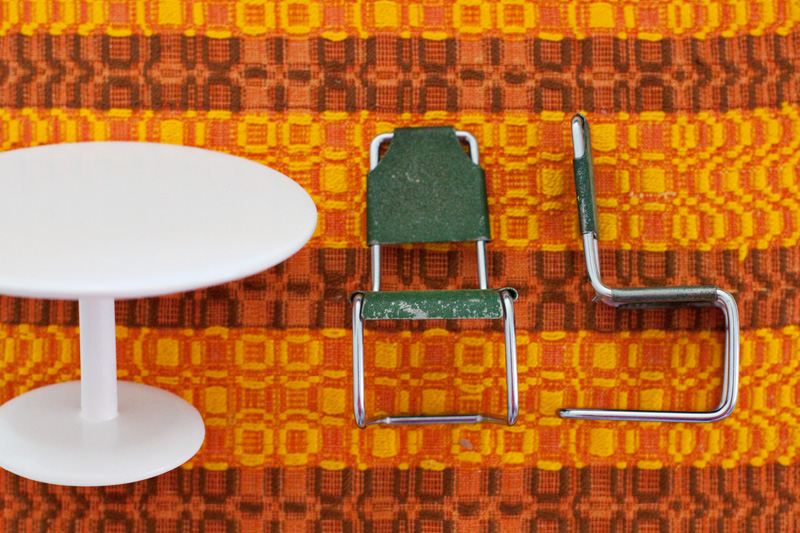 So excited to get everything inside! I'll share more progress soon. Thanks for following along!