Grayscale Film Noir Costumes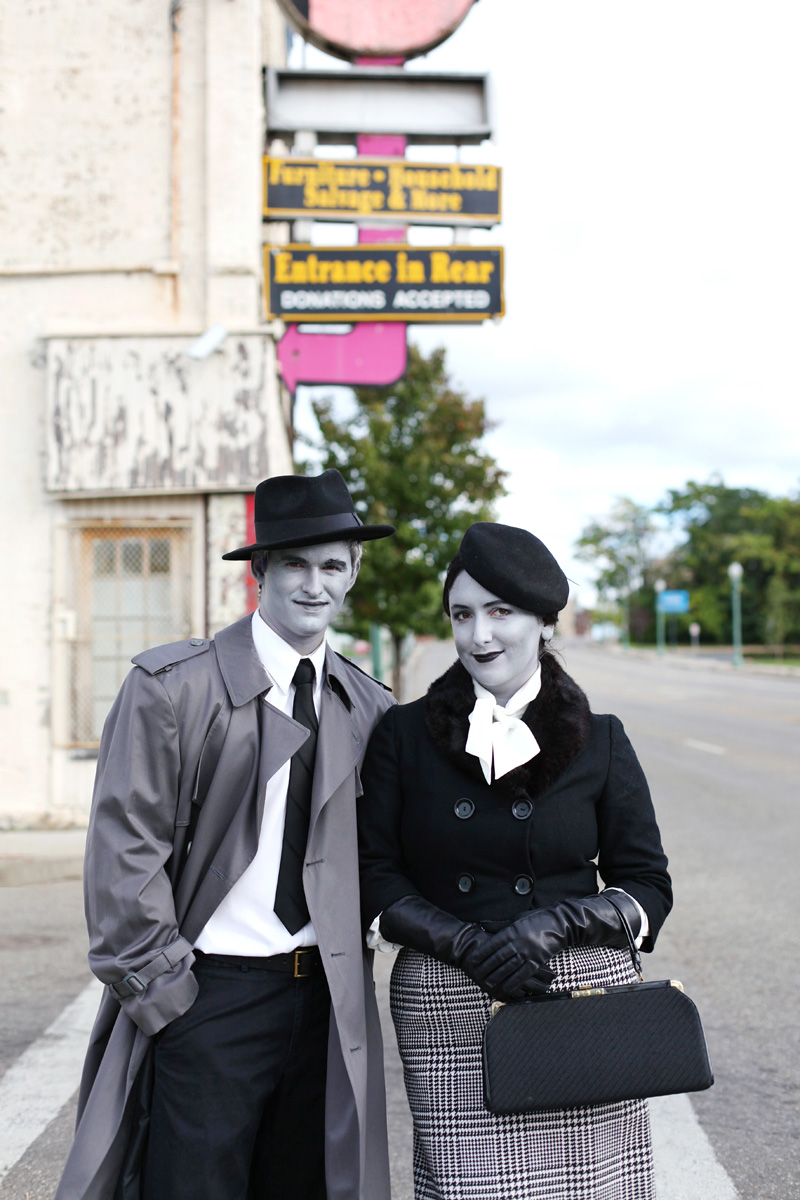 Two years ago, Phil and I created these amazing grayscale film noir costumes, and they were too good not to share here on my blog! If you've been around my blog even a little, you'll know I'm pretty into classic movies and find them my biggest source of inspiration for style. So, of course Phil and I would find Halloween a great excuse to dress up like a gumshoe and his femme fatale, but with a fun twist— we're desaturated just like in the movie Pleasantville.
I've gotta warn you, this was no easy costume, thanks to all the makeup that easily smudges as the night wears on. But if not touching your face and leaving black marks on the rims of your cup is the worst of it, I'd say it's worth the struggle! (I did smuggle makeup for touch-ups in my purse.) Phil and I walked around a bit to take photos, and we were the hit of the town. It was so entertaining to see the shocked reactions of people who couldn't believe their eyes for a second! It really brightened their day, and tickled us all. Such fun, really!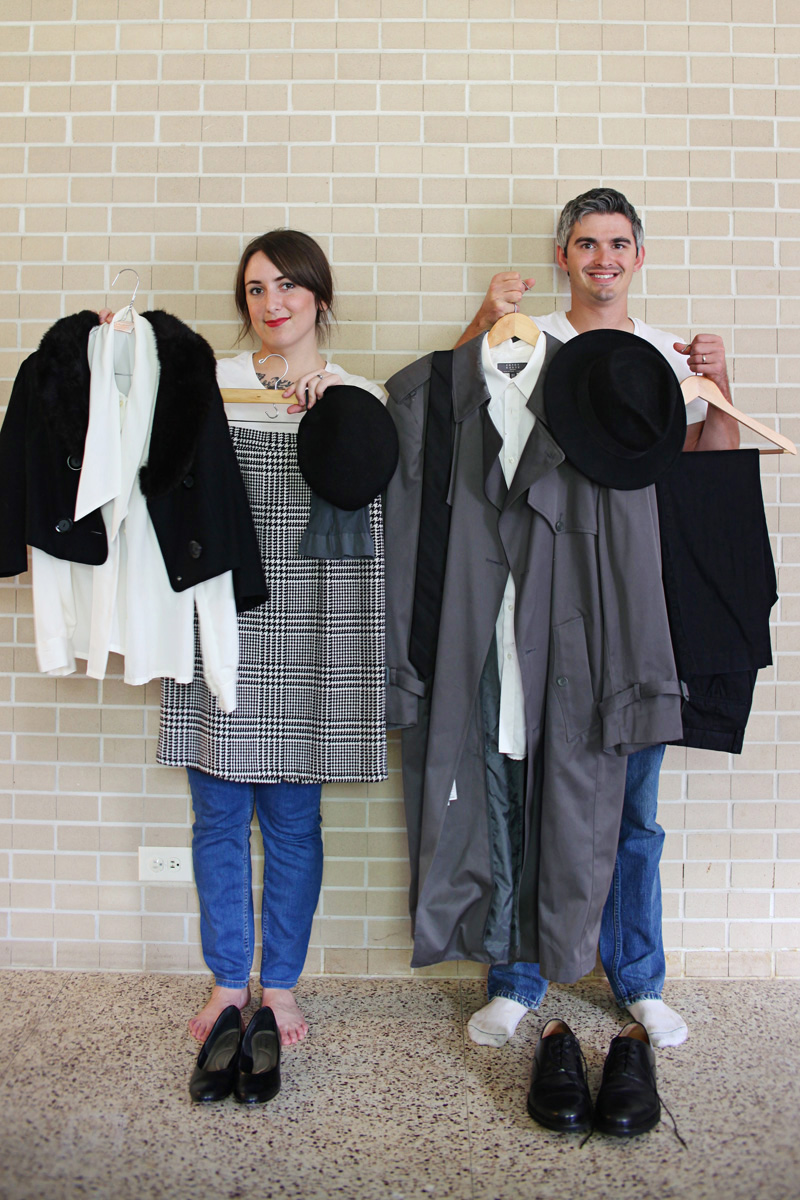 We found all the black, white, and gray clothing we needed in our closets, except for a jacket for Phil and tights for me. I was able to find his jacket at the first thrift store trip I made, and I grabbed the tights at Target. A quick stop at the costume shop for hairspray and makeup, and we were ready to transform ourselves.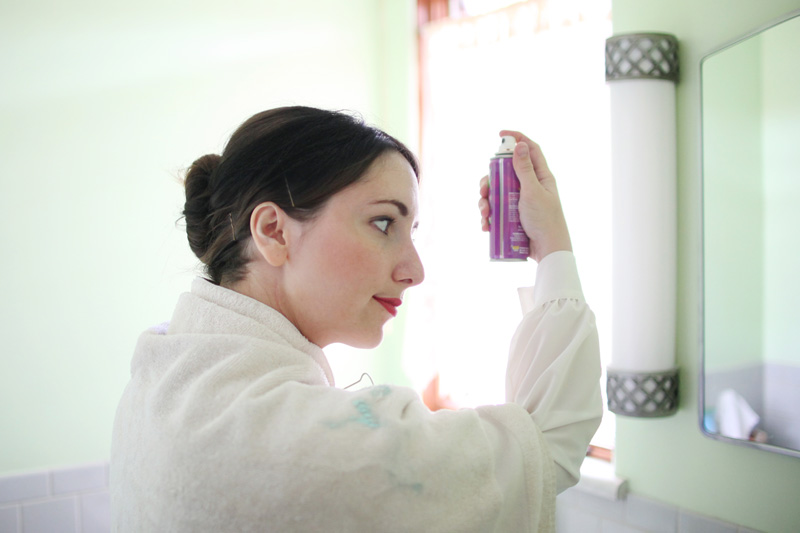 I began by spraying my simple updo with black hairspray , and wiping away any that got on my face. Then came the makeup.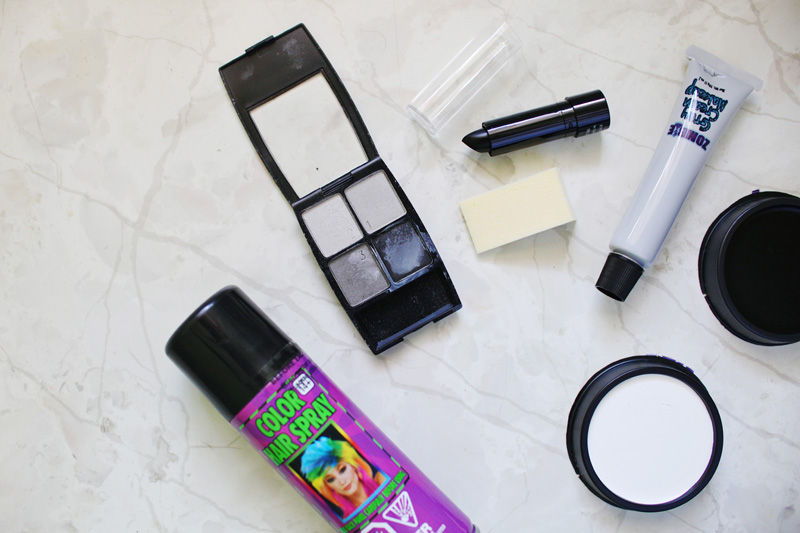 We blended black and white makeup from a pop-up Halloween store for the best coverage, and highlighted our eyes with a gray eyeshadow kit. I wore black lipstick, but Phil blended the black and white makeup to do his lips in a medium-gray.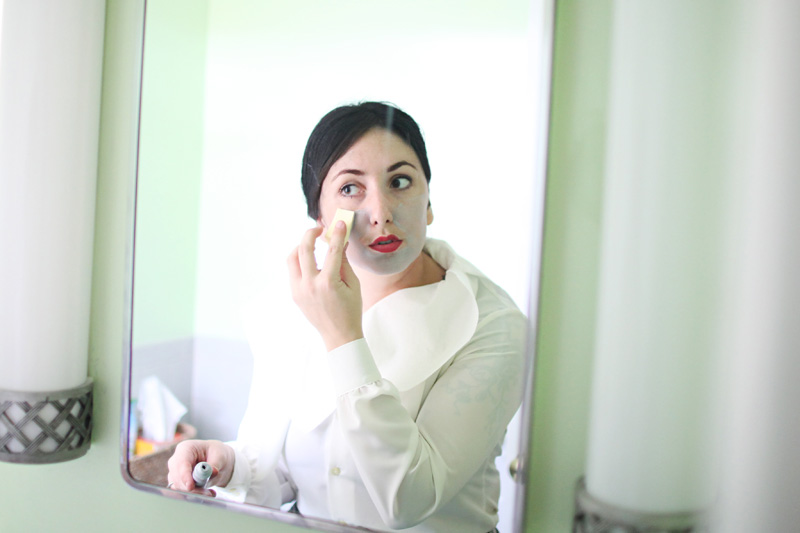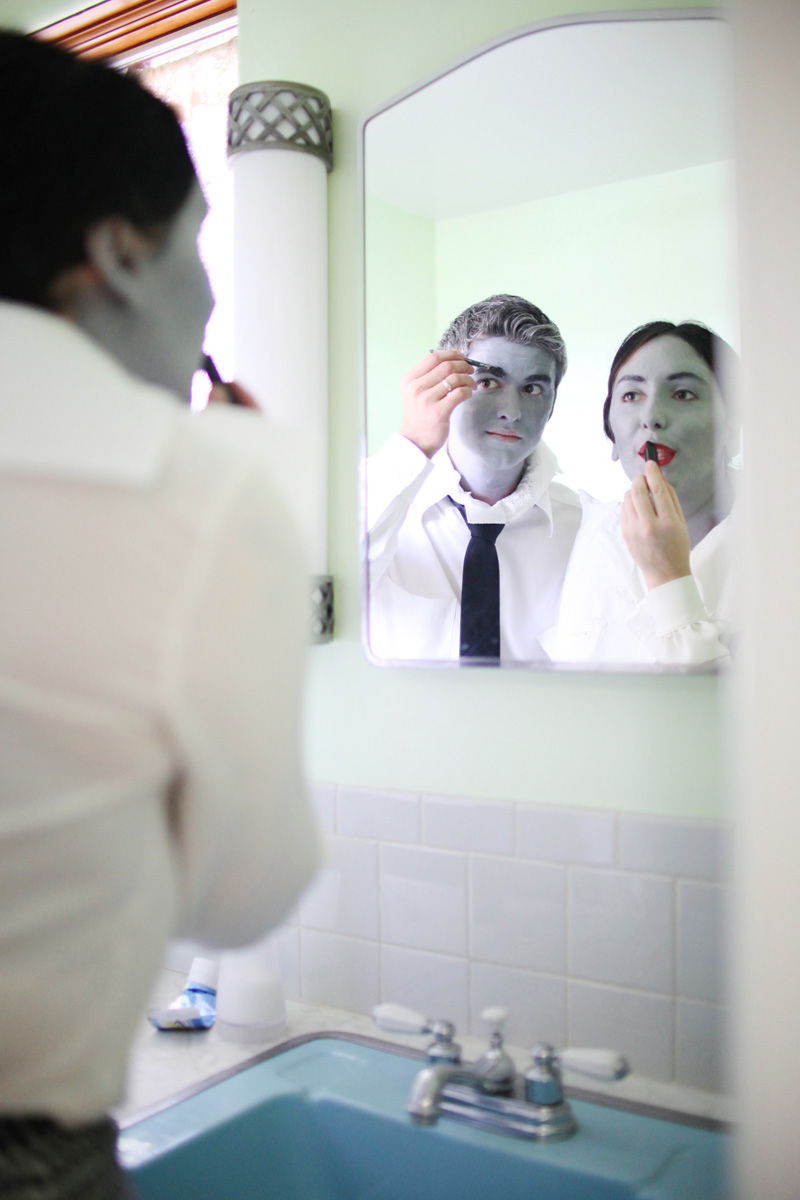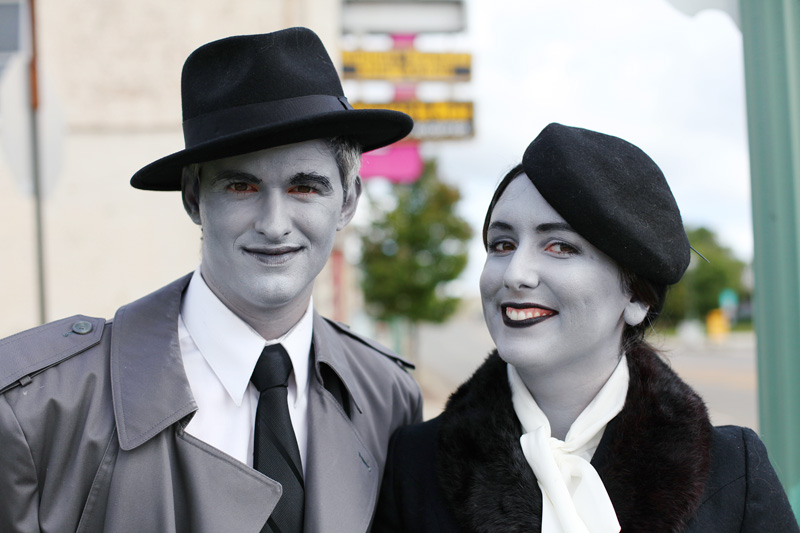 By looking at the photos, you really would think it's just Photoshop until you get up close and can see our eyes and mouth. My teeth have never looked more yellow! Ha!
It was really helpful to have comfortable gloves to wear, because layering makeup on your hands will just make a big mess. I also made sure my outfit had lots of coverage, so literally the only part of my skin that showed was my neck and face, making the application process much quicker. We did get makeup on our clothes, but it washed right out in the laundry without any special treatment, though I still have some gray smudges on the inside rim of my pillbox hat, but I haven't tried to clean it off.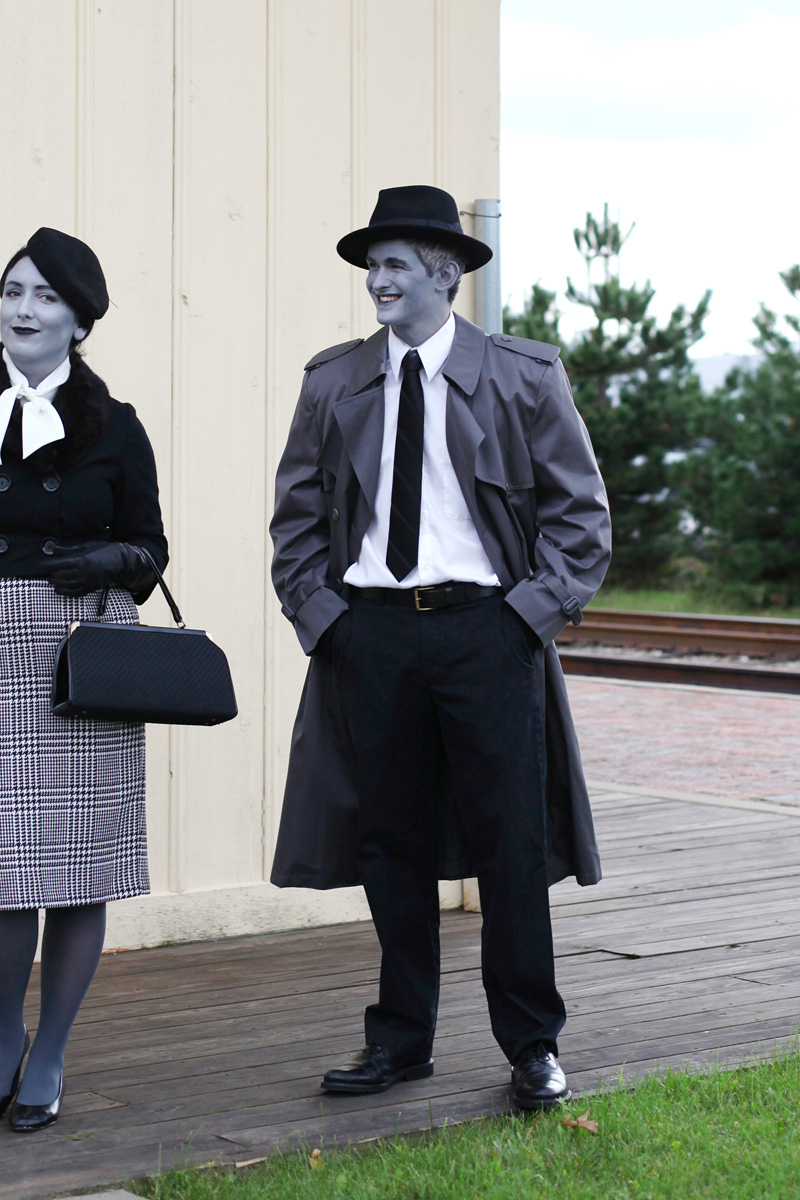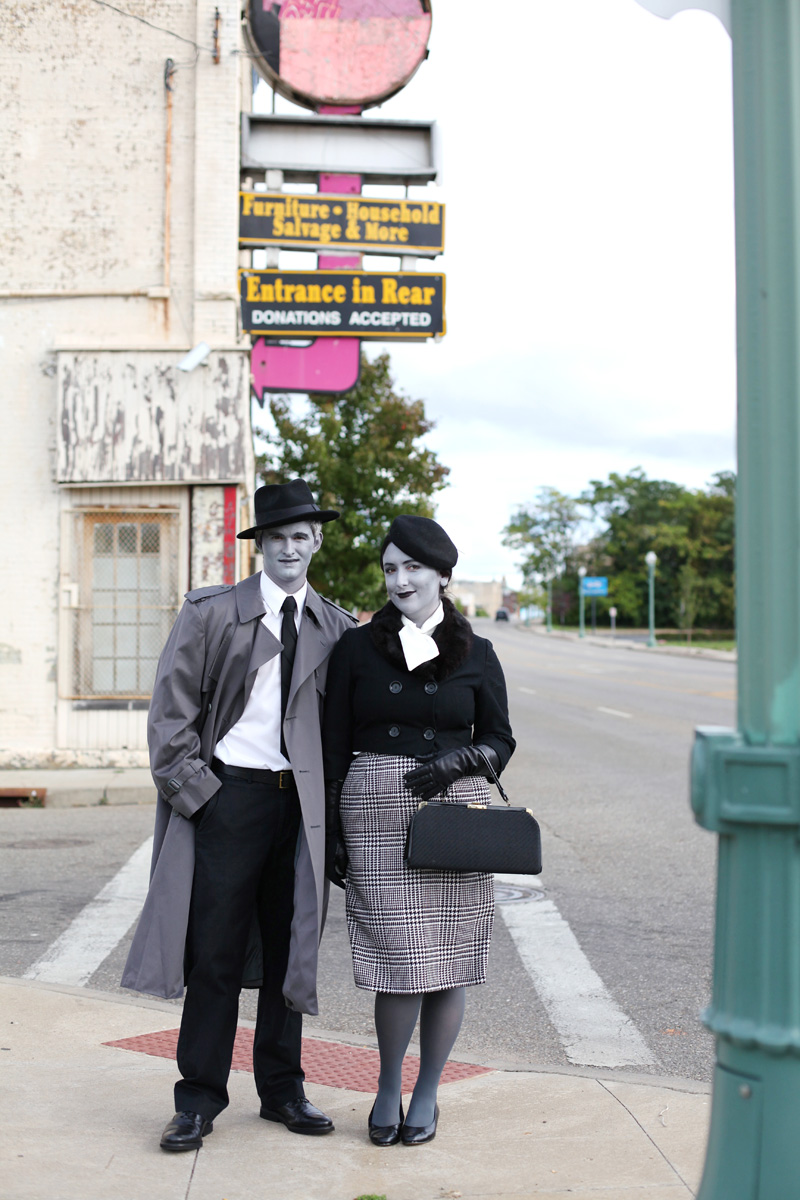 This was definitely my favorite Halloween costume we've done and was a big hit at the party we went to! We also enjoyed dressing up as the Flinstones, thanks to some quickly sewn fleece dresses and nude body suits for warmth! How cute was little Lucy as Pebbles? Aw man, now I'm feeling sappy. Such fun memories.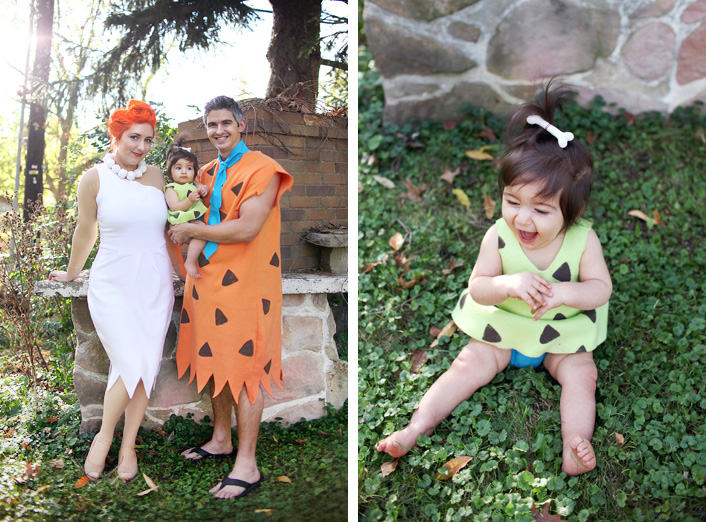 Check out my Wilma Flintstone hair tutorial here!