Lucy's Bumble Bee Train Party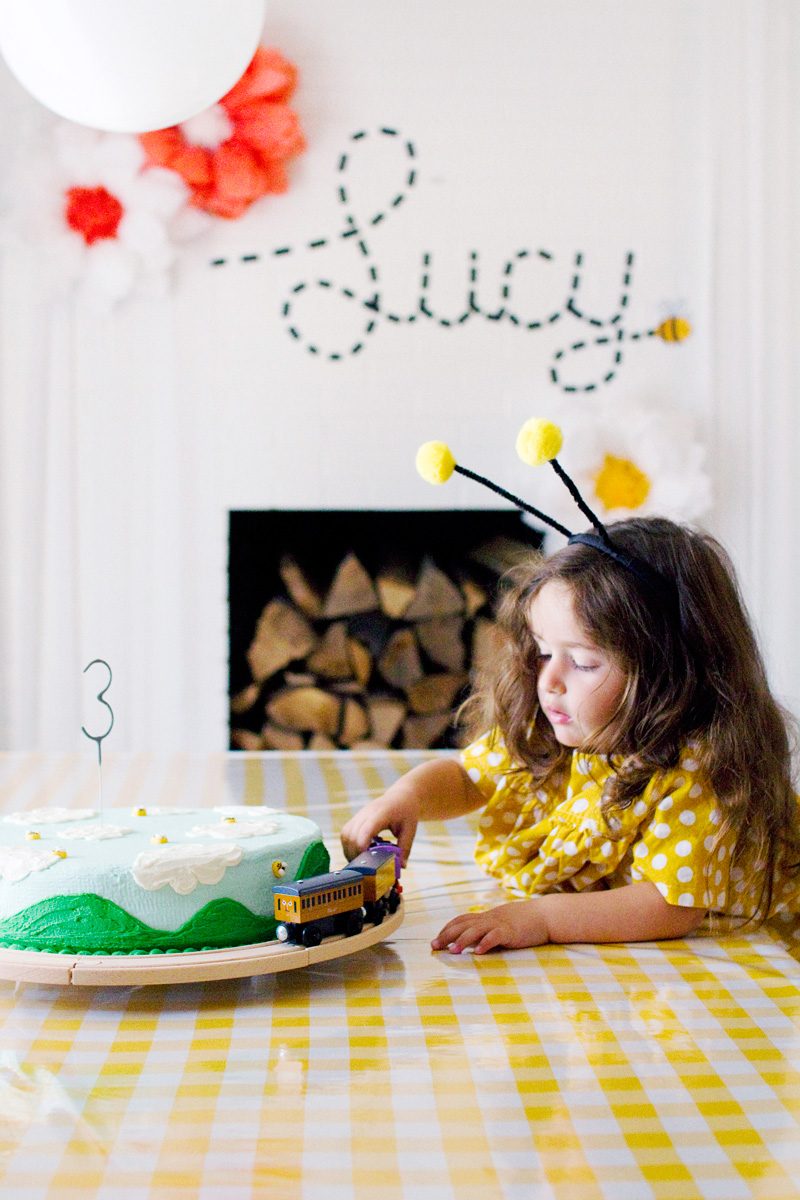 If you read this title and thought, "Bumblebee train party? That's a weird party theme!" Let me assure you— I thought the same thing! But when Lucy couldn't decide if she wanted trains or bumblebees for her third birthday party, I thought, why pick just one? Sticking to a theme for a party is such a Pinterest pothole, right? Kids don't care if they have train plates alongside bumblebee cups and a Hello Kitty cake. But us cookoo party planners like everything to be neat and tidy, I suppose. I'm the first to admit that I like a cohesive theme, even if it's just for a toddler birthday party with family.
So for Lucy's third birthday party I decided to go with a pretty picnic-inspired theme that encompassed a few of Lucy's favorite things: flowers, bugs (particularly her beloved bumble bee), and trains— just like a picturesque episode of Thomas and Friends. (Yes— I still tried to keep it within one cohesive theme!) With a little help from my mom, I put everything together while the rest of the family was at church, and Lucy was surprised by our dining room's transformation when she got home. Her favorite was the strawberry filled cake I made with love in the wee small hours of the morning the night before.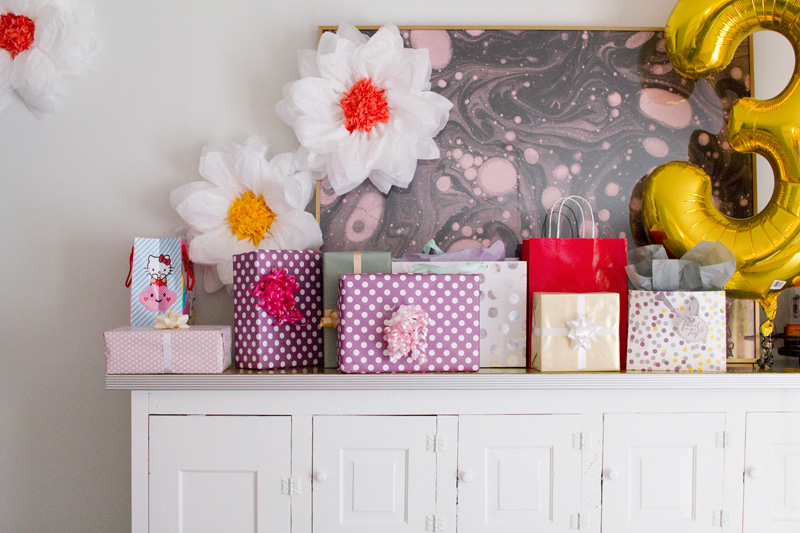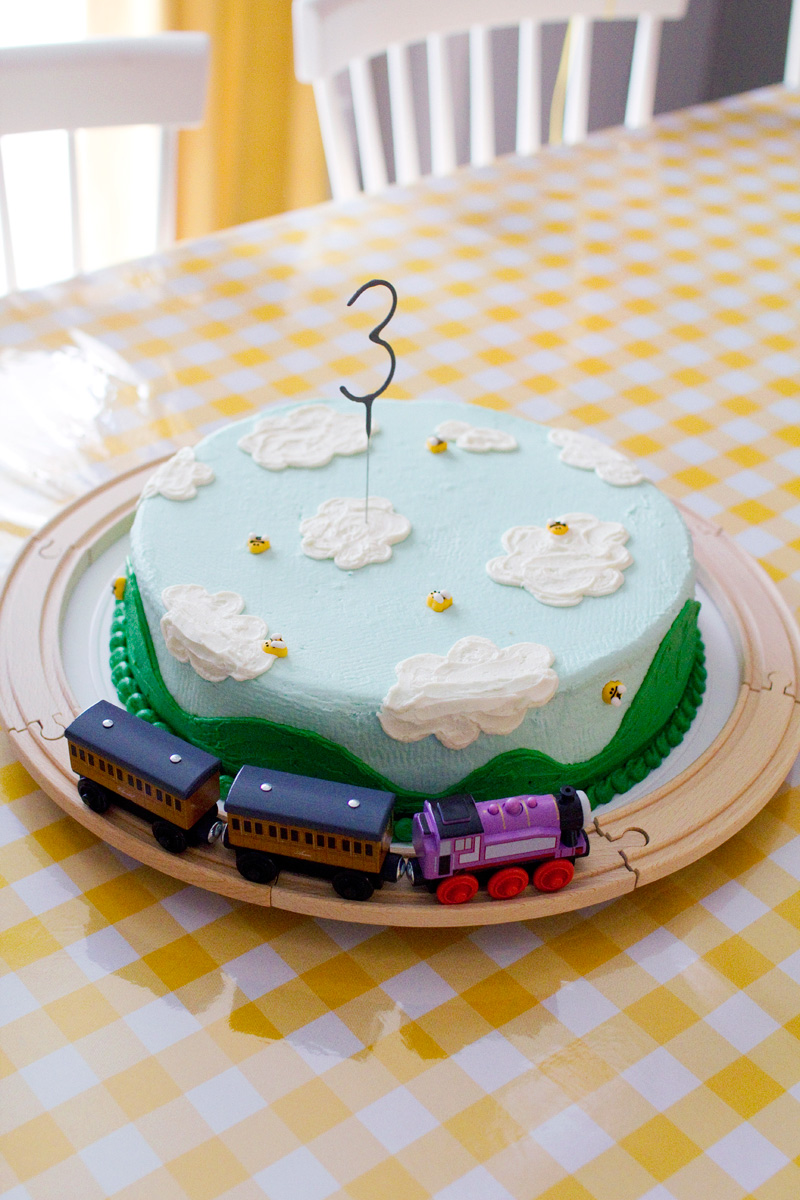 I made a bumblebee train cake! It can be done! In fact, I think it's my favorite cake I've ever made— even more than the teddy bear cake I made for her first birthday. Speaking of which— let me just say that it's SO not worth putting that much effort into a first birthday party cake! Your kid doesn't really care at that point, and it sets the bar way too high for following parties. Let's be real— that was just my attempt at being super mom, plus I was really excited to finally get to plan birthday parties for my kid.
As far as decorations went, I stuck to inexpensive decorations like tissue paper flowers and paper bumblebees taped to the wall with a trailing electrical tape flight pattern. (Thanks, Dad, for bringing the electrical tape!) Mostly I kept with the theme by selecting basic party items that were either black, white, or yellow and had patterns like gingham and polka dots. While I considered getting solid colored balloons to keep it classy, I thought Lucy would much rather have a cute bumblebee balloon. I found this one on Etsy, and it was a big hit!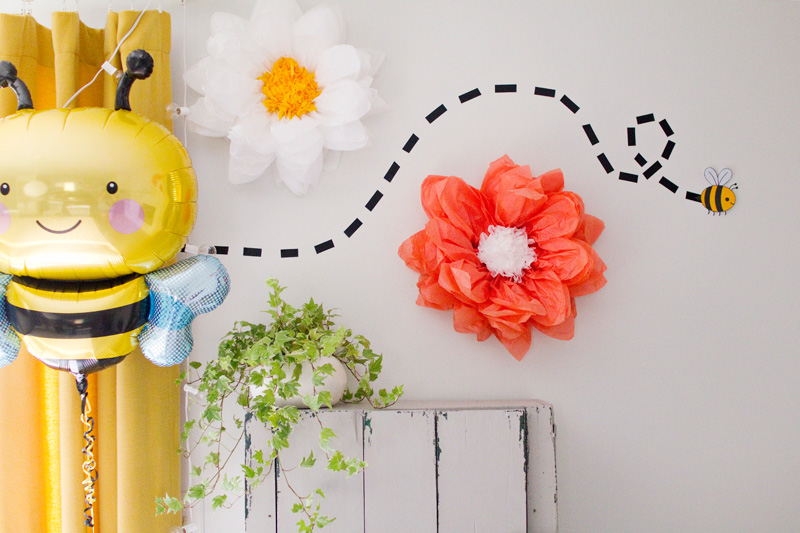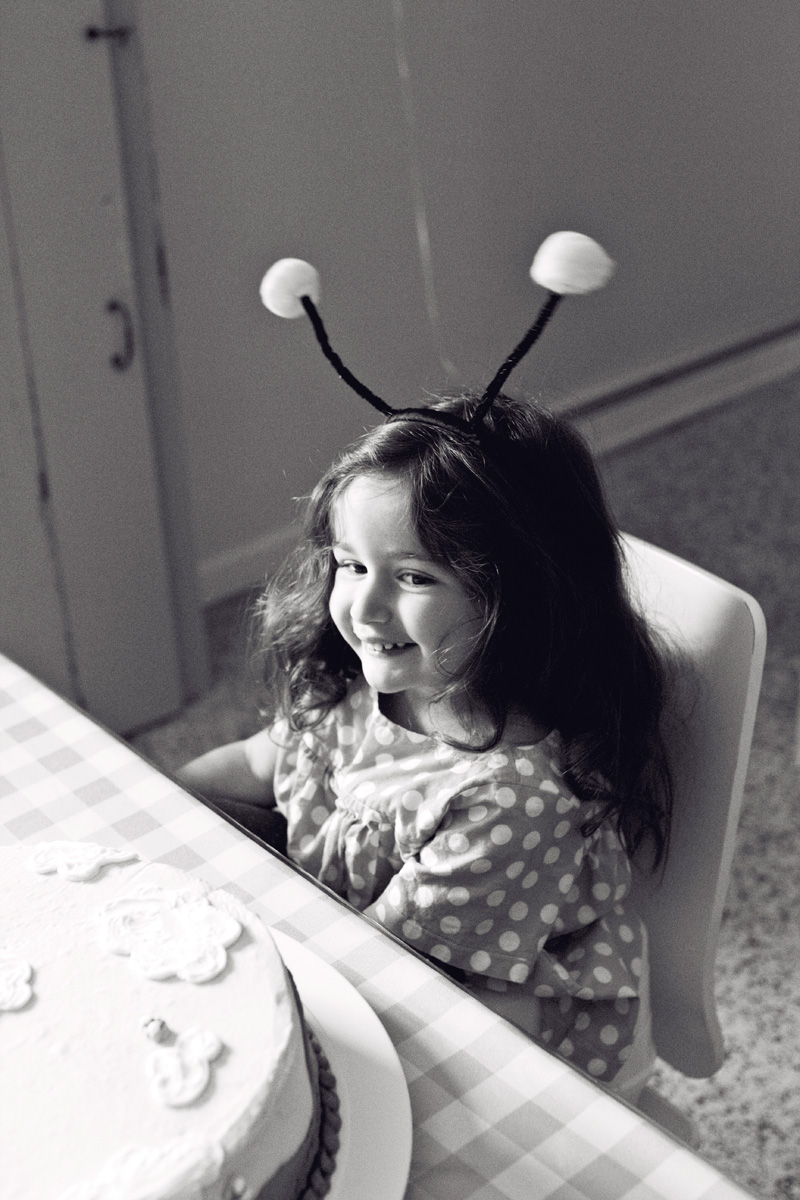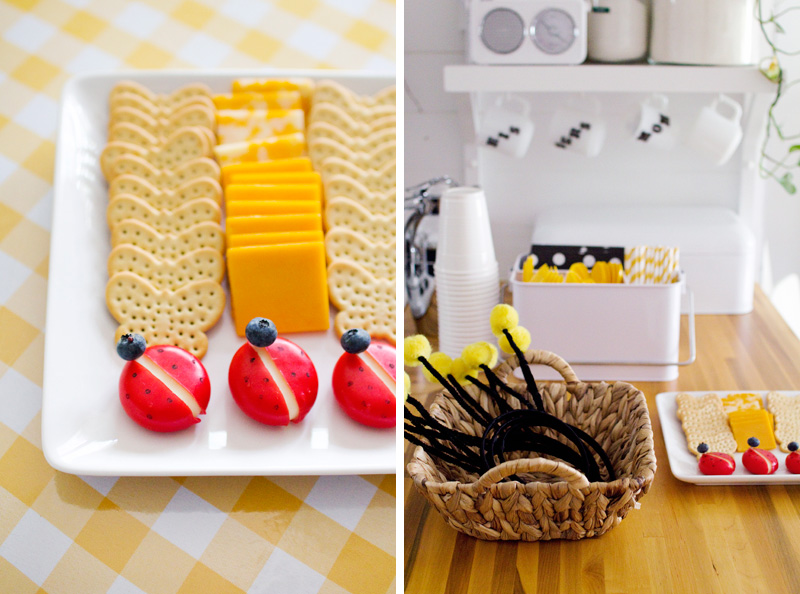 For on-theme snacks for guests to munch on as they arrived, I found butterfly crackers and made Babybel cheese ladybugs in about two minutes with a Sharpie, toothpicks, and blueberries. (We also had a veggie tray with carrot and cucumber slice butterflies that I didn't get a photo of.) For our lunch I made pepperoni rolls with little cups of marinara sauce for easy eating, since there wasn't room for everyone at the table. And for dessert, we obviously had cake! I made a white cake using this recipe (+ 1/3 of the recipe for two 12″ cakes) and filled it with strawberries in a gelatin and frosted it with this white frosting recipe (x3 for my 12″ cake).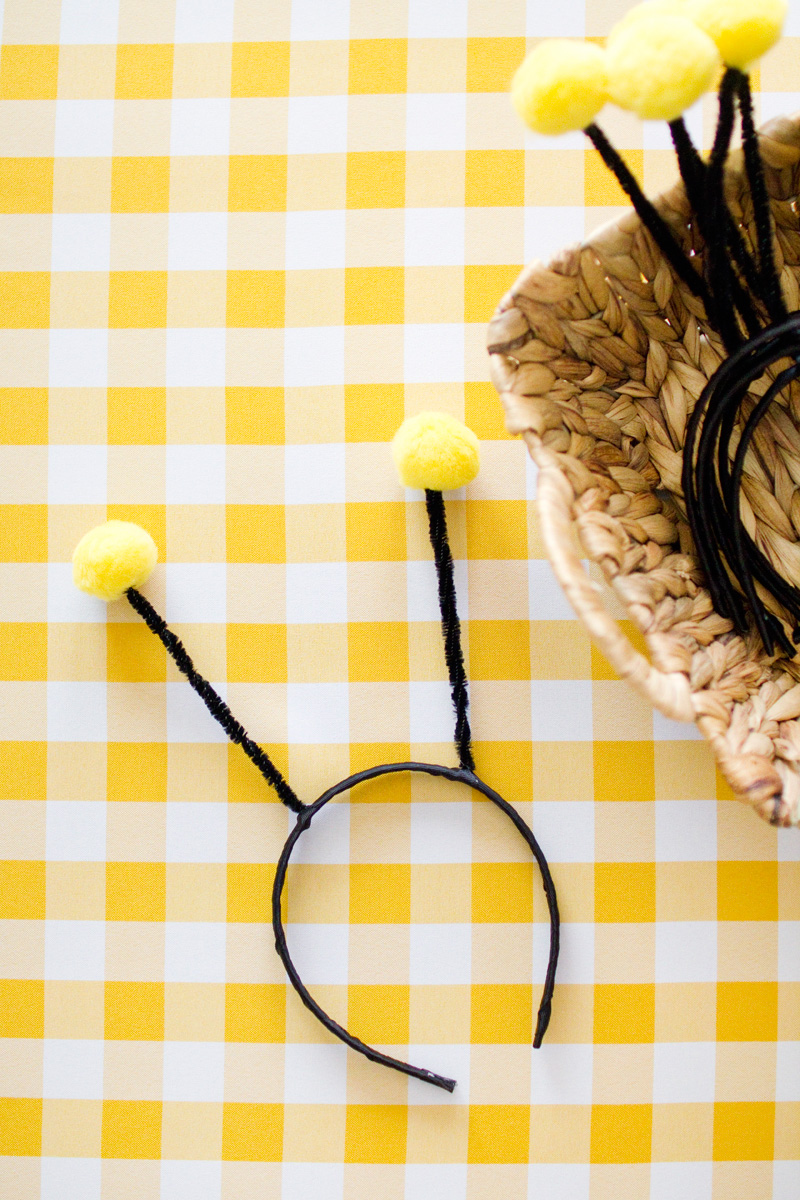 The night before the party, at around 1 AM (so typical of me), I whipped together a bunch of bumble bee antenna headbands for guests to wear. I was surprised at how quick everyone was to don their antennas, and I must admit, it was pretty funny to see a room full of adults engaging in serious conversation as their antennae bobbed back and forth on their heads! Pretty gratifying for me, and Lucy got a kick out of it too.
For anyone who doesn't follow my every move on Instagram, you should know that Lucy's been weirdly obsessed with bumble bees all Summer, to the point where she calls people bumble bees (instead of how midwesterners usually call people "you guys," or southerners would say, "ya'll."). When I ask her what she wants to do today, she gleefully yells, "Bumblebees!" What a silly kid. Needless to say, she loved her bumble bee party.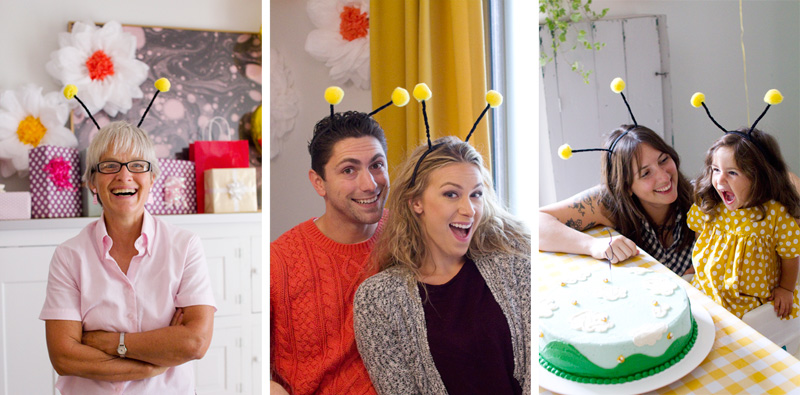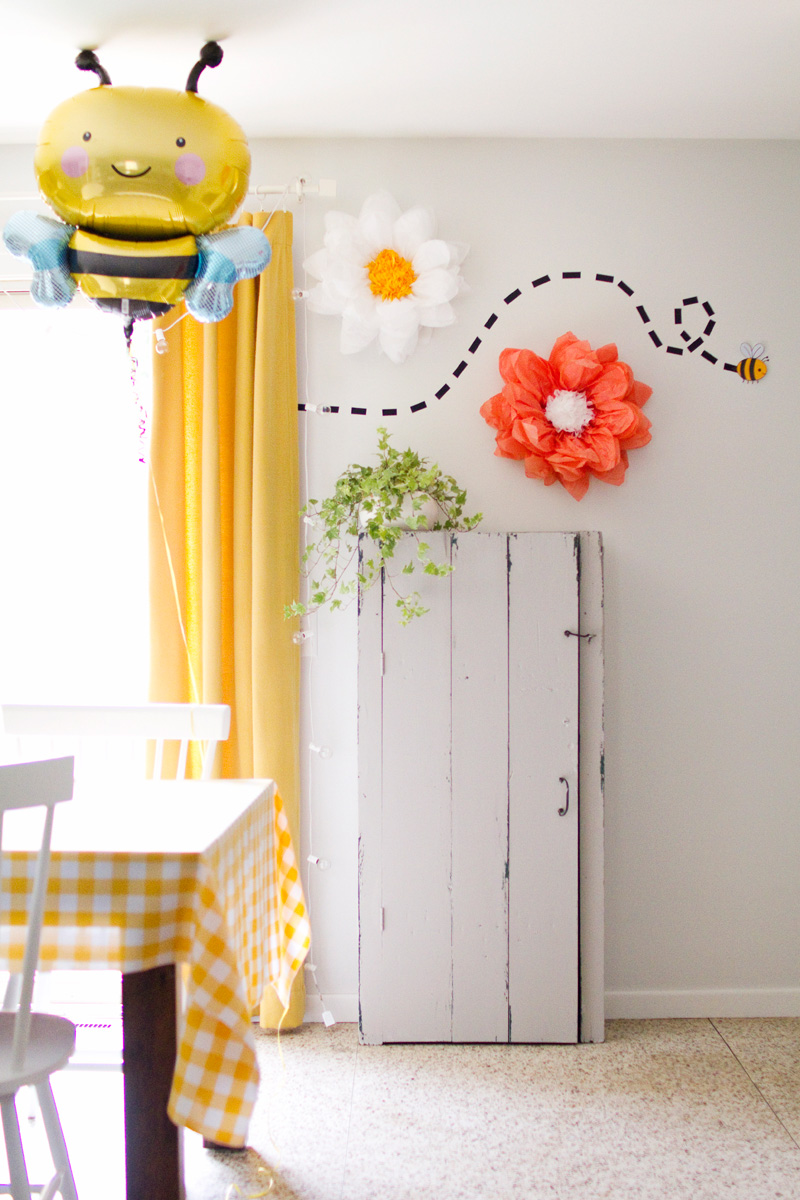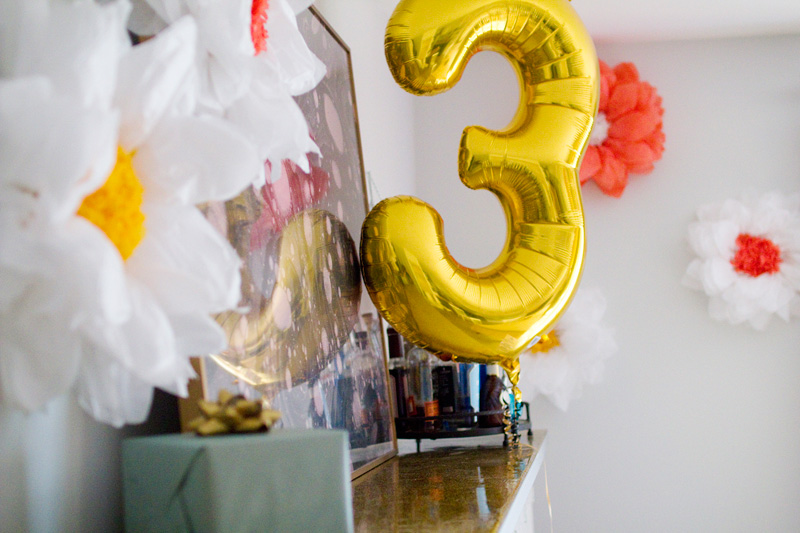 I got a sparkler for Lucy's cake rather than candles, thinking it would be extra special. Turns out she was kind of nervous about it and in hindsight I know she would've rather blown out candles. Oh well! At least we didn't all have to share her germs. But next year we'll do candles.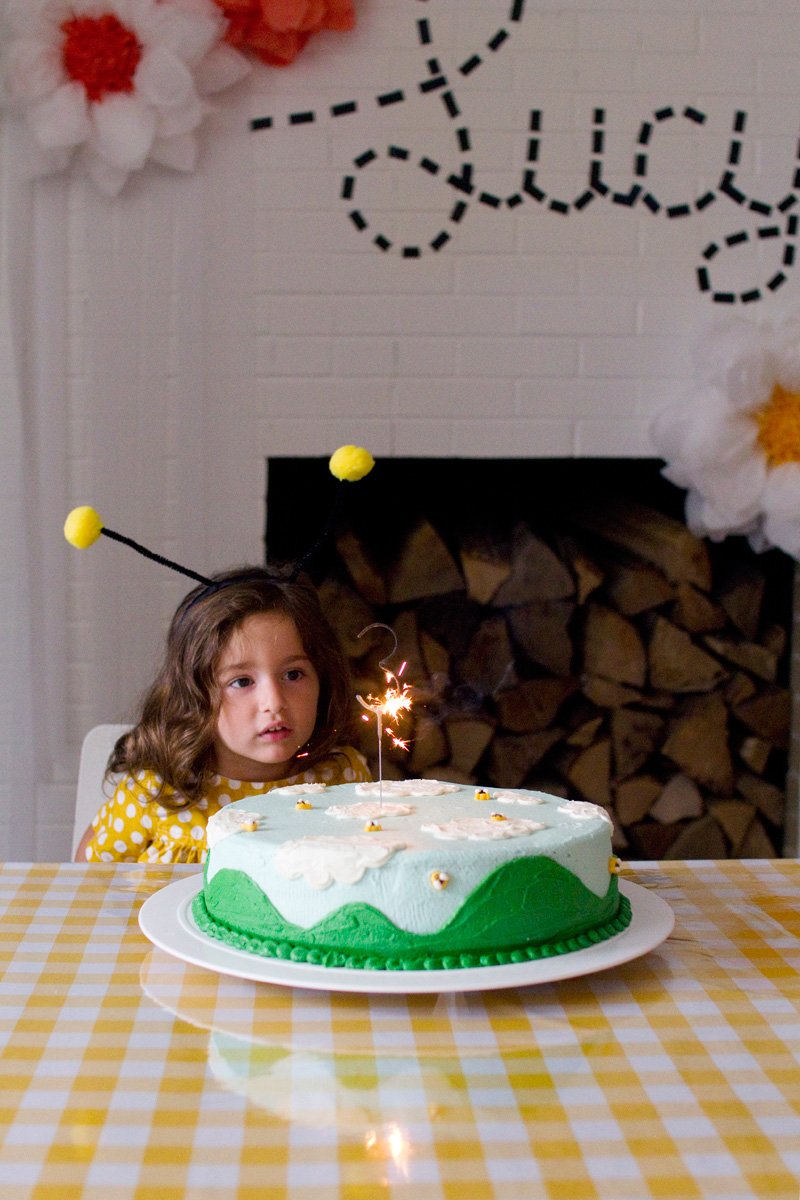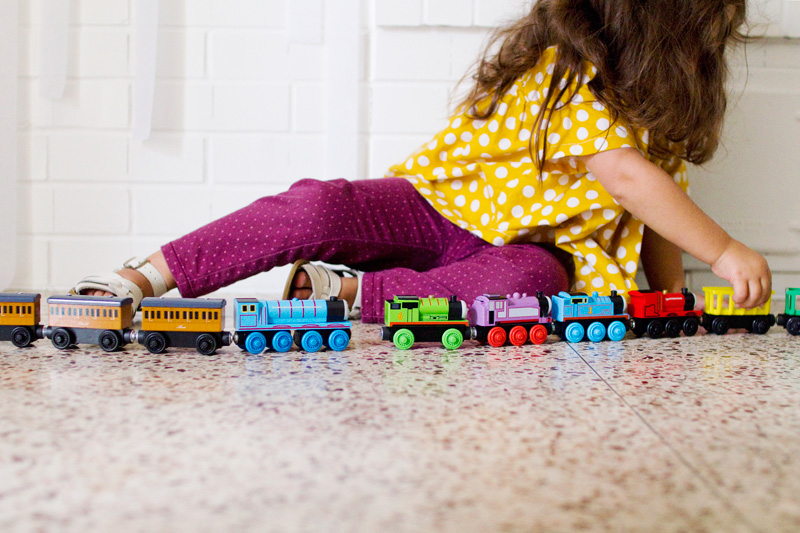 As far as the train part of her birthday party went, you can see that I designed her cake to be a bumble bee speckled scenic background for a train that wrapped around it. The cake was part of her birthday gift, and quite a happy surprise for her, because you see, while Lucy has adored trains for about a year, she's never actually had a train toy to play with. Instead, she's imaginatively transformed every toy that she has into a train of sorts. I've even caught her lining up my necklaces, making the chains act as tracks and having the pendants move along them saying, "choo choo!" I thought maybe we should get the poor kid an actual toy train!
So I talked with her invitees (just her grandparents, my brother and his girlfriend, and Phil's sister) about gifts and they were cool with me making an Amazon wishlist so we could all get together and combine our gift giving efforts towards getting Lucy a nice train set with train engines from Thomas and Friends— her favorite t.v. show. I was pretty nervous to ask for specific gifts (Is that tacky? Totally.), but I figured it would be the only way she'd ever get a nice train set, because we just couldn't afford all the really cool pieces otherwise. And her guests were all family members, and you can totally do tacky stuff to your family, right? Anyway, everyone was awesome and showed up with something from the wish list to combine with our gift of the train tracks and a couple of bridges. Lucy wanted to stop opening gifts after each new train she unwrapped, because she just wanted to play, gosh darn it! Her dream of owning a train set had finally come true. She happily spent the rest of the day playing with the trains, and Phil and I unabashedly enjoyed setting up a pretty fancy train track all around our living room floor. We've left the train set up ever since her party, just rearranging it a bit to sweet around it. We were all really happy to see that she loved our combined gift giving efforts, instead of getting her a bunch of random things we might end up donating down the road.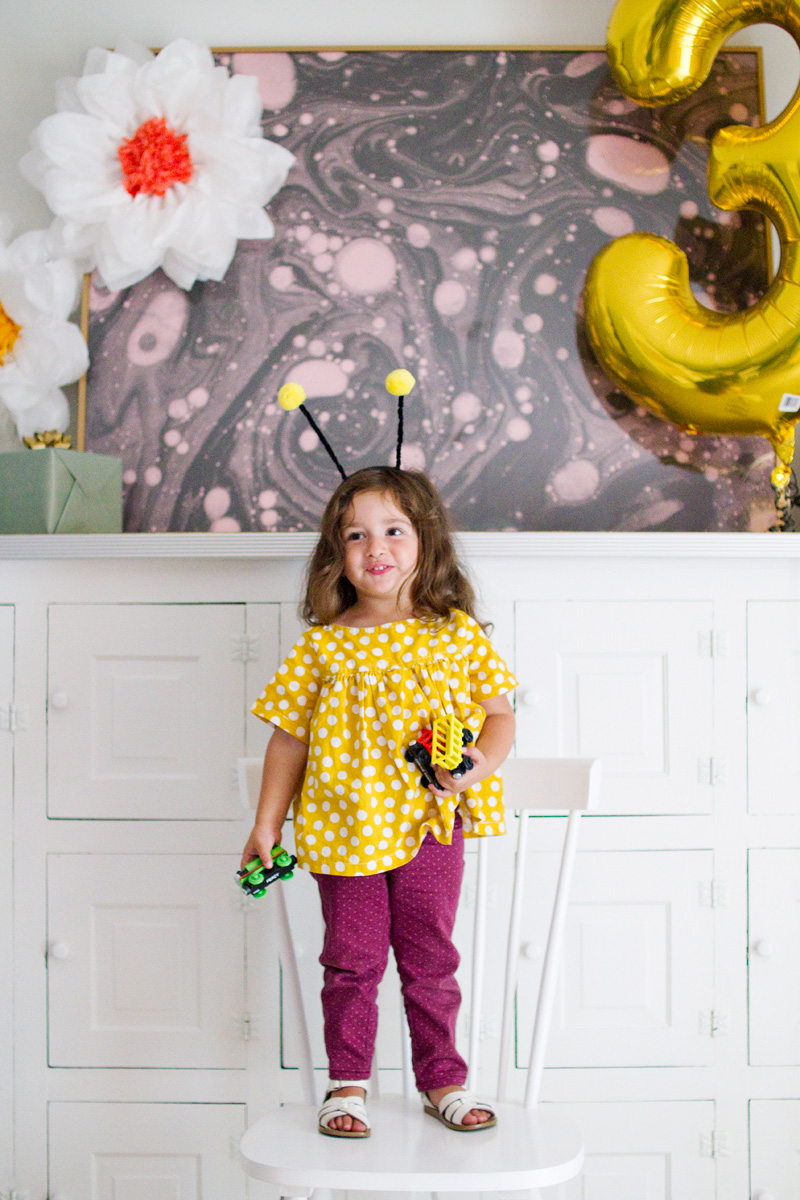 We're leaving the decorations up for a few days, then off they go into our plastic storage containers for another party or shower for our family or for a friend. We had loads of fun! But oh man, guys, I'm really glad she won't have another birthday until next year.