My DIY Glitter Countertop!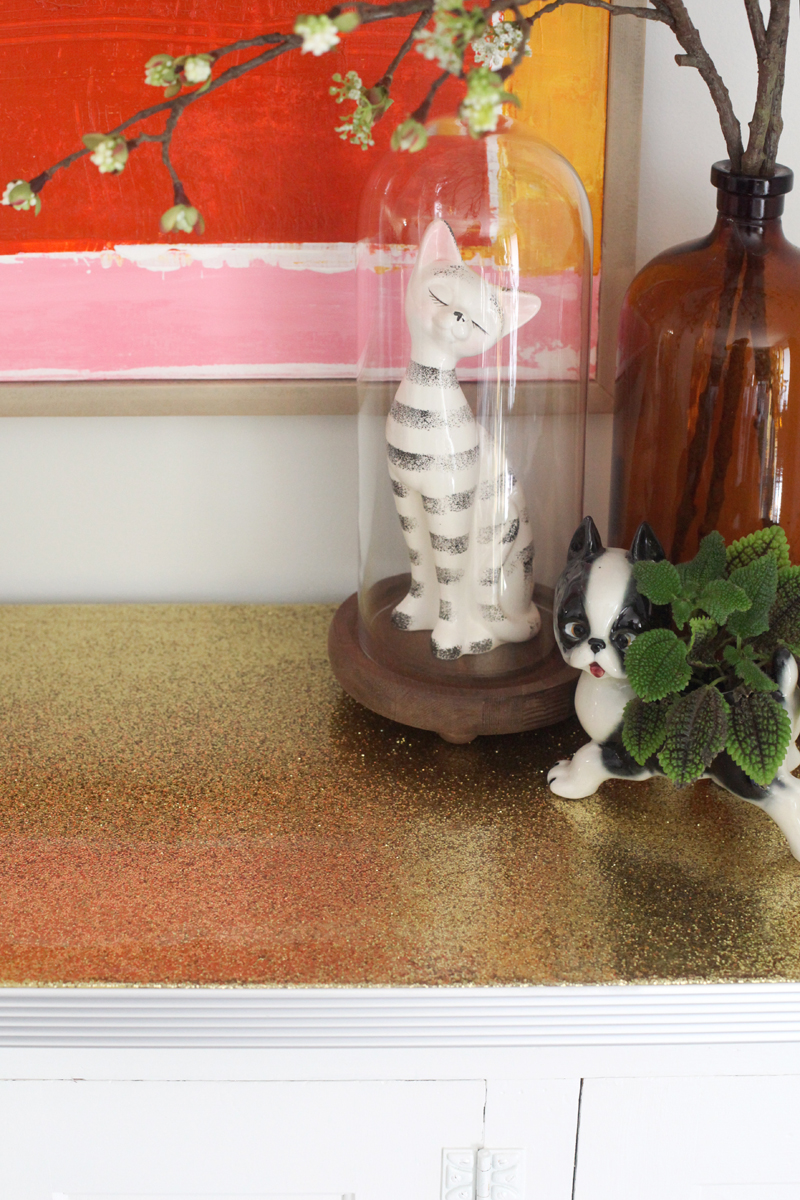 You guys! I think all of the paint fumes around here are starting to get to me. I built a glitter countertop for our dining room. What could make that an even crazier prospect? Well, we are knee deep— no, make that eyeballs deep— in home renovations over here, and I decided it would be fun to build a glitter countertop right at the beginning of all the chaos! Phil and our dads are working on replacing the ant infested eaves of our home and also the gutters, while we've simultaneously been working on renovating our entire kitchen! So much good stuff for our house— so much bad stuff for my sanity. Anyway, amidst the planning for the new kitchen, I stumbled across a favorite antiques dealer of mine who was finally selling an old cabinet of his I had been eyeing for years! I had always sighed longingly at it when it was just an overstuffed display fixture at the antique mall, thinking about how perfect it would be to store all of my craft supplies out of sight in our dining room (my workspace). He gave me a deal for $300, so I immediately put it on layaway, then a month later brought it home.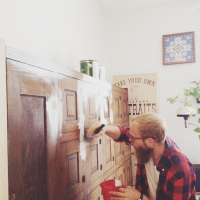 The problem with the cabinet was, well… nothing as far as I was concerned. But I guess the fact that it had part of its front and all of its sides and top missing might have become an issue down the road. So I had to get out my saw and drill and finish the cabinet out with some new wood that completely clashed with the beautiful, old patina of the cabinet. It was a travesty, as you all bemoaned alongside me, but my friend Kyle helped me paint it a fresh coat of white, remove the broken glass knobs, and replace them with new ceramic ones. All it needed was a countertop!
I figured I could buy some lumber to frame out a new countertop similarly to our office countertop, so I headed off to the lumber yard. While I was there, inspiration struck. I thought— Hey, what if I made the countertop like a retro diner table top? Some funky laminate on top and aluminum banding around the edge? That would add the perfect amount of quirkiness to the beautiful antique cabinet! Of course, they didn't have any laminate that fit the bill, nor any aluminum banding. So my DIY become a wee bit more complicated, but infinitely more fun! Did I tell you there were buckets of glitter involved?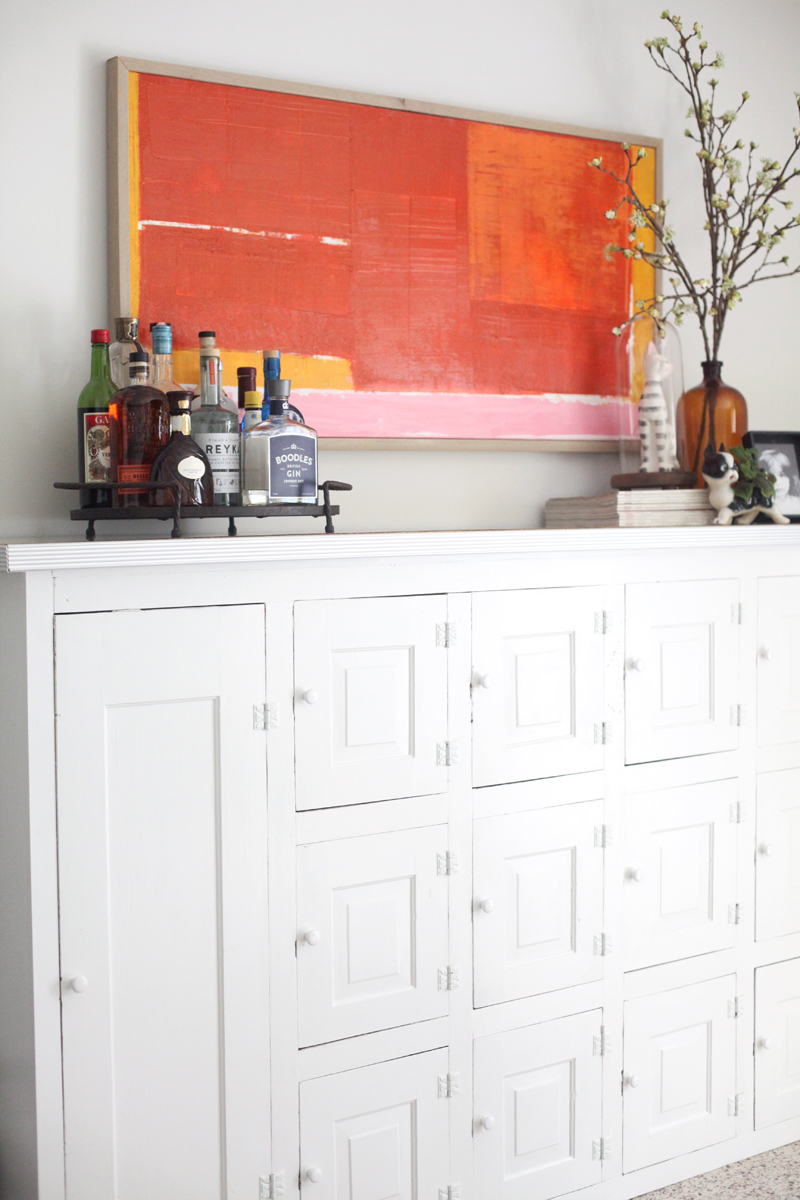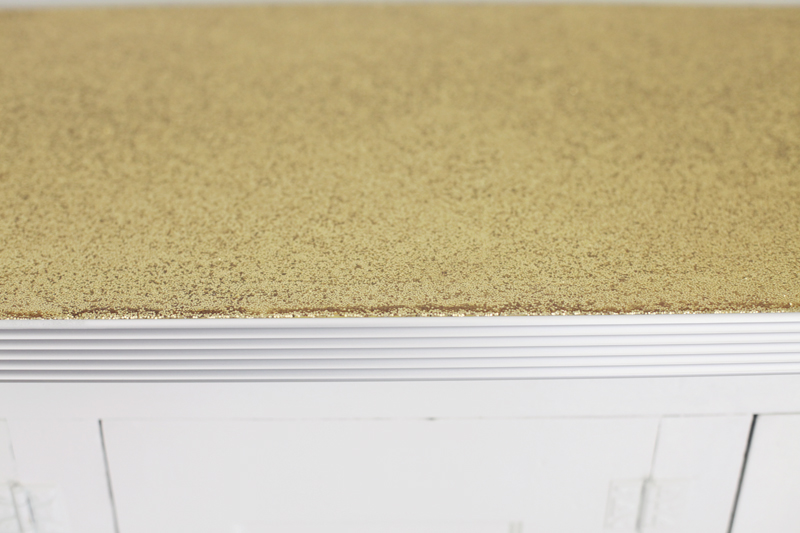 I built the countertop just as I had done in our office, and painted it a lemony yellow for an undercoat, in case any glitter didn't cover certain spots, then the yellow would camouflage the mistakes. I'm glad I did that, because when I look closely at it now, I can see spots of that yellow paint showing through. After the countertop was built and painted, I got to work on the glitter. I decided to use an epoxy resin with glitter stirred in to give the countertop a durable finish with a transfixing, dimensional sparkle to it.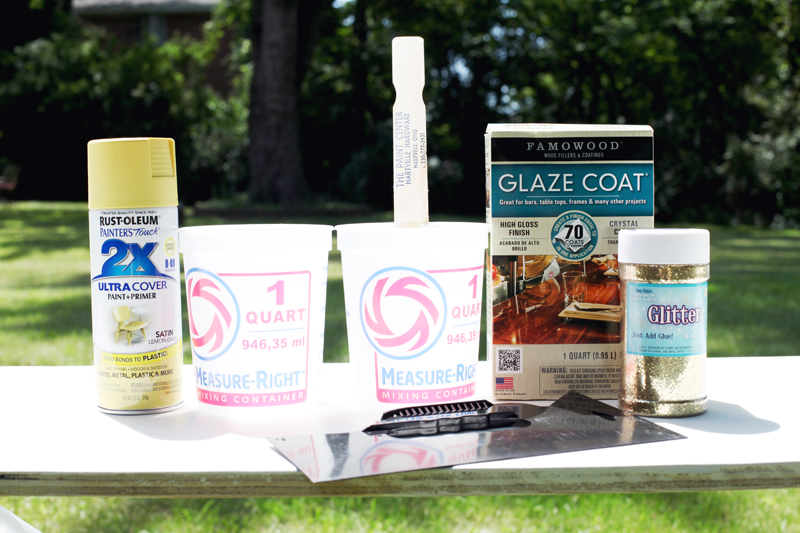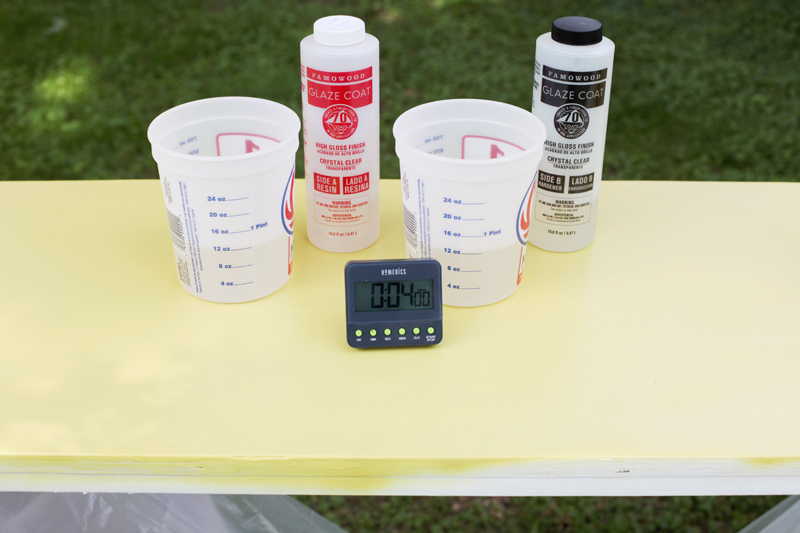 I used this epoxy resin which was a bit cheaper than others I had seen out there, and it worked great! To make the epoxy resin, you have to mix the resin with the hardener. The proportions must be exact, so I used plastic measuring cups that I could dispose of later. To begin, you mix equal parts of resin and hardener, stirring vigorously and constantly for four minutes. Then you transfer the mixture to a clean container and stir again for 4 minutes. Before stirring again, I quickly dumped the contents of my glitter bottle into the resin, then stirred.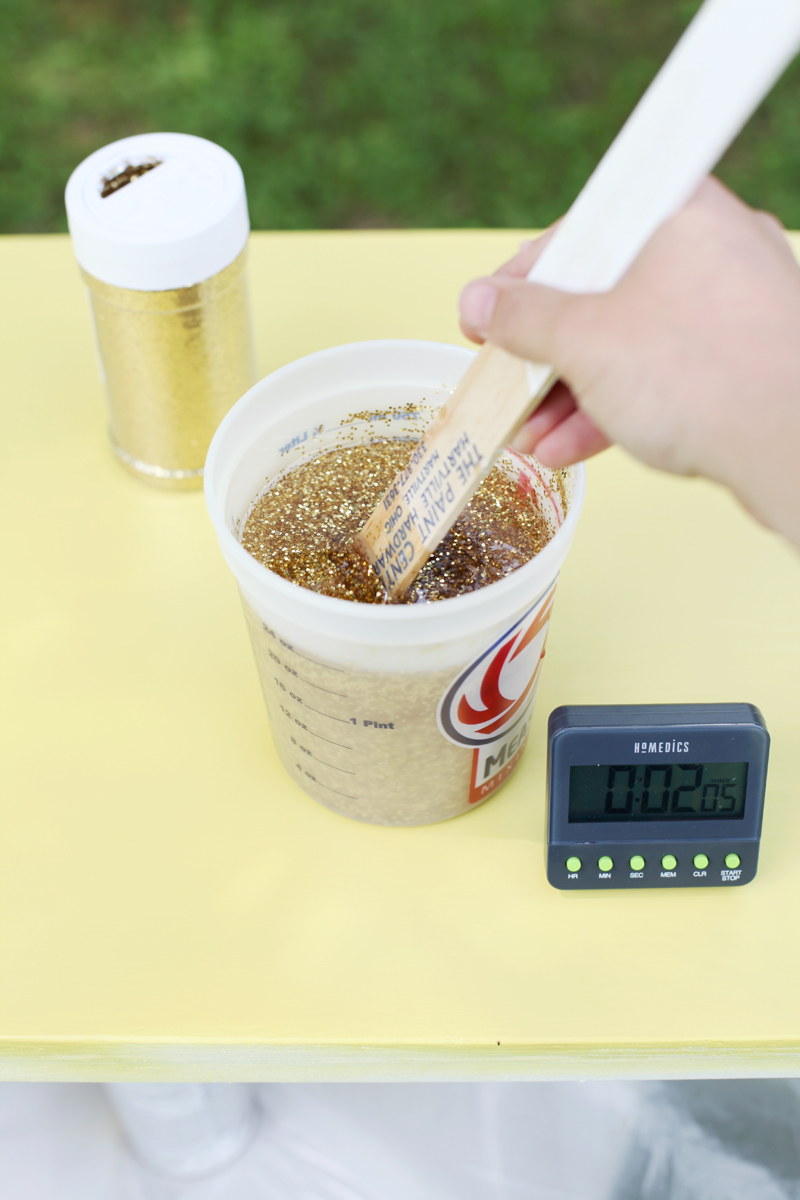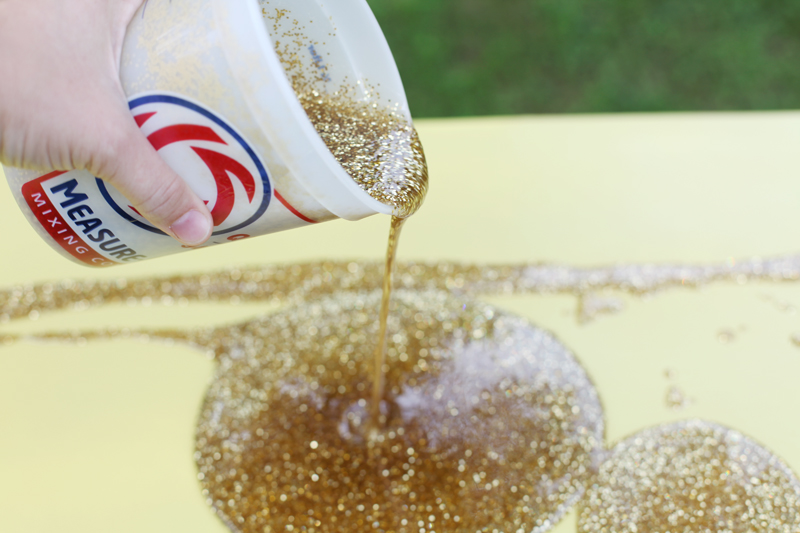 After the last four minutes of stirring was complete, I poured the epoxy resin onto the countertop and spread it out with a wide painter's edging blade. You supposedly have 20 minutes to work, but I found that it began getting tacky sooner than that, so I worked quickly.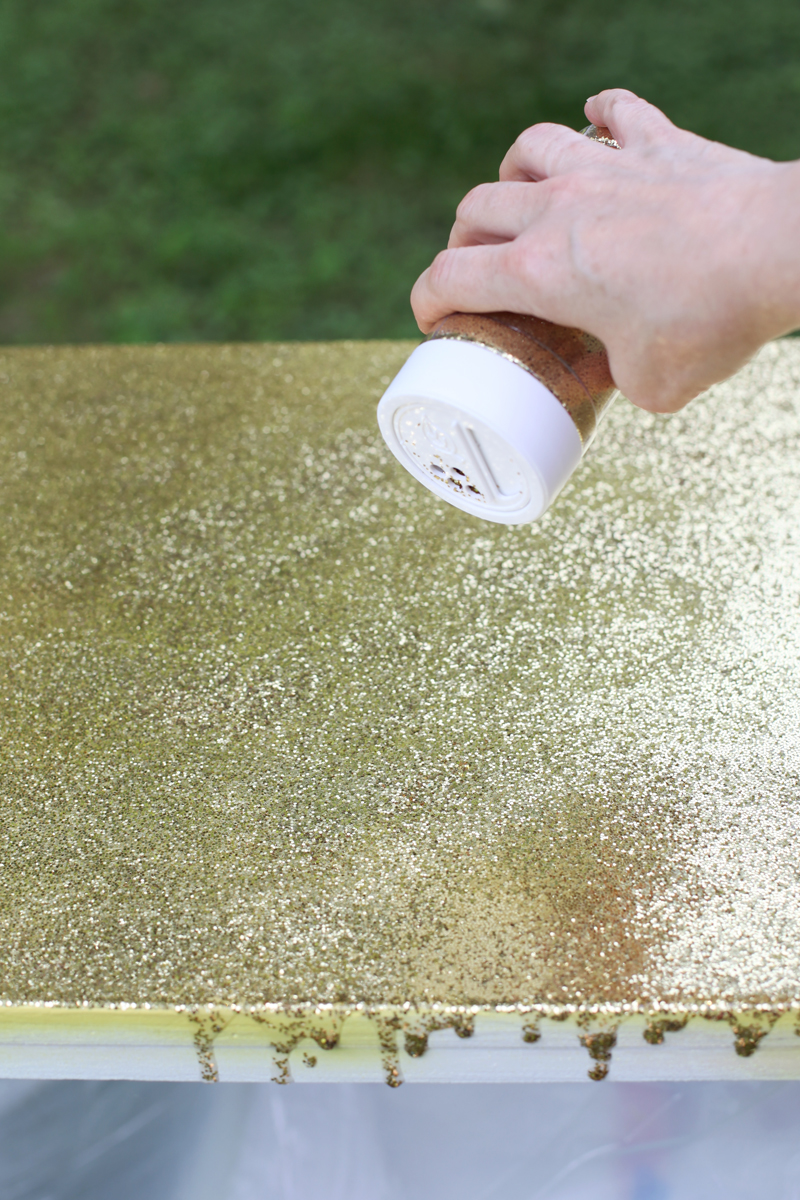 Because I was planning on putting aluminum banding on the edge, I let the epoxy run over the edge. I wish I had covered it with duct tape, though, because I ended up having to sand away the drip marks to get my banding to sit flush with the edge of the counter. Duct tape would have just peeled off after about an hour or so of letting the resin set up, and then I wouldn't have had any drip marks on the edge.
After spreading the resin, I sprinkled the top with glitter to cover any areas of yellow showing through. This prevented my epoxy resin from creating a shiny, glass-like surface, though, so the next day I decided to do another layer of epoxy resin and glitter. I'm so glad I did! It made all the difference.
Note: Do not pour your epoxy resin outside like I did! I got bugs in mine that I had to cut out with a blade. Most of the divets I made with the blade were filled in after the second coat of epoxy resin I did inside our house. But pouring inside was difficult because I had to make sure the toddler was nowhere to be found and that there was plenty of cardboard on the floor to catch drips.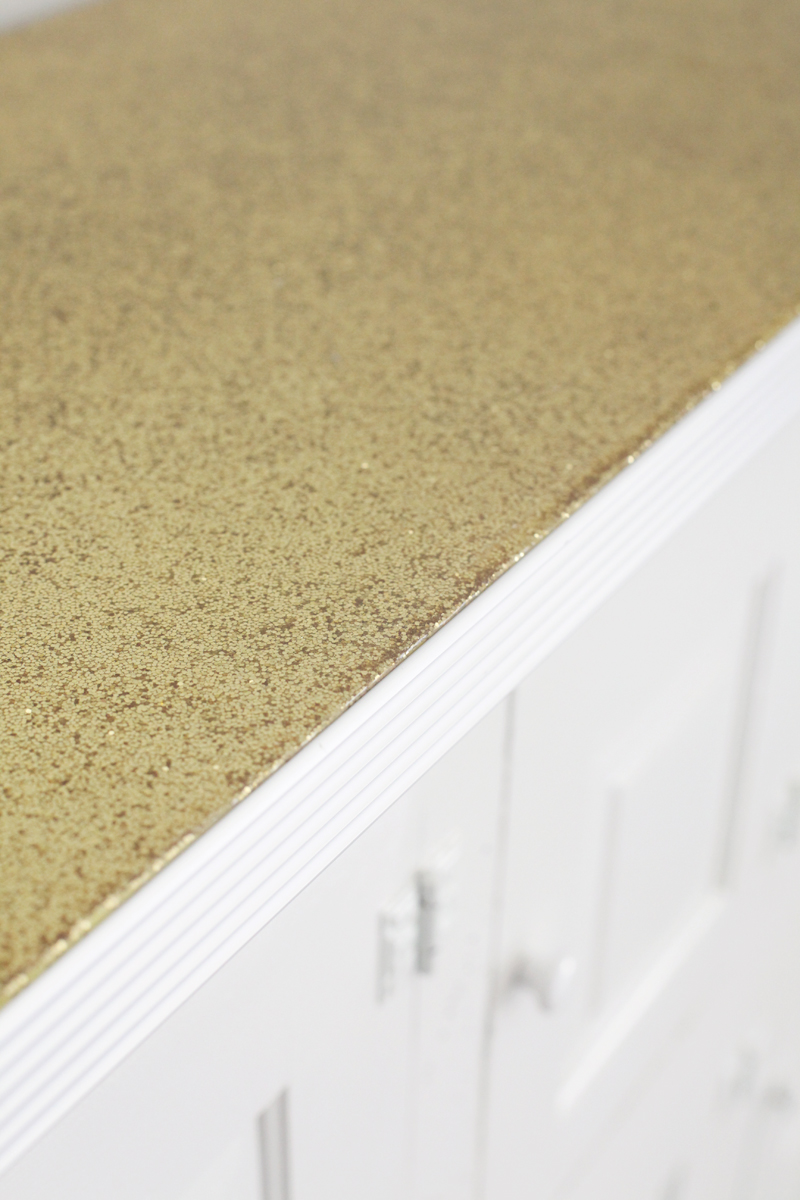 Because our house was basically under construction, I left the countertop alone for about three weeks before working with it. It was a good idea to let it cure that long because of the two coats of resin I had done extended the curing time quite a bit. (I would set something onto the counter and have to pull hard to get it off because it was bonding with the resin!) So this week, the aluminum banding I had ordered from Outwater (ALU7777 on this page) came in, and Phil helped cut slits into the edge of the counter so we could attach the banding. We used a skill saw to cut the grooves and I applied construction adhesive to help the banding stay in place.
I love the way it turned out! The cabinet top is significantly higher than standard height (It originally was mounted as an upper cabinet/locker in an old store— hence the no sides or top thing.), so you can't see the glitter until you are next to the cabinet, but you can see the beautiful aluminum banding, and I think it plays well against the more traditional feel of the cabinet itself.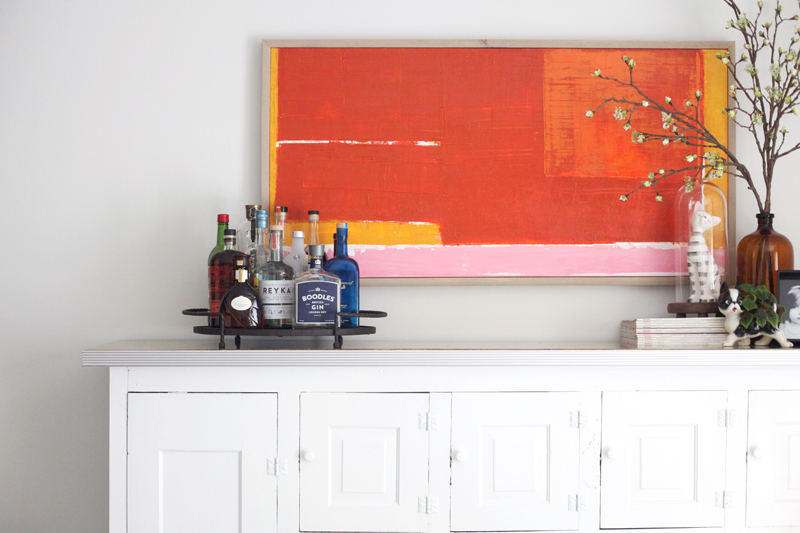 It's a nice surprise, though, when you go over to the cabinet to make a drink, and BAM! There's a glitter countertop! Talk about a conversation starter!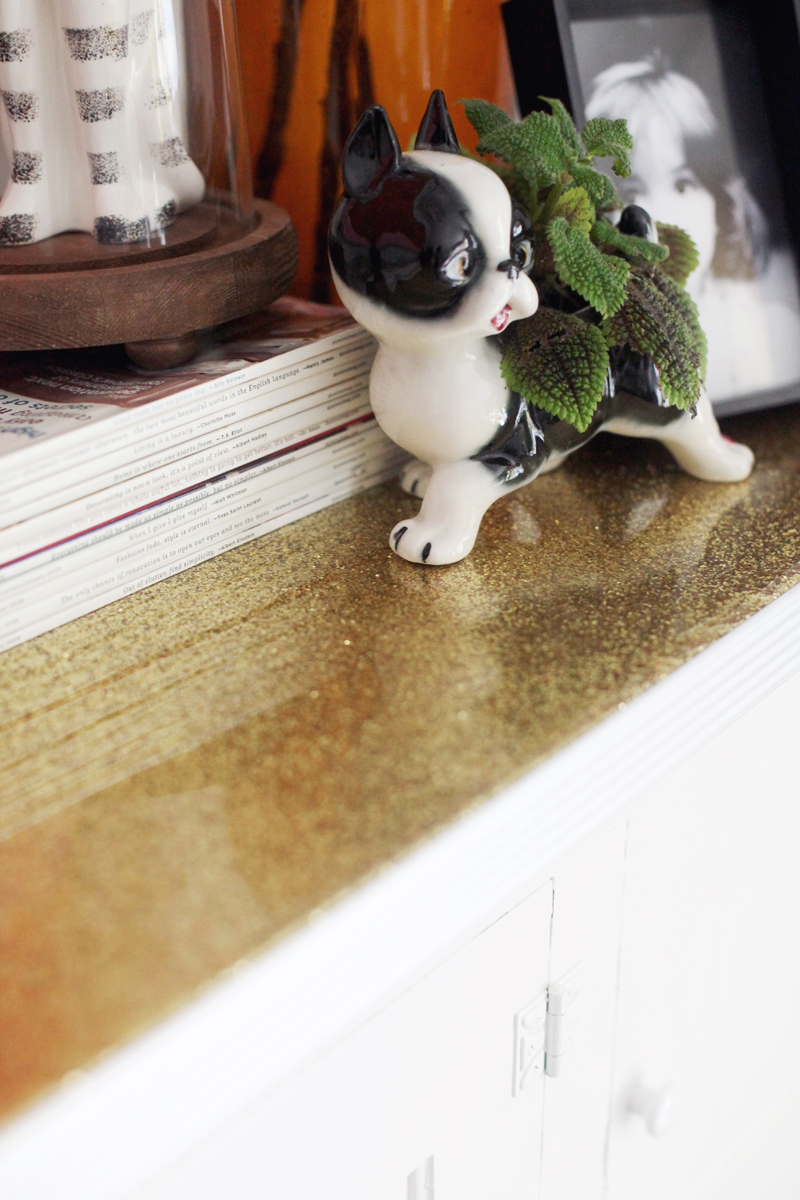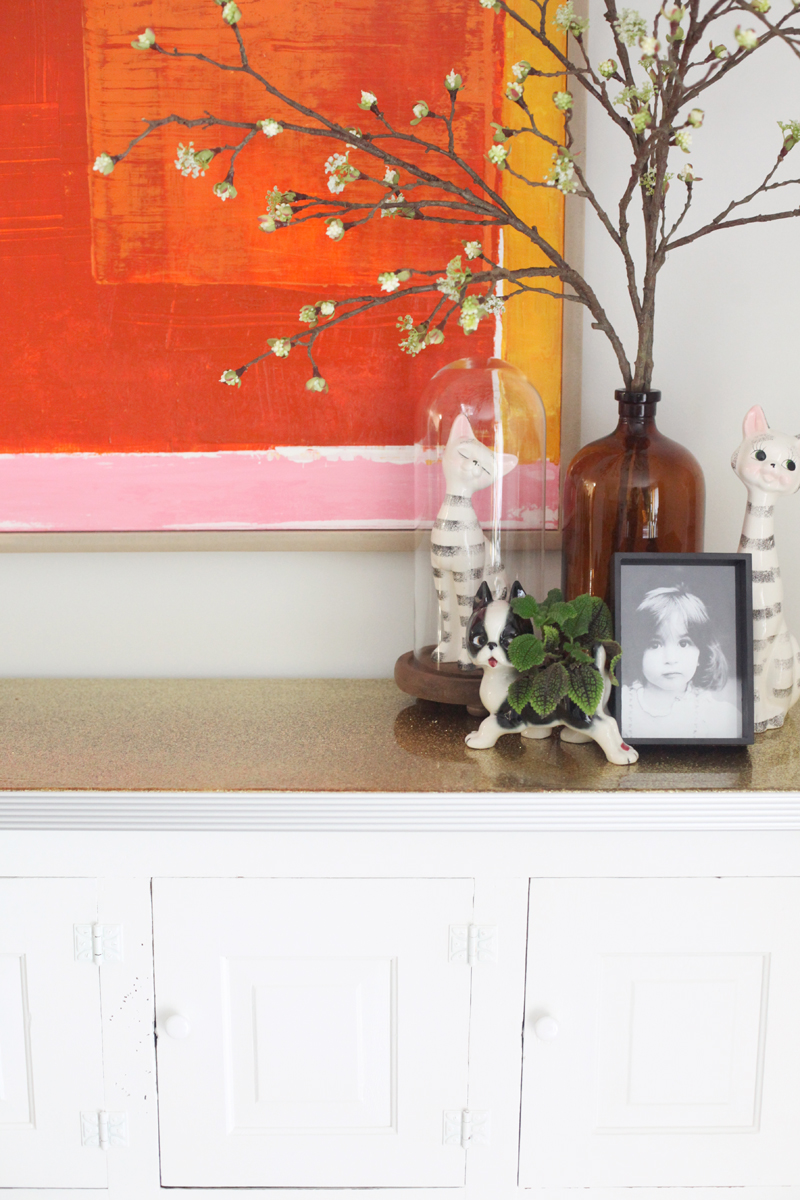 Oh, and P.S. Maybe you're not really into the idea of a glitter countertop or tabletop, but check it out! I made this abstract painting last week! It was my first time really attempting anything like this since art school, and even then, I had never done anything in this style. I shared my process over at A Beautiful Mess right here, and you can see how I framed it right here.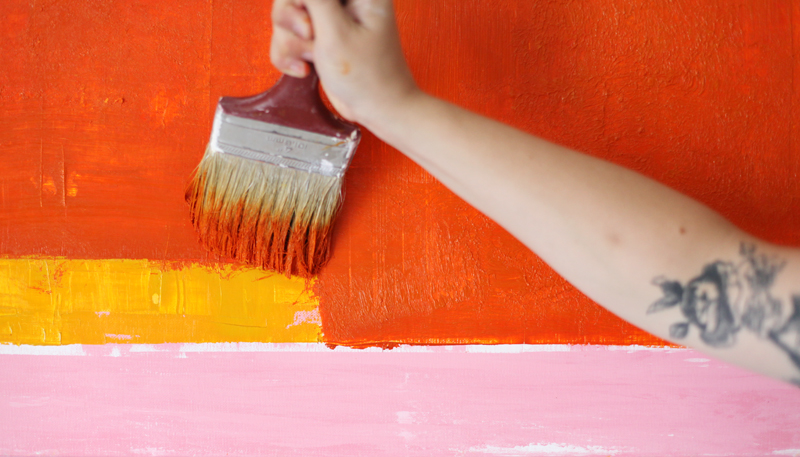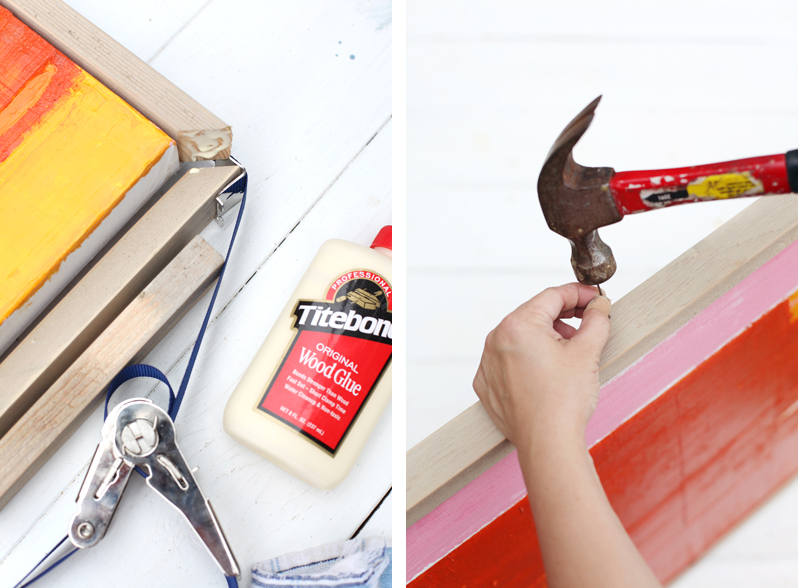 I hope you all are doing well! I'm hoping to get back to more regular posting within the next week or so. Thanks for checking in on me! As always, you can see me in between posts here by checking out my updates at A Beautiful Mess!