Almond Cherry Breakfast Cookies – Gluten Free!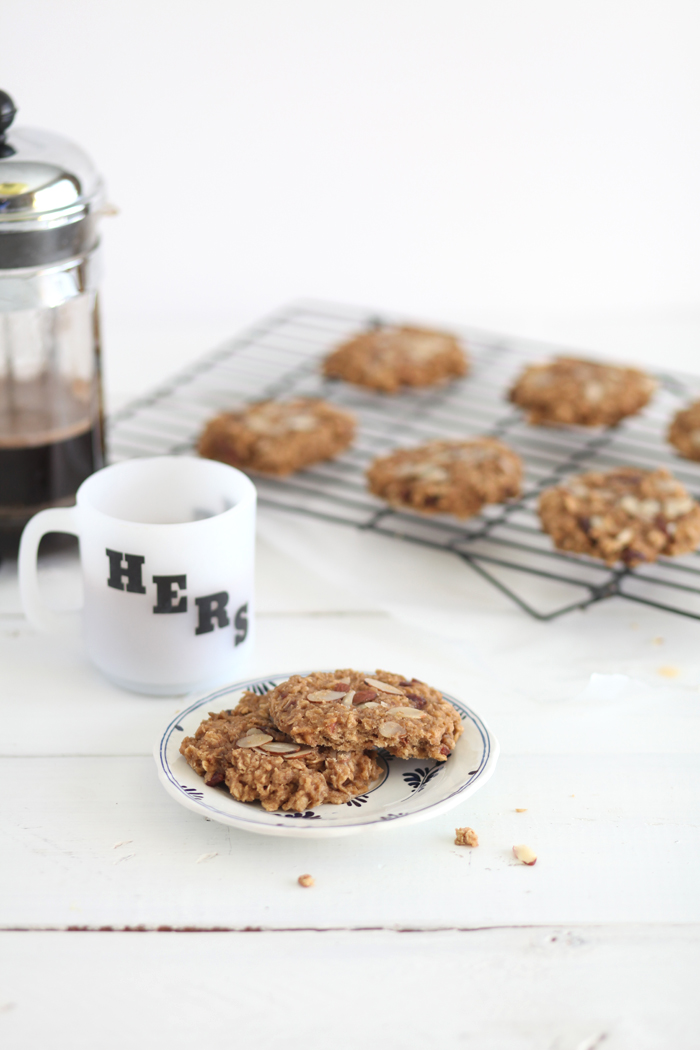 After the zillionth time of eating all of Lucy's toddler cookies, I realized I probably needed some healthy cookies of my own. If I can grab a cookie for breakfast, and save time usually spent making oatmeal, eggs, or even something as simple as toast, my mornings are so much more enjoyable! The cookies I had been making for Lucy had peanut butter in them, but I wanted to try a recipe with almond and cherries instead. I loved both recipes, but man, you put cherries in something? And it's bound to be a favorite of mine.
Check out the recipe below to make your own low-sugar, gluten-free breakfast cookies. If you don't like cherries or almonds, you can sub raisins and peanut butter instead! If you aren't concerned about gluten, then use regular oats and whole grain flour. Either way- they're a tasty and healthy way to start the morning! (Nutritional information is also listed below.)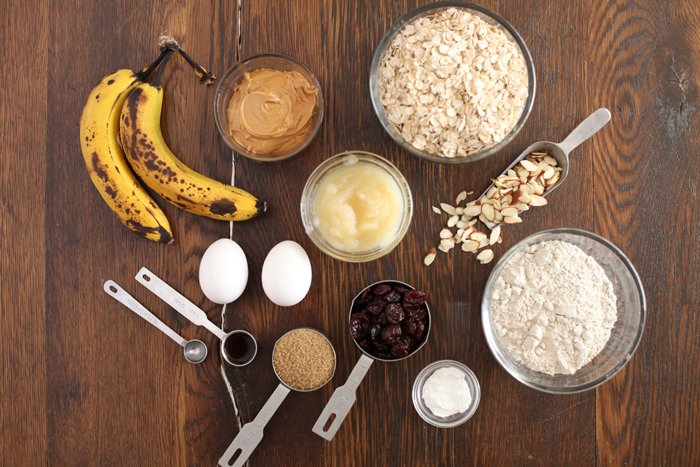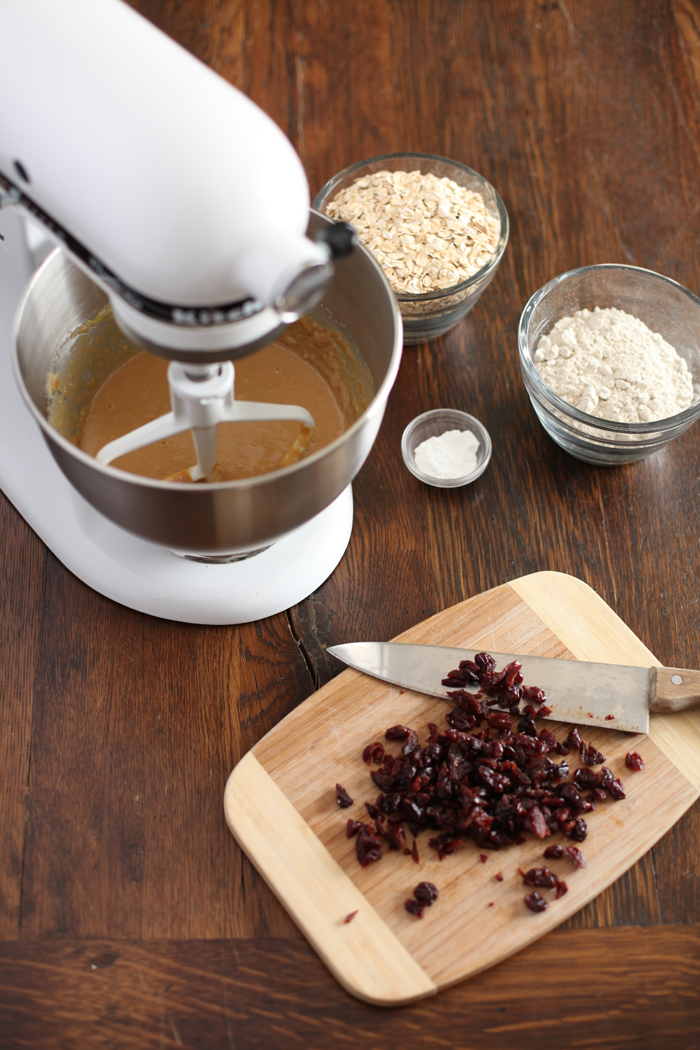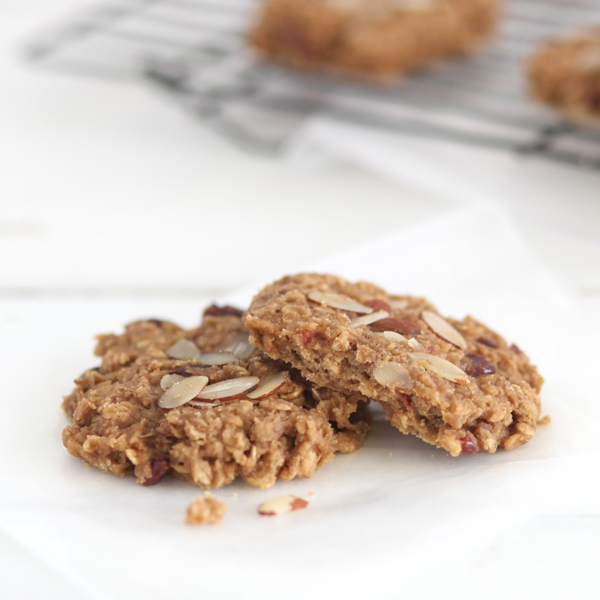 Gluten-Free Almond Cherry Breakfast Cookies
2014-03-26 06:24:32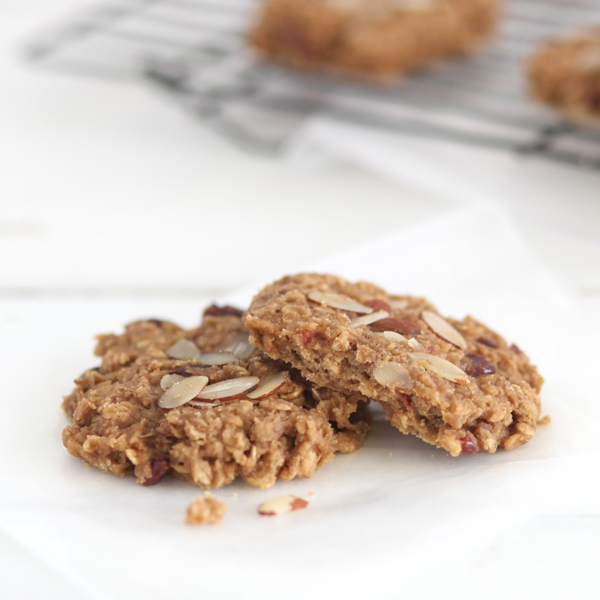 A delicious, guilt-free and easy start to your morning!
Nutrition Facts
Amount Per Serving
* Percent Daily Values are based on a 2,000 calorie diet. Your Daily Values may be higher or lower depending on your calorie needs.
Ingredients
2 bananas
2/3 cup almond butter
2/3 cup apple sauce (don't use chunky apple sauce)
2 eggs
1/4 cup raw sugar
1 teaspoon vanilla extract
1/4 teaspoon of almond extract
2 2/3 cups gluten-free oats
1 1/3 cups sorghum flour
2 teaspoons baking soda
3/4 cup dried cherries
1/4 cup sliced almonds
Instructions
Preheat oven to 350 degrees.
Mix all wet ingredients in a large bowl. In a separate bowl, combine the baking soda with the flour and then add the oats. Chop the dried cherries into small and medium sized pieces, and add along with the flour mixture to the wet ingredients. Mix until just combined.
Drop the cookies onto a cookie sheet covered in parchment paper or cooking spray. These won't really grow much, so don't worry about leaving much space in between. I made my cookies on the larger size, making 18 cookies altogether. Top the cookie drops with sliced almonds, and then flatten and shape with a spatula.
Bake for 10-12 minutes, or until a toothpick comes out clean.
Making Nice in the Midwest http://makingniceinthemidwest.com/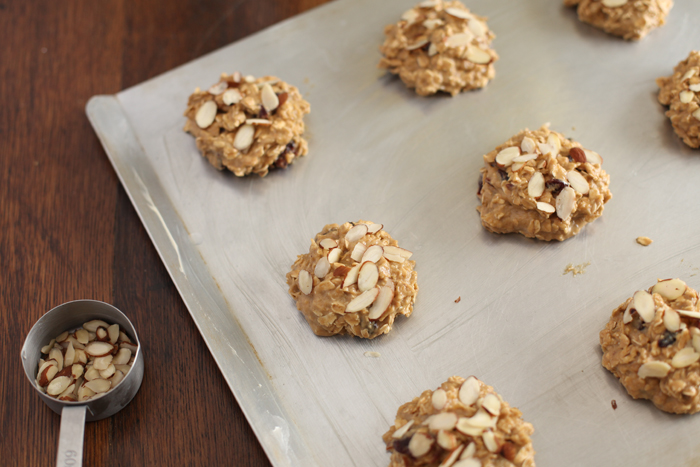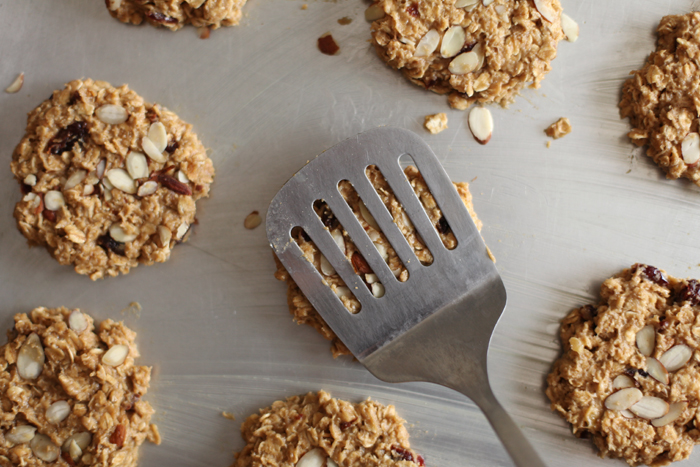 Almonds are arguably full of healthier fats and better cholesterol than peanut butter, which is why I wanted to try almond cookies in place of the peanut butter ones I had been making. If you're not afraid of the deliciousness of peanut butter, you should try this recipe with peanut butter instead- it's super delicious! But these almond breakfast cookies are hearty, a bit dense, and full of natural sources for what your body needs to start the day. Each cookie had about 200 glorious calories, 32 carbs, 8 grams of healthy fat, 9 grams of protein, 56 grams of sodium, 11 grams of sugar, and lots of fiber. You can cut down on some of the sodium (and dollars) by making your own almond butter and apple sauce- it's a great weekend activity!
I imagine these cookies would keep for about a week on the counter, but they're pretty moist, so if you want to keep them around longer than that, keep them refrigerated or frozen. You might want to keep them in the freezer just to stop yourself from eating them all!