Living Room Updates: The Sectional is Here!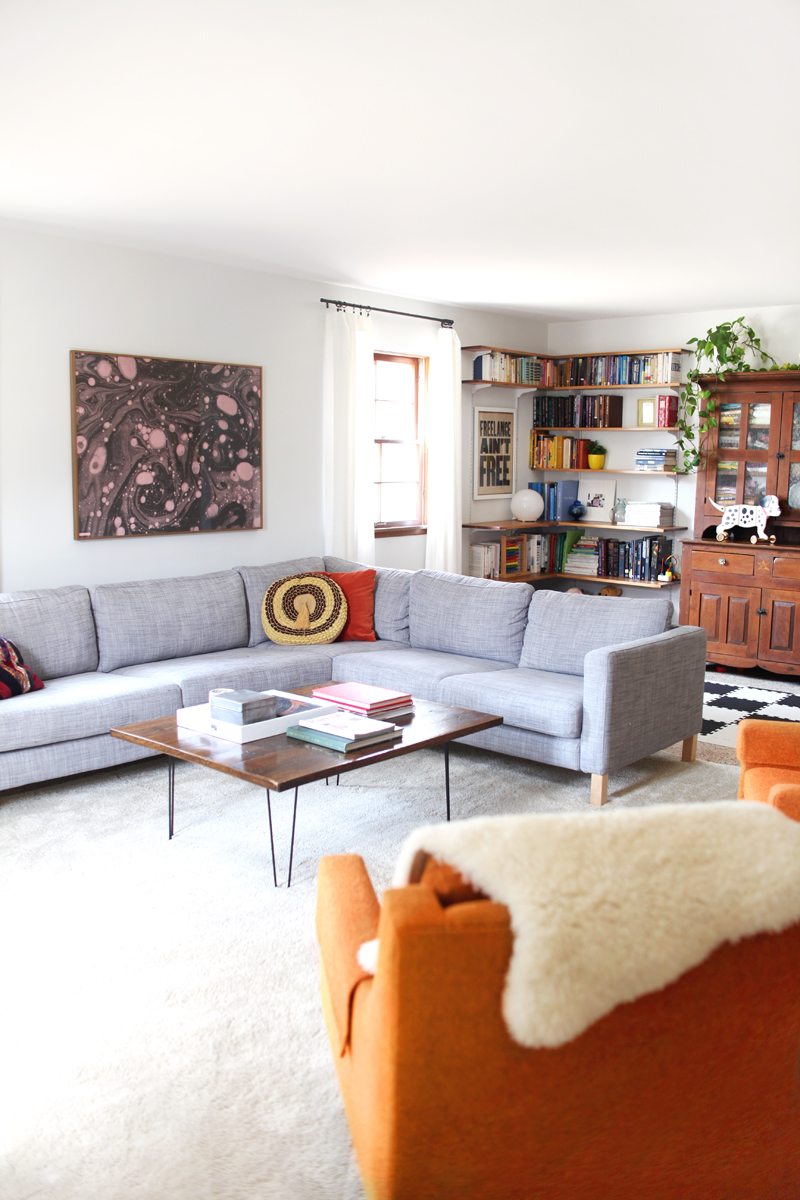 When you first move into a new home, it's a bit frustrating putting your old belongings to work in the new space. Sometimes you have to set aside cherished things because they don't work with the floor plan, and other times you just need to make room for the awesome orange chairs you found at a garage sale for five bucks. (Try not to be jealous- but yes- that really happened!) But after living with hand-me-down furniture weirdly arranged to suit our lifestyle, it's really fun to finally step back and see our home finally coming together! I think our new Ikea sectional is largely to thank for the dramatic difference.
We had been wanting a new sofa for a long time now, but there just wasn't room in our meager budget. So we decided to pinch our pennies and every month put $100 into an envelope with the words "sofa fund" scrawled across it. I knew a sectional would be a great choice for this space- our one and only living/family room, but it seemed like we would never be able to afford the Room and Board sectional that I'd been pining after for so long. And really, after thinking about it through the months of saving, getting such an expensive sofa with a young family just didn't seem prudent. We decided to no longer save for the pricier sectional and settle for the Karlstad from Ikea instead, ordering new legs (which I'm still waiting on) to help elevate the look of the less expensive Ikea sofa. So now we can continue to save $100 per month, but we're putting it towards other needs- like dining room chairs!
Walking into Ikea with a fistful of cash was really satisfying, but I'm even more satisfied with how the sectional purchase has helped transform our living room. It's much less disjointed than it was when we first settled in. Also, I think after getting rid of my doily decorations and whatnot, our home is becoming a great reflection of who we are as a family! If you have any questions about where anything is from, ask away and I'll answer in the comments below.