Addicted to Criticism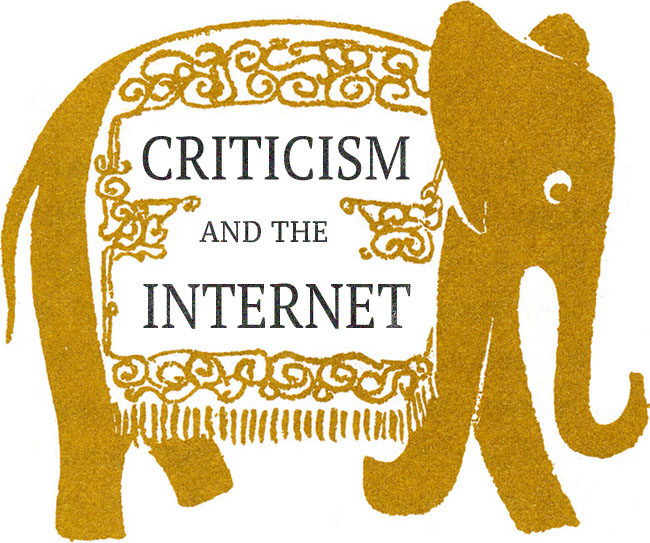 If there were a room full of woman talking about you, would you want to know what was being said? Honestly. If you were given the headphones for the bug in that room, would you put them on? If you had asked me this a month ago, my answer would have been yes. If someone thought I was doing something wrong, I'd want to know! If someone thought I was doing amazing work, I'd want to feel the satisfaction of hearing their praise. When you're the subject of a conversation, you can't help but want in, whether it's to defend yourself, to better yourself, or just to feel better about yourself- if the conversation's a pleasant one, that is. But I'm learning more and more that it's much healthier to just turn around and walk away. In this modern era where you can essentially become a proverbial fly on the wall, thanks to public message boards or blog comments, it's far too easy to become unhealthily interested in what people think of you, and even worse- addicted to the criticism.
Our first experiences with gossip usually start at a young age, and for girls, it can be vicious and debilitating from the start. Body shaming, personal style criticism, sharing of a humiliating story, or making fun of shortcomings- I'm sure you can relate to one if not all of these areas of criticism young girls make us aware of from an early age. Often those comments coming from youngsters originate from the speaker's personal insecurities, but that little girl spewing the hurtful words is usually incapable of understanding the fact that bringing others down is a way of making herself feel better- and she's certainly not ready to realize that those feelings are fleeting when they're based on criticisms instead of encouragement. When we grow older, though, we become more responsible for our words and ideally should have come to understand how delicate doling out criticism can be, and how to tactfully sandwich such unappealing concerns in between encouragement and love. Or else just to keep our mouths shut and move on.

I have the possibly unusual personality trait that I crave criticism. Can you relate? Criticism doesn't necessarily make me feel good, but because I have perfectionistic tendencies, criticism reveals to me the ways I can push harder to become a better person. In college I heard of a group of people who thought that I was a snob. It was so shocking to me, because I rarely entertain thoughts of being better than anyone else and I am personally turned off by social groups that give off an air of exclusivity. Did others feel this way too? I began to fret. I evaluated how my actions, my demeanor, and my words could possibly make anyone think I was a snob. I obsessed with being friendly to everyone- sitting with those who sat alone and making more friends than I knew what to do with. Though I was trying to be a good person, it was really unhealthy, and looking back I could see that I was more concerned with proving people (or my own self-doubts) wrong than I was about just living an emotionally healthy life without worrying how it looked from the outside.
I've struggled through my whole life with wondering what others think of me, and obsessing over it when I sometimes found out. Making healthy decisions for my life, such as saying no to requests or opportunities when I'm already too busy, can cause such anxiety in me that I have difficulty breathing- just because I wonder and obsess over how others might react to my decisions. My concern for my reputation is usually utmost on my priority list, when my concern for my quality of life and my personal character should be much higher. It's not as if I'm ever purposefully more concerned about cultivating an image more than a healthy life, but this is inevitably what happens when you allow an unhealthily high regard for the opinion of others to grow in your heart.
For some people, fear of what others may think can prohibit them from putting themselves out there in healthy ways, like becoming published, pinning your art on the crit board in school, speaking in public, or even just walking across a room in an outfit that you worry you can't "pull off." For me, I don't fear what others think as much as I just need to know. Like photographers who can't get their pictures from the memory card to the internet fast enough, I want to know what people think in order that I might improve myself or else be validated and encouraged by what people have to say.

For the most part, my experience with the internet has been kind. Usually when you put out kindness, kindness returns to you. But as I'm sure you know, that's not always the case. Some of my friends have had it way worse in their experiences with online bullying, but I was really shocked back in 2011 when after receiving repeated harassing comments from the same anonymous person on my blog, I then discovered how she found me from a message board talking about me. The message board wasn't over-the-top cruel by any means, but it's just weird when you have a rather inane presence on the internet, as I've had, and people are somehow still offended by it and feel the need to take it to the next level by repeatedly harassing you at your blog home. I was amazed by how easily people justify their hurtful words. And I was shocked by people's extreme reactions to my harmless little blog to the point that I couldn't look away or forget. Years later, I found out about GOMI and spent way too much time on there reading criticisms with the intent of bettering my own blog from their feedback. But instead, reading those critical message boards made me more jaded and less likely to hit the publish button without sometimes completely compromising my original vision for the sake of considering how people might react to what I put out there.
The fact that any and every action a blogger puts out there can and will be dissected by calloused and cavalier strangers who don't know you and don't care to understand your heart or where you're coming from- it's scary. And it totally blows to pieces my former desires to know what people think about everything I do. I had always unabashedly enjoyed crit time in art school. I thrived on criticism and had found a balance between considering the criticism and knowing when to just follow my gut instincts instead. But there's something so personal about a blog and opening your heart, that I think it can be really unhealthy to seek out what negative responses your heartfelt sharing may have incurred.
Since reading that first critical message board about my blog, I have certainly developed thicker skin. It's important to be able to delineate personal criticism from criticism about your work. It's easy to become too invested in the work you put out there, because let's face it- you pour a lot of yourself and your emotions into it! You sacrifice of yourself to work hard on a project that you're really proud of, and it stings a little when people think it's stupid. Sometimes a negative reaction is just a difference in style or opinion, when other times it might be valid. A former professor of mine would famously say to our class, "Just because you spent a lot of time on something doesn't mean it's any good." I certainly keep that in mind when developing ideas and deciding if a project is ready to be published. And I do enjoy interacting with critical commenters (the kinder ones, that is), because those conversations can develop an idea even further than I had originally intended it to go- which can be really great! Criticism in blog comments can offer more helpful criticism than anonymous message boards, because they are kinder and usually come from an intent to help the blogger see something from a different perspective, and that can be a great tool for growth. That's the kind of criticism that naturally finds its way to you and can keep perfectionists like me from seeking out the scarier criticism that lurks in dark places on the internet.

I've finally come to terms with at least a little bit of how unhealthy my desire to unearth criticism has been in my life. Like I said- and we all know- criticism can be a healthy tool for improvement, but when it begins to steal your joy and causes you to hesitate in developing your true self, that's when it becomes harmful. I've learned that reading message boards like those found at GOMI brings me down more than it causes me to improve, so I've decided as hard as it is to look away, I must. Would I willingly hang out with a person who is constantly critical? No. So why spend any of my time that way on the internet? It doesn't really make sense when I spell it out that plainly, though I'll be honest- it's difficult to not pop in there and see if anything has been said about me or my projects.
This year I'm working on being kinder to myself, and so I'm learning to let go of my unhealthy addiction to criticism. I'm hard enough on myself as it is- adding another negative voice isn't going to make my own any gentler. I hope you're able to take practical steps towards being kinder and truer to yourself too- and let's not forget to not just be kind to ourselves, but especially to those we share life with. Encouragement does more good than the most thoughtful criticisms ever could!
Top image adapted from an original illustration from Highlights For Children, June-July, 1969.