Confessions of a Working Blogger Mom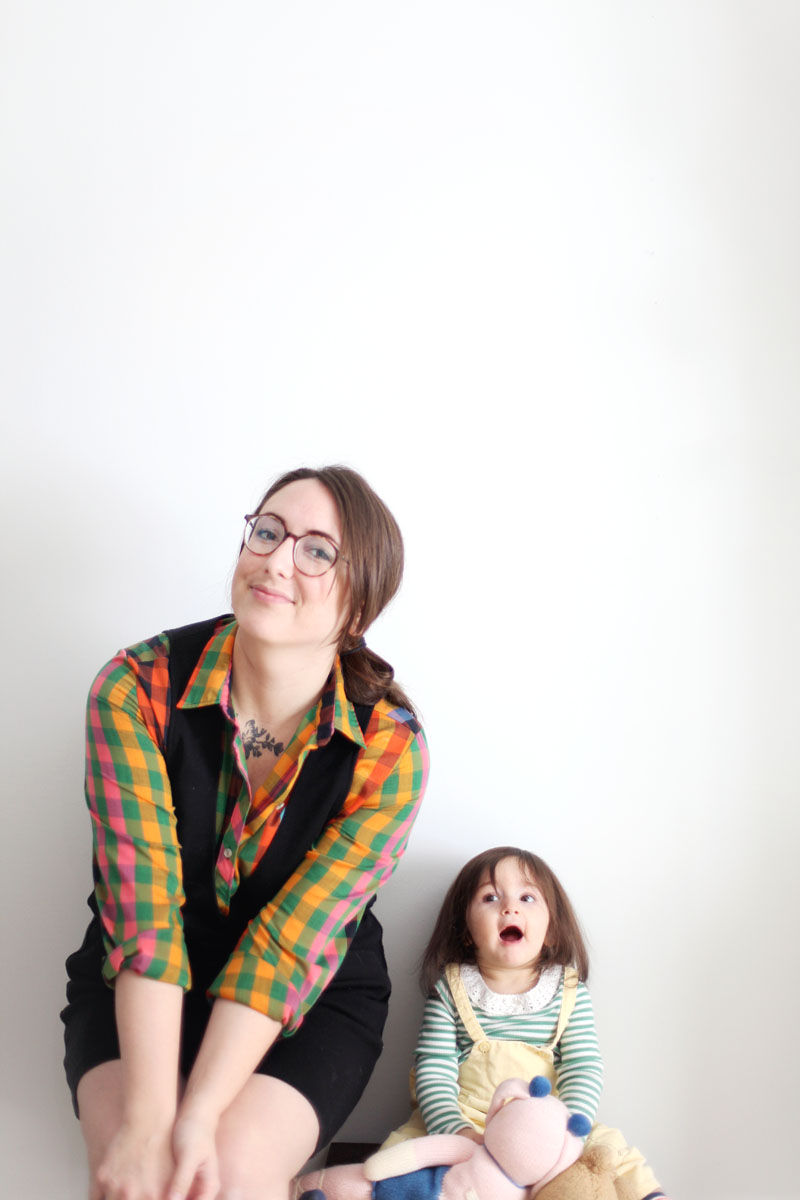 I cringe so hard when I read the comments on fellow blogger mom's Instagram feeds. "Can I just be you?" "Your life is perfect!" Okay, so I've rarely ever heard such comments on my own Instagram feed (In fact, I'm not sure if I ever have…), but I have had friends in real life comment on how amazing my life seems, and that they wish they had my cool house or the time to do fun things (like crafts, or just their hair). It's always a bit awkward when I receive those compliments, because sometimes they're backhanded, and often they sound a bit self-deprecating. You wish you had the time? Oh really? SO DO I.
When I hear those comments while I'm at work behind the espresso machine, I want to retort with something like, "I wish I had the time to be out at Starbucks once a week spending money on overpriced lattes before I cart my kids off to Target where I buy them cute clothes and those squeezy packs of food that they'll for sure eat and not throw over the edge of the high chair like Lucy does with the food I thoughtfully make with the time I don't have." Much of my life is spent scurrying home from a barista job so I can bust out work (that I enjoy doing) for A Beautiful Mess, so that I can maybe have time to consider what (or if) I can make for dinner (that Lucy won't reject), and trying not to completely neglect my kiddo when Phil brings her home from Mom's house, where she's been lovingly cared for while I work. During days I don't work at Starbucks, I often stay in my pajamas (Phil's big gray sweatpants and Duke sweatshirt), makeup smudges under my eyes because I was too exhausted to wash my face the night before or that morning, hoping that whatever project I'm photographing that day won't betray an embarrassing reflection of my appearance.
You guys, I'm not trying to say that I don't enjoy my life, or that I don't have nice things. I do! But so do you! I sometimes have a hard time making it to the weekend, and once the weekend is here, it often means just more work for me, because the babysitter (Phil) is home to help around the house. Life is not all fun and games. But I try not to portray the negativity that I sometimes feel, the anxiety, or the cluttered house. That kind of stuff can be a downer to read. But for the sake of dispelling any misconceptions that my (or any other blogger's) life is like a magazine, I thought I'd share some confessions from this blogger mom.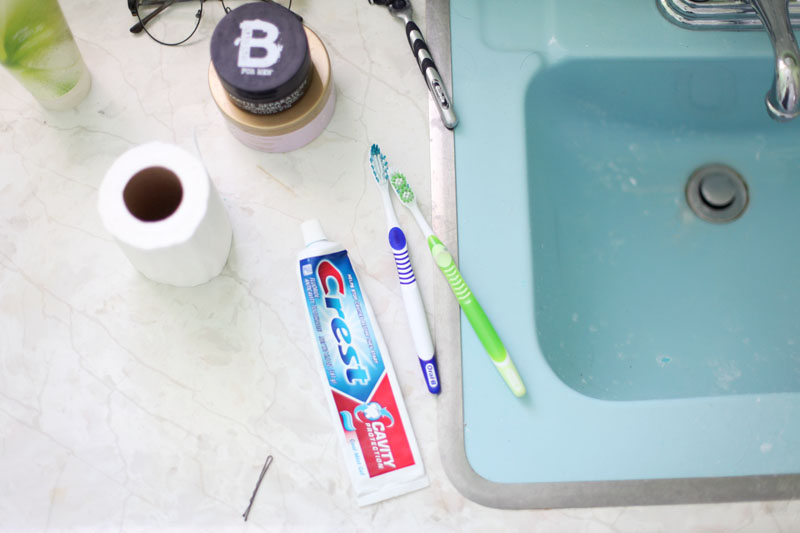 I've never cleaned the bathroom in our house. Not ever. Don't worry, Phil does. And we agreed on this being his chore, but I still feel really guilty about it for some reason. Gender stereotypes, perhaps?
I rarely put my toothbrush away, and the TP roll only sometimes makes it onto the roll holder by the toilet. Also- look! I have ugly toothbrushes and normal toothpaste. My lotion was a gift from Bath & Body Works, and isn't something like the beautifully designed Aesop products that all the cool bloggers seem to be all about these days.
I wear Phil's sweatshirts and sweatpants more often than not on my work-at-home days. I'm trying to remedy this, because I don't feel good when I dress like that. A nice alternative, I'm finding, is a comfortable button-up shirt with a loose fitting jumper. You know, something like what Debra Barone would wear in Everybody Loves Ramond. Again- not so cool, eh?
I haven't shaved my legs since being in Florida during the first week of January. Or my armpits for that matter. This isn't a feminist stance, but rather a lack of time for luxuriously long showers. When I do happen to shave my legs, I just feel like it's a huge waste of time that could be better spent on something else- even if it's just relaxing on the sofa watching Netflix. Priorities, people.
We have garish plastic toys and foam mats at our house. In our one and only living room, not our nonexistent playroom.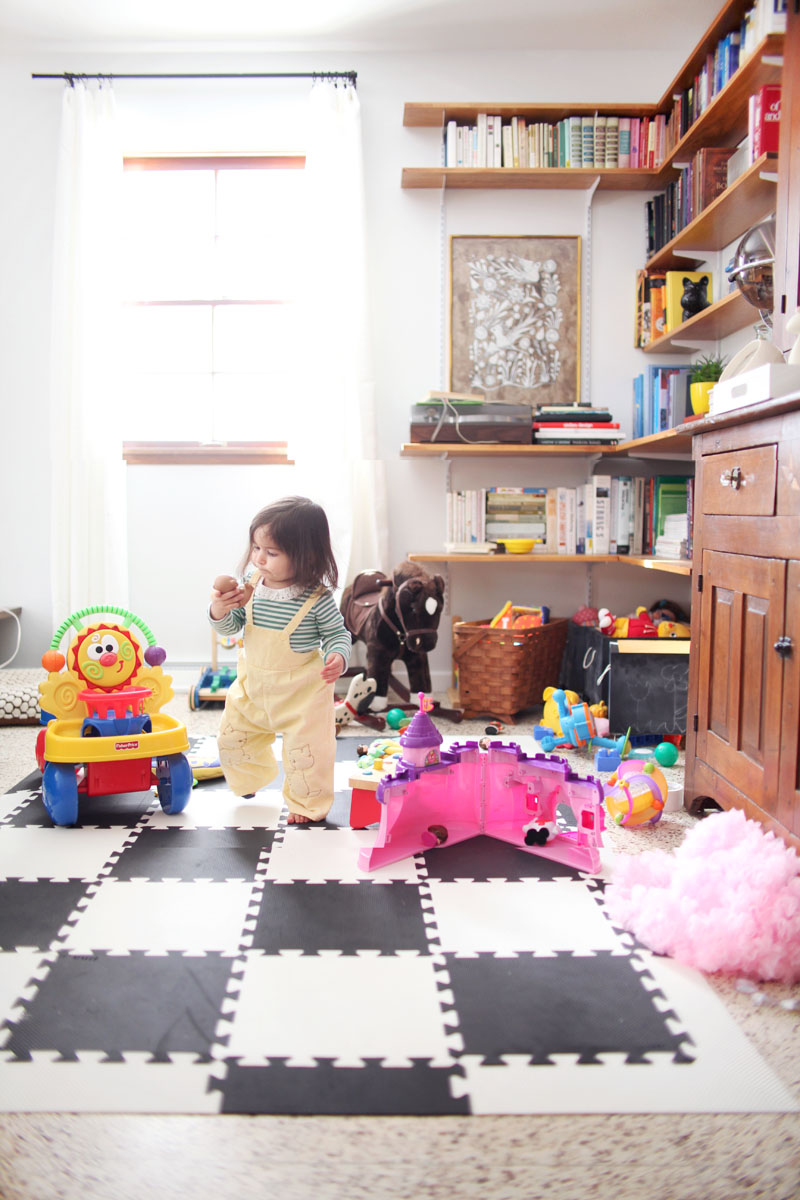 I've finally figured out how to keep my houseplants alive, but I can't keep them on the floor. I thought I could be super mom and teach my 1 1/2 year old about obeying and not playing in houseplant dirt. But I'm tired of cleaning up dirt four times a day.
Those houseplants are in the ugly plastic containers that they came in at the hardware store. That's right, I don't buy my houseplants from beautiful nurseries that make for cool photo shoots or Instagram shots.
I saved up and bought Lucy one of those beautiful Blabla Bunnies, but it's probably her least favorite toy. But hey, it looks good in pictures, I guess.
Our dining room table is constantly covered with power tools and project supplies. I'm working on finding a better way to deal with constantly working on projects in our tiny house. But I just can't seem to find the time to get everything organized and built, or the money to gather the supplies.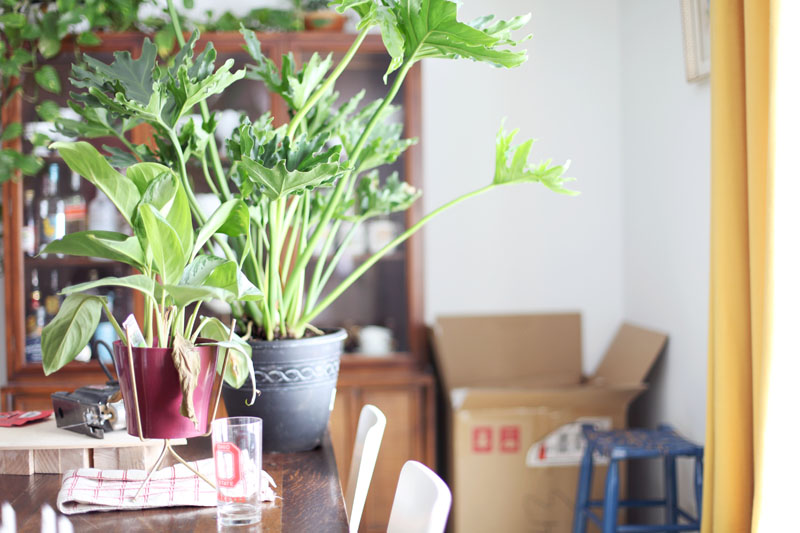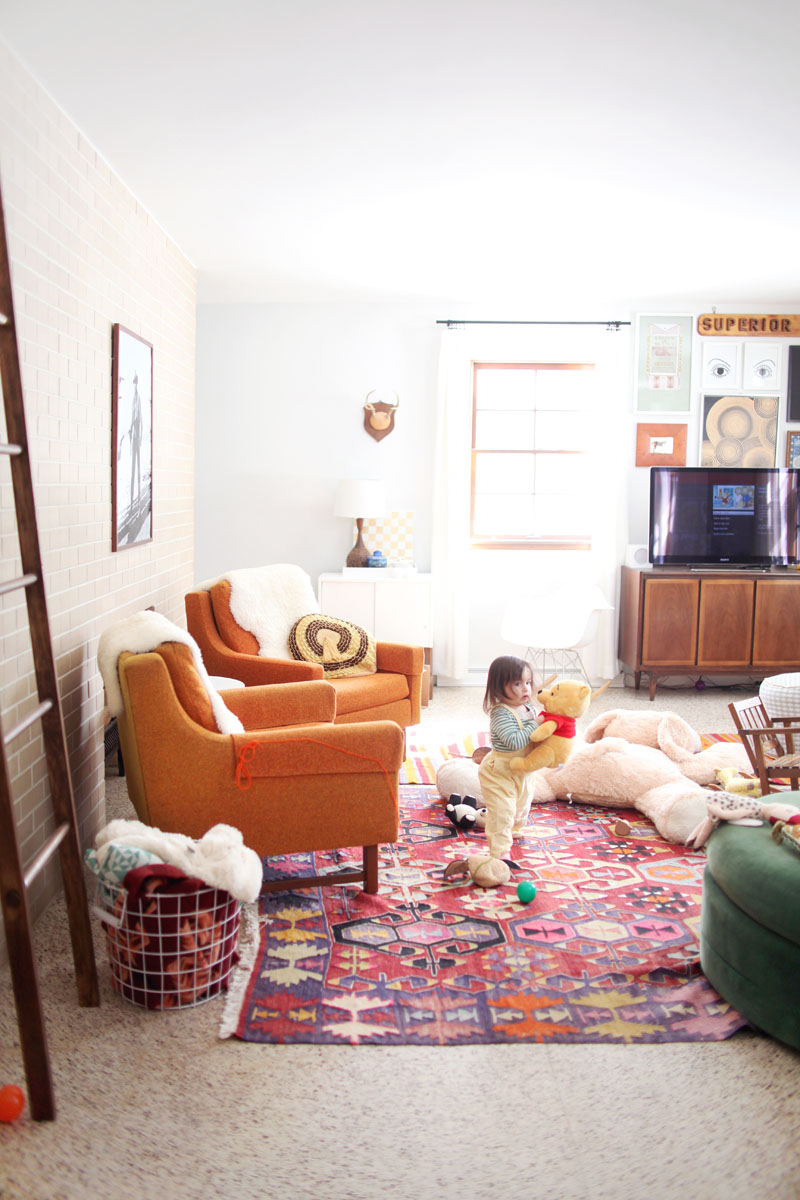 I let Lucy watch TV while I work on projects. She doesn't always watch tv, and she is happy to play by herself or read books lots of the time, but when she gets fussy, and I can't stop working on something, I turn to Daniel Tiger for his wonderful babysitting abilities.
I was so proud of myself for making sugar-free banana oat cookies for Lucy, and then I ate half the batch myself.
My friends (and I) all think I'm a coffee snob, but lately I've been microwaving my second cup of coffee about five times a day.
I bought a pack of sugar cookies to use for a photo prop, and then I ate them all while Lucy napped. And then I felt really bad about it. I've been giving in to stress eating more and more often these days, which is making me more stressed.
When I want to take an Instagram photo, I move things out of the background so my house looks clean.
I hesitate to do more kitchen related posts, even though my life tends to revolve around the kitchen, because I don't think it's pretty enough to take pictures in. I realized how pathetic that seems, once I typed it out.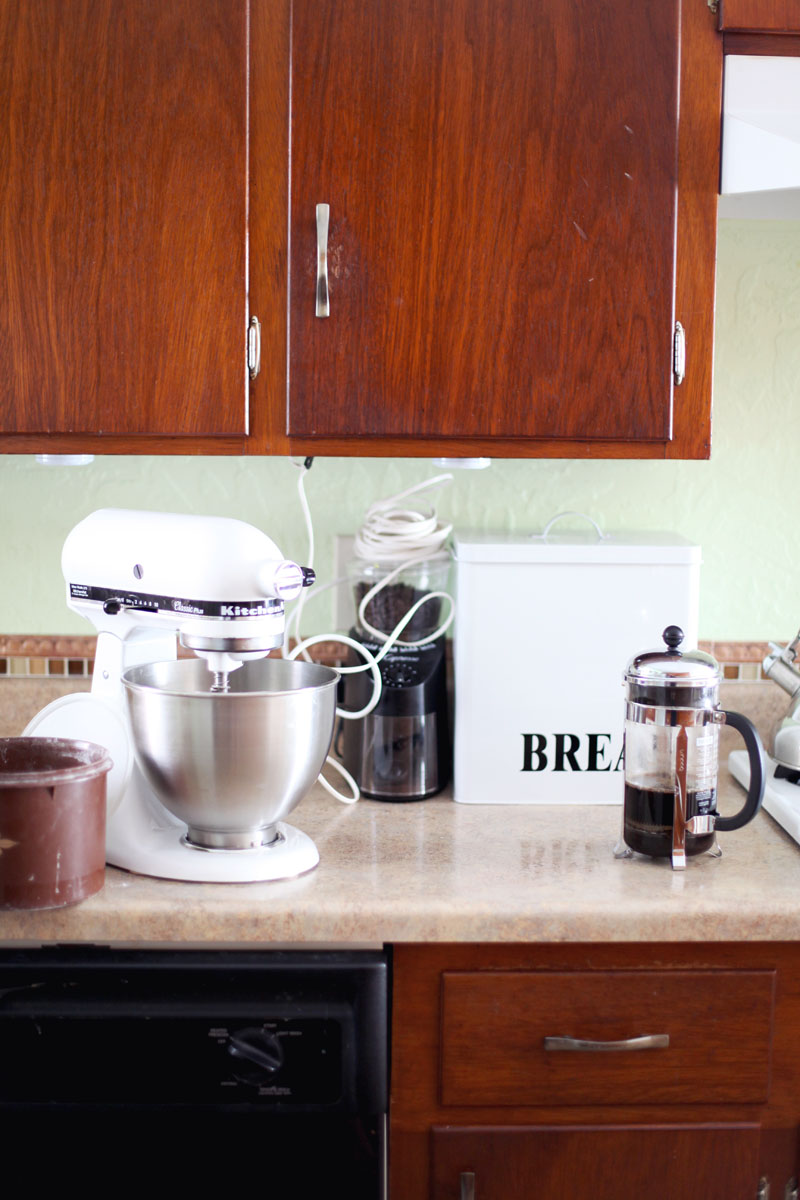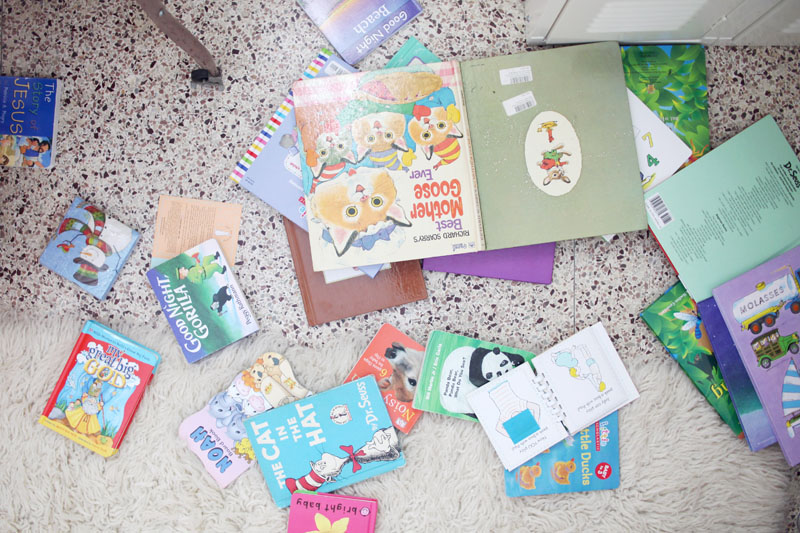 There are plenty more things to say about how unglamorous my life is, but it's way more fun to pretend that everything is beautiful and fulfilling in my life, so that's the side of my life that I tend to share with you, when I have time that is. I've been trying not to stress about getting posts up as frequently here, because I would just rather spend that extra time with family and friends. I'm sure you get it. And I'm sure you're not sitting here clicking refresh and wondering when a new post will pop up. But I do enjoy sharing things with you all here, though even more so, I enjoy the sense of camaraderie with you all and fellow bloggers on social media, like Instagram. Just let's not get too caught up in appearances, 'kay? We're all just regular ol' humans, after all!