Cut a Bold Photo Mat for a T.V. Gallery Wall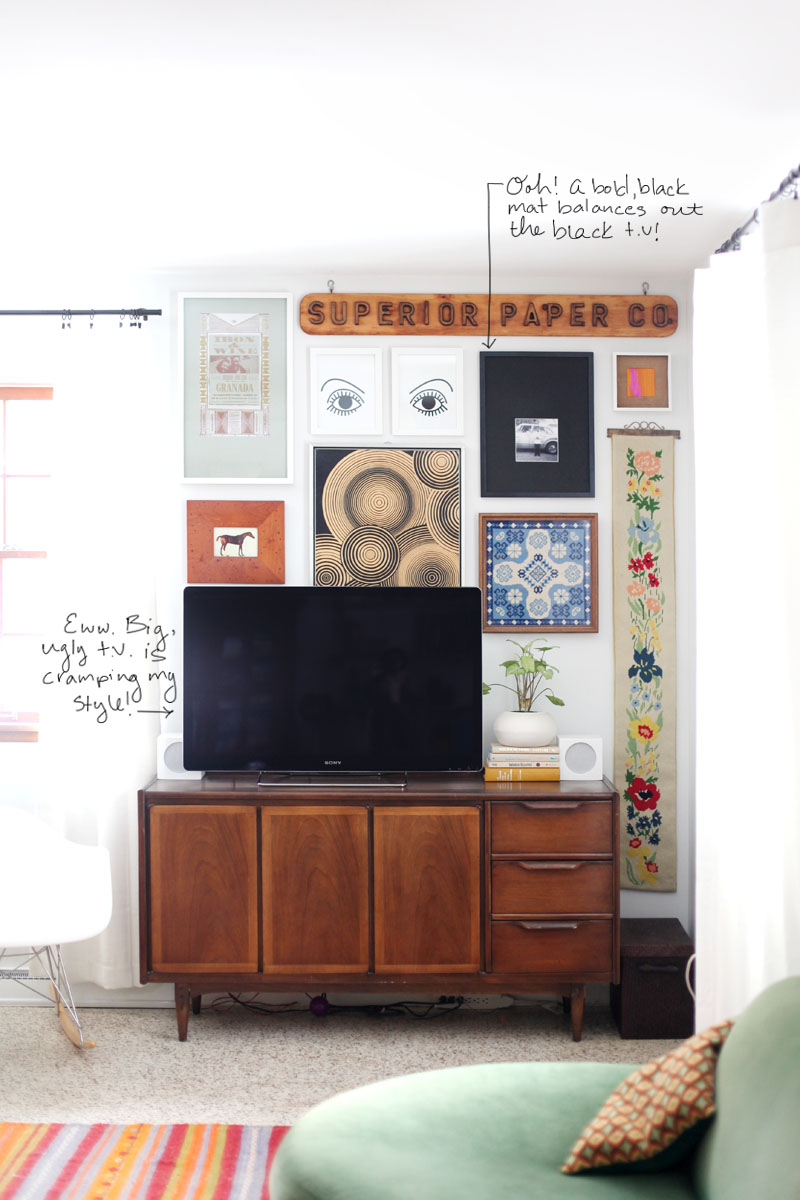 Gallery walls can be these crazy intimidating monsters that either turn your home into a tacky mess or consume your every waking thought until your wall is perfect. Which it never is. So basically, they're just monsters. It's so tricky to do a gallery wall and do it right! But I knew that's what I wanted to do on our T.V. wall, because let's face it, T.V.s are big ugly black things that aren't easily disguised in an otherwise white room. But a gallery wall can be a great solution for deemphasizing a T.V. So I embraced the monster.

The trick to helping a t.v. fit in nicely with a gallery wall is to balance it out with another bold, black piece in the arrangement. I considered buying a dark, graphic poster (and by graphic, I mean bold, not explicit…), but when it came down to it, I realized that this wall was going to look extremely busy if I didn't start simplifying things. So instead of using a dark poster, I decided I would put a large black mat inside one of my thin 13×19 black frames, and keep it simple by cutting only a small section out of the mat to frame a little vintage snapshot.
I found this little photo of my dad posing in front of my grandparent's family car back in '62, and I knew it needed to be hanging on our wall. The photo is originally only about 3.5″ square, so I scanned it onto my computer and resized it to be about 6″ square, so it wouldn't get completely lost in the gallery wall. Then I went to the store and bought a piece of dark gray (almost black) mat board to frame it out.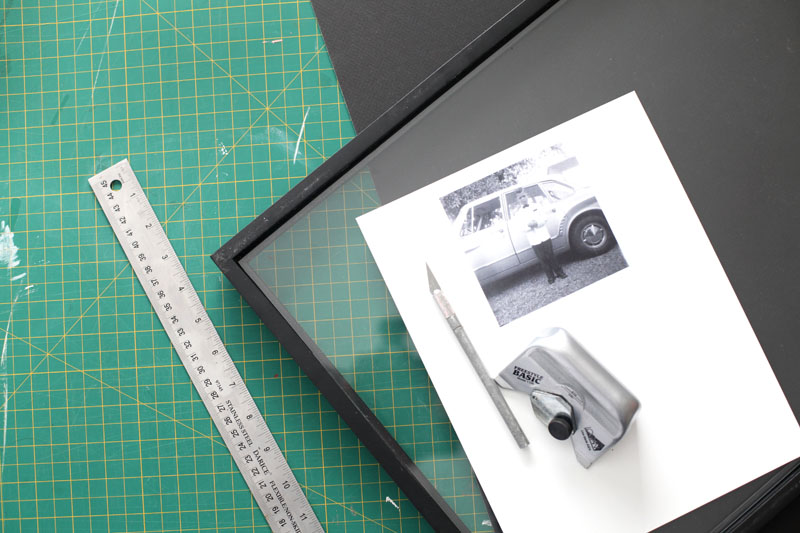 Here's what you need to cut a photo mat:
Photo
Frame
Mat board at least as large as the frame
Craft blade
Mat cutter (I found this freehand one for $10 and it works just fine!)
Non-slip steel ruler
Pencil
Cutting Board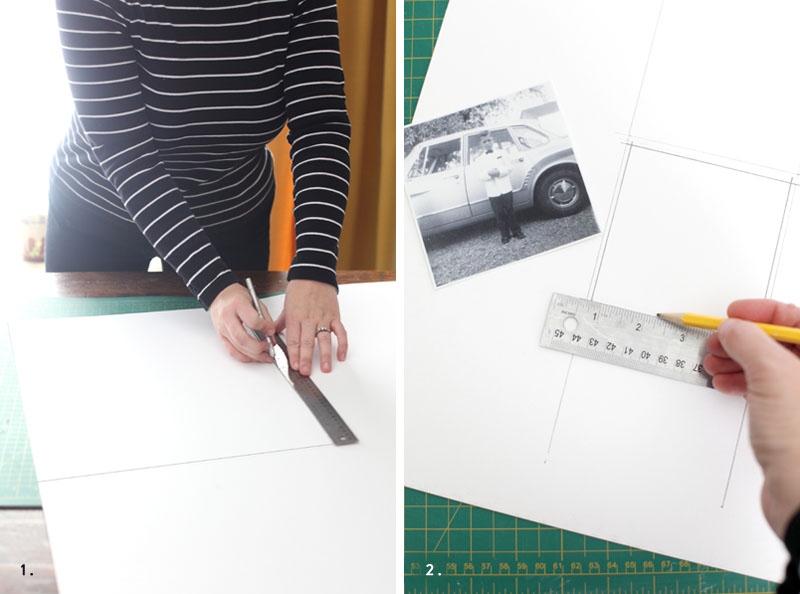 Step One: Lay the glass from your photo frame onto the corner of your mat board, trace around it with a pencil, and then cut out the mat with a craft blade and steel ruler. Be sure to use a fresh blade for best results! I like a non-slip ruler for obvious reasons, but I know other people who dislike them because your blade can slide under the raised edge and make your cutting less accurate. I don't think it's a big deal in this instance, though.
Step Two: Draw the lines for where your mat will be cut. I made the cutting area 1/4″ smaller than the size of my image. I wanted the border to be equal around the photo on the bottom and sides of it, so I measured in from the outsides and bottom of the cut mat board.
Step Three: Place a new blade inside the freehand mat cutter by unscrewing the black knob and sliding the blade in until the rounded top of it reaches the line for the type of mat you are using. I am using a standard mat, so I tightly screwed in the blade to the line that says "STD." If you are using a double thick mat (which would be absolutely luscious!), screw the blade tightly into the line that says "DBL." Be sure the black knob is tightened as tight as you can get it, or it will move during cutting and really mess up your edge.
Step Four: Place your ruler along one of the lines you drew for the cutting border, and rest the mat cutter against the edge of the ruler. You will begin piercing the mat board 1/4″ above where the edge of your cutting line begins. After inserting the blade into the mat board, readjust the ruler if necessary before slowly dragging the mat cutter along its edge. Hold the ruler very firmly so that it doesn't move during cutting, or else your cut edge will be wavy. This is where the non-slip backing of the ruler comes in handy!
Be very sure that you are cutting on the correct side of the line, which would be the inside of the square. If you are cutting from the outside of the area you are cutting out, then your mat will be cut in reverse. Think before you cut! I've made that mistake before and it's unnecessary and frustrating.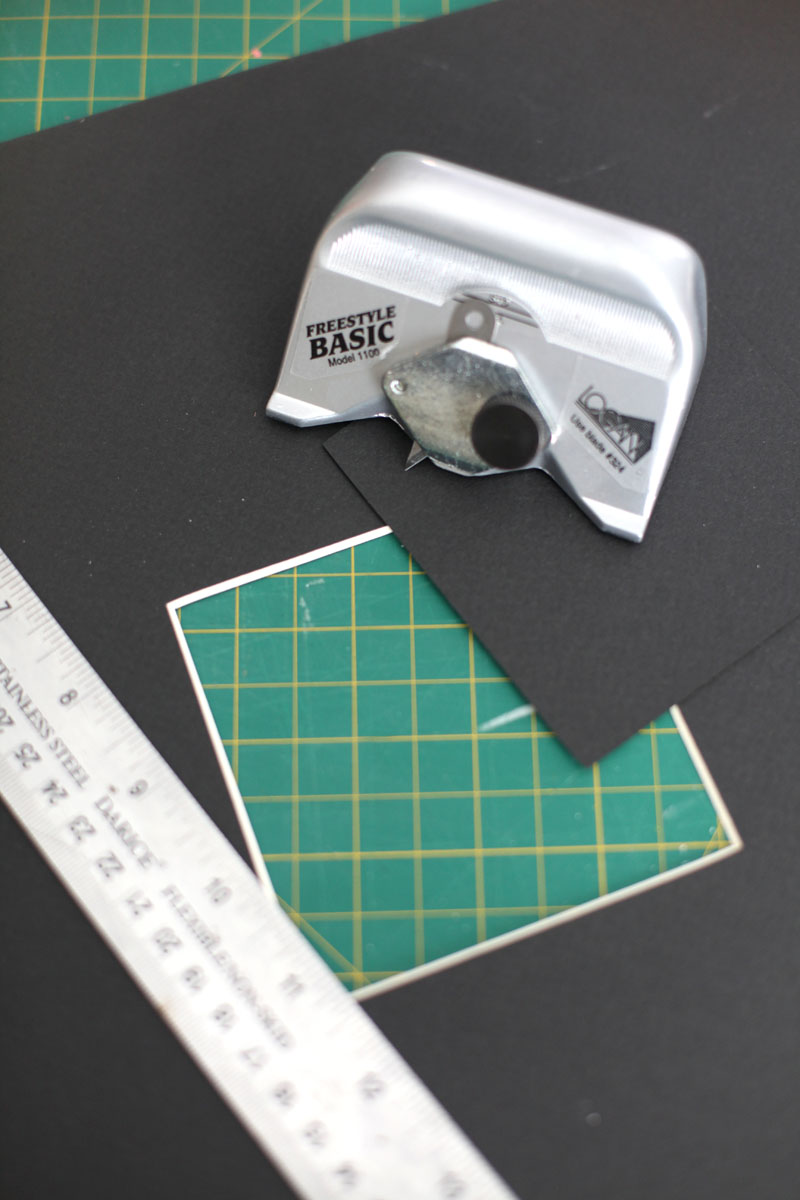 After your mat is cut, place the photo behind it and use tape at the corners to keep it in place. Matt board is easily scuffed and marred, so be careful when transporting it from the store, and be extra careful when you're working with it too. I put my freshly cut mat and photo behind the painstakingly cleaned glass of my frame before I came to the conclusion that the glare against the black and the glass was just the worst thing in the world. So I took out the glass, and now my mat isn't protected, but I figured reprinting a photo and cutting the mat wouldn't be half as bad as being aggravated by glare every time I glance up at the photo. Priorities.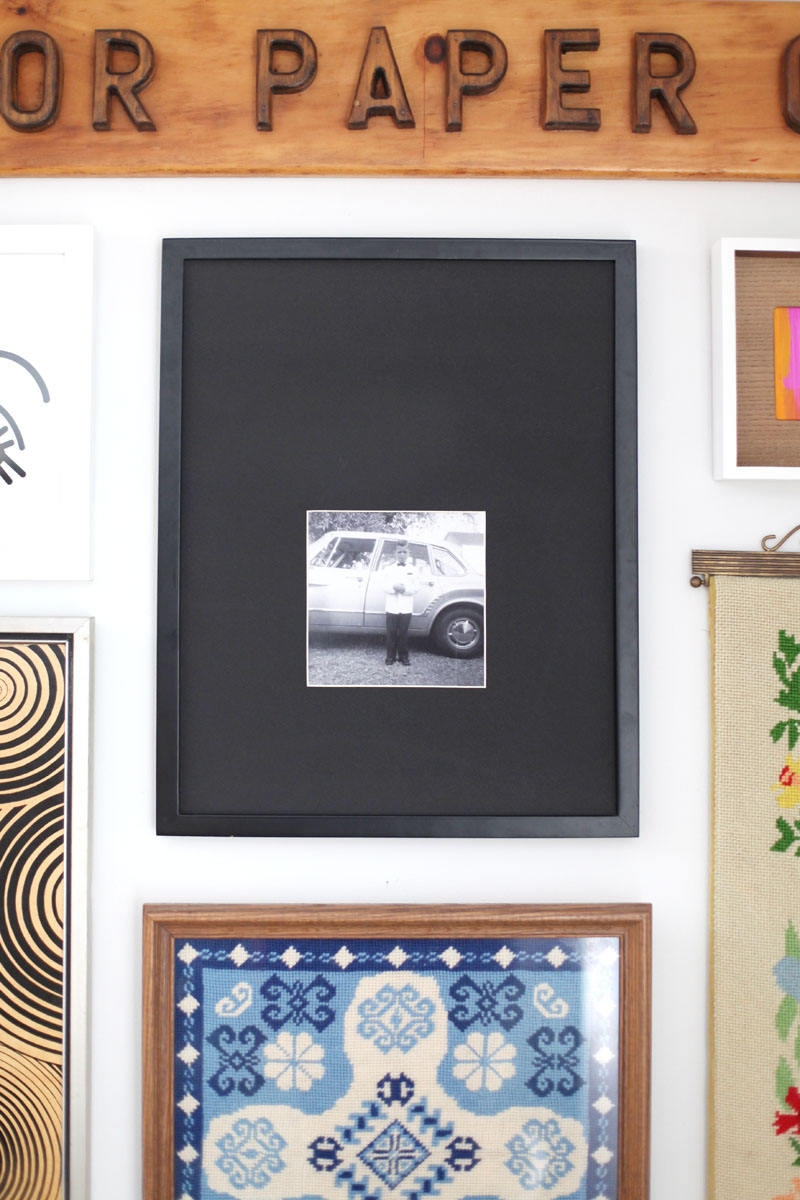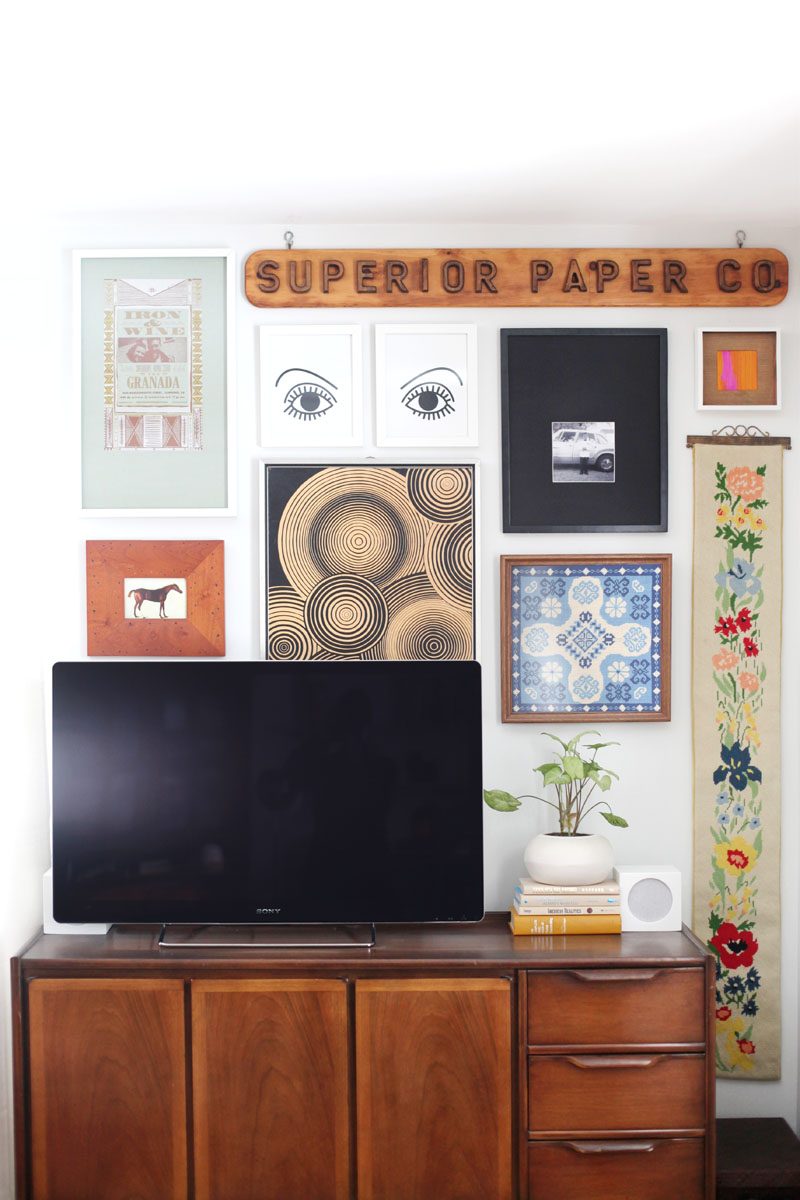 I further simplified the gallery wall arrangement by removing the art that was previously in those two matching white 8×10 frames and filling them with these creepy eyes that were inspired by Twiggy and T.J. Eckleburg. I drew them digitally and just printed them out onto presentation paper to stick in the frames. Instead of putting a photo in the top right picture frame, I painted some card stock with fuchsia and orange acrylic paint and called it art.
In my opinion, gallery walls do need a little interest, as long as they're not too busy. I don't typically enjoy using all of the same frame and art styles, but I know when you mix it up, things can get really busy really fast. I found interest by mixing sizes, shapes, thicknesses of frames, and textures, but I kept the color scheme limited to neutrals, blues, and hues of orange. I balanced out the wood pieces (two wooden frames and the vintage sign) by hanging them caddy corner from each other, and I tried to do the same with other colors involved in the arrangement, like the blue found in both the Hammerpress Iron & Wine poster and the framed needlework piece. I also thought about balance with the placement of the white frames caddy corner from the white void that's to the right of the television. The yellow circles pop art piece and the little orange acrylic painting were similar enough in color that I thought they should be separate from each other for balance too.
I'm sneaky and arranged (and rearranged, and rearranged) all of my art in Photoshop to make sure everything would fit nicely, moving things around digitally before actually hammering nail holes in my wall. I was attempting to work with just the art I already owned, but when I had everything how I wanted it in Photoshop, there were some empty spots that still needed filled- like where the 2 8×10 white frames are now and where the little square frame is at the top right. I noted the size of the gaps and went out to the store to buy the frames to fill them. It cost me $25 total for the three frames (from Pat Catans and Marshalls), and the art I put inside was homemade/free, so I'd say I did a pretty good job compiling the gallery wall without running out and buying new things to beef it up. I was concerned about the open space to the right of the t.v., and thought about buying some art to fill it, but instead I just put a plant there and I really like how it looks. Now- to keep the plant alive!
I've been pinning gallery wall inspiration recently on Pinterest if you'd like to take a look at my "In My Home" board!