The Courtship of Eddie's Father, 1963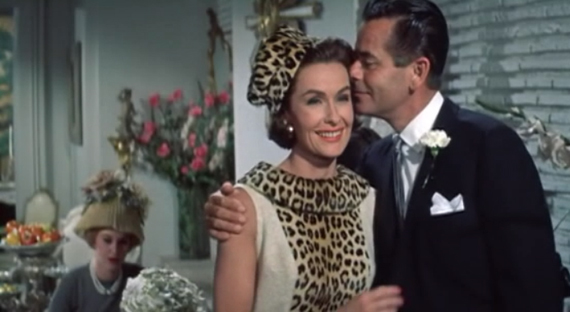 Some movies you watch as a kiddo, totally transfixed, living the rest of your life with fond but vague memories of the film. A long time ago I watched a movie about a widower and his son and the son's quest to find his dad a new wife. I remember being enamored with the costumes, sets, and romantic storyline, and also relating to the sadness the little boy felt at losing his mother. (Not that I lost my mother, but I was a terribly sensitive and emphatic child.) It wasn't until a couple of years ago that a preview for the movie came on Turner Classic Movies, a nostalgic and upbeat whistling song playing in its background, that I realized the movie I loved as a kid was The Courtship of Eddie's Father starring Glenn Ford and little Ron Howard. So of course, I took a trip down memory lane and watched it again. But my reaction to the movie was quite different than the wide-eyed adoration of my childhood.
Read my review of The Courtship of Eddie's Father after the jump, and watch the movie for yourself instantly online right here.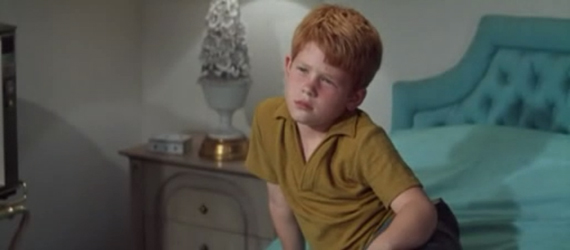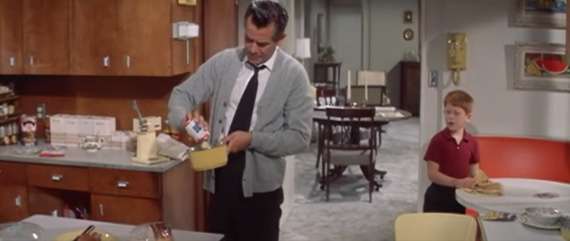 When I started out watching The Courtship of Eddie's Father recently, adult-me was not disappointed at the glamorous early sixties decor of Tom Corbett's (Glenn Ford) apartment and the charm of the cast's simple and classic sixties clothes. Clearly the late Mrs. Corbett had good taste. Glenn Ford does a great job at playing the slightly overwhelmed, affectionate father who has little patience for his obnoxious radio DJ employee, Norman (Jerry Van Dyke), and very little room in his heart to consider letting a woman in his life after the recent death of his wife. The audience doesn't know how long ago his wife had passed, but everyone at Tom's office welcomes him back with condolences, so he obviously has just returned from time away due to his wife's death.
Tom and his son Eddie (Ron Howard) have just welcomed a "sleep-out" housekeeper to their home to cook, clean, and look after Eddie when Tom is away. She seems to do a great job at her duties, but puts thoughts into the Corbett men's heads about Tom finding a new wife, the dangers of ambulance chasing women (for lack of a better term) looking for wedding rings and fancy appliances, and the inappropriateness of a sleep-in housekeeper. Little Eddie has all sorts of innocent-but-not-innocent questions that make for great comedic moments in the film. Oh, the jokes I never understood as a youngster!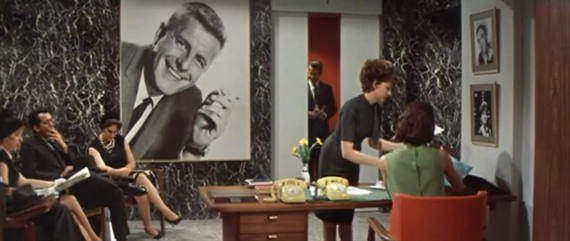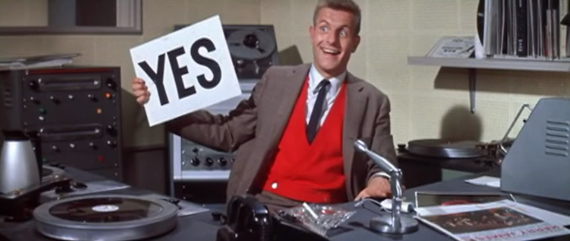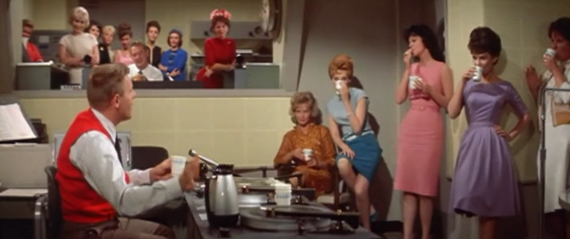 The plot really gets rolling when Tom and Eddie head out to an arcade to spend time together, and Eddie meets a friendly young redhead with curves that kill. He suggests to his father that she would make a great new wife for him, and not only is Tom shocked at his son's candor, but he's certainly not interested in the woman as a romantic partner. So he introduces her to his womanizing DJ friend at work- Norman. Don't ask me why he does that- Tom seemed to genuinely like the girl, so I don't know why he would introduce her to someone Tom doesn't seem to respect. It was supposedly meant to be a kind thing to do, to give her more confidence that she said she lacked. But fixing her up with Norman seemed like a dog move to me, though maybe Tom knew better than me, because the situation actually ended up pleasantly surprising me in the end.
The same day that Tom introduces the young lady to Norman, Norman introduces a somewhat older lady to Tom, arranging for the four of them to have a double date. This woman, Rita, is a beautiful and successful woman who works in fashion and knows what she wants in life- and at the moment, that something looks like it's Tom Corbett. Tom and Rita start dating seriously, but his son Eddie doesn't think this sophisticated and unmotherly woman would be a good fit for their family, and as we quickly learn, the divorcee next door seems more appealing to Eddie. In fact, the woman next door, Elizabeth (Shirley Jones) seems like such a perfect fit for Tom and Eddie, that you wonder why in the world Tom would even date Rita, when Elizabeth, the obvious choice, is right next door. Beautiful, thoughtful, nurturing, and clearly interested, the problem with Elizabeth is that she was also Tom's belated wife's best friend. It's all a bit too much and seems wrong to Tom. So he tries to escape his attraction to Elizabeth by dating Rita, even though he seems to secretly know things with Rita aren't working out.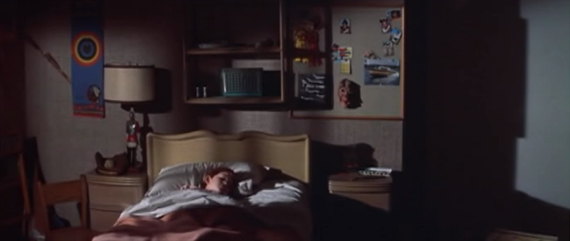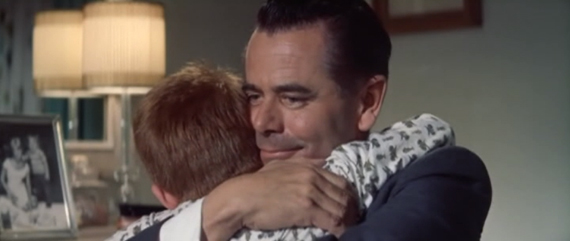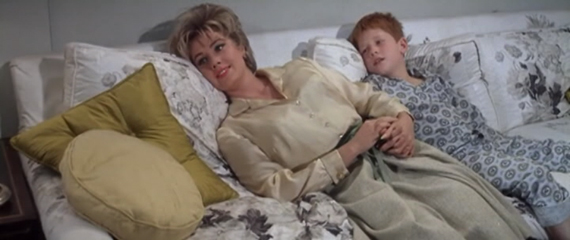 While The Courtship of Eddie's Father certainly has its charm, I couldn't believe how dated it was. Of course, movies from the 1960s are going to be dated, but sometimes they surprise you with being refreshingly modern in their outlook. But this movie is not. For instance, the idea that a man must marry a woman so she can cook, clean, be a mother, and take care of the home is obviously outdated. It's not a horrible idea, except Tom basically rules out Rita because she enjoys working and having her own ambitions, and he outright declares that because of this, he would never consider marrying her. He thinks it's his job to have ambitions, and her job to stay home to cook and clean. Jaw dropped.
Also, as someone who thought a lot about what my husband and child's lives would look like if I were to die suddenly, I was horrified at how quickly Tom got back into the dating game after his wife so recently and suddenly died. I understood that Eddie had a different way of dealing with his grief, and really just wanted some semblance of normality in their home. But Tom should have known better than to rush back into a romantic relationship before he had really begun to heal from the loss of his wife.
The way the movie is presented in the trailer is pretty remarkably dated too. "Who will be the next Mrs. Corbett?" the subtitle glares under curvy illustrations of a redhead, a blonde, and a brunette. Or, "Everyone needs a mother, even if Dad has to marry her!" Get out of town. That in combination with the housekeeper's insinuations that all of the woman are dying to get a ring on their finger and become the new Mrs. Corbett- it was a bit sickening. Though as I mentioned before, the movie isn't without its female champion- the working woman, Rita Behrens. The problem is, she's portrayed a cold, rather undesirable woman who, the audience might guess, would live the rest of her life along with just her little dog as a companion. At least it's not a cat, I guess. Elizabeth has her moments too, when she puts Tom in his place for basically declaring that he has women clamoring to marry him. But I couldn't help but want to invent a new character to add to the cast of females to give our gender a bit more credit.
Still, sixties' dust included, I enjoyed the movie and it was a fun walk down memory lane! You can watch it instantly online right here.