Sunday in New York 1963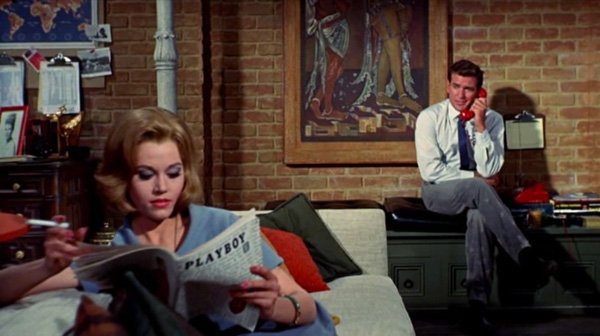 I just adore mid sixties romantic comedies- the ones before the sexual revolution, but after the repression of the '50s. It's a nice five years that are saturated with witty writing, fabulous fashion, silly sexual innuendo, and colorful, interesting sets. Admittedly, the acting in these movies is sometimes hit or miss, but if you ask me, sixties movies aren't all about great acting, really. They're about great entertainment! If you enjoy this genre, you'll love Sunday in New York. You can watch it instantly right here!
Sunday in New York is a really fun sixties romp, starring one of my favorite comedy actresses of the era, Jane Fonda as Eileen Taylor, and another charming funny guy, Rod Taylor as Mike Mitchell. I adored the interior sets of the film, and am so ready to move into that apartment! Loft bedroom, sunken kitchen with open shelving, brick walls with modern art, and beautiful tailored midcentury modern furniture. When can I move in? And don't get me started on Eileen's outfits. I wish I could find her white wiggle dress with the embroidered eye pattern. That dress is a keeper for sure!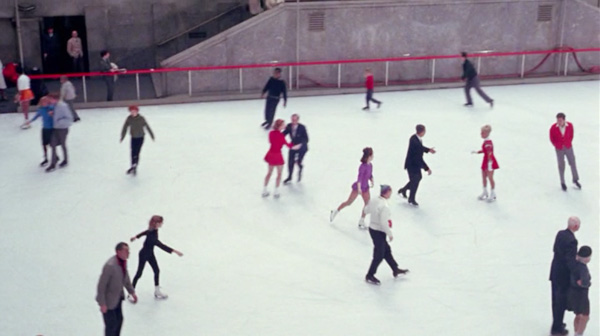 This play adaptation has a similar vibe to Barefoot in the Park, but lays on the sexual innuendo much thicker. In fact, the entire plot of Sunday in New York revolves around Eileen's virginity and her brother Adam's secretly loose bachelor lifestyle. When she visits his New York apartment for a weekend after breaking up with her fiancé, she finds out his secrets and begins to wonder if maybe she had been making a mistake in thinking she knew what men really want. So she sets out to change her ways. And, of course, hilarity and love ensue.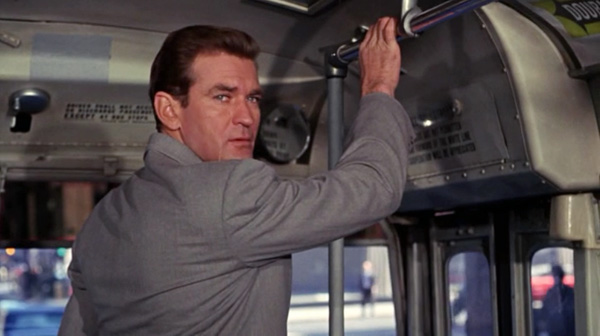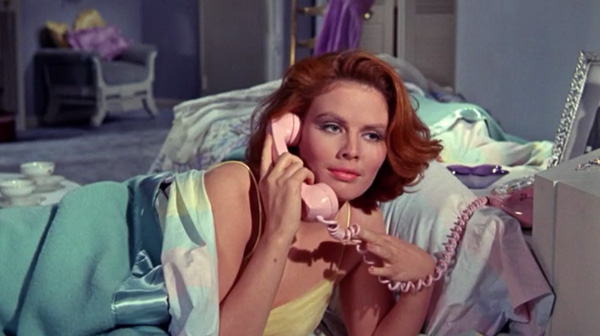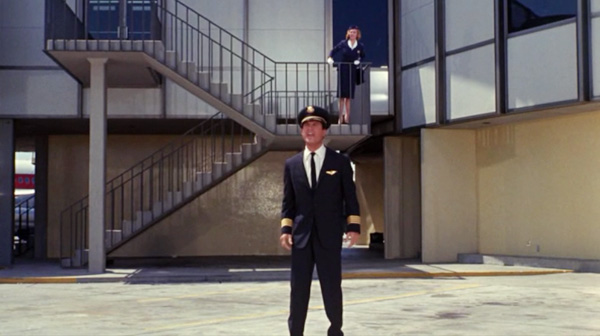 Adam, a handsome airline pilot, is surprised by his sister's visit, throwing his plans for a tryst with one of his girlfriends into a whirlwind. He can't ruin his brotherly illusion, because when Eileen told him that she had broken up with her fiancé because he had wanted to have sex with her before the wedding day, Adam consoled her by insisting he too lives a chaste lifestyle and her fiancé is a scoundrel.
But after finding a black négligée in Adam's apartment closet, Eileen realizes her brother is just like the rest of them. She becomes determined to lose her chaste ways- with the man she met on the bus- Mike (Rod Taylor)! Eileen and Mike go out on the town, and she plans for him to be the one, though surprisingly Mike doesn't go along with her plans. But that's not what her brother thinks when he shows up unexpectedly, catching the Eileen and Mike in a compromising position. Things get even crazier when Eileen's fiancé shows up just seconds later, so Eileen comes up with a story to tell him that makes life complicated for everyone involved.
Watch Sunday in New York instantly on your computer or mobile device right here.