MAKE YOUR OWN: Chocolate Liqueur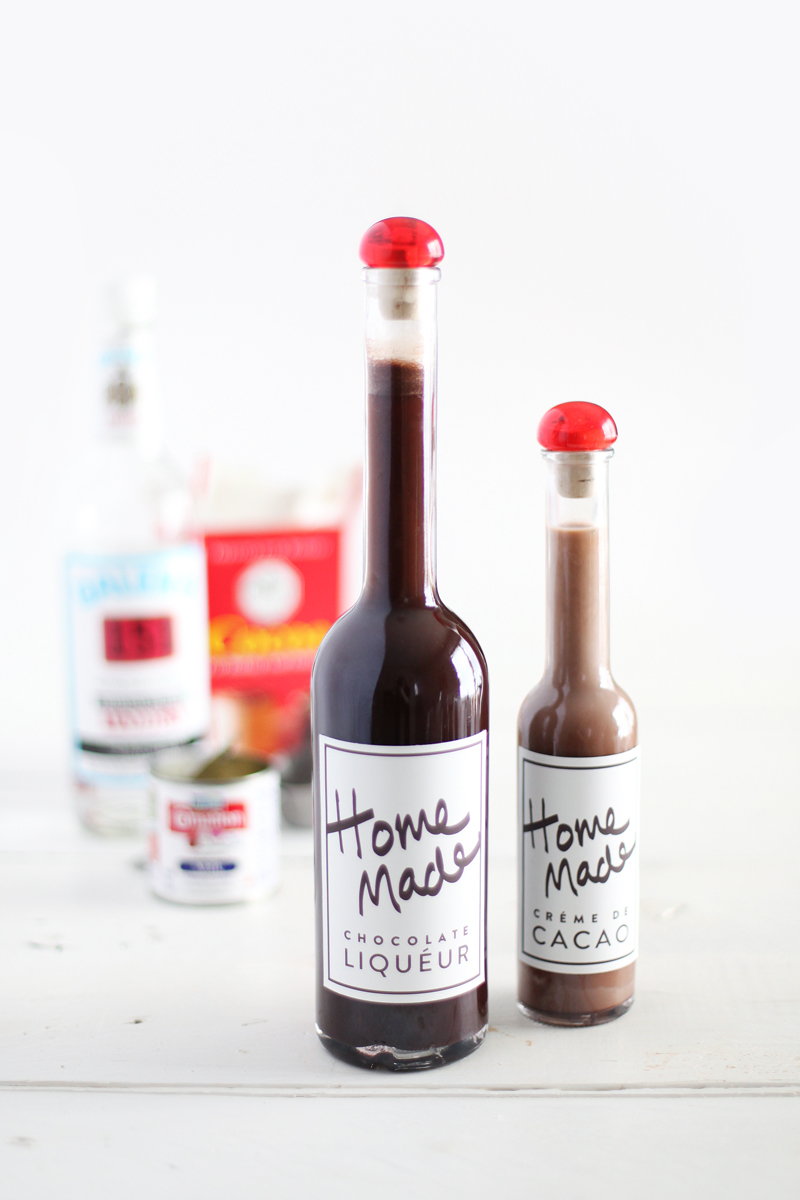 One really blessed night a few years ago, one of my best friends invented a creamy chocolate drink we so eloquently dubbed The Lovely Awesome. There really was no other name for it. Nothing else described the lovely awesomeness of the creamy chocolate drink. Occasionally since then, I've worked on tweaking the recipe to include ingredients I can actually keep on hand, since the original called for things like dark chocolate almond milk and creamy liqueurs that have a short shelf life. My mission ended in this project- making my own chocolate liqueur. I made some to keep, some to give, and a little creamy version to keep around for sweet cocktails during the next week.
I'll share with you my updated version of The Lovely Awesome soon, but for now, I thought I'd share this great gift idea to give to friends, coworkers, or hostesses this holiday season. I found these great liqueur bottles here, and designed a label that I printed, cut out, and spray mounted to the finished chocolate liqueur bottles. The recipe I used is from Creative Culinary, and it is scrumptious! I only slightly adapted it to make for a quicker and easier process.
P.S. This recipe is not for créme de cacao, but you will see a bottle labeled that way in these photos.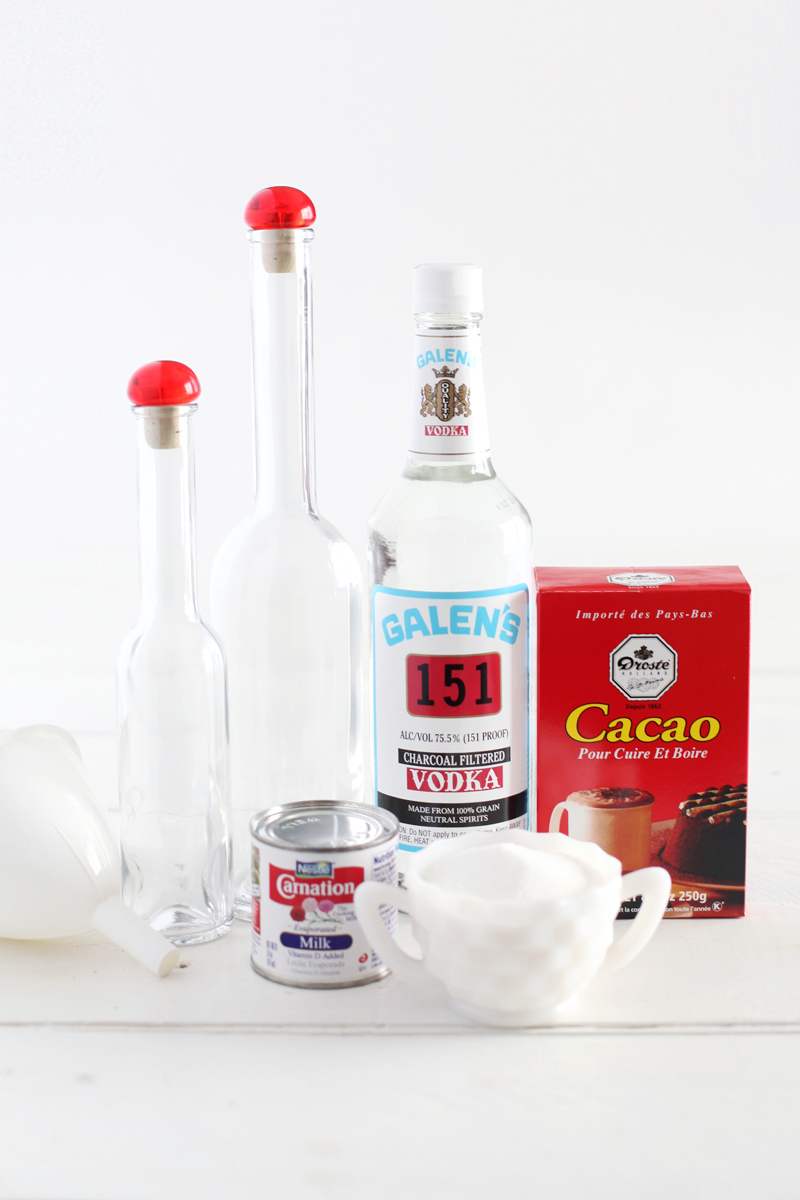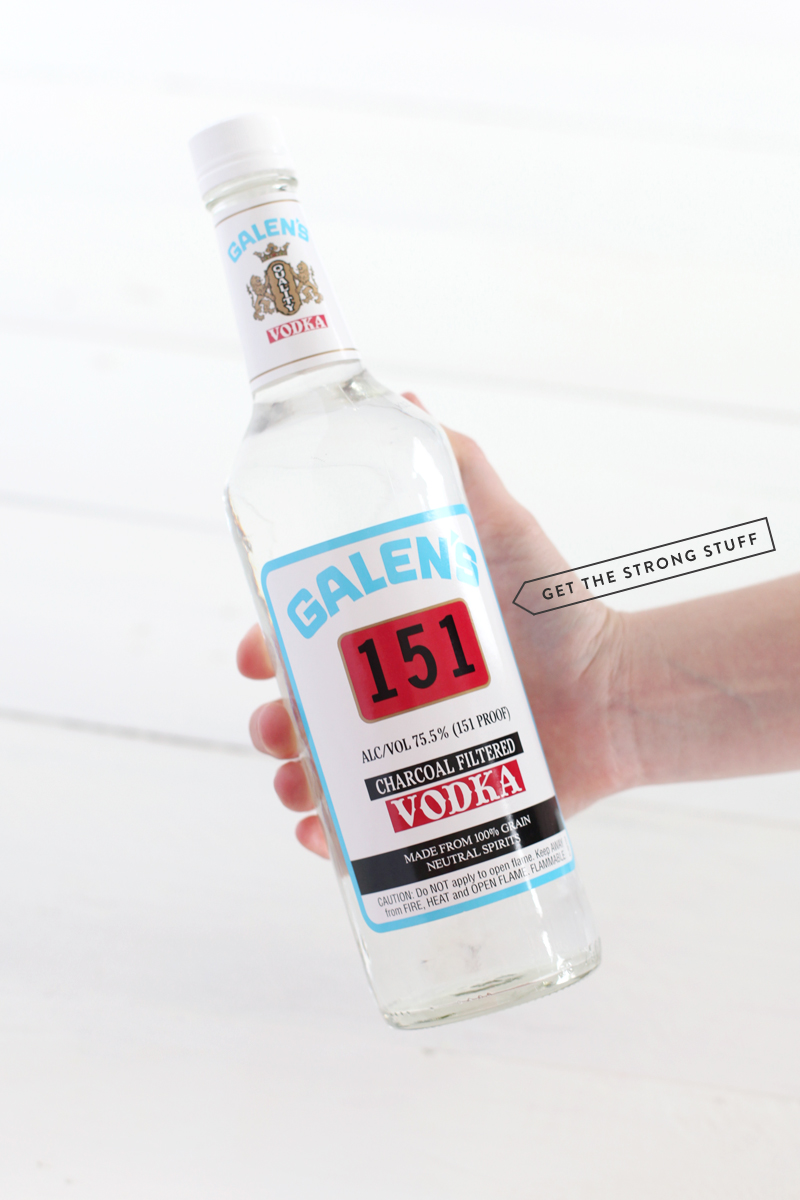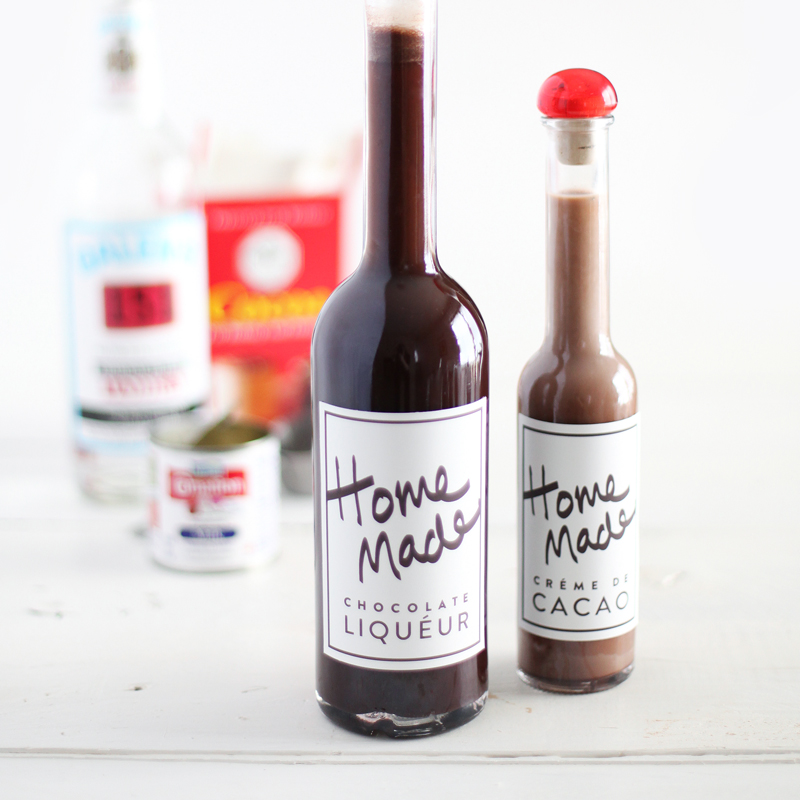 Chocolate Liqueur
2013-12-07 15:55:30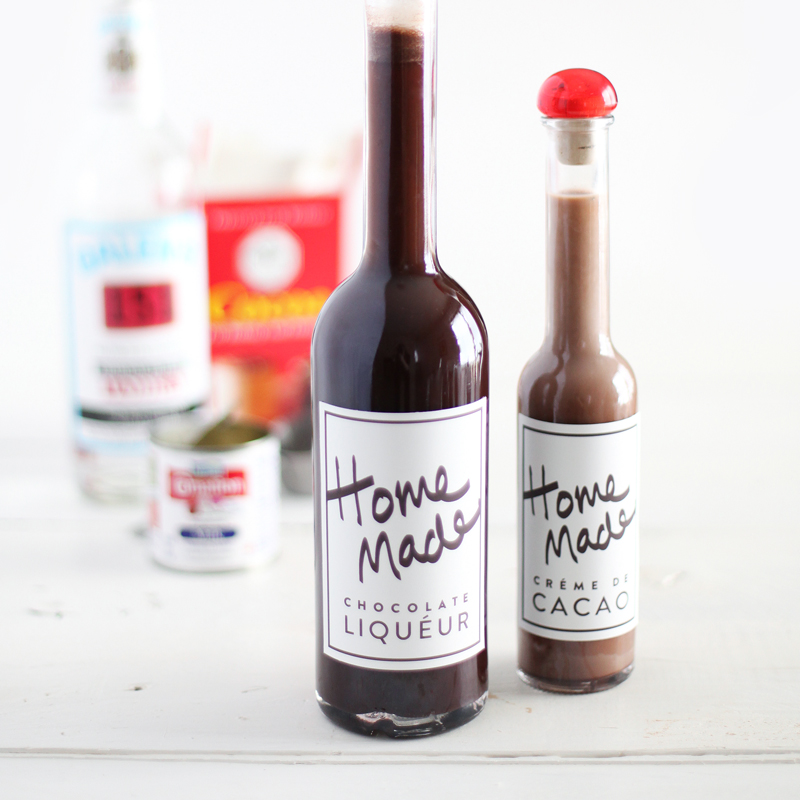 Nutrition Facts
Amount Per Serving
* Percent Daily Values are based on a 2,000 calorie diet. Your Daily Values may be higher or lower depending on your calorie needs.
Ingredients
2 Cups water- divided
1/2 Cup 141 proof vodka
1/2 Cup sugar
1/4 Cup cocoa
Optional for creamy version
1 small can evaporated milk
Instructions
In a small sauce pan, boil 1 cup of water with the sugar to create a simple syrup. Remove from heat and add cocoa powder, stir to dissolve, then add remaining 1 cup of water. Once cool cooled, add vodka to the mixture. Using a funnel, pour mixture into bottle. Original author recommends leaving it refrigerated for 1 week before using. Shake well before pouring.
Notes
I had excess liqueur that did not fit into the large bottle, so I combined it with one small can of evaporated milk and bottled it for creamy cocktails. This mixture will only last for a week, so it's not ideal for gift giving.
Adapted from Creative Culinary
Making Nice in the Midwest http://makingniceinthemidwest.com/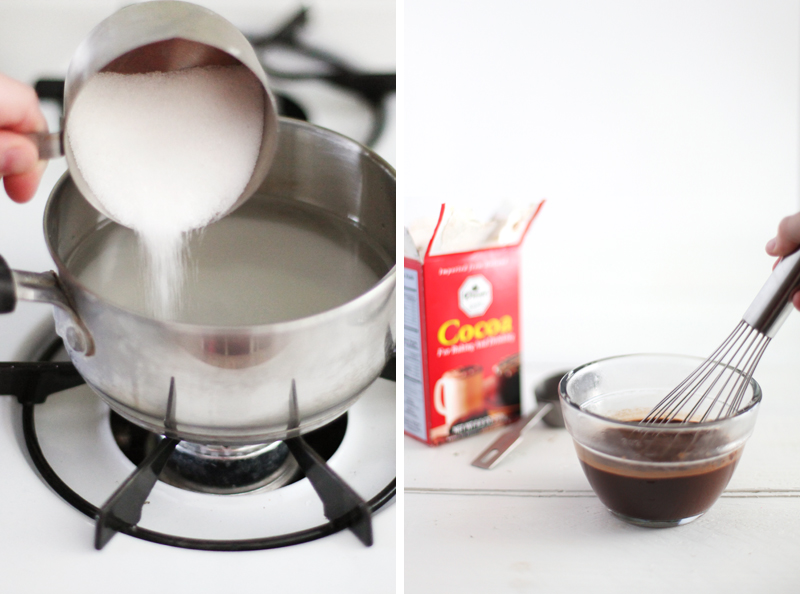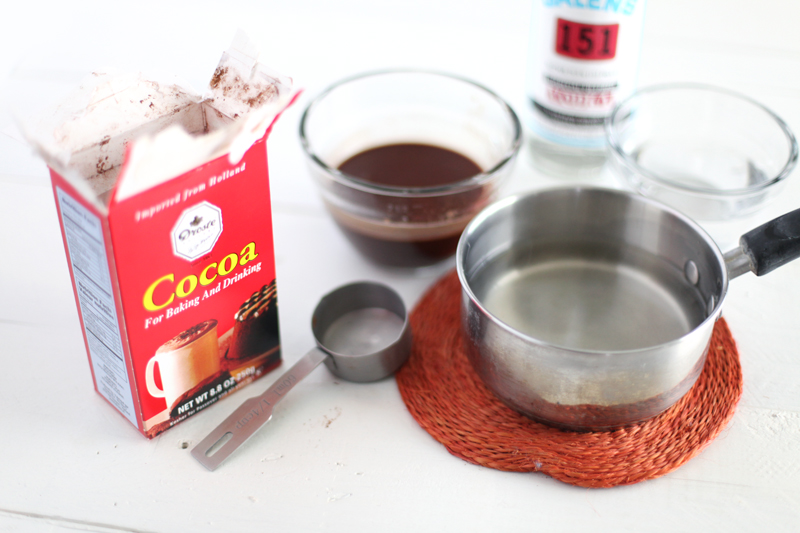 If you want to make a creamy liqueur with any leftovers like I did, but you're dairy intolerant, you can probably find evaporated goat's milk at the grocery store which might work wonders for you! If you are vegan, I would try coconut milk in place of the evaporated milk.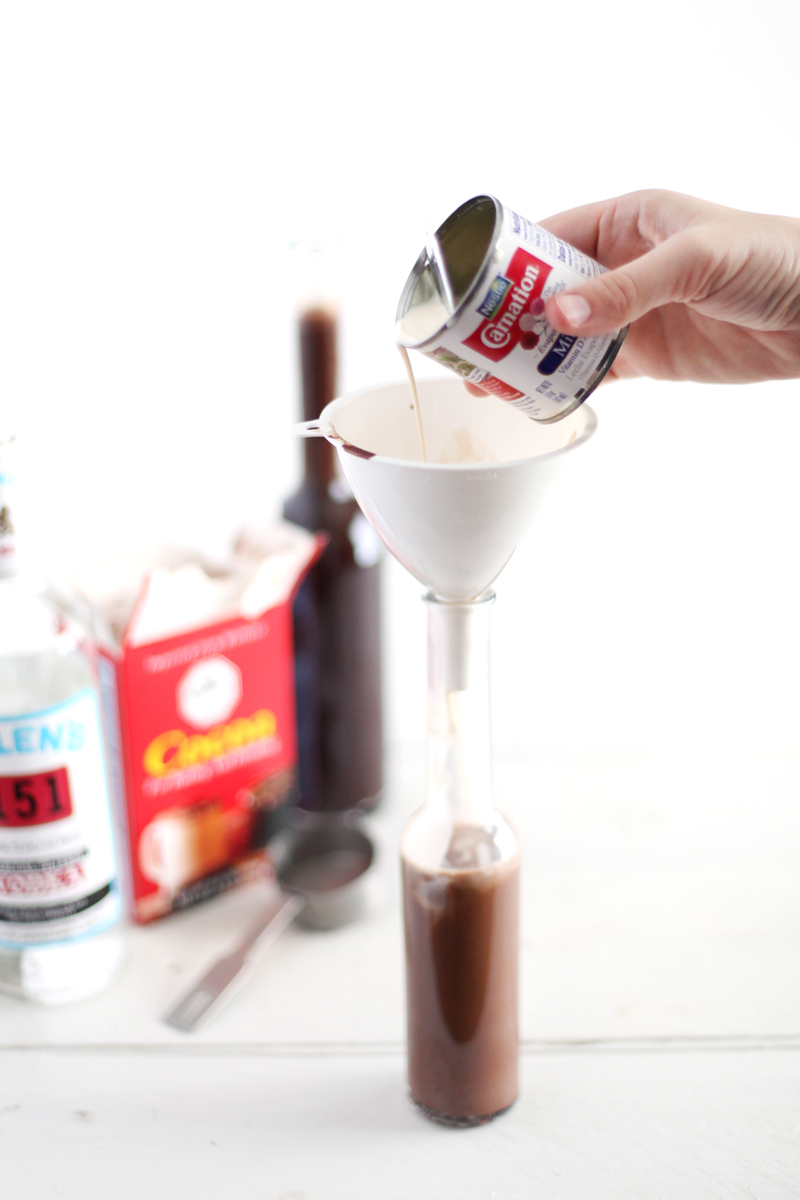 If you double this recipe, it should split nicely between four of these bottles. You can print out one sheet of these labels I made onto sticker paper, then peel and mount them to the bottle. I didn't have sticker paper, so I used nice presentation paper, but out the labels, and sprayed the back with permanent spray mount to adhere them to the bottles.
For some immediate post-cooking satisfaction, I poured some of the chocolate liqueur over ice and topped it with the evaporated milk. It hit the spot! In between sips, I cut some ribbon and tied a bow on the bottles so they'll be all ready to give as gifts to my family! Finally- a homemade gift that people will actually want to receive- no doubt about it!