Paisley's First Big Girl Room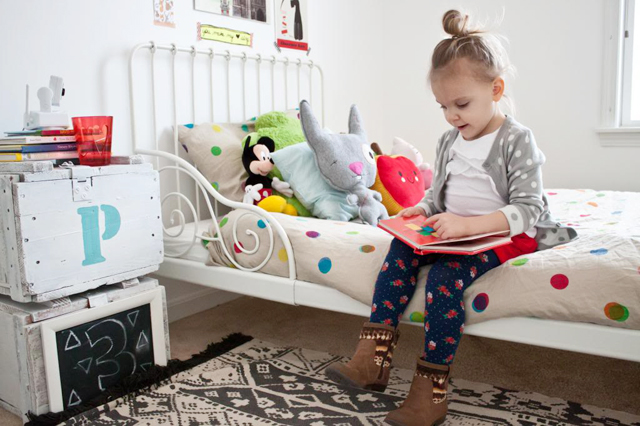 I'm learning quickly that it's a bittersweet thing when kiddos grow up! But I've also learned that putting a brick on your child's head doesn't keep them from getting big! Just kidding. I haven't tried that yet. (Does it work?) My friend Stephanie's daughter Paisley just turned four, and was reminiscing about when she got her first big girl bedroom makeover for her third birthday. She was so excited, and can you blame her? She especially loved her pretty Ikea bed, and it looks like her stuffed friends do too!
Stephanie did a few of easy little projects that really add character to Paisley's room, I thought you'd all be just as inspired as I am! Maybe I won't be as sad as I thought I would be when Lucy turns three.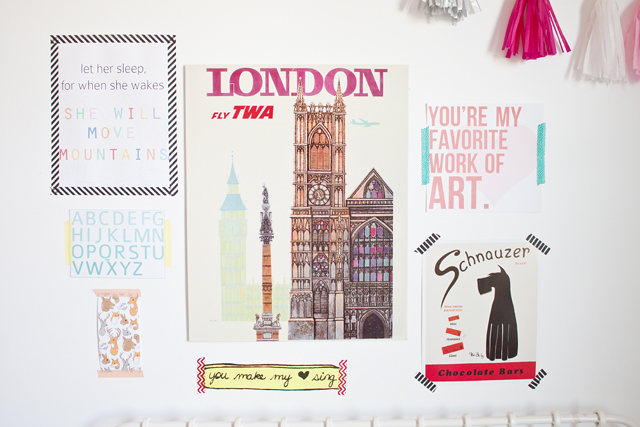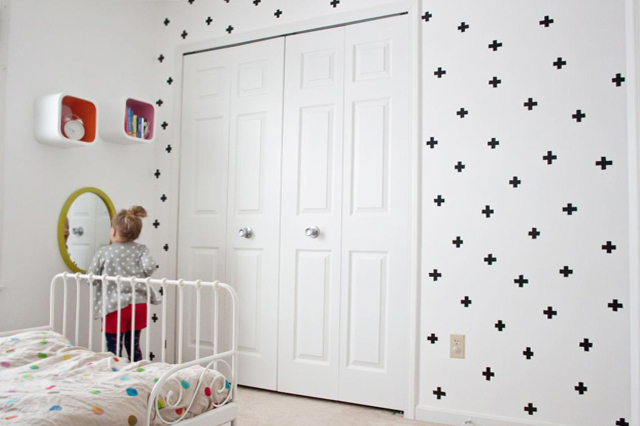 I wondered if the Swiss cross wall in Paisley's room was a stencil job, but it turns out Steph hacked a decal idea she had loved by cutting little strips of black electrical tape and just sticking them to the wall! Genius! The tape hasn't peeled after a year on the wall, so I'd say this DIY idea was a success.
The prints on Paisley's wall are from Etsy artists and also Boom Boom Prints, a site where you can customize artwork for your exact needs. Check out that whale! I Love how the washi tape holding up the art adds the perfect quirky touch. Maybe not great for living room art, but perfect for a kid's room! And because of the tape, the art can easy be moved around for a fresh look without worrying about holes in the wall.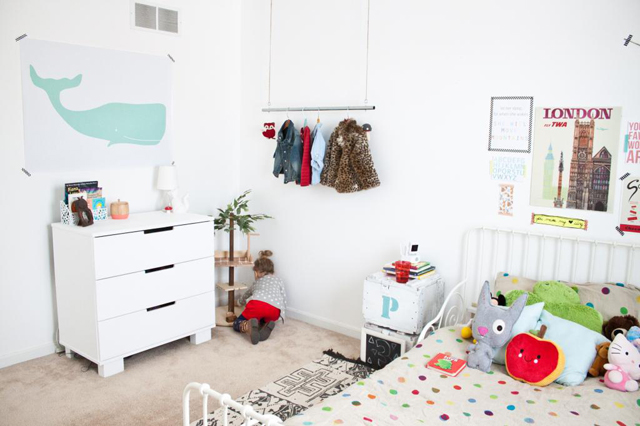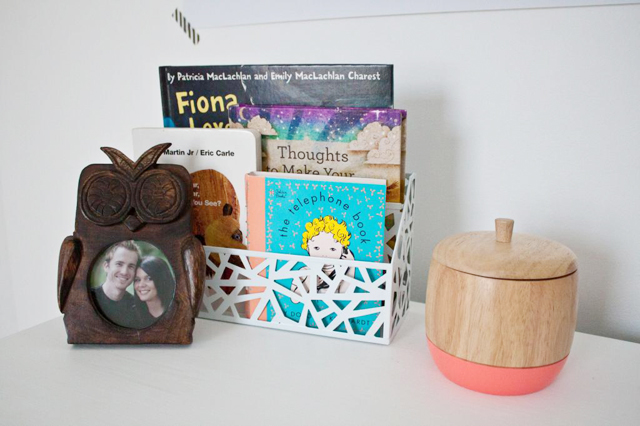 I love that everything Stephanie and Noah selected for Paisley's room is so affordable- the dresser is from Walmart, you guys! (Stephanie sanded and painted it.) The bedding and bed is from Ikea, the rug from Urban Outfitters, and the elements I particularly love are all handmade.
The idea of using a rugged, painted wooden chest as a night stand seems really special for a little girl to hide her treasures inside. Stenciling Paisley's initial on the front is an added dose of cute! The hanging rod for clothes is a great use of vertical space and along with the tassel garland on the other side of the room adds an unexpected element of whimsy.
Great job, guys! Paisley's such a blessed little girl. Check out more of Stephanie's life at her blog Love, Life, Babies.