Spaghetti Squash Curry with Roasted Chickpeas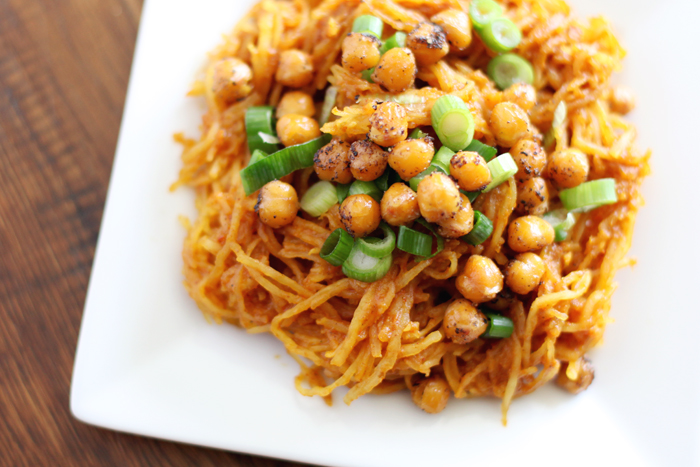 Have you ever eaten an amazing meal at a restaurant, and lived the rest of your days haunted by the deliciousness of that meal until you finally figured out how to duplicate it at home? This spaghetti squash curry with roasted chickpeas has been my meal haunting for a few years, ever since I my first visit to Cleveland's renowned Greenhouse Tavern. It was the only vegan entree on the entire menu, but at the time I was a pretty picky eater and curry definitely intimidated me. Luckily, I ordered it anyway, and it quickly became a favorite restaurant memory.
Unfortunately, the Greenhouse Tavern's sustainable menu is always changing due to local produce availability, and I've never seen spaghetti squash curry with roasted chickpeas on it again, so I was forced to do a little experimenting in my own kitchen. I think I finally got it right! If you're as excited about comfort food season as I am, you must try this recipe! It's not too spicy, but it's definitely delicious and so flavorful. Oh, and as a bonus? It's also vegan and gluten-free!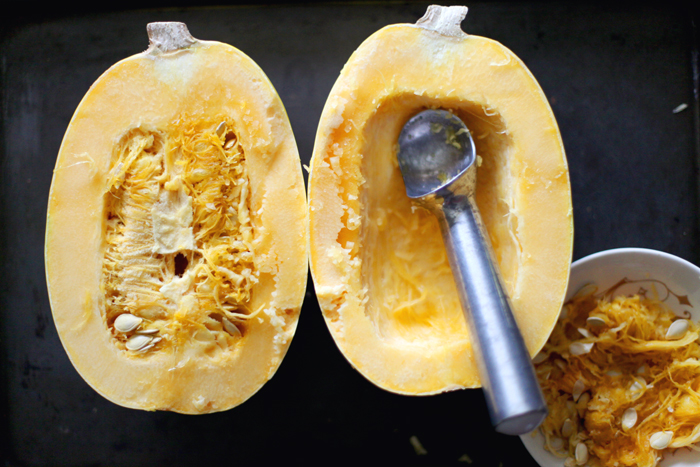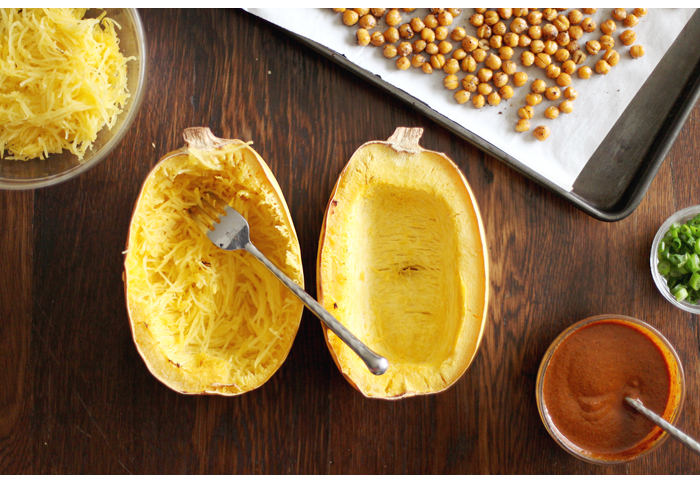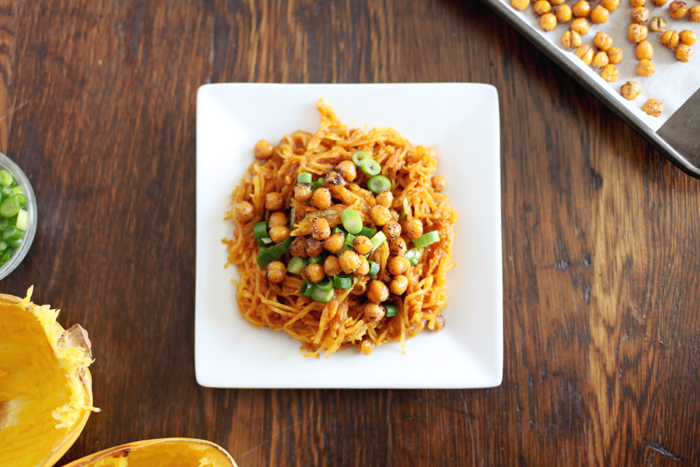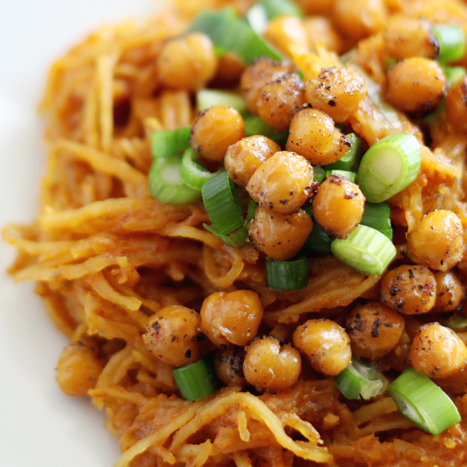 Spaghetti Squash Curry with Roasted Chickpeas
2013-10-10 11:33:29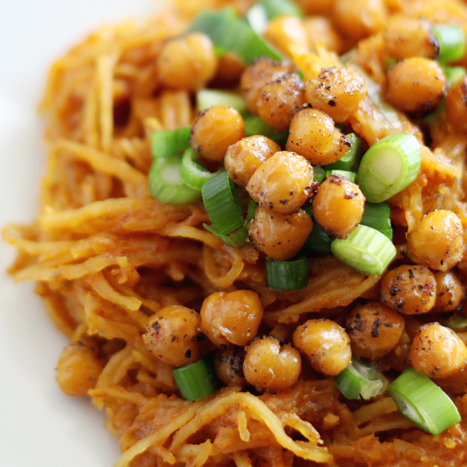 Serves 4
Healthy, hearty curried spaghetti squash topped with savory seasoned chickpeas and green onions
Nutrition Facts
Amount Per Serving
* Percent Daily Values are based on a 2,000 calorie diet. Your Daily Values may be higher or lower depending on your calorie needs.
For the Curried Squash
1 spaghetti squash
8 oz. can of tomato sauce
2 T olive oil, halved
2 T mild curry powder
1 T chili powder
2 t sugar
1 1/2 t cumin
1/2 t salt
1/2 t garlic powder
1/2 t turmeric
For the Roasted Chickpeas
1 can of unsalted chickpeas
1 T olive oil
1/2 t salt
1/4 t cracked black pepper
Instructions
Preheat oven to 400˚
For the Spaghetti Squash Curry
Cut the spaghetti squash in half, scoop out the seeds (which make a great snack when seasoned and roasted!), place on a cooking sheet cut sides up, and brush with one tablespoon of olive oil. Roast at 400˚ for 50 minutes. While the squash is roasting, combine the rest of the curried squash ingredients to make the sauce. Then prepare the chickpeas for roasting (directions below). When the squash is removed from the oven, allow it to cool while you roast the chickpeas. When the squash is cool enough to handle, shred the flesh with a fork and place into a medium size bowl. Add the sauce, and stir to combine. Scoop the curried spaghetti squash onto 4 plates, top with sliced green onions and a quarter of the roasted chickpeas and serve hot.
For the Roasted Chickpeas
Combine the drained chickpeas with 1 Tablespoon of olive oil, the salt, and the pepper. Spread in one layer on a cooking sheet covered in parchment paper. Roast at 450˚ for about ten minutes, or until golden and slightly crispy.
Making Nice in the Midwest http://makingniceinthemidwest.com/