Sugar Free Granola | HEALTHY ALMOND CRUNCH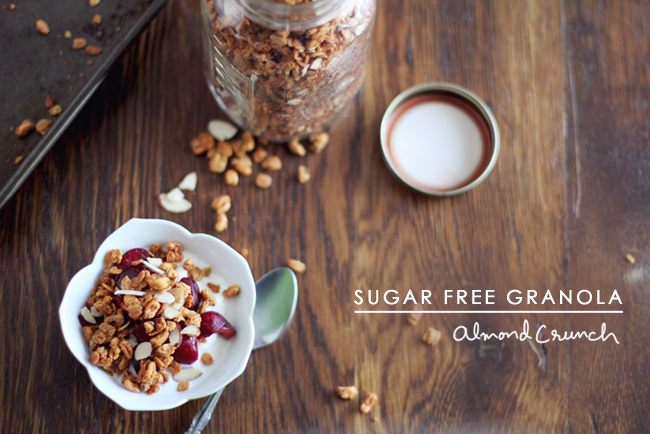 Making a decision to live a healthier lifestyle was an expected reaction to a victory over cancer. But following through with that decision after my taste buds regained their strength? That was the tricky part. I've been admittedly struggling to limit my sugar intake, now that I don't have to rely on my memory to know what chocolate cake tastes like. So my plan is to limit refined sugar as much as possible, saving indulgences for the good stuff, like Sunday morning romps with my favorite local bakery.
Morning meals these days consist of in-season fruit with a half a cup of plain, nonfat Greek yogurt. I don't mind the plain yogurt so much as long as there's plenty of good stuff to mix in. And that includes a tasty and crunchy granola. After scouring my health food store for a sugar free variety to try, I realized that basically all of the granola on the shelves contained refined sugar in one way or another. Evaporated cane juice on the ingredients list didn't fool me! And I wasn't about to waste my sugar allowance on that stuff. So what's a sugar-free girl to do?! Make her own granola!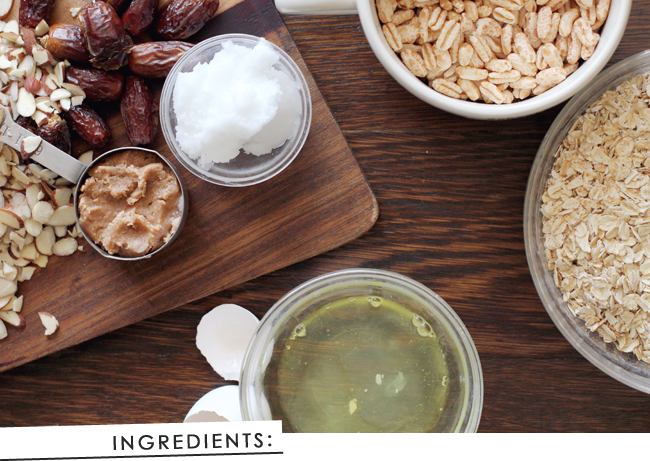 3 Cups of "old fashioned" rolled oats
2 Cups of puffed Kamut
1/2 Cup of sliced almonds
1/4 Cup extra virgin coconut oil
1/4 Cup almond butter
2 eggs whites
12 pitted dates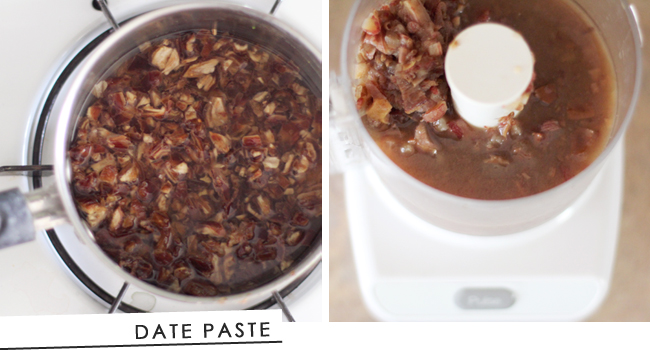 Most granola recipes consist of dry cereal mixed with a combination of fats, sugars, and other flavorful mix-ins. Coconut oil is my preferred choice for healthy fats, and dates are a great naturally sweet sugar substitute. I liked the idea of a whole food ingredient to replace sugar, but I didn't think chopped dates would properly do the job. I wanted each crunchy bite of granola to have a sweet taste. So I decided to make a date paste, mimicking the consistency and taste of honey, without the refined sugar element.
To make the date paste, I took a dozen pitted dates, chopped them, and added just enough water to cover them in a small sauce pan. I boiled them, uncovered, until the liquid reduced by a half. After letting the pot cool down, I transferred the dates and the liquid into a food processor (A blender would probably work too.) and pulsed the mixture until it became a slightly runny, pasty consistency.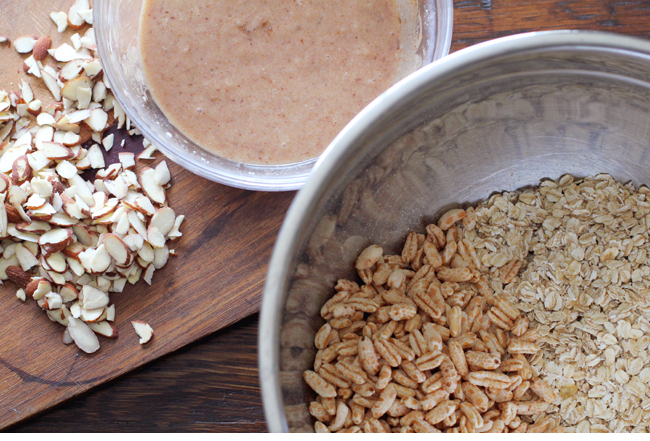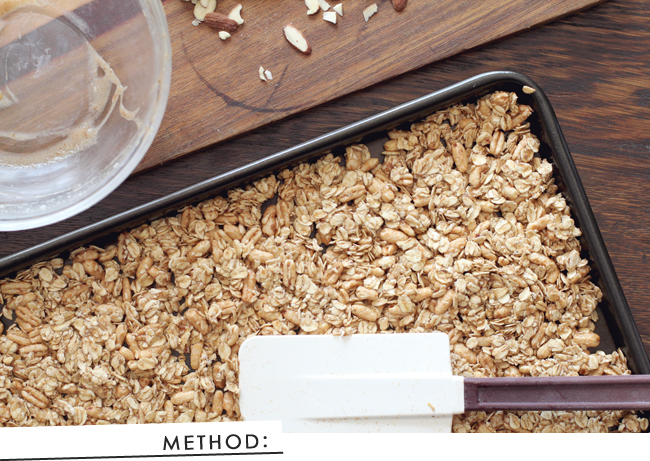 Preheat oven to 300. Spray 10×15 jelly roll pan with cooking spray or cover with parchment paper.
Combine date paste with melted coconut oil, almond butter, and egg whites. Mix well then combine with oats and kamut. Spread and press into jelly roll pan.
Cook for 30 minutes, removing every 10 minutes to toss cereal so it bakes evenly. Add sliced almonds after first 10 minutes.
Allow to cool before removing from pan or tossing again- this creates those nice little clumps of granola that add a little extra crunch.
Recipe makes 18-20 140 calorie 1/4 cup servings.
I've been playing around with new healthy granola variations, but I have a feeling this Almond Crunch Granola will be a favorite. I love it with vanilla greek yogurt and sweet cherries, but also like it as a topping over broiled peaches for dessert. I don't even miss the sugar!