A Day in the Life with Lucy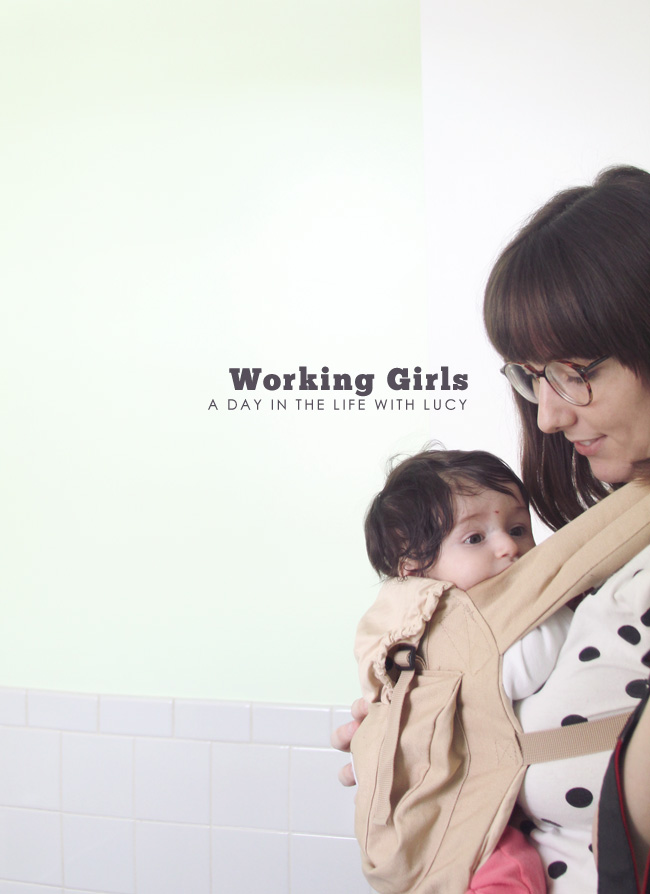 Life with a baby is anything but predictable! Some mornings I open my eyes in the darkness before dawn and see a pair of big dark eyes staring back at me. And I know I'm in for a long day. Other times, the bright light of afternoon filters through my curtains and lets me know Lucy's been a darling and we get to enjoy breakfast at lunchtime. (What?! Yeah, this happens.) But lately we've been starting our mornings around nine, and both of us begin the day feeling rested and happy to be with each other.
Phil and I co-sleep with Lucy, and I think that helps a lot when it comes to a quality night's sleep these days. When she wakes up in the middle of the night, all I need to do is roll over to feed her, and we both just lay there in a twilight state and quickly go back to sleep. Next thing I know, it's morning! We lay there and play in bed for a short while, then I get her dressed for the day, lay her in her crib while I get dressed, then put her into our Ergo baby carrier to make my breakfast smoothie followed by coffee and some light reading.

By this time, Lucy's eager to lay on the ground and play happily with her toys while I flip open my computer and see what chaos is waiting for me in my e-mail inbox(es!). I check out my social media outlets, respond to e-mails, work on writing blog posts, and work on client projects for Freckled Nest. Sometimes Lucy watches me while I work on projects for the blog or while I start food prep for lunch or dinner. But usually that's pushing it. She starts getting tired again around eleven, and by noon she's all worked up and fighting naptime.

When Lucy starts grabbing at her face and grunting out pathetic little cries, I know it's time for her nap. This doesn't happen at the same time every day, and while sometimes she's ready after three hours of having been awake, sometimes she naps earlier or later than that. We don't schedule her sleeping, we just try to read her cues at this point and help her sleep when she needs it.
So how do I get this fussy baby to sleep? Before I was a mom, I had no idea such a thing could be so difficult. But I think I've figured out the science to putting Lucy to sleep. First she gets a dry diaper, some fresh food from Mama, and then she snuggles up in our Ergo while I sit on a fitness ball and bounce away and shush loudly to the bouncing rhythm. On bad days, we do this while Baby Einstein plays in front of her face. Apparently Baby Einstein is magic! Phil's parents got us this box set for Christmas that Lucy just loves! So thankful.

Finally! Thank you Jesus. Lucy is asleep! I tiptoe out of her room where I have laid her in the crib, pray that my ankles don't crack as I walk (the weirdest thing wakes up this baby!), and then do a little dance once I've disappeared down the hallway. Let the whirlwind of productivity begin!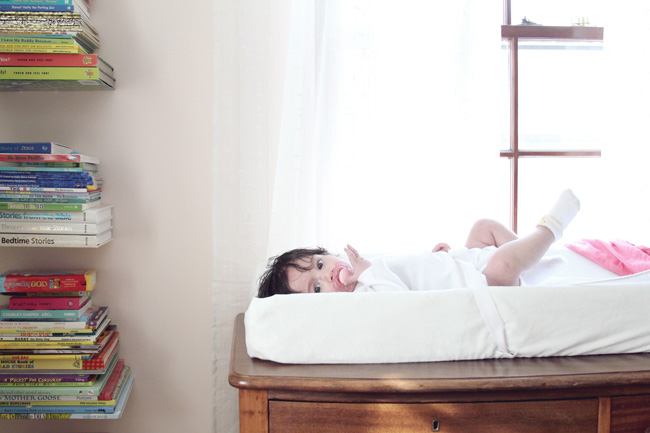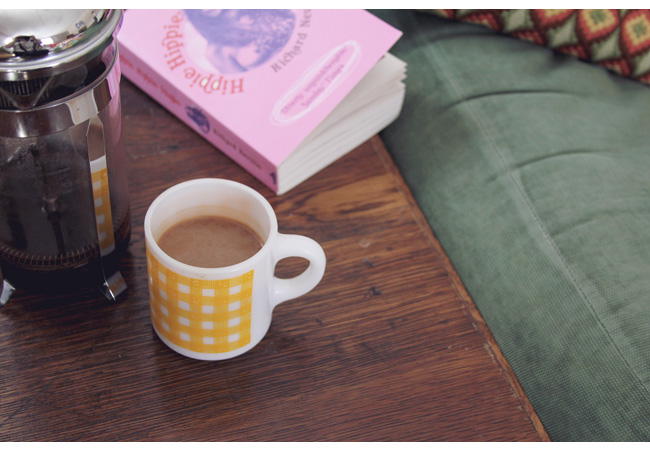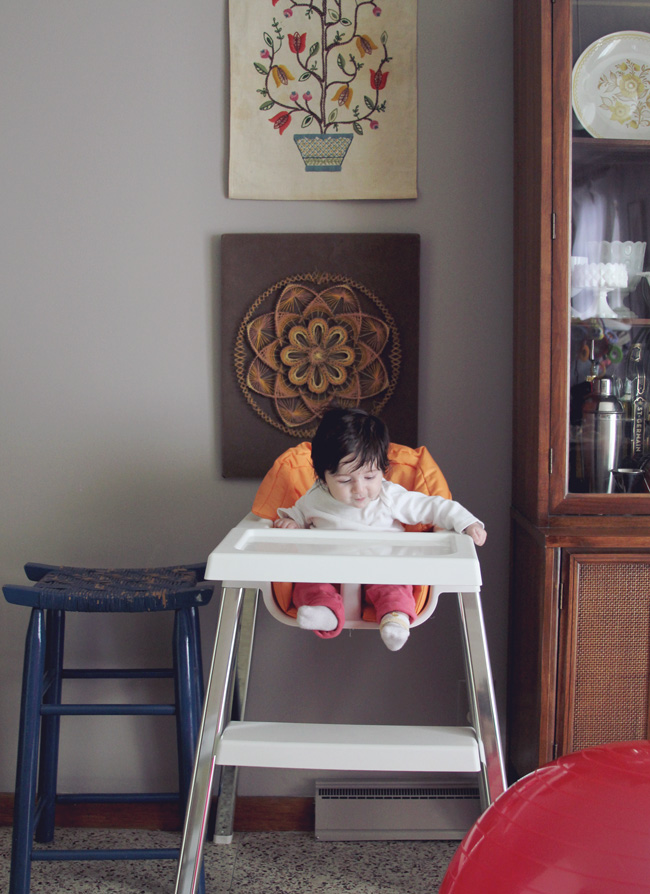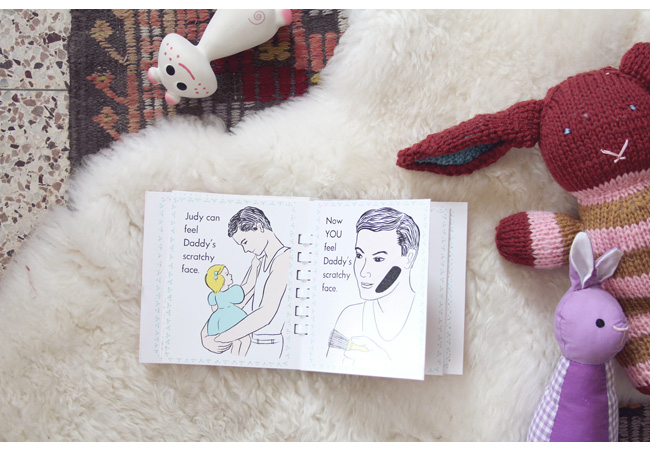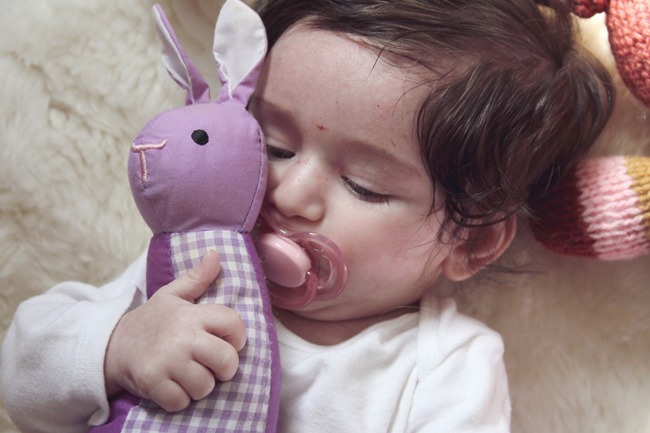 Before Lucy came into my life, I worked from home with about the same productivity as I do now. What?! How is that even possible? I'll tell ya, these days if I have a spare second, I'm amazed at what I can accomplish. I'm way more efficient  and much more conscientious about redeeming the time. If I have a spare moment now, I'm not sure when the next one will come along. So I get something done. I still have the luxury of time-wasting activities like browsing Pinterest and (ahem) blog reading. But I get to do that fun stuff while holding Lucy while she nurses, while I'm pumping milk for storage, or while I'm bouncing the babe to sleep. (Now when you see pins from me popping up on Pinterest, you'll know the chances are good that I have a baby on my breast! Ha!) It also helps that Phil and I share a car, so unless someone is assisting me, I'm stuck at home until Phil's back from work. The lack of an extra car certainly helps remove potential distractions from work!
While Lucy naps, I eat lunch and then pull out my supplies and get to work on my to-do list, take pictures for blog posts, update Fine & Dandy, and sometimes do work for design or photography clients. I prioritize this time by first tackling the task that is stressing me out the most. Then I can take a breath and cheerfully work away at the rest of my to-do list. And about halfway through that list is when Lucy decides to wake up and demand my attention once again. It's cool, I'm usually ready to be distracted!

Sometimes this baby is entertained in the most productive ways! She loves to sit in her Ergo carrier and watch me dust, vacuum, do dishes, or get dinner ready. Everything interests her, and she seems to think housework is simply the most fun ever! I'm hoping I can wield this for good in the future. Midday is a great time for me to straighten up the house a bit, because I usually make a big mess when I'm slicing, dicing, and working my magic in the kitchen preparing dinner. Plus, it's really awesome when Phil gets home from work and the house is sparkling clean and he's caught me mid-chore. Lots of points for me! But I'll admit, sometimes it's nice when he comes home when the house is a giant mess and Lucy is in the throws of a big fit. He knows my days aren't easy, but his walking in the door to find chaos awaiting is a nice reminder for him every now and then. I kid, I kid. (Mostly.)

Phil's a school teacher, so he gets to come home a bit earlier than most working dads. I'm so thankful for that, and that he still has a job for a couple more months! His school district is making big cuts after this school year (and his name is on the list), so who knows what sort of job Phil will have after this May, and who knows how this change will affect our schedule? But if there's anything I've learned about having a baby in our life, it's that flexibility is crucial to survival. Until she's old enough for scheduling, we have to be able to adapt our plans to what Lucy has in mind, and you know what, this control-freak is okay with that! Little Lucy, you're already teaching your mama more than you'll ever know.
Lucy's highchair here, her baby carrier in multiple colors here, nursery floating bookshelves here