DIY | Heart Sugar Cubes with Natural Pink Coloring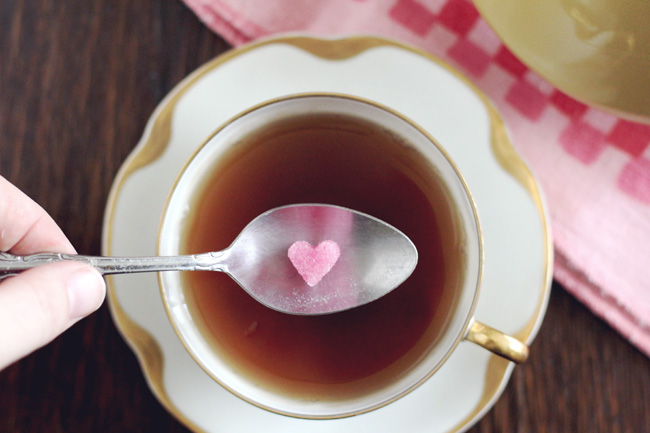 I think it's sweet that Phil enjoys drinking tea with me, but I thought tea time could be even sweeter if we had heart shaped sugar cubes! At first I thought I'd make my own with candy molds, but I liked the more cube-like appearance that this tutorial achieved. Only problem? I wasn't willing to put nasty red food coloring into my tea, so I decided to try making my own all-natural food coloring using beets! Crazy, right? I love how these little pink heart sugar cubes turned out, and I promise there's no trace of beet taste to be found.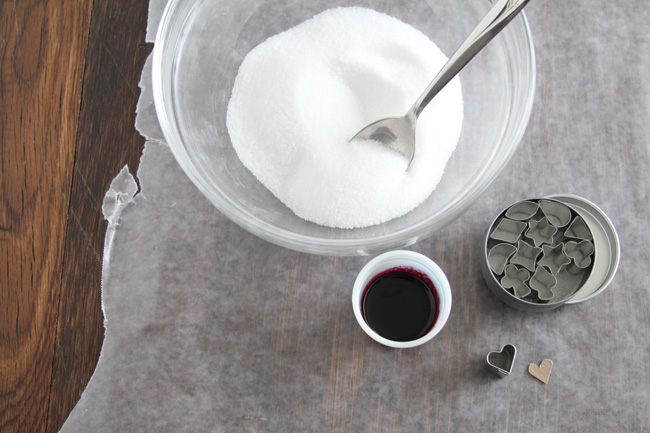 1/2 Cup sugar
beet juice (fresh or from can)
small sauce pan
jelly cutters (I bought mine here)
wax paper
2 Tablespoons of water (this is approximate)
tiny piece of cardboard
spoon with narrow handle

First, make your all-natural food pink coloring by simmering about 1/4 cup of beet juice in a small saucepan for a few minutes. Let it reduce to a syrup that slightly clings to the spoon, but still easily drips off. Pour into a small container with a lid, and store in the refrigerator. This beet juice food coloring gives your food a pretty pink color, but it won't taste like beets- I promise!
Next, pour your sugar into a small mixing bowl and add a couple of drops of your pink beet food coloring along with a couple of drops of water. Mix together with a spoon, spreading the color and turning the sugar into a sandy texture. Don't use too much water, or it will dissolve and your sugar cubes won't form properly.
Trace around your tiny heart cutter onto a piece of cardboard, and trim it to just fit inside of the heart cutter. On wax paper, fill the cutter with the sugar mixture and pack it in with your finger. Now lay the cardboard heart on top, place the end of the spoon's handle onto the cardboard, and push down gently onto the cardboard while simultaneously pulling up on the cutter. Now you have a sugar cube! It might take a couple of tries to get the pushing/lifting pressure just right. But the good news is, if you mess up, you can just put the sugar back into the bowl and reuse it!
I'm so glad my cutter set came with different shapes- I can't wait to try lemon flavored stars or infuse diamond shaped sugar cubes with bitters for my cocktails. I packaged up these heart sugar cubes into favor tins to give to friends, but first I enjoyed one or two with a cup of tea.