DIY SKINCARE: All Natural Recipes for Healthier Skin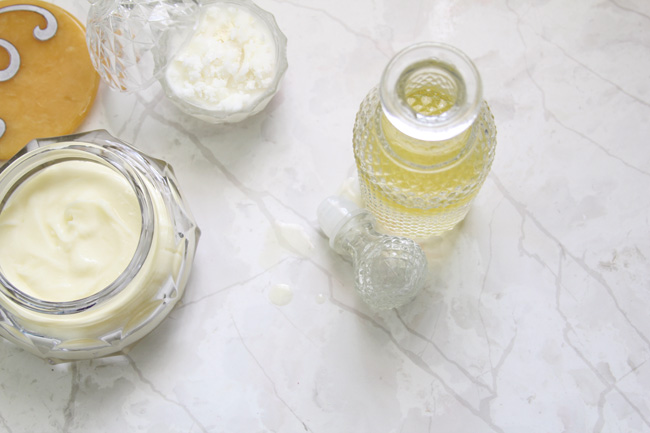 As intimidating as homemade skincare prodcuts was to me, I finally decided to give it a go. Through the years, I've spent a lot of money trying out different products to deal with acne, blackheads, and oily skin. I've even cut out gluten and dairy. Some of the products I tried out were pretty helpful in controlling my oily face situation, but I wasn't happy with the list of chemicals in their ingredients. Lately I've been passionate about eating whole foods and trying natural remedies, so why not try natural skincare products?

To start out, I researched a lot about natural skincare and learned about the oil cleansing method (where you actually use oil to cleanse your face), read about different kinds of oils, and found different resources for cosmetic compound developments. I decided that I wanted to try a combination of oil cleansing, all natural skin exfoliant, and the old fashioned method of using cold cream at night.


The oil cleansing method relies on the theory that clean oil is the best way to draw out the dirt and oil that clogs pores. It also does not strip your skin of its oils, which would trigger your skin to produce more oils, in turn clogging your pores and also creating an excessively oily face. It might seem counter productive to add oil to an already oily face, but people swear by this method, so I'm giving it a go!


My next step in developing my own skincare was deciding what kinds of oil to use, I've read about the benefits of grape seed oil, almond oil, jojoba oil, extra virgin olive oil (EVOO), and extra virgin coconut oil (EVCO) for your skin. Lots of options, all with different success stories to accompany them. Since my friend Stephanie had recently sung the praises of EVCO, I decided to go this route. After reading about it online, though, I found out EVCO only seemed to work miracles for about half the people who used it, while the other half experienced good results for the first month, and then experienced awful breakouts which compelled them to stop using it all together. Some people maintain that it can work for everyone if their pores are clear before allowing it to sit for a long period of time on your skin. I kept all of this in mind while developing my skincare routine, and still decided to stick with using extra virgin coconut oil on my face, while mixing it with other products.



Since I didn't want to experience the pore clogging that can sometimes result from using EVCO, I thought it might be a good idea to use a skin exfolient and cleanser first. I still wanted to use coconut oil to cleanse my face, though, so I thought the best compromise would be to combine coconut oil with other elements to clean and exfoliate my skin. Lemons are not only antibacterial, but they also contain asorbic acid which strip away oils and act as a natural exfolient. They can be harsh, though, so in my face scrub I added some vitamin E oil which acts as a cleanser, moisturizer, and also contains powerful antioxidants that fight skin aging. The addition of salt to the face scrub helps sluff off dead skin. (read recipe below)


The natural skincare regimen I decided on starts out with the old housewife tradition of nightly removing makeup with cold cream. I know what you're thinking. I thought you wanted to clean your face with oil? That's right! I still am. I created my own all-natural cold cream that contains mostly extra virgin coconut oil and extra virgin olive oil, but also has tomato toner (or rose water for more sensitive skin) to help extract oil and dirt from pores, beeswax to help soften and firm up skin, and eucalyptus oil to soothe and heal skin. (read recipe below) To remove my makeup, I use my hand to apply the cold cream all over my face (except my eyes, more on that later), and then use a clean, slightly damp washcloth to wipe it all off. On days I don't wear makeup, I just skip to the next step up gently scrubbing my face with the exfolient I made Then I apply a very light coat of the cold cream and allow it to sit greasily on my face all night, which softens my skin, reduces the appearance of scars and fine lines, and also reduces my skin's tendency to overproduce oil. In the morning I just dab at my face with a warm, damp washcloth and apply my makeup as usual.


I mentioned that I don't use the cold cream to remove my eye makeup, though that might change, depending on how much I enjoy using this all natural eye-makeup remover. I made a solution of extra virgin coconut oil to cleanse and moisturize, vitamin E oil to cleanse, moisturize, and fight aging, witch hazel to really get at that hard to remove mascara, and water to dilute everything and lessen the astringency of the witch hazel. I moisten a cotton ball with this solution, wipe it across my eyes until all of the makeup is removed, and then begin the rest of my skincare regimen as mentioned in the above paragraph.


This whole system is brand new for me, and since I'm making it myself, I have the ability to tweak the ingredients as I feel necessary. Because of the horror stories I've read about some people's poor reactions to coconut oil, there's a chance I might try switching to grape seed oil or jojoba oil as alternates. I may also tweak my cold cream recipe to include more tomato toner and beeswax.  I'll admit, I'm a little scared about using my own homemade skincare products. But I'll keep you all updated as to how I'm doing with my new regimen! Check out my all-natural skincare recipes below to make your own homemade products too.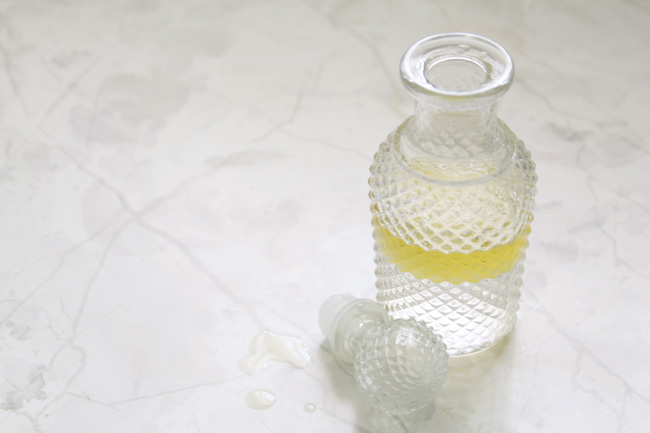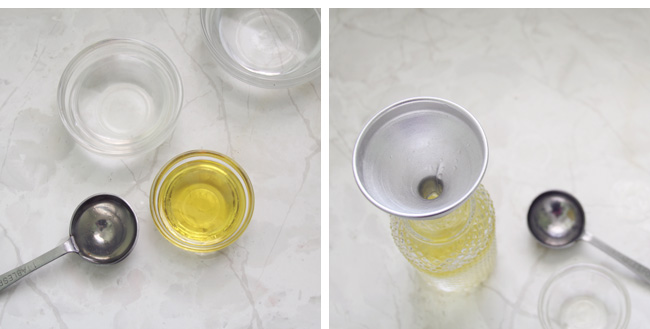 Using a funnel, pour all ingredients into an eight ounce bottle that has a secure lid. Shake ingredients before each use.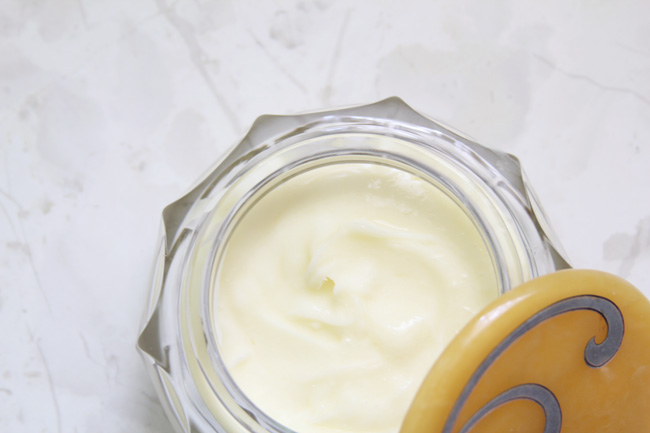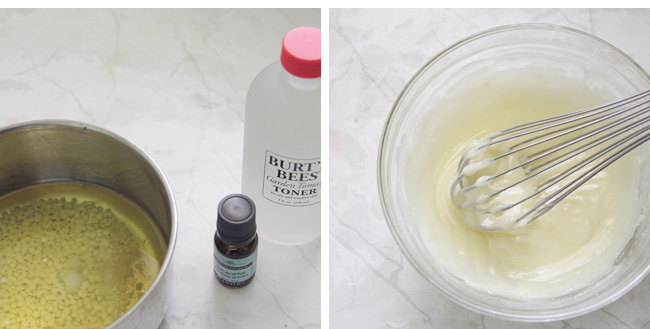 In a small saucepan over low heat, melt together the first 3 ingredients. This only takes several seconds. Pour into a tempered glass bowl or metal bowl and add the last two ingredients. Whisk together quickly, and as the mixture cools, it will turn into a creamy consistency like bavarian cream. Yummy! It doesn't taste yummy like bavarian cream, but it is totally edible. Carefully spoon mixture into an eight ounce container with a lid.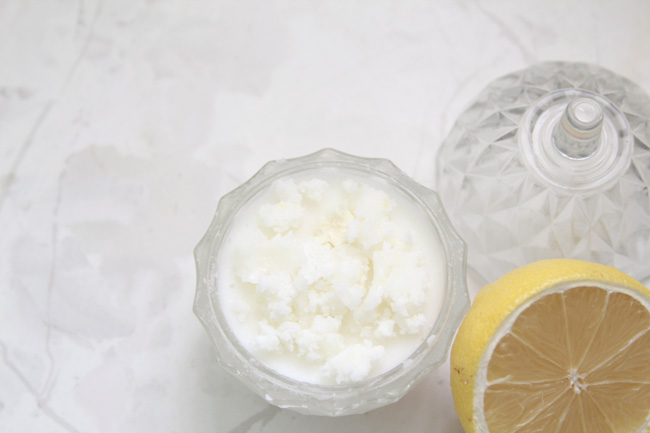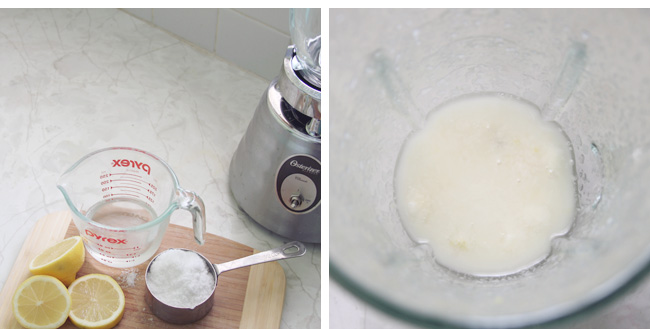 Melt the coconut oil and combine with all other ingredients into a blender. Blend until there are no lemon bits visible. An eight ounce container is a bit too small for this, but you can use the overflow immediately and store the rest in an air-tight container.