Guest Bartender Makes: A LIGHT IRISH CREAM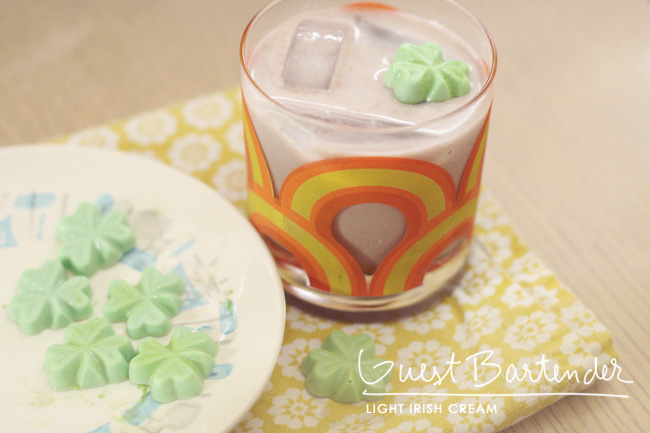 I love a good creamy cocktail, but am not a huge fan of all of the calories that come with it. Thankfully, my long-time blogger friend, Danielle Thompson of Kitschy Digitals, is here to share a low cal Irish cream recipe with us! Here's what she has to say about the drink:
Around the holidays last year, I was wanting to make sure that I could splurge on sweets (since I have a major sweet tooth!), but not overdo it. I also knew I'd be drinking lots of cocktails around this time (drink and be Merry, right?) and I knew those would be a lot of extra empty calories. So I opted for a low-fat, low-calorie version of my drink of choice, Irish Cream (adapted from this recipe) – and believe it or not, it is heavenly! I still love drinking it now, even after the holidays, and with St. Patrick's Day coming up soon, it fits the theme.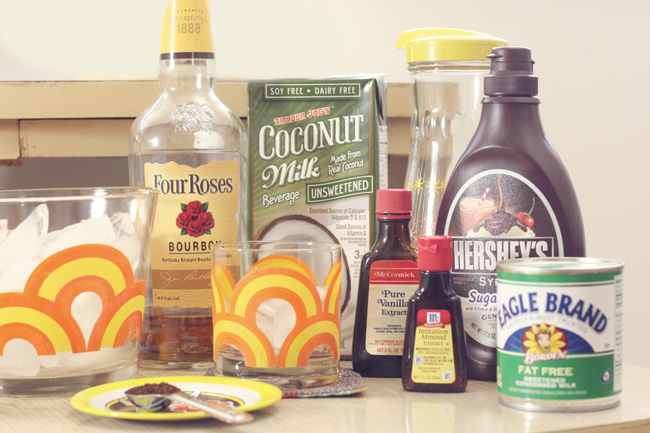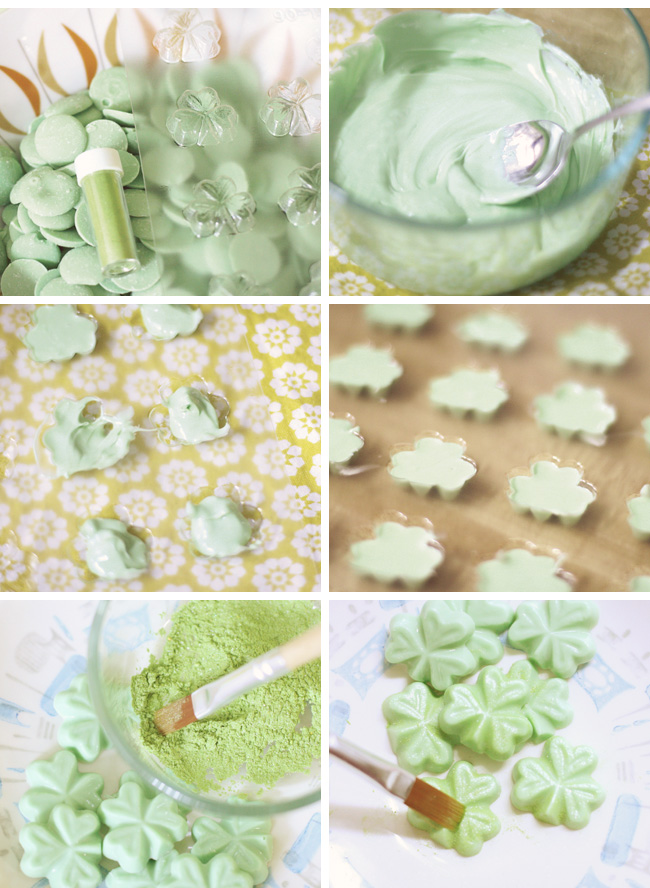 1 clean empty bottle with a secure lid to store your Irish Cream in the refrigerator
1 1/3 cup Irish Whiskey (I used Bourbon because that is what we had around the house. If you want to be a purist, by all means, use Irish Whiskey! You can read an interesting post on the difference between Bourbon and Irish Whiskey here if interested.)
1 Cup Unsweetened Coconut Milk
2 tbs Sugar-Free Chocolate Syrup
1 – 14 oz can Fat Free sweetened condensed milk
1 tsp instant coffee
1 tsp vanilla extract
1 tsp almond extract

Just mix them all together on high speed in a blender! Super easy. Once it's thoroughly mixed, pour over ice.
To make the candy garnishes, you will need:
Four Leaf Clover Chocolate Mold (I bought mine locally in Atlanta here but you can also find them on their website)
(Optional) Edible Green Pearl Dust to give it a shimmery look (I used this)
(Optional) Paint Brush
Put your melting wafers in a microwave safe bowl. Microwave for a minute and then take out your bowl and mix your chocolates with a spoon. Keep heating the wafers in 20 second intervals and stirring in between. Once they are thoroughly melted, spoon a small amount of chocolate into each clover in your mold. Once they're filled, lightly tap the mold on a counter top to remove any air bubbles and to even out the chocolate. Carefully set your filled mold in the freezer for 10 minutes. Pull them out and tap on the back of your chocolate mold to release the four-leaf-clovers. You can leave them as-is, or brush on your Green Pearl Dust, making sure to get into the crevices of the clover with your paint brush. Serve them with your Irish Cream, or add one to your drink as a garnish!