Guest Bartender Makes: A HOLIDAY COSMO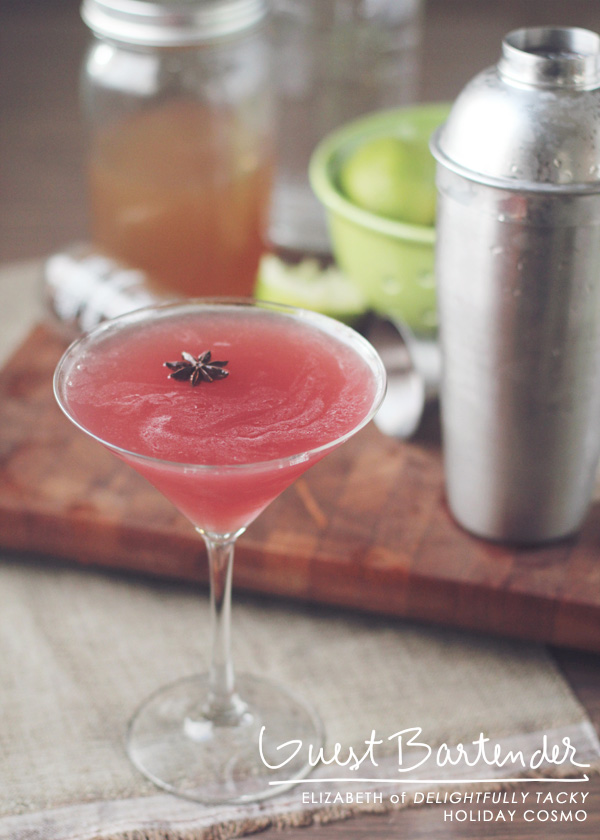 Today Elizabeth has a very special holiday cosmo to share with us! And I can't wait to try it. Here's what she has to say about the drink:
I recently stopped in at 1022 South, one of Tacoma's gems (an absolutely incredible cocktail bar/apothecary) and ordered their holiday cosmopolitan, which absolutely blew my mind. It was such a perfect combination of the classic holiday flavors of ginger and cranberry. So for this recipe, I set out to attempt my own version of their delicious cosmo with a similar holiday twist on the standard recipe! This would be a perfectly festive drink to serve at a holiday party. I think my favorite touch is the star anise garnish, which adds an extra bit of flavor, and looks pretty cute floating around in your drink!
Elizabeth is a friend I met through blogging- I love finding kindred spirits through this blog, even though we may never meet in person! She lives far away from me in the Pacific Northwest and blogs about fashion and life at Delightfully Tacky. We both were members of The Delightful Dozen for a bit, and worked with Freckled Nest as blog designers. Thanks for sharing your creativity with us, Elizabeth!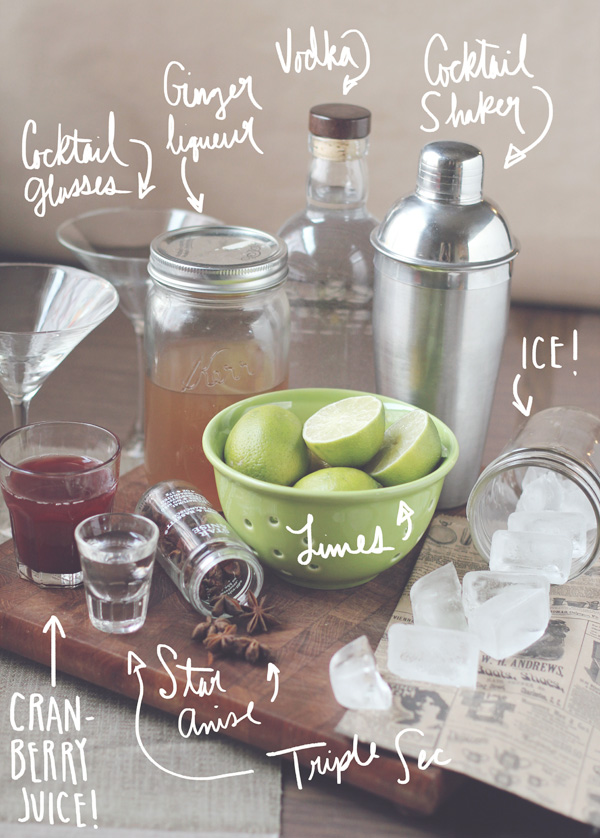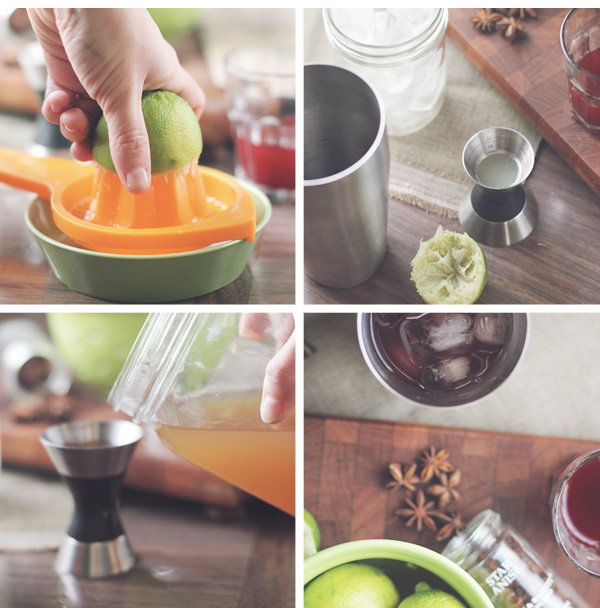 A cocktail shaker
Ice
Cocktail glasses (appx 8 oz)
1.5 oz Vodka
2.5 oz Cranberry Juice (preferably just cranberry juice, not juice cocktail. Elizabeth used R.W. Knudsen Just Cranberry)
1/4 oz Triple Sec
1/4 oz lime juice (freshly squeezed or otherwise)
1 1/3 oz ginger liqueur (make your own, or use Domaine de Canton)
Star anise

Place all ingredients in a cocktail shaker, fill with ice, and shake until it's almost too cold to hold (appx 30 seconds).  Strain into a cocktail glass and toss a star anise in there to garnish (it adds some awesome flavor as well)!  Makes one 8oz drink. Be sure to check out Elizabeth's blog post about how to make your own ginger liqueur!