FOOD FILES | Sweet Potato Holiday Slaw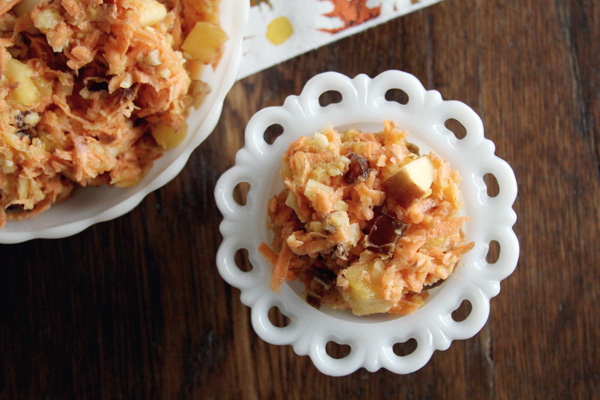 When I was in high school, my mom scheduled my wisdom teeth to be removed. The day before Thanksgiving. I was so bummed to miss out on the feast that everyone else was enjoying! But this year I would rather have big holes in my mouth than to deal with all of the dietary restrictions Lucy's doctor has me on. (If you follow me on Twitter you may have seen this tweet, and since then I found that peppers are also on my restrictions list.) Since I'm heading to a family potlock style gathering, there's bound to be gluten, dairy, paprika, potatoes, and lots of other foods I'd love to be eaten but have to go without. So what's a girl to do? Well, I'll be towing along a few dishes I know that I can enjoy, and Lucy can too!
I found this holiday slaw recipe a few years ago from a raw/vegan book, and was delighted to find that my vegan-weary family members enjoyed it as much as I did! If you have dietary restrictions this holiday season, or if you just want to add a healthy treat to your holiday gathering, you simply must try this recipe!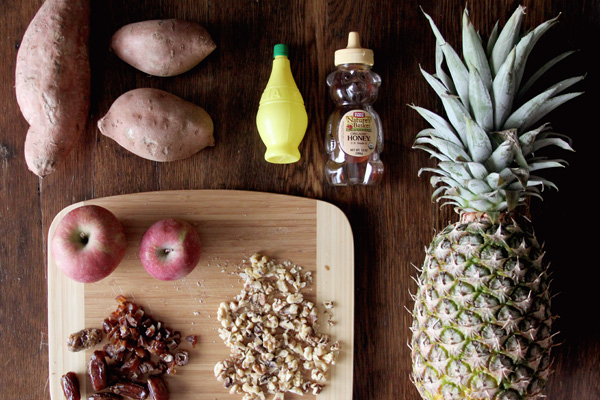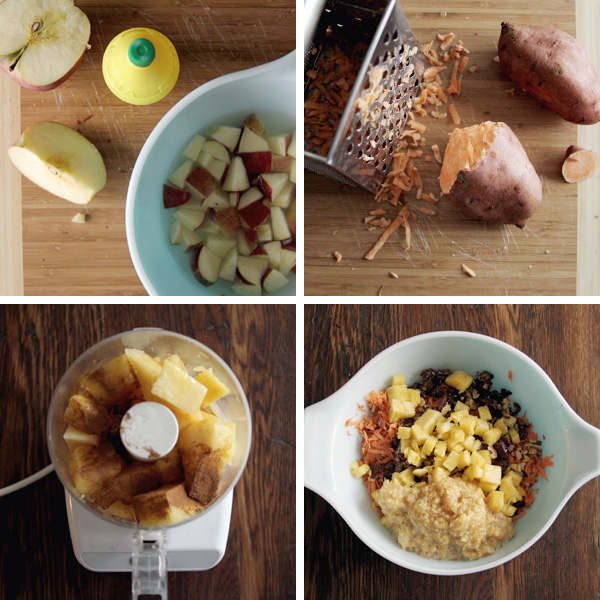 3 medium sized sweet potatoes
1 pineapple
2 medium sized apples of your choice
1 cup of chopped dates
1 cup of chopped walnuts
3 tablespoons of honey
Lemon juice
(optional) ground cinnamon
(optional) 1/2 cup of veganaise or mayonaise

After cleaning the sweet potatoes, grate them (skins on) and set aside in a large mixing bowl with chopped dates and walnuts. Clean and chop the apples (skins on) and toss in slightly diluted lemon juice. Drain apples and add to the mixing bowl. Chop the pineapple into small pieces, reserving half for the next step (or 1/3 if you plan on using veganaise or mayonaise in your slaw), and add to the mixing bowl. Add the reserved pineapple with honey, veganaise (I had to omit this and mayo because of my dietary restrictions) and cinnamon (if you choose) to a food processor or blender and mix into a puree. Add the puree to the rest of the ingredients in your mixing bowl, and stir to combine.
If you are planning on making this ahead of time, then I suggest reserving your walnuts until right before serving. They keep reasonably well, but if you want maximum crunchiness (which, you do!), then you may wish to wait to mix them in.