DIY Gift Idea: Travel Dice Game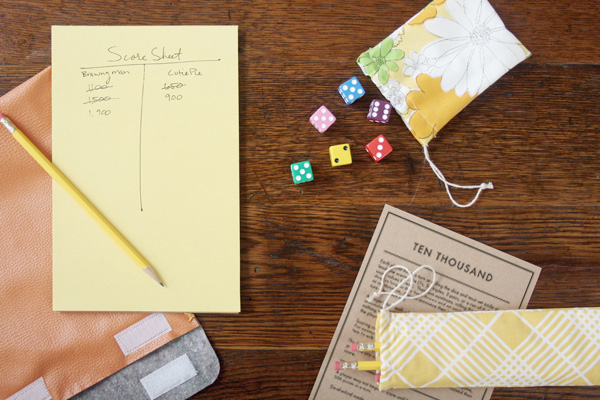 This year our family is keeping it low key for Christmas gifts, dialing down the number of gifts, and planning on making and finding unique and personal presents. Since we all love playing games as a family, I thought it would be fun to put together travel dice games for each couple. They're special, useful, and can add a lot of fun to waiting rooms, half-times, and road trips.
My family's dice game of choice is 10 Thousand, but we're always arguing about points, and can never remember the rules! So, I thought, why not include the rules in the set? I've included the printable rules for download here, so you can make your very own travel 10 Thousand dice game!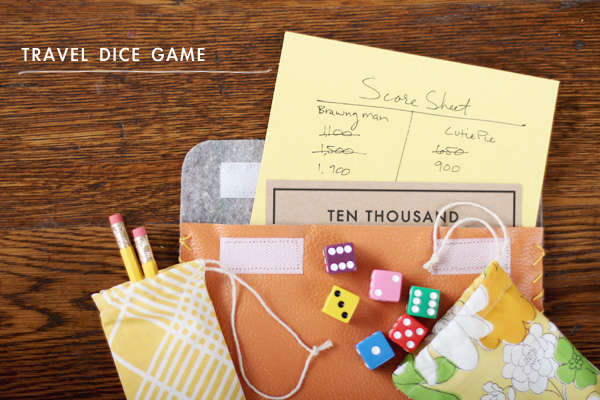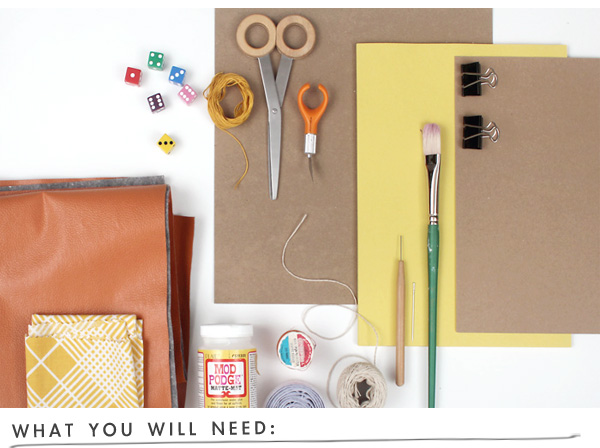 scrap fabric in 2 coordinating prints
leather or vinyl in coordinating color to scrap fabric above
velcro
sewing machine
embroidery floss
embroidery needle
ribbon or twine
card stock
stack of construction paper
book clips
xacto blade or utility paper cutter
mod podge
paint brush
pencils or pens
scissors
6 dice (I found my colorful dice at a teacher/school supply specialty store)
piece of chipboard
steel ruler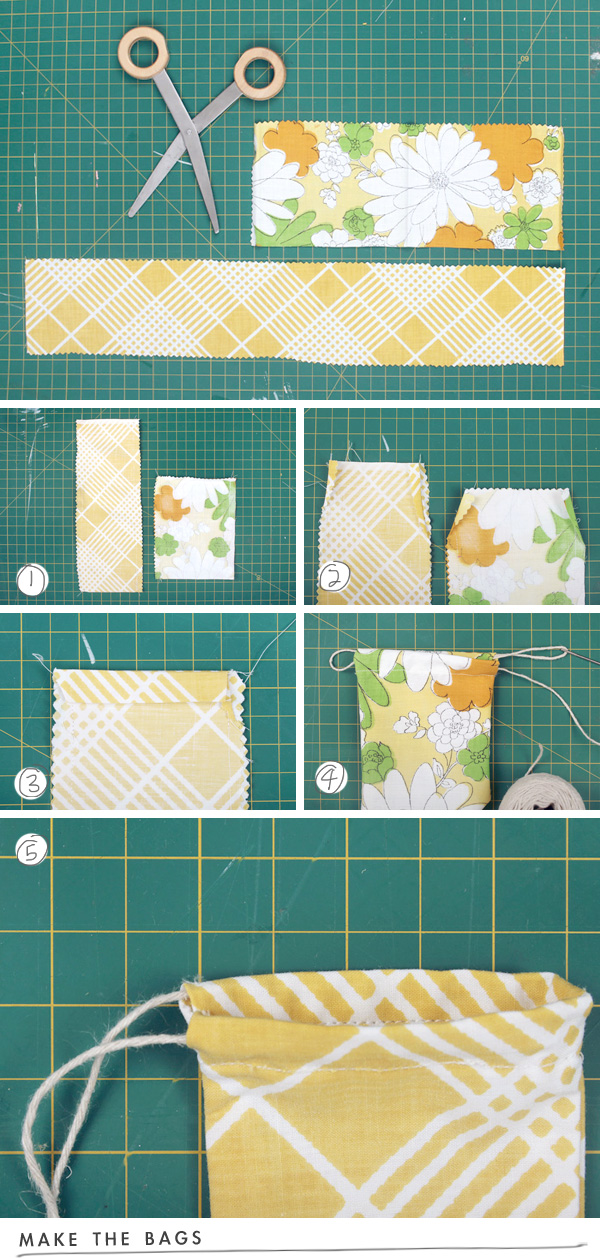 You'll need two pouches for your travel game- one for the dice, and one for your writing utensils.
Fold Fabric in half, and cut to size- one cut to the size of your writing utensil (plus about two inches extra length), and one big enough to fit your dice. The exact size is your preference. Just be sure to leave the fold on the bottom!
Fold in the edges of the top of both layers of fabric, and iron them so that they will stay put.
Now fold down the top of both layers twice, and hem along the very edge, so that you have created a pocket for your ribbon or twine.
Thread the twine or ribbon through the pocket you've just made. I used a safety pin to make it easier to get the twine through.
Leave enough ribbon or twine to pull through and knot to close bag. Cut the ends and tie them together in a tight knot.

Now it's time to create your score sheet! This can be any size you want, but it should be at least 5.5″ x 8.5″ (this is the size of your printable rule sheet). You certainly don't have to make your own, but why not? It doesn't take long, and it's kind of fun.
Using book clips, clamp together your piece of chipboard to your stack of construction paper. Line them up on the grid of a cutting mat, and using a steel ruler and a sharp xacto blade, make a few passes with the blade to cut your stack to size. Make sure you keep your blade straight vertically.
Keep the book clips on the stack of paper and chipboard, and paint one edge with mod podge. Make sure it's thick enough that the edge is completely covered, but don't let any of the mod podge drip! Allow it to dry 24 hours, and now you have a tearable pad of paper!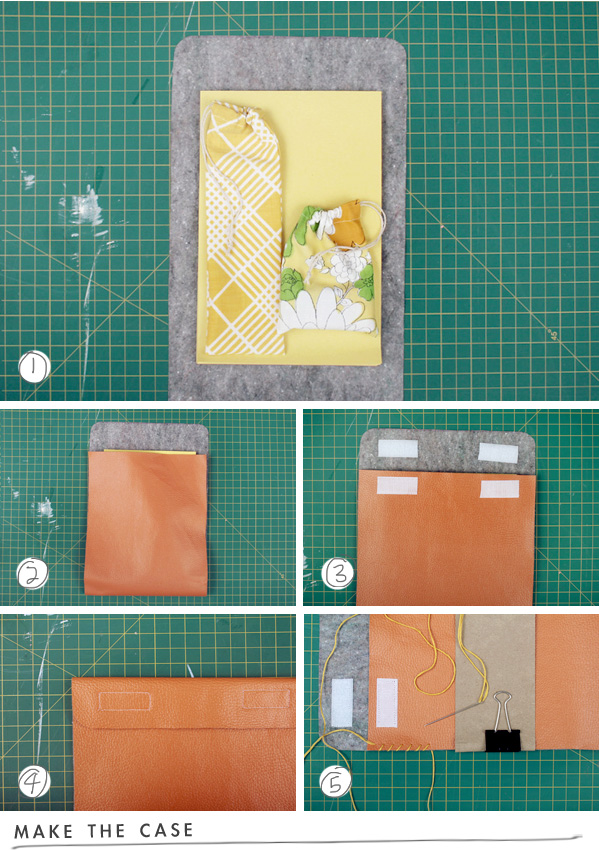 To neatly carry your dice game, you'll need a case! This is where your vinyl, velcro, and embroidery supplies come in.
Lay out your piece of vinyl or leather, and arrange the pad of paper and pouches you've made on top. Leave 3/4″ along the left and right side of the vinyl and fold the fabric over the pouches content to determine how much material you need to contain everything. Leave an additional 2 inches at the top for the flap.
Cut out the vinyl/leather material, and round the edges of the top flap. I did this freehand, but you can certainly use a round object as a template!
I used adhesive velcro and cut two piece (4 pieces once pulled apart) to the same size, and attached to the top and flap of the vinyl material, making sure the case could comfortably fit over the contents when closed. Then I pulled apart the velcro to sew each of the 4 pieces.
Carefully machine stitch around the edges of each piece of velcro. The neater you make your stitchers, the prettier your case will be. You will need to stitch over the adhesive vinyl, because the adhesive itself is not enough to make the velcro stick to you material.
Now, use a book clamp to keep your pouch secure while stitching the edges together with your embroidery floss. I used some extra chipboard as a barrier between the clamp and the vinyl, so it there would be no imprints.

Now all you need to do is print our your directions onto a sheet of 8.5″ x 11″ cardstock (in the color of your choice and fill the pouches with writing utensils and dice. I found some pretty colorful dice at a local teacher/classroom supply specialty shop called The Wise Owl.
Once you've neatly arranged everything inside the case, your dice game is ready for gifting! And if you're extra ambitious, find the rules for your own favorite dice games (like Yahtzee) and include those too. So many possibilities!