DIY | Paper Mache Hand Hooks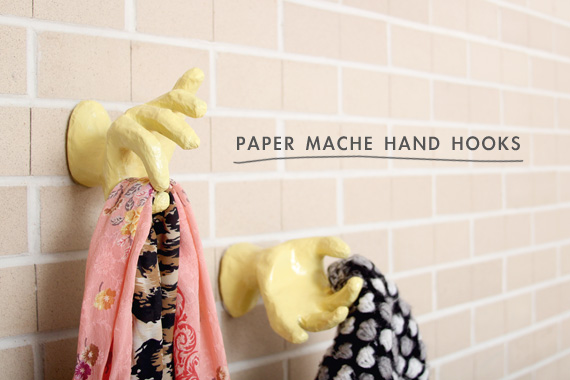 I've always admired those quirky modern wall hooks with a Tim Burtonesque whimsy to them. Are those hands sticking out of the wall fun, or just creepy? I think fun. When I found these paper mache hands at the craft store, I knew immediately what I had to do. Turn them into wall hooks for hats and scarves, of course!
These paper mache hands were found at the craft store with supplies that are meant for jewelry designers to decoupage and use to display their creations. They're not as sturdy as platser would be, but for light-weight items, they do just fine!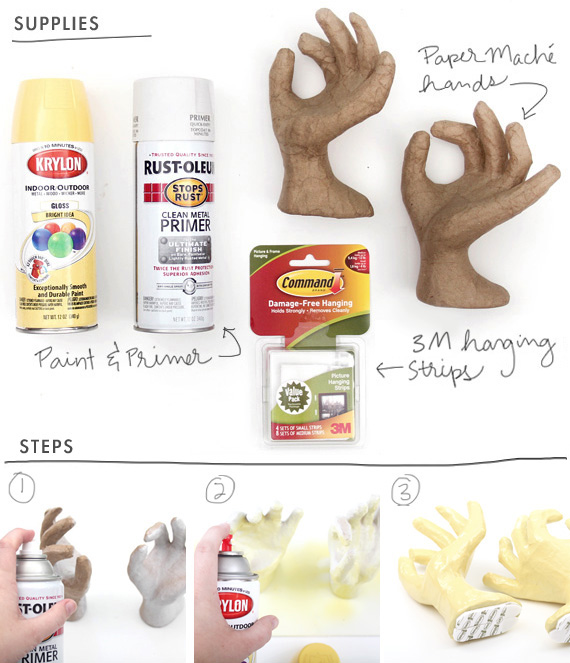 This is such a cheap and easy project, I can't believe I didn't try it sooner! You will need:
paper mache hand displays, in the style of your choice (I found mine for $2 each!)
spray primer in a tone similar to your finish color
spray paint in a matte or gloss finish (Matte might be better for the texture of the hands.)
sticky-back mounting strips. (Velcro ones don't work well for this project.)
1.) First, put your paper mache hands onto some disposable paper (or foam board, for a sturdy platform) and prime them in a well-ventilated area. Two coats ought to do it. 2.) After the primer has dried, it's time to add the color of your choice! This took me about four light coats of paint to completely cover the primer. Don't spray it on too thick, or it will drip. 3.) Trim the edges of your mounting strips to the shape of your hand mounts, and then mount to the wall! Wait the specified amount of time (noted on your adhesive strip packaging), and then hang the items of your choice! Just make sure the weight of what you hang doesn't exceed the recommended weight of your adhesive strips, or you might be startled to find a pair of hands laying on your floor!