DIY | Vintage Scarf Covered Hangers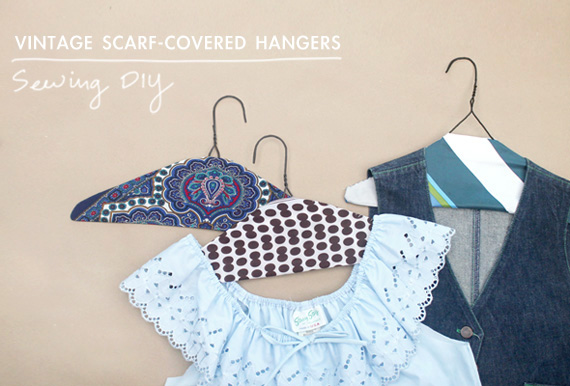 Faced with an overabundance of vintage scarves and ugly wire hangers, I decided to fix both problems by combining the two. Now my wire hangers have style worthy of the clothes hanging on them, and I can enjoy a little less clutter on my scarf rack. Check out the instructions below to make your own for gifting or prettifying your own closet!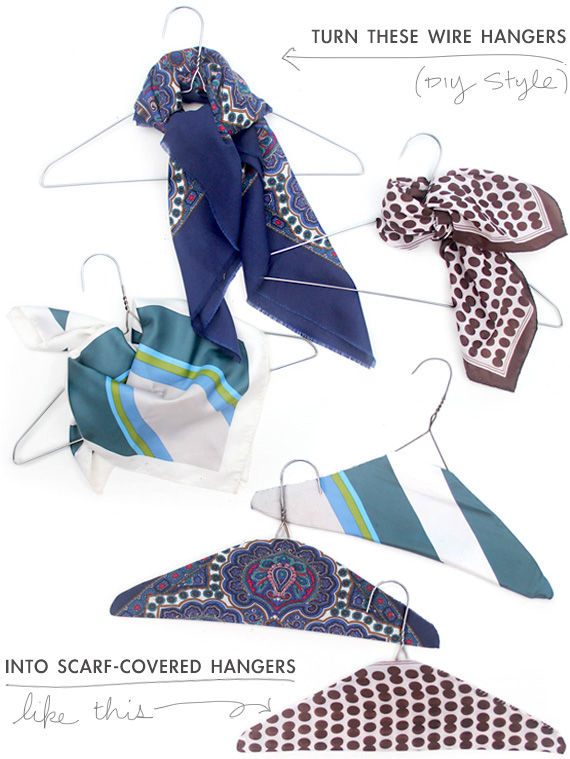 Depending on the size of your scarf, you can make multiple hanger covers out of each one.
Here are the supplies you'll need:
patterned neck or head scarf
fabric scissors
wire hangers
straight pins
needle and thread
sewing machine (not necessary, but makes the process easier)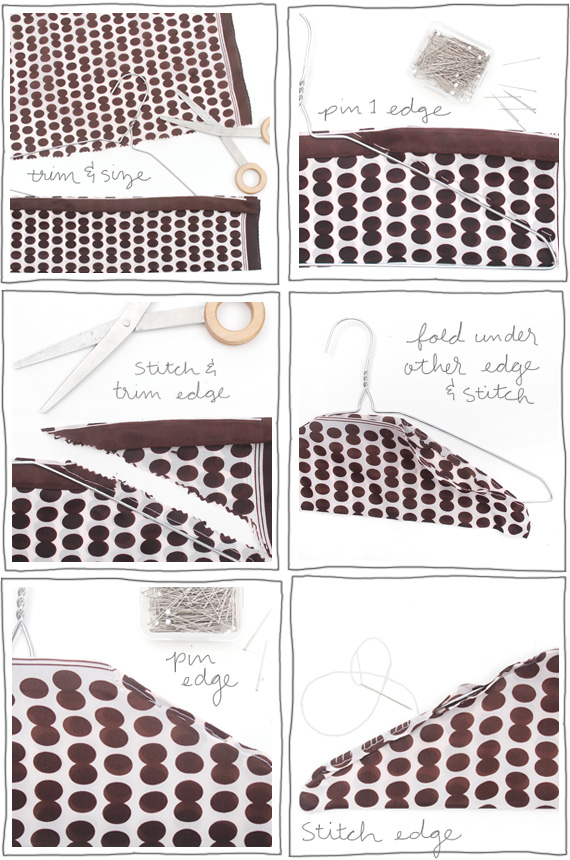 1.) Size up the portion of the scarf you will need by folding the scarf over your hanger. The fold should be at the straight bottom of the hanger, and you only need to fold over enough fabric to cover the triangle part of the hanger.
2.) Pin the fabric, wrong side facing out, along only one of the slanted edges of the hanger. Then stitch along the pinned line, and trim away the excess fabric.
3.) On the other slanted edge, pin and trim, but do not stitch it closed. Once it is trimmed, flip under both sides the edge (ironing if necessary), and hem each flap individually, not together. Make sure you are flipping and hemming fabric on the wrong side, not the side side of your fabric.
4.) Now flip the cover ride side out and fit it around your hanger. You still have one side open, each flap is hemmed and ready to be pinned around the hanger. After it's pinned securely, hand-stitch closed around the hanger.
Once you get really good at making your stitches pretty, you can create a whole collection of pretty hangers! They sure make your closet prettier, and would make great housewarming or wedding gifts as well.