Movie Mondays: Kiss Me Stupid 1964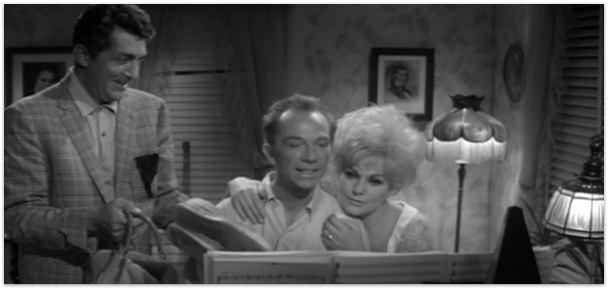 Kiss Me Stupid was surprisingly well reviewed on Netflix, and even heralded as many reviewers' favorite Dean Martin flick. Being a fan of the cheesy, Dino-always-gets-the-girls musical plots and 1960s style, I was intrigued and wondered why I had never seen this Billy Wilder movie form my favorite decade in film. I've always loved the beloved director's off-beat comedic style of sardonic story-telling, and knowing the strength of the top billing actors, I was all set to enjoy this classic film. Though, honestly, I ended up walking away pretty disappointed.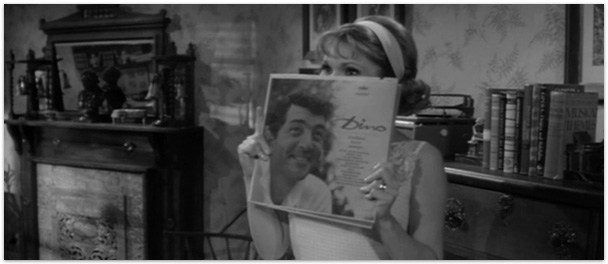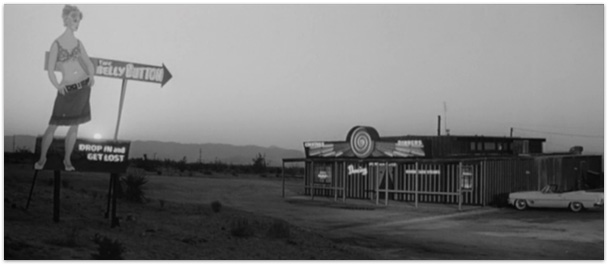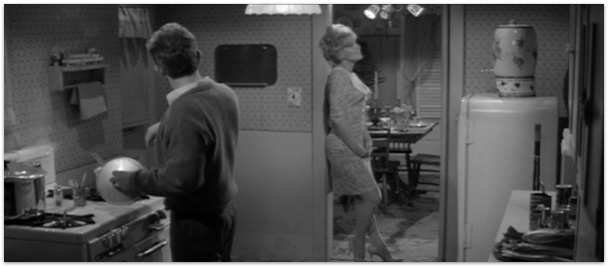 The best part about the movie, in my opinion, is the unique angle where Dean Martin actually plays a version of himself- Dino- a famous nightclub singer and musical performer with an infamous reputation for the bottle and the babes. The story is set up by introducing us to small-town piano teacher, Orville, who writes fluffy love songs, dreaming of selling a hit song one day, and constantly worrying that his beautiful wife will realize what a flop he is and leave him for someone else.
Orville is beyond excited and hopeful with Dino actually stops into his town for a gasoline fill-up, and after having a friend tinker with Dino's fuel line, the two concoct a plan t to host Dino at Orville's house, and sell the famous singer on one of their songs while he's stranded in their town. There's just one problem- Orville's beautiful wife, Zelda, admits to being head-over-heals for Dino, and Dino certainly doesn't hide his curiosity about Zelda, using her curvaceous dress form as a hint of things to come. Orville has got to get his wife out of the house, and find a replacement for her, before Dino either sweeps his wife off her feet, or Dino leaves town and Orville's chance of selling a hit song is gone forever.
The storyline is a great start for a fun film with plenty of situational irony, and with Billy Wilder at the helm, I didn't think anything could go wrong. Especially not with the ever watchful eyes of a still-conservative 1960s movie studio, right? I suppose you could still say the story was expertly told with excellent acting and beautifully paced scenes. There was a little music, but I certainly wouldn't call this a musical. All of the characters were likable and despicable in their own right. All of these are good things. I was just really disappointed by how so much of the humor revolved around marital jealousies and infidelities. The plot focused around how a scummy musical star's visit to a small town sets everyone to spinning, and while the characters each grew in their own right, I just really hate the overall message that cheating is normal, and even funny. So there you have it. If you can personally get past that major aspect of the movie, I would say it's a great piece of storytelling through film. But it just didn't float my boat, and so I'll count this one as a loss.