Beat the Heat Beauty | Easy 1960's-Inspired Updo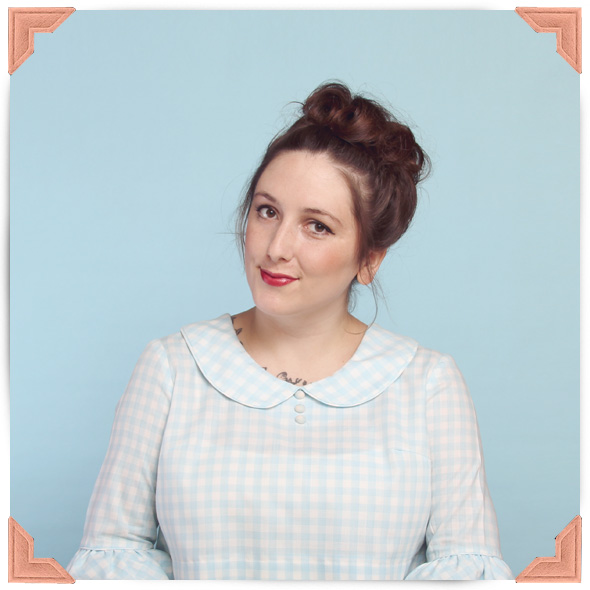 Since Phil and I are living without air conditioning these days, and I'm working on growing out my short hairstyle and bangs, my Summer style includes lots of updos. This variation is inspired by 1960's piled-high hairdos, famously sported by the likes of Bridget Bardot and Jane Fonda. The little ponytail atop the head secures your bangs, and gives height to the style. Check out the easy instructions below!

You will need: Curlers, Aeresol hairspray, ponytail holder, bobby pins, comb, and a curling iron
1 & 2: Heat up a set of small hot rollers (I used this set). After they're ready, pull up small sections of hair (starting at the top of your head), spray generously with aerosol hairspray, and roll your hair downward into the curler. If your hair is short like mine, don't worry about curling all of your hair. Just the top and front will do.
3 & 4: After the rollers have cooled, remove them and gently pick through your hair, fluffing up the curls a bit, without tugging too much.
5 & 6: Gather a generous amount of hair from the top of your head, and secure with a small ponytail holder. Make sure you get your hangs in here too! If your bangs are shorter, secure the ponytail closer to the front of your head. If they are longer, you can secure the ponytail closer to the crown of your head. Then spray and tease (I backcombed mine with a bristle brush.) the hair you've secured, and also the hair that still remains loose.
7 & 8: Using a bristle brush or fine toothed-comb, pull up the loose bits of your hair, not too tightly, and secure with bobby pins near the ponytail. After all of the loose hair has been secured, brush the sides upward with a brush or fine-toothed comb to smooth everything out.
9 & 10: Now, separate out some chunky curls, pinning them into place with bobby pins. After your curls are placed how you like, pull a tiny bit of hair out from around your temples, and curl with a hot iron. Check your curls once more, and give your hair one last generous coat of aerosol spray.
I love that my hair can now stay off my neck and forehead all day, but I look much more sophisticated than if I had slicked it all back into a ponytail, with randomly placed bobby pins to keep my bangs in placed. Now I just can't wait to get some more length and really get a great, big, beautiful pile of hair going on the top of my head!