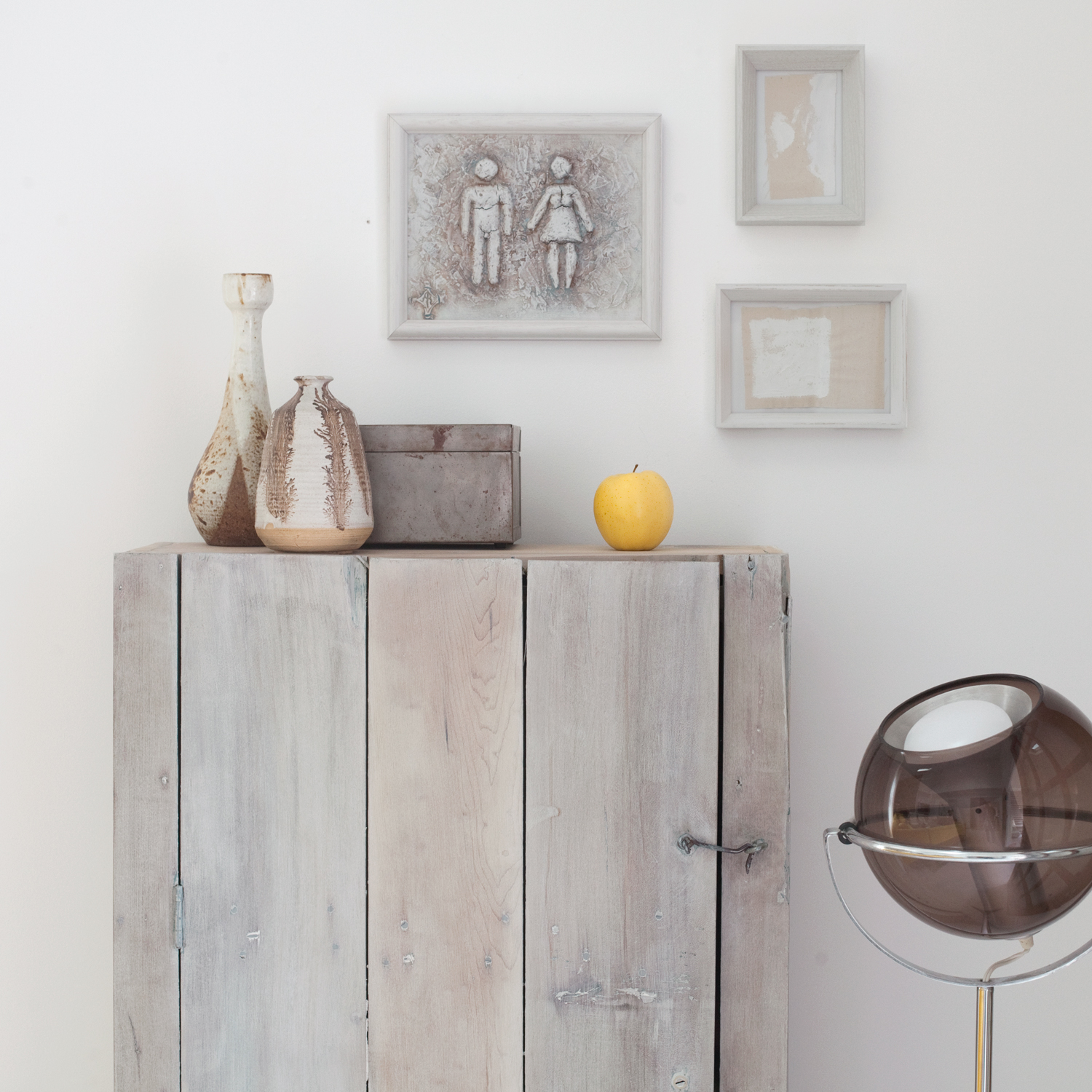 Lately I've been really thinking about the style direction of our home. (Okay, let's be real, I'm overanalyzing again!) I like quite a mix of styles, and while I want to say our home is eclectic, I really think the style I'm going for is much more specific than that. After pouring over the design book Modern Rustic, I finally feel less weird about my affinity for primitive furniture alongside shiny and bright mid century duds. Rustic modern? Makes so much sense! So I've finally settled on a style descriptor for our home: Polished rustic modern with plenty of mid century funk. Does that make sense? I'm sure I'll find another description I like better next week. And then another the week after that…
So going along with my affinity for rustic elements in my home, I have this cabinet that I had painted a few years ago, which I now felt should be stripped down to its natural wood state. I figured this would take a couple hours of sanding, and then a bit of waxing. Easy peasy, right? NOPE. Here's how it all went down.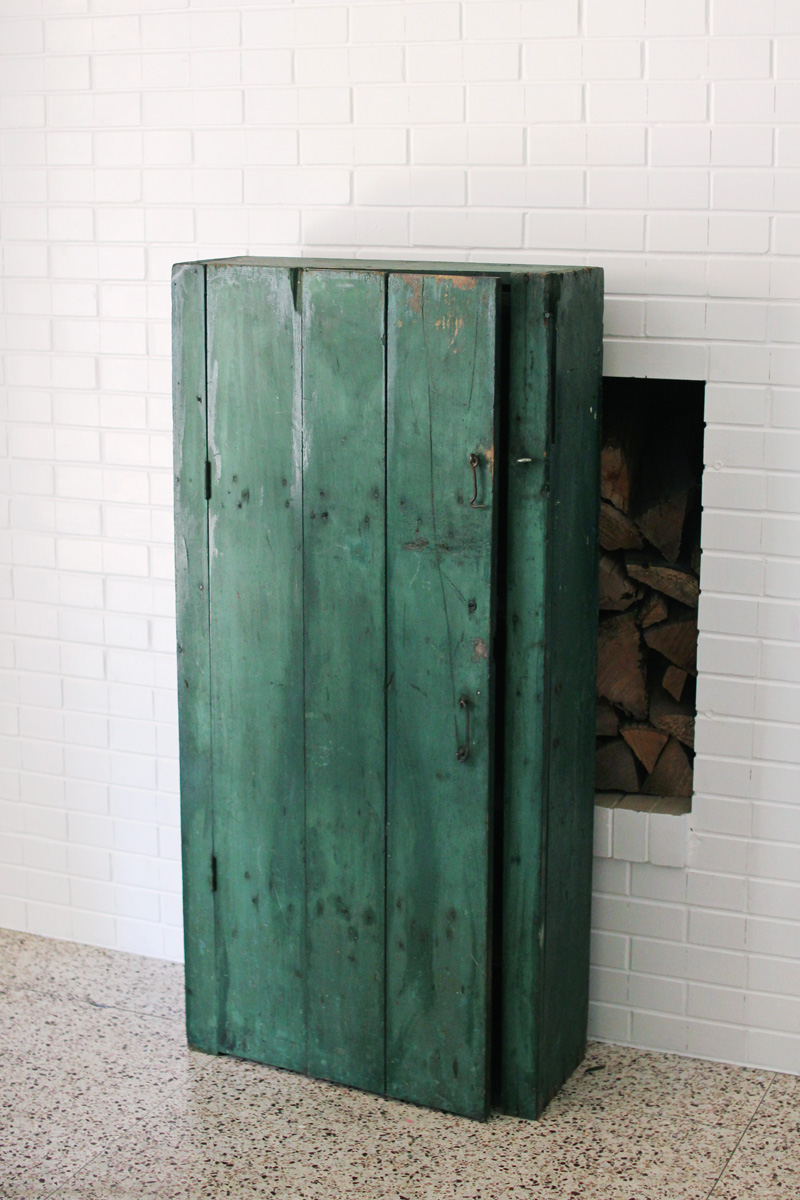 When I first purchased this cabinet at an antique expo years ago, I loved it for its teal green stain, but it didn't feel right in my home. So I painted it gray, scraping away some of the gray paint to reveal bits of the green. But now I was ready to strip down both the gray and the green to reveal the beautiful wood underneath. The only problem was, the wood turned out to be, well, not so beautiful.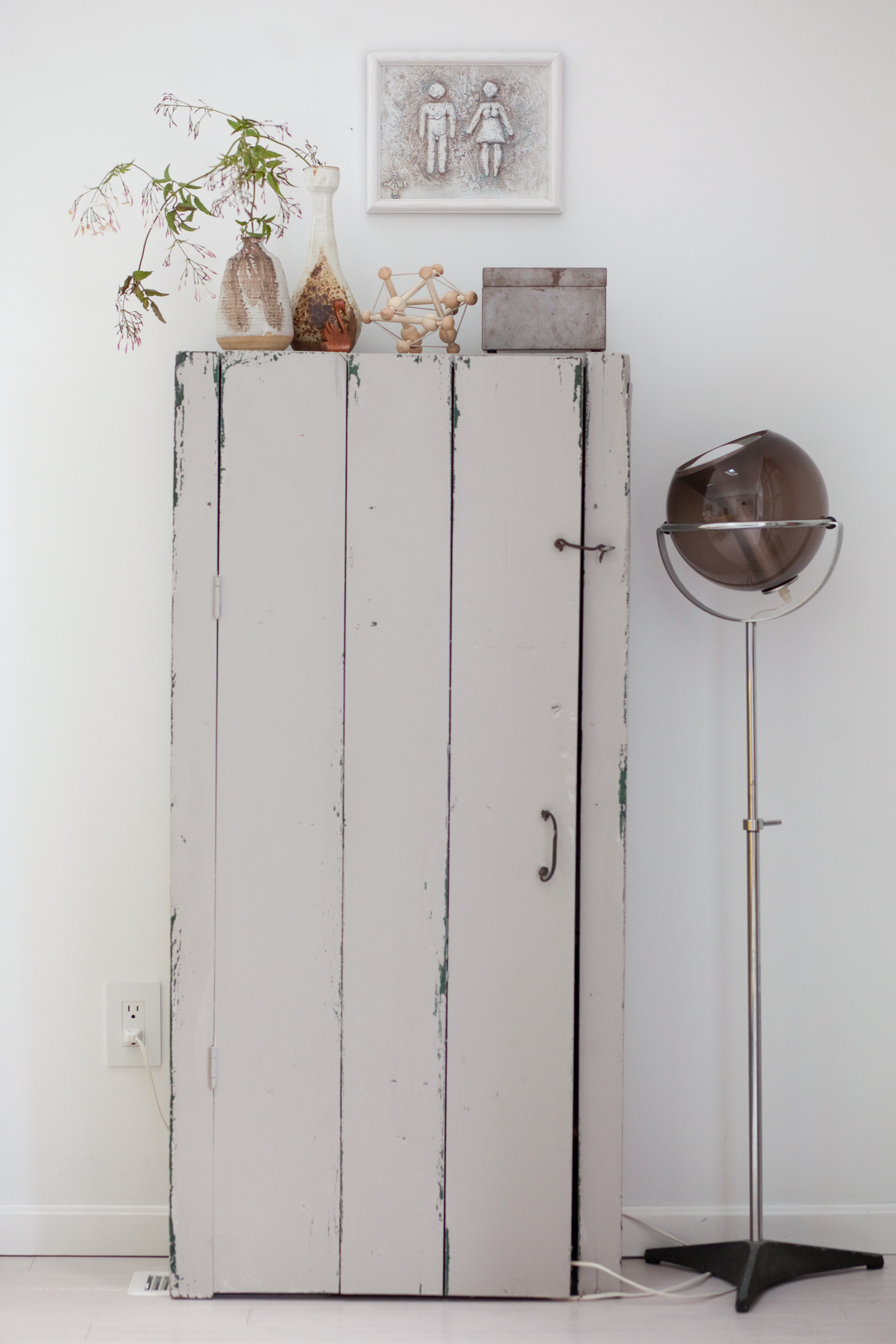 After a few hours of sanding with 60 grit sandpaper and my palm sander, I had removed all of the paint and previous green stain, but could not get the greenish tint off of the two boards on either side of the door. So the next day I took a belt sander to it with a 50 grit belt. Just got done sanding. Dust everywhere. Jan everywhere. And still greenish wood. I then realized that the wood species is poplar, and as is often the case with poplar, the wood itself had a greenish tint, with a warmer streak to it on the edges. The middle board and side boards were a lovely warm shade of wood that I had been hoping for the entire cabinet. But not the most visible boards on the front. Ugh!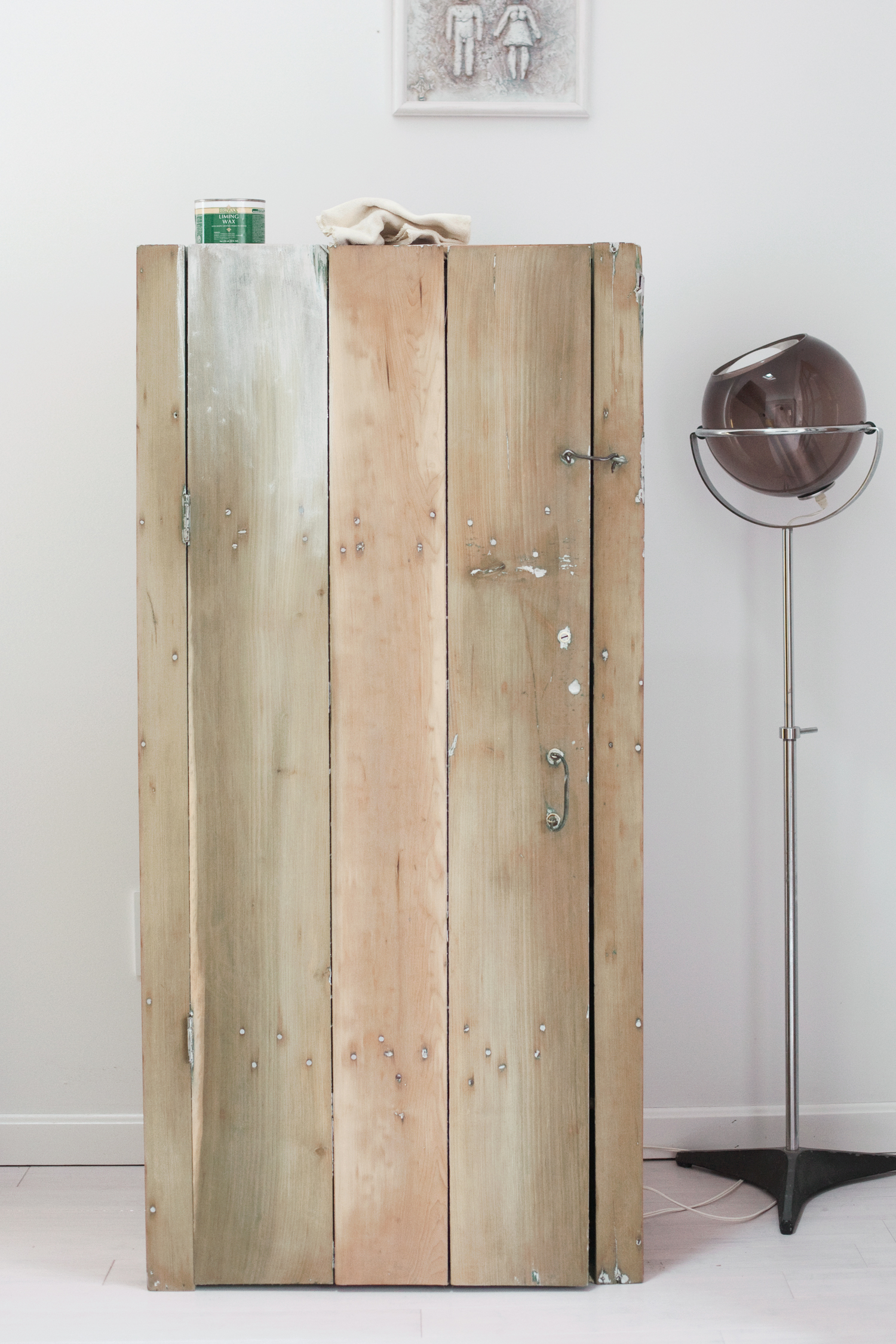 I would never be able to get rid of the green, and if I kept going at that rate, my cabinet would've turned into a pile of dust. So I decided— lime it! Then I'd still be able to see the grain of the wood, but not necessarily the color tones I wasn't loving.
I had heard great things about Briwax Liming Wax, so I ordered some on Amazon (I couldn't find it at Lowes or Home Depot), and was excited to give it a go.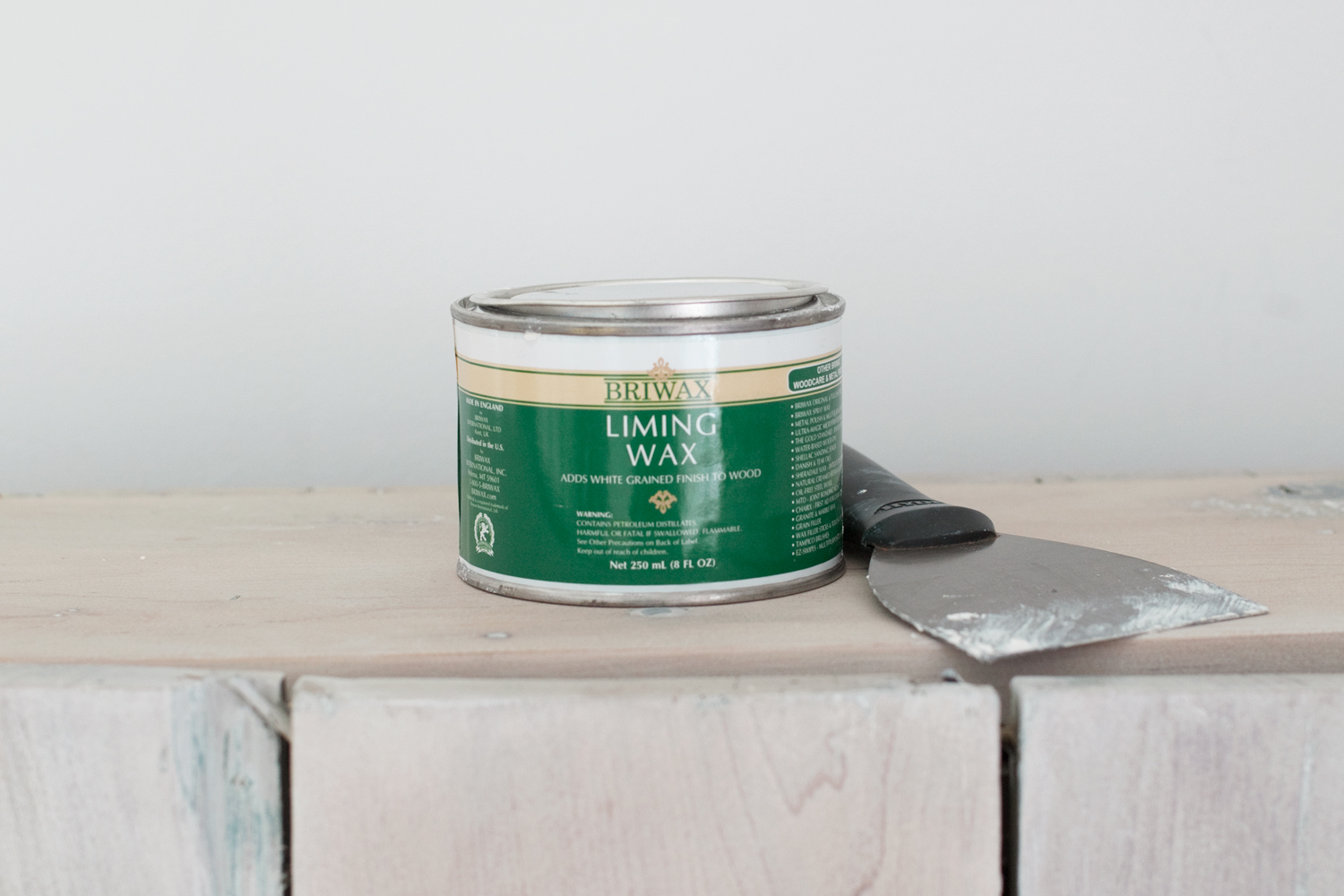 I recommend really making sure your sanded surface is evenly smooth. What I mean by that is if you had been sanding with low grit paper like I was, you'll want to incrementally get to a high grit paper (120 grit should be high enough) so that your wood will equally absorb the wax, without splotches occurring where the wood is rougher and therefore thirstier. I had a little bit of trouble with mine absorbing evenly, and regret not taking more care when sanding. When I was sanding I didn't think it mattered since I was going for a rustic appearance. Oops!
I used a metal spatula to apply some of the wax, and then used a fine cloth to rub it into the wood using circular motions. After covering the entire piece, I took another clean cloth and wiped with the grain to remove any excess. I probably should've finished with a clear wax, but I couldn't find mine, so I'll do that after I finish unpacking my craft supplies.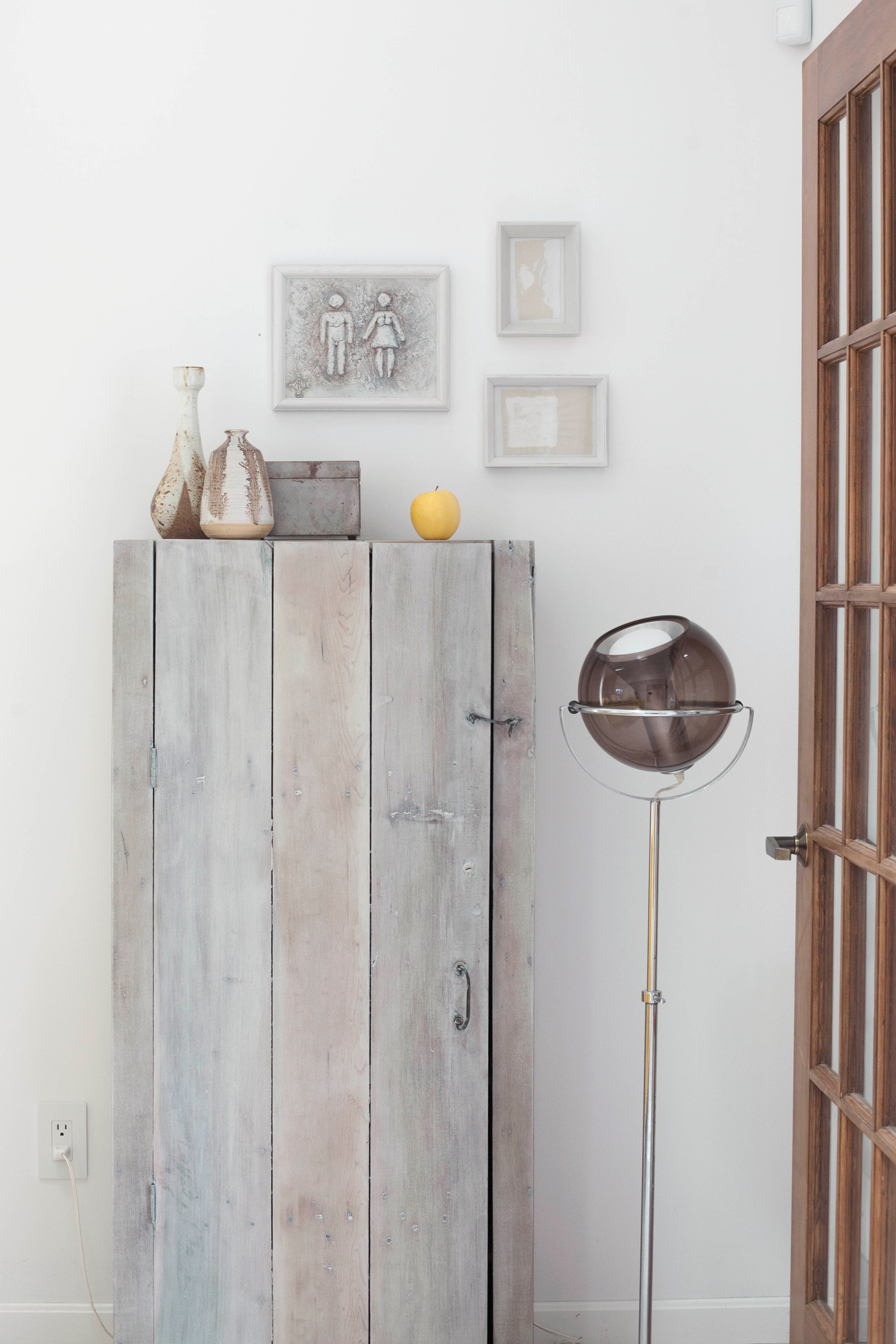 So the cabinet refinishing didn't go exactly according to plan, but I'm just going to embrace it. I was hoping to have a warmer appearance to the wood, but it feels a bit gray because of the greenish tones of the wood beneath the liming wax… and I feel like that's just so ironic considering the cabinet was already gray before I even began this process! Ha! Still, I like it better with being able to see the wood through the wax, which gives it an extra element of texture that the painted wood just didn't offer.
Have you all ever used liming wax before? I've seen such varying results across the web! I'd love to see your limed projects if you care to share.