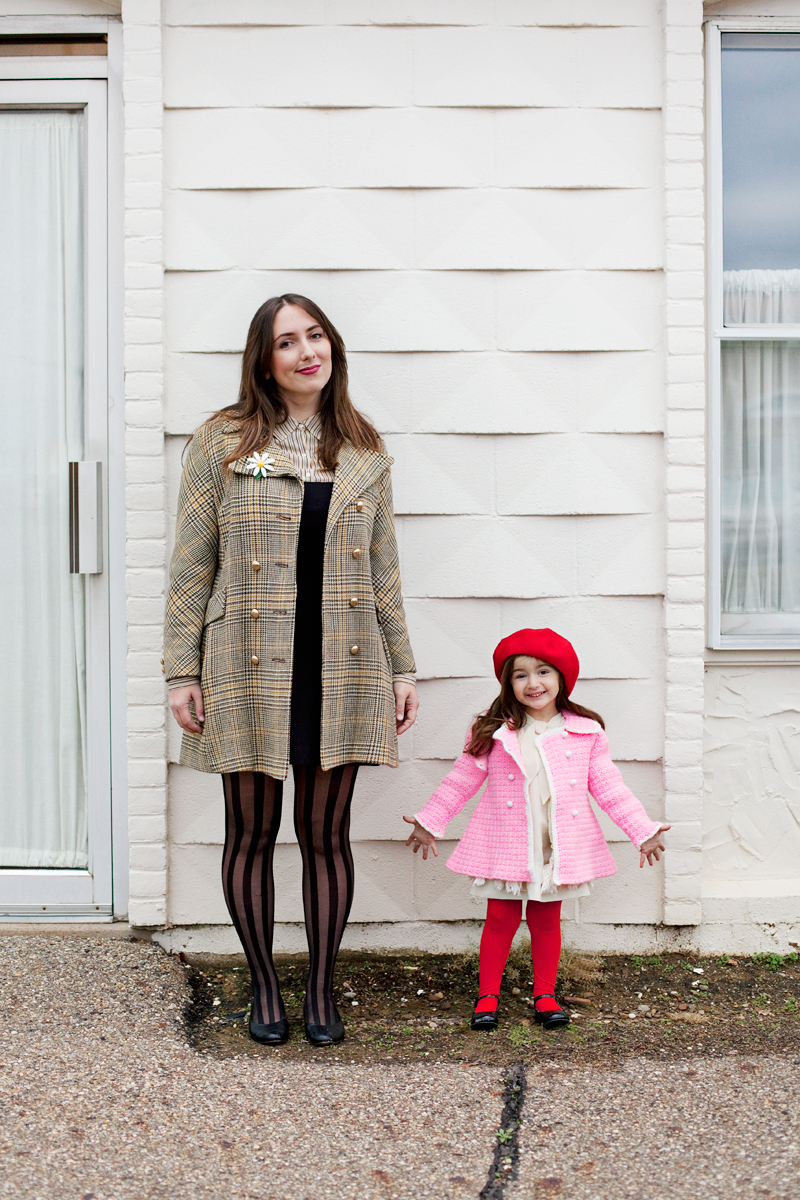 Yahoo! It's Christmastime, which incidentally is my favorite time of the year, and fast becoming Lucy's as well. I'm doing the best I can, really, to make her love Christmas and hats as much as her ol' Ma. So far the outcome looks good for both items on my agenda. Check out how cute my red beret is on her little head! It was a big large, I guess, but I haven't had much luck finding one I love in a children's size. The last time we took photos together with that red beret, it was on my head, and she was just a little tiny kiddo getting ready for her second Christmas. Check out that post here. Ah, memories!
Tonight Phil and I are wrapping up last minute Christmas things— literally! Like gathering presents under our tree, finishing up the dollhouse, and cleaning up the house so tomorrow things will be clean and magical for our Christmas Eve breakfast. I'm so thankful that neither of us have to leave the house for work tomorrow, so we can have a leisurely day making new traditions and spending time with family. My dad is recovering from sepsis and his heart infection at home. I thought I should follow up since I know I mentioned on Instagram that our family was going through a crisis with his health. He ended up having surgery at the Cleveland Clinic, and recovered just three rooms away from where I recovered from my surgery! Pretty remarkable, I thought, for such a huge hospital. He's resting in his easy chair, hooked up to IV antibiotics and frustrated that he can't do, do, do (wonder where I get it?!). But soaking up grandkid snuggles is doing his body good. We're thankful for his life more than anything this holiday season!
On a more superficial note, I think we'll be dressing pretty casual for our family gatherings on Christmas Eve and Christmas, but here are our dressier festive looks that we wore to church on Sunday.
O U T F I T D E T A I L S :
Mandi: pinafore dress / striped tights / shoes / blouse- hand-me-down from my mom!
Luch: vintage dress from Romantique Touch on Etsy / secondhand tights / hat / secondhand shoes / coat- gift from a friend