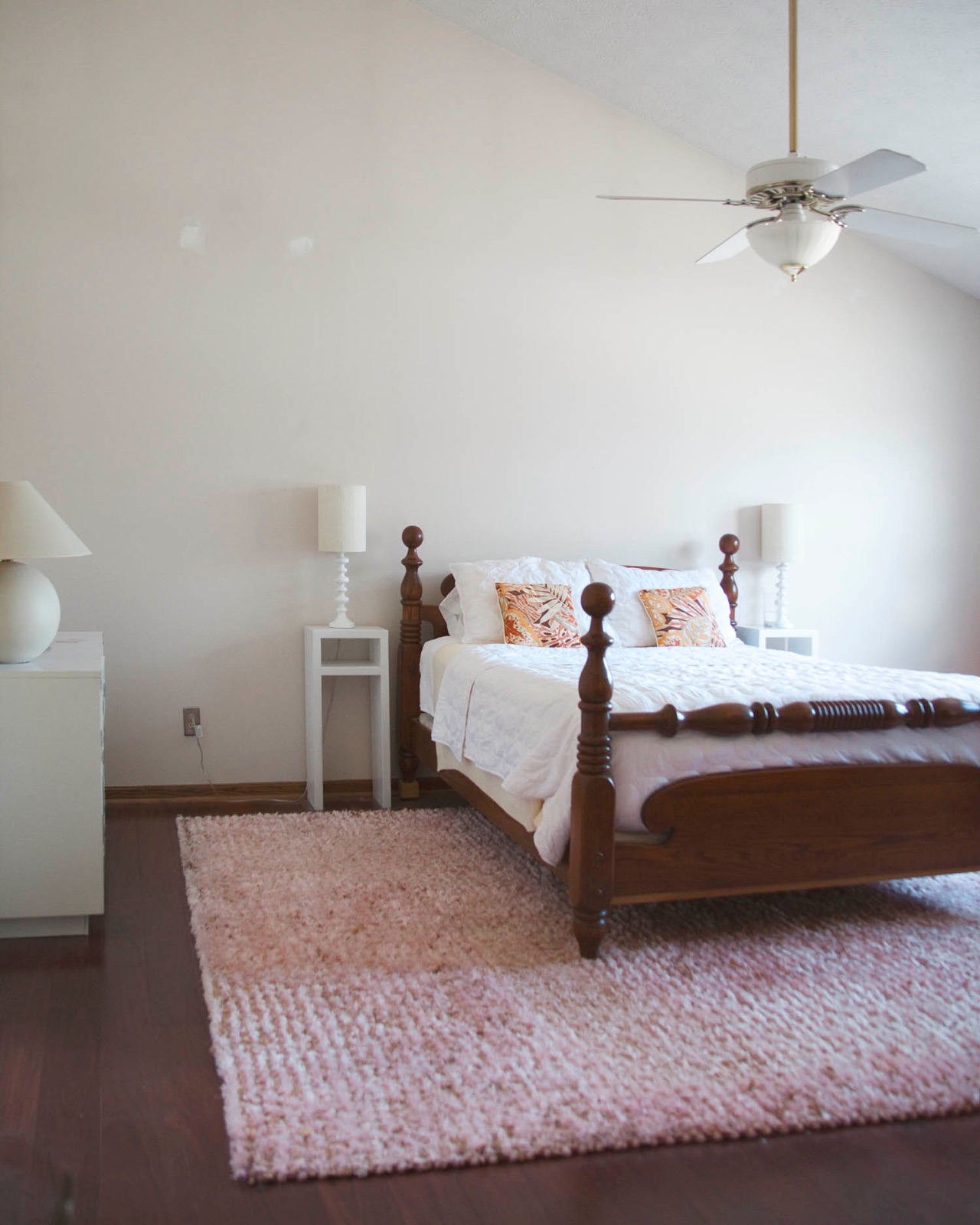 When you have four rooms ripped apart to the subfloor and have begun rebuilding them, what's a normal thing for a person to do? Pause progress and begin working on a bedroom that was perfectly fine "before?" Yeah, probably not normal, but here I am doing that exact thing.
We were given the opportunity to work on the bedroom with a sponsorship through A Beautiful Mess, so I dropped everything and said YES! Currently our bedroom is filled with a mix of items that aren't necessarily my first choice, but it was a nice space to escape to in the midst of our intense first floor renovations. The pink rug is from our living room at the old house, the dresser part of a Craigslist set I bought for the girls' room, the nightstands I made specifically for our tiny bedroom at our old home, and an heirloom bed that my dad amazingly created from raw materials. We're upgrading to a king size bed since we have the space for it, and after deciding on a bed from Arhaus, I designed the rest of the room around it. Here's one of my inspirations for the space— a hotel in Stockholm with a dramatic board and batten wall. While I planned to do a softer take on this look, I knew for sure board and batten would be the perfect way to add a cozy vibe and ground our spacious bedroom with high, sloping ceilings.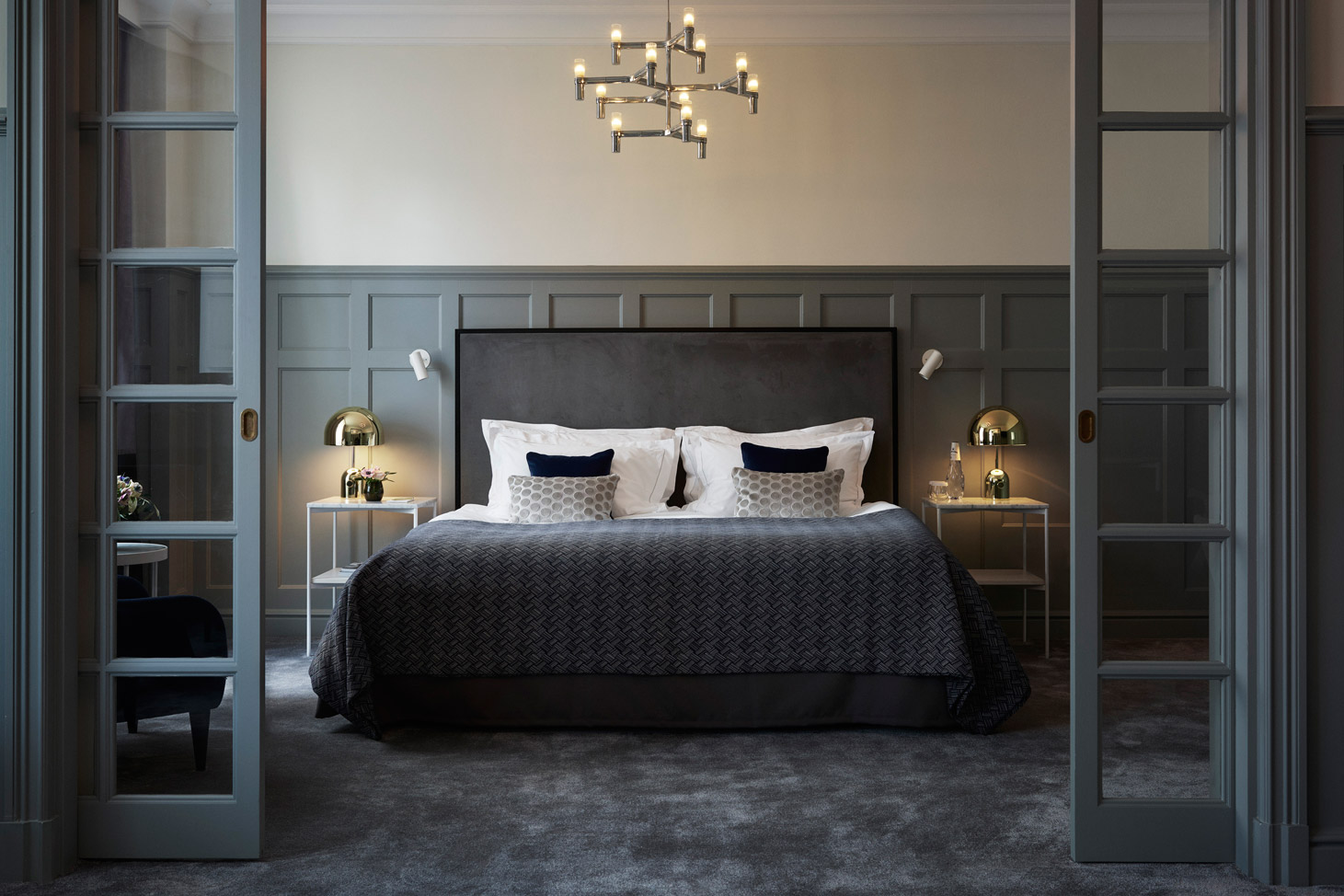 We're currently working on finishing up the board and batten treatment, and will be painting everything this weekend. I'm so excited to see the finished product! But mostly I'm just excited to be finished, because not only has it been a lot of labor, but I'm also tired of camping out in a tiny bedroom with the mattress on the floor.
Here are our plans for fixtures and finishes in the bedroom: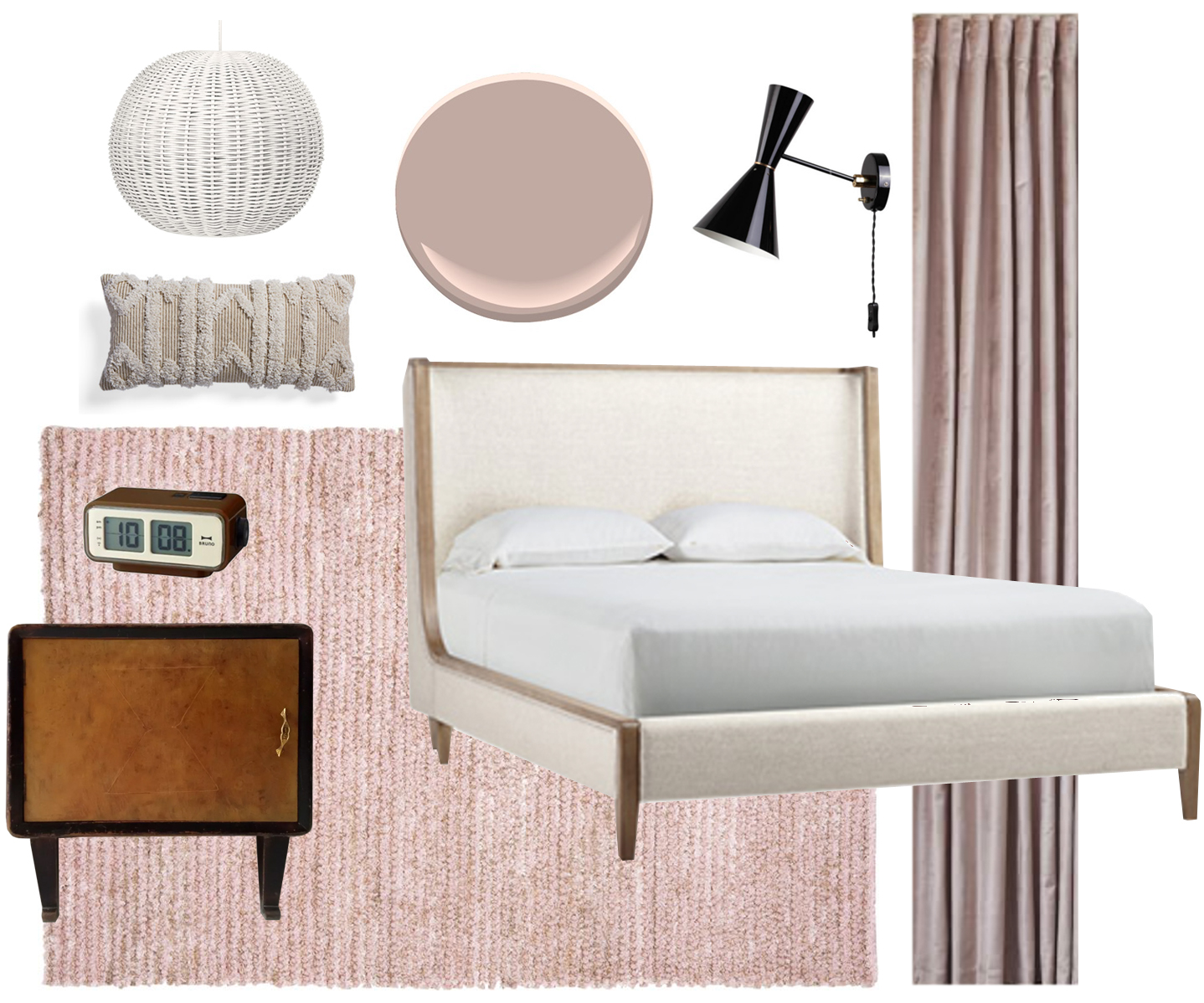 A lot of people have asked me what Phil thinks about "all that pink." He was happy with the wall paint (Flax by Benjamin Moore) because it's a more neutral and cozy take on pink. But I have a feeling if I had presented Phil with a more princess pink color, he wouldn't have like that so much. One of the main reasons I chose to use a shade of pink on the wall is because I already had pink curtains from our old home's dining room, and the rug from our old living room. I could've been happy with a beige on the wall, coordinating with the warm pink, but decided to go with color since so many walls in our home are white and neutral. I'm sure one day we'll shuffle rugs around again and maybe feel ready to change up the color on the wall. After all, it's only paint!
Here are the sources for everything we're using in the bedroom:
Can't wait to share the results with you!