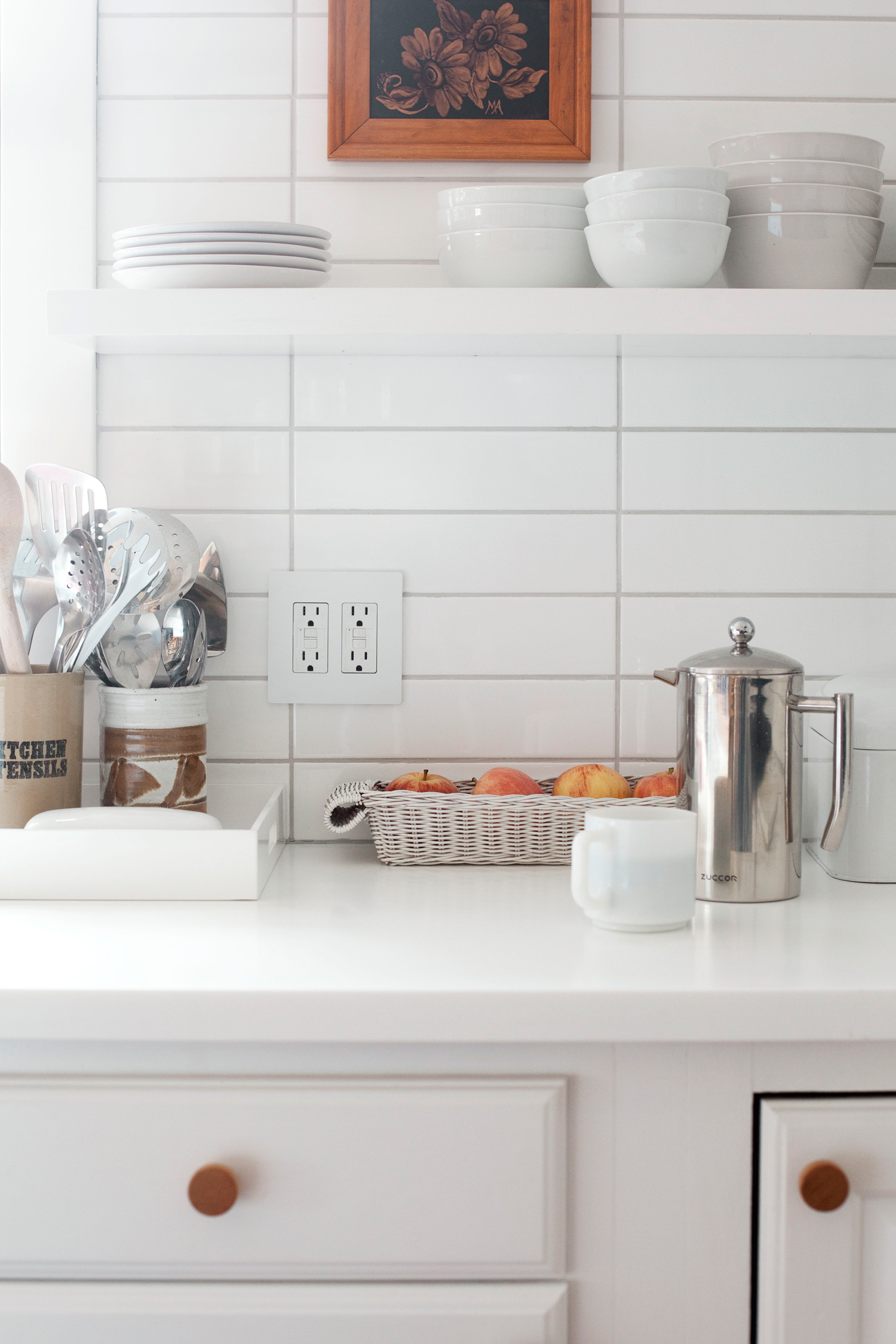 When I first imagined making a floating shelf for our kitchen, I thought, Oh, this is going to be so easy! Why haven't I done this before? Of course, once I began the project, it ended up being more intimidating than I had thought, so when my dad offered to take over this project, I enthusiastically said yes, please! A number of people on Instagram have asked about the process we used, so I thought I would share the details here. There are ways this can be done which would be more accessible to the average DIYer, but my dad is a retired manufacturing engineer with loads of fancy tools and skills, so fair warning: This process is probably more complex than what the majority of DIYers are able to do on their own.
Step One: Make the Shelf

I edge-glued pieces of 2×6 poplar boards to create the body of my shelf, then sanded, primed, wet sanded, and painted the shelf. If you want to stain your wood rather than paint, I would not recommend poplar as a wood species because of its uneven coloring. But it's a great wood for painting! The reason I chose poplar over pine is because of its density. Pine is soft and easily dents, not to mention is typically full of knots and seeping tree sap. If you don't want to shell out money for wood that will just be painted, you could try your hand at building the shelf with inexpensive pine or composite wood on the inside and then cover it with 1/4″ birch plywood on the top, bottom, and front edge. It would be more labor intensive to build a shelf this way, but less expensive. Keep in mind, however, that wood composites like particle board are typically heavier than a material like pine or poplar, so you'll need to factor in the extra load when you decide how you'll mount the shelf to your wall.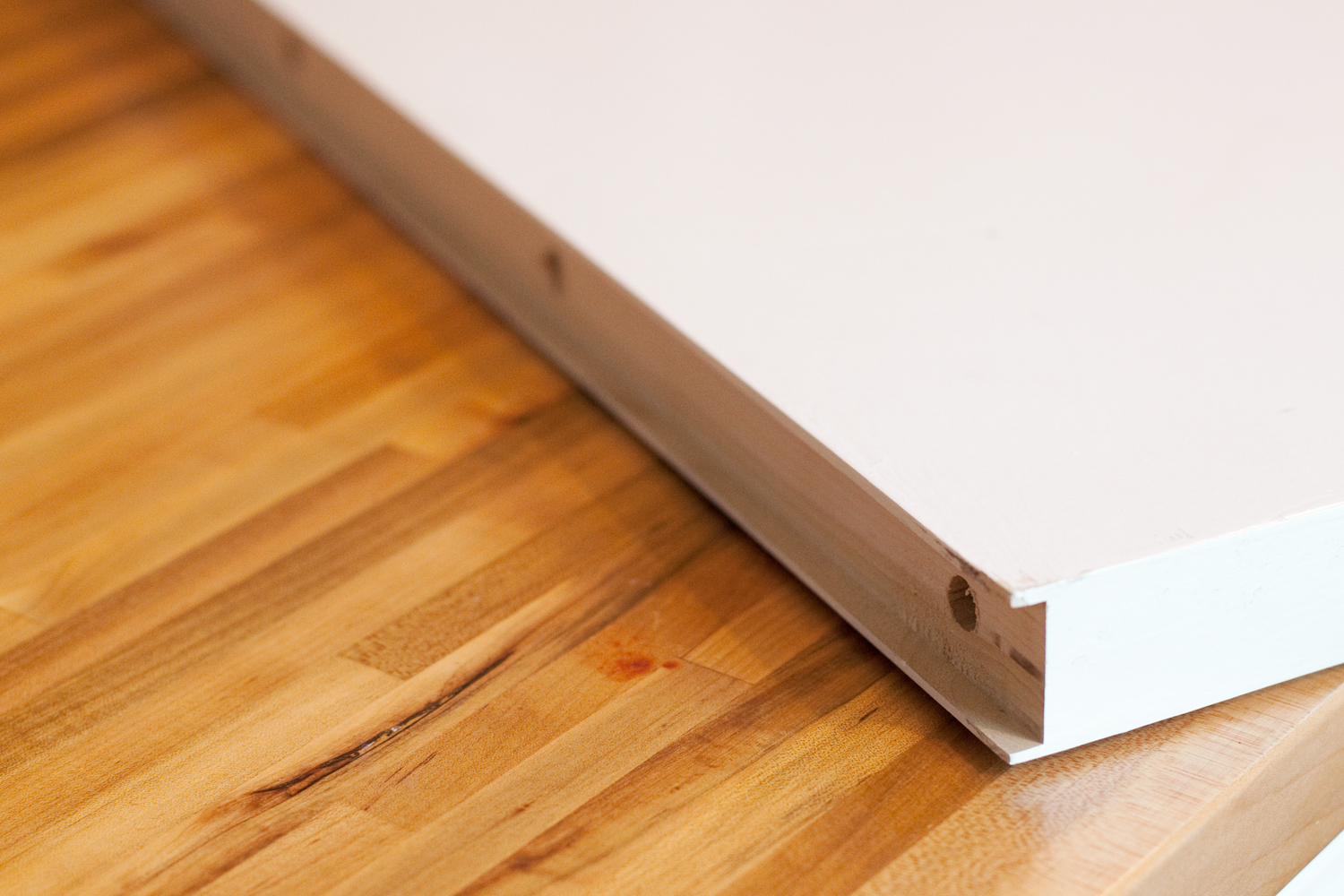 Step Two: Router out space on the back of your shelf to inset your mounting hardware.

This is where things got a bit complicated for my skill level. It would've been a great learning opportunity if I didn't have one million other projects to do in our home! The way you router out the back of your board will depend on what mounting hardware to use. Initially I thought I would just need to router or chisel out small rectangular sections for the individual blind shelf supports I had purchased on Amazon. But my dad had the idea to connect each of the rods to one long piece of steel.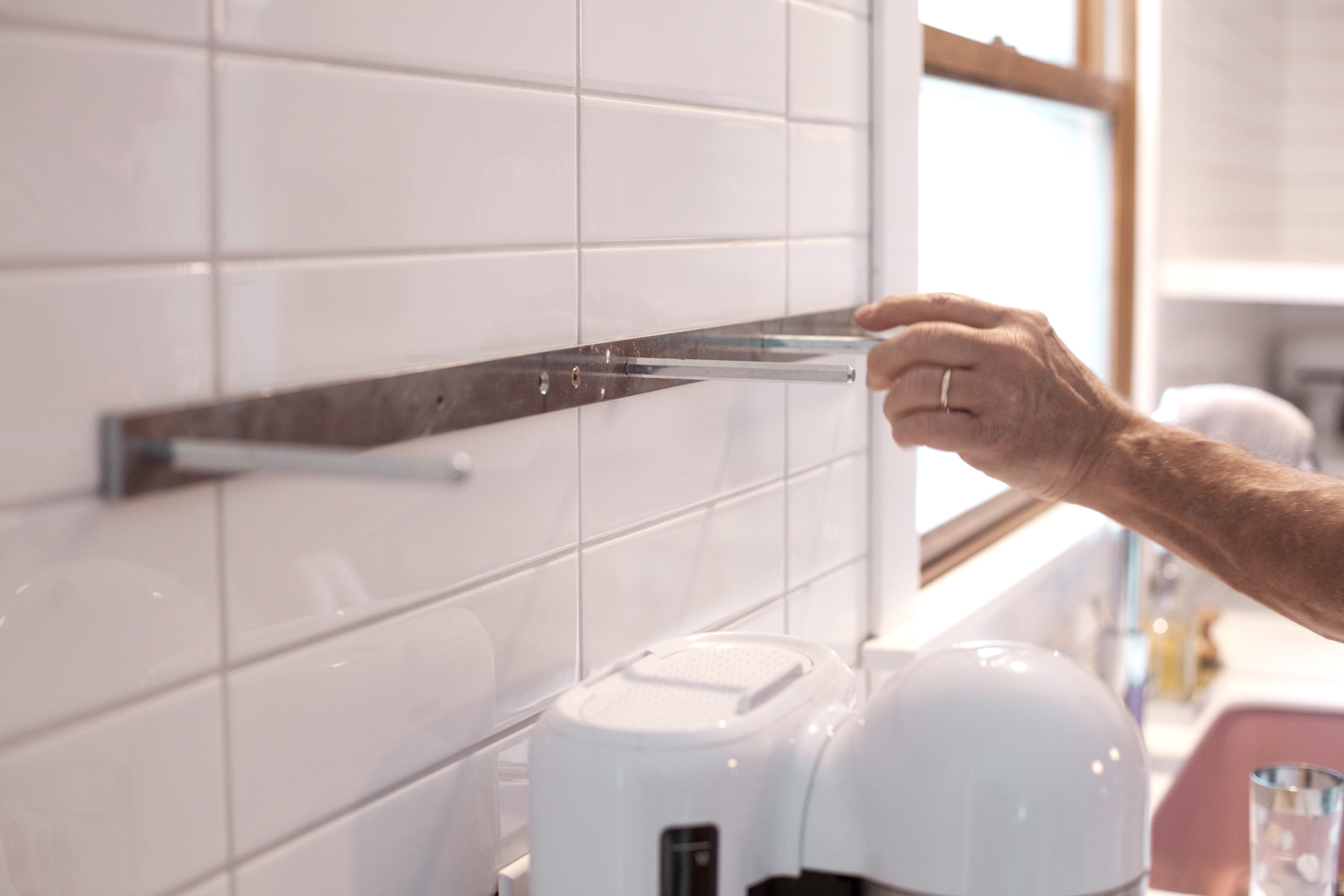 Why did we use one long piece of steel rather than individual pieces? Because our shelf could support more weight, and also because my dad knew where to source inexpensive pieces of cold rolled steel in the width we needed and he also has the tools to thread the holes where the rods I purchased on Amazon could be screwed into place. We were able to use 5 rods to support the shelf that was mounted where there were only two studs in the wall. This meant the steel was sturdily mounted to two studs, but it held 5 linked brackets rather than only one individual bracket per stud. We could have mounted individual brackets where there were no studs by using toggle bolts, but my dad seemed to think this was a better idea because all of the rods would for sure be in a perfect line and be perfectly spaced to match the holes in the shelf. A bonus of using the steel plate is that after you've threaded the holes for where you'll attach the metal rods, the steel plate makes the perfect jig to match up where your holes should be drilled into the shelf!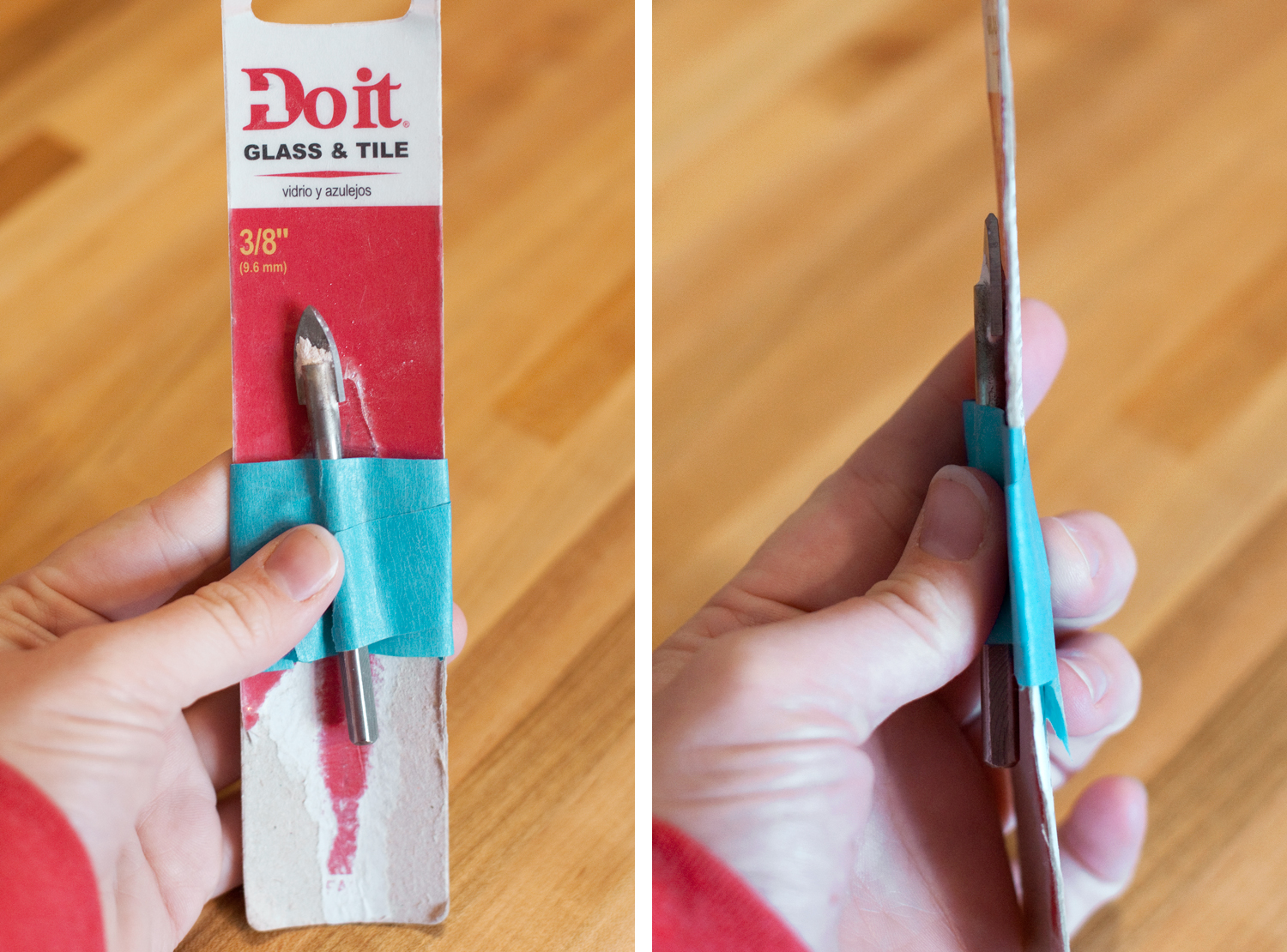 Step Three: Mount your Shelf to the Wall

One of the most nerve wracking aspects of this job, for me, was drilling into tile. Basically because I've never done it before, and I know how brittle the tile is because I installed the tile myself, and had to throw away a lot of chipped pieces! So I felt a little silly when I learned how simple it is. You just need a glass and tile drill bit, and lubricate it periodically during the drilling of each hole. We just had a cup of water to dip the drill in every few seconds. Easy peasy!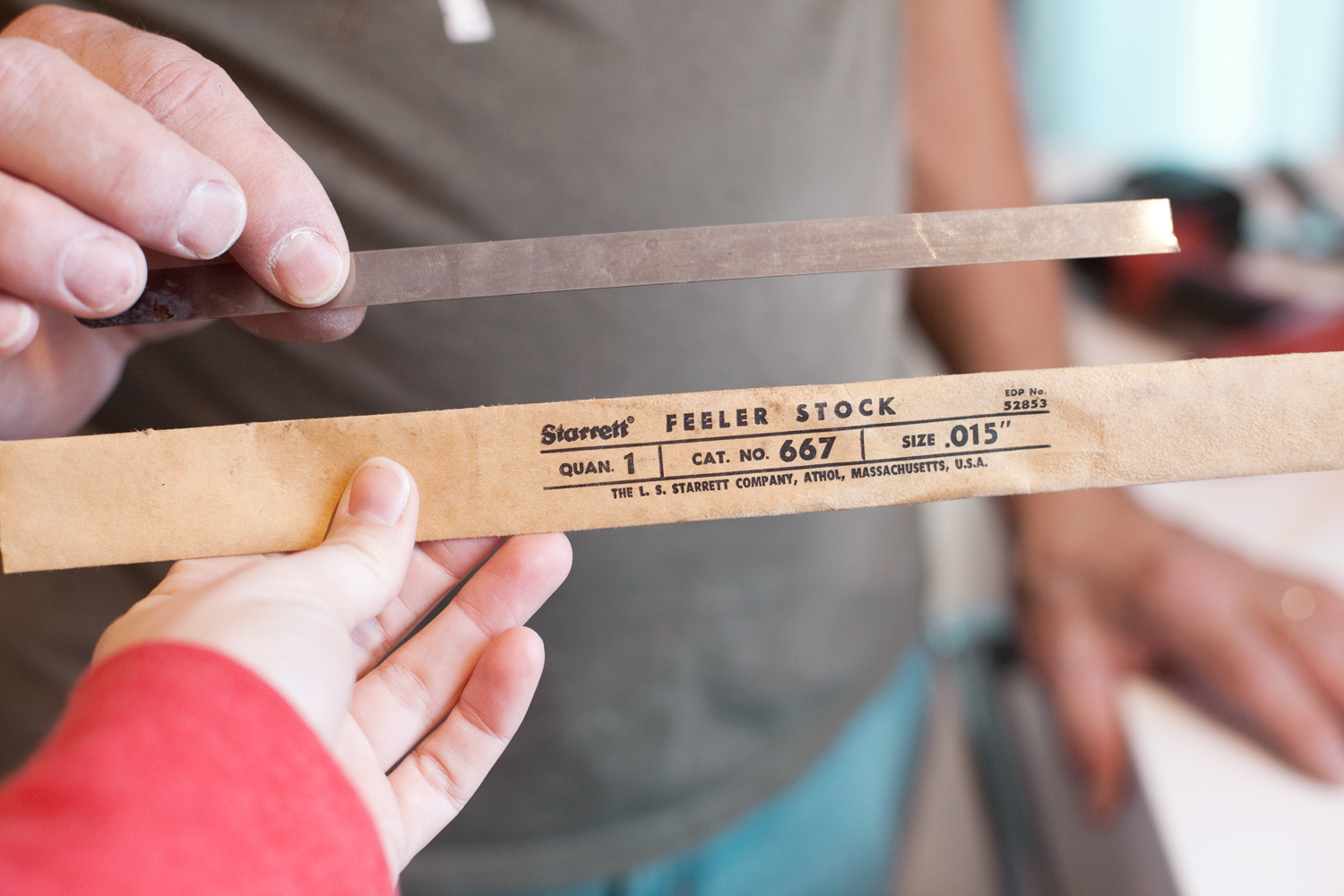 After mounting the steel bracket, we used a level to make sure the rods were level, which they weren't, probably because of choosing to mount the bracket right along the grout line. So we used feeler stock as shims behind the bottom of the steel plate to lift up the rods a bit. You can't use wood shims in this instance because the wood is too soft and can't stand up to the weight and pressure behind the steel.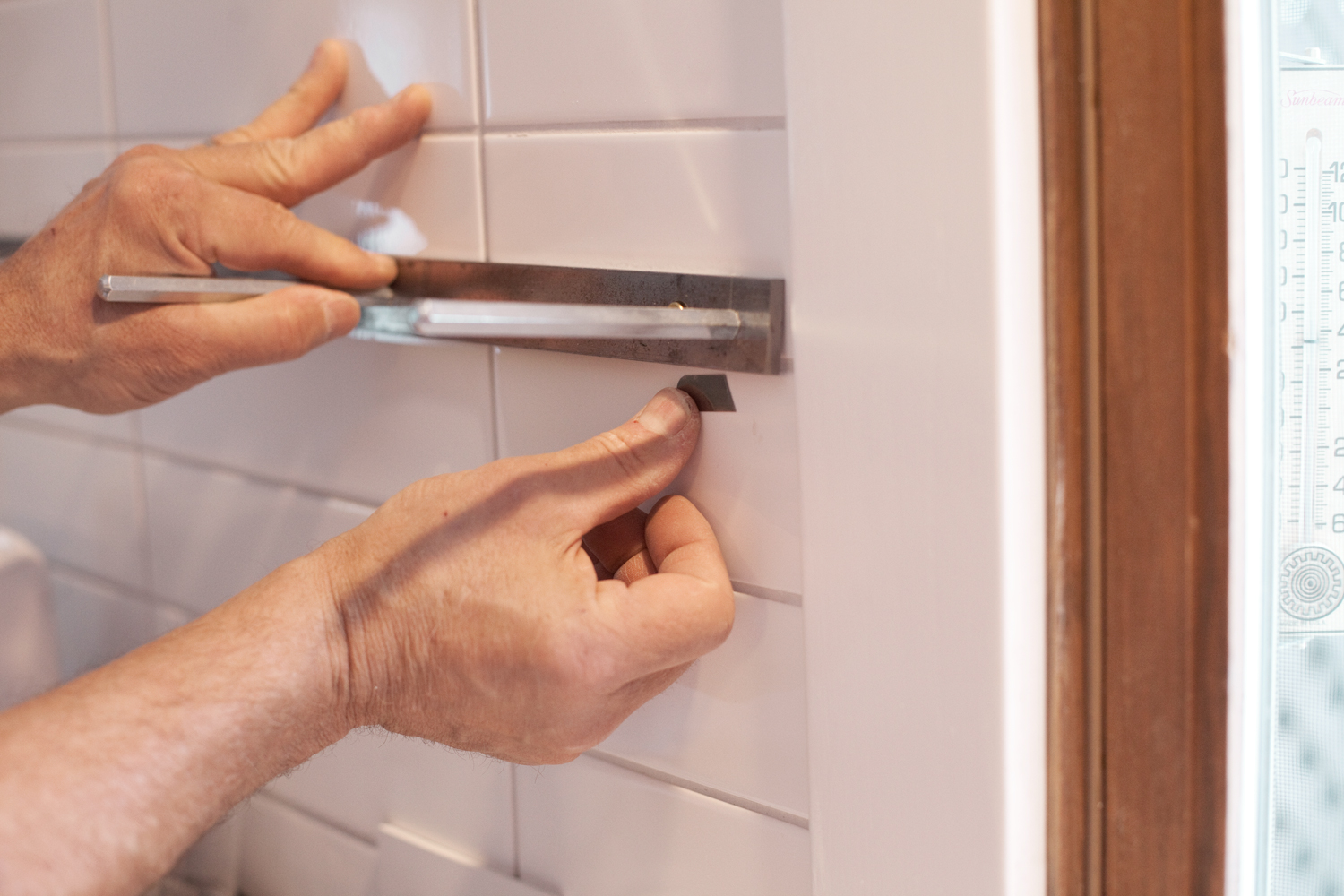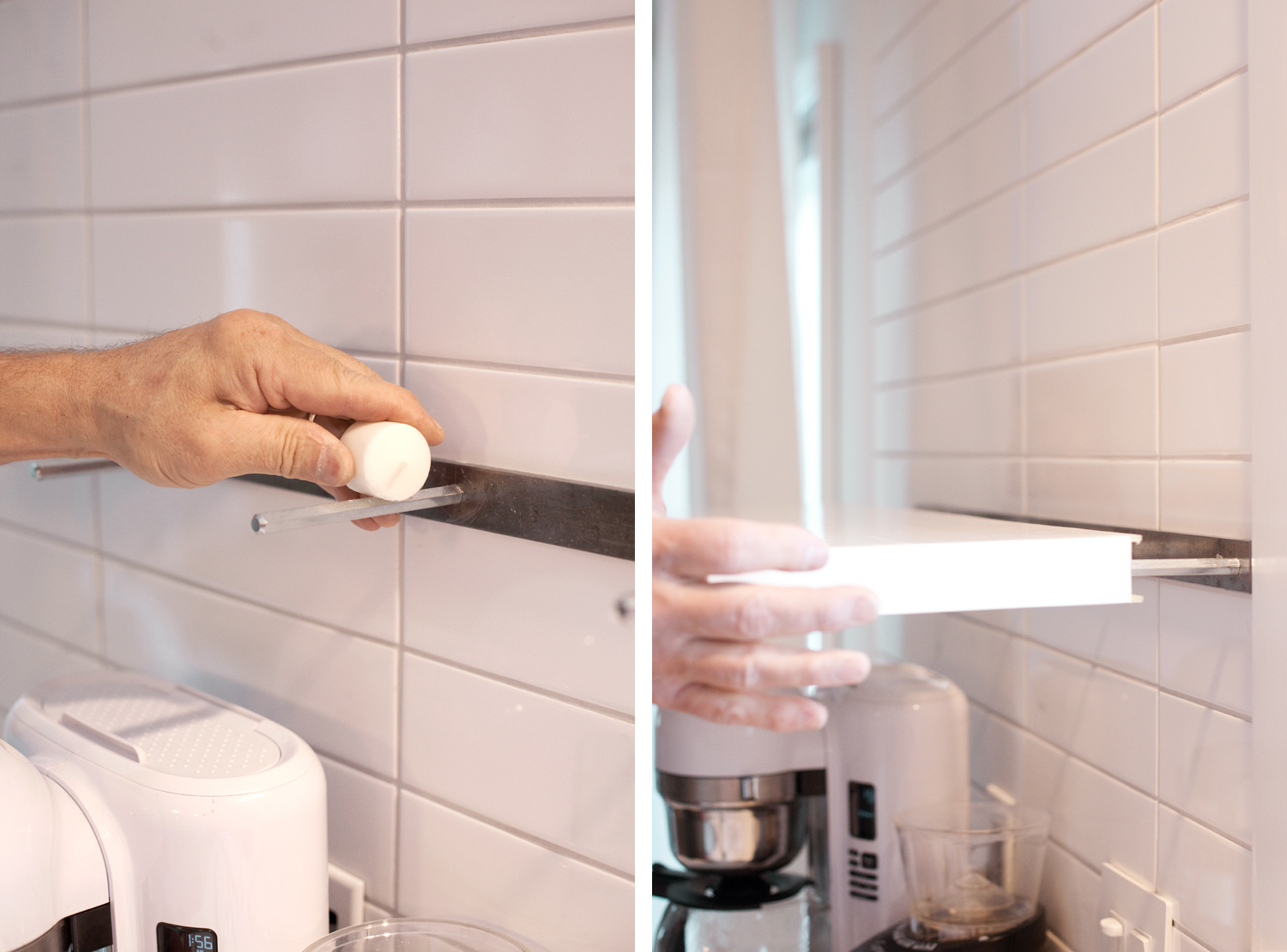 Step Four: Slide the Shelf onto the Mounting Hardware

This part is also nerve-wracking, because if your holes are perfectly matching the rods, this is a no-go scenario. Thankfully my dad is as much of a perfectionist as myself (probably moreso, actually), so they were a perfect match! He used a wax candle to lubricate the rods, making it much easier to slide the shelf into place.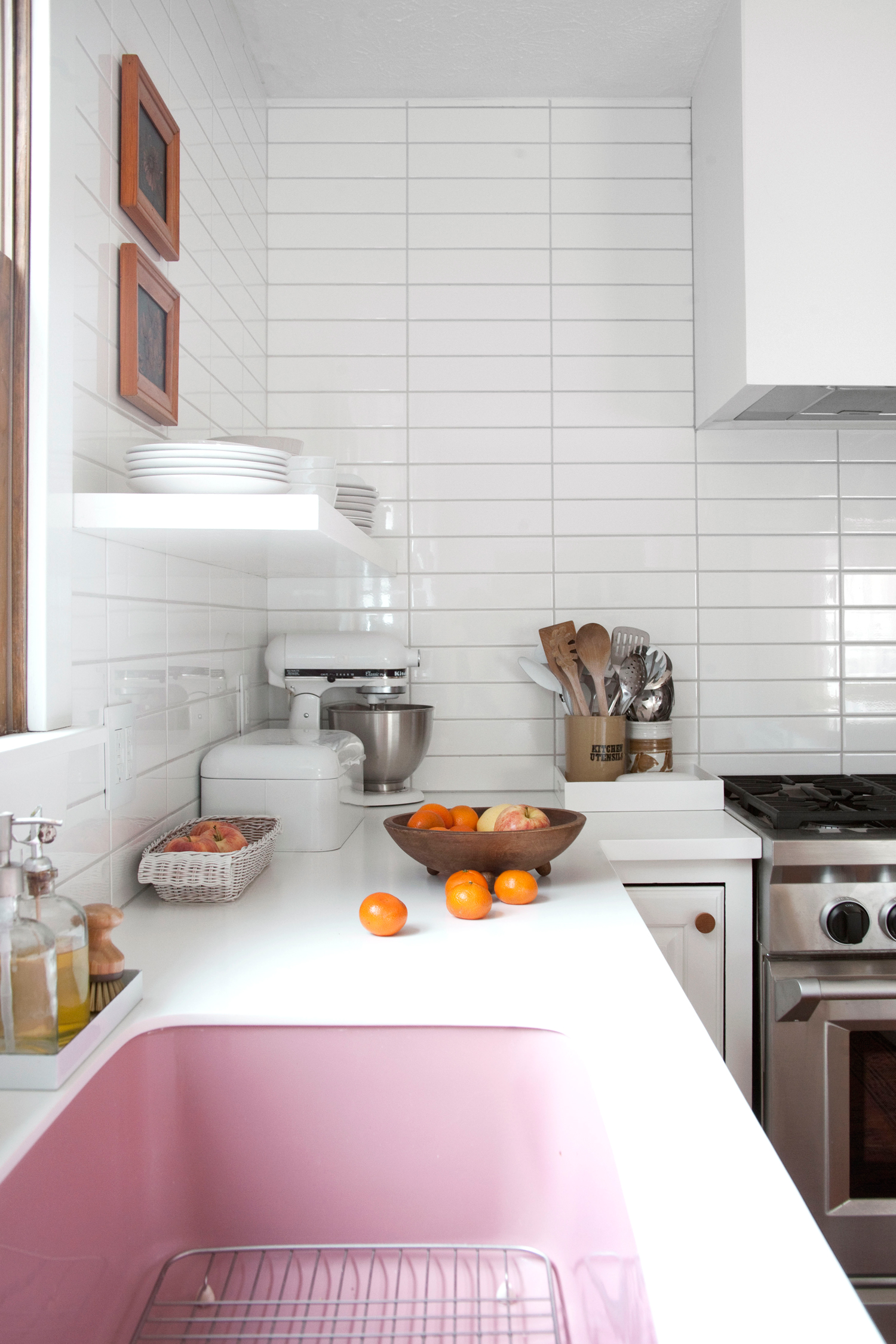 The shelves are super sturdy, and I don't feel limited as to how much weight I can put on it, thanks to Dad's steel plate idea! You can also buy welded steel plate and rod brackets on Etsy and other places, if you're not comfortable sourcing parts to make this yourself. It will be more expensive, but considering the labor involved, I'd say it's worth it!
I'm so glad I decided to create a floating shelf rather than using shelf brackets in this kitchen, because it allows the modern tiled wall to stand out and become a predominant element in my moderately minimal kitchen design.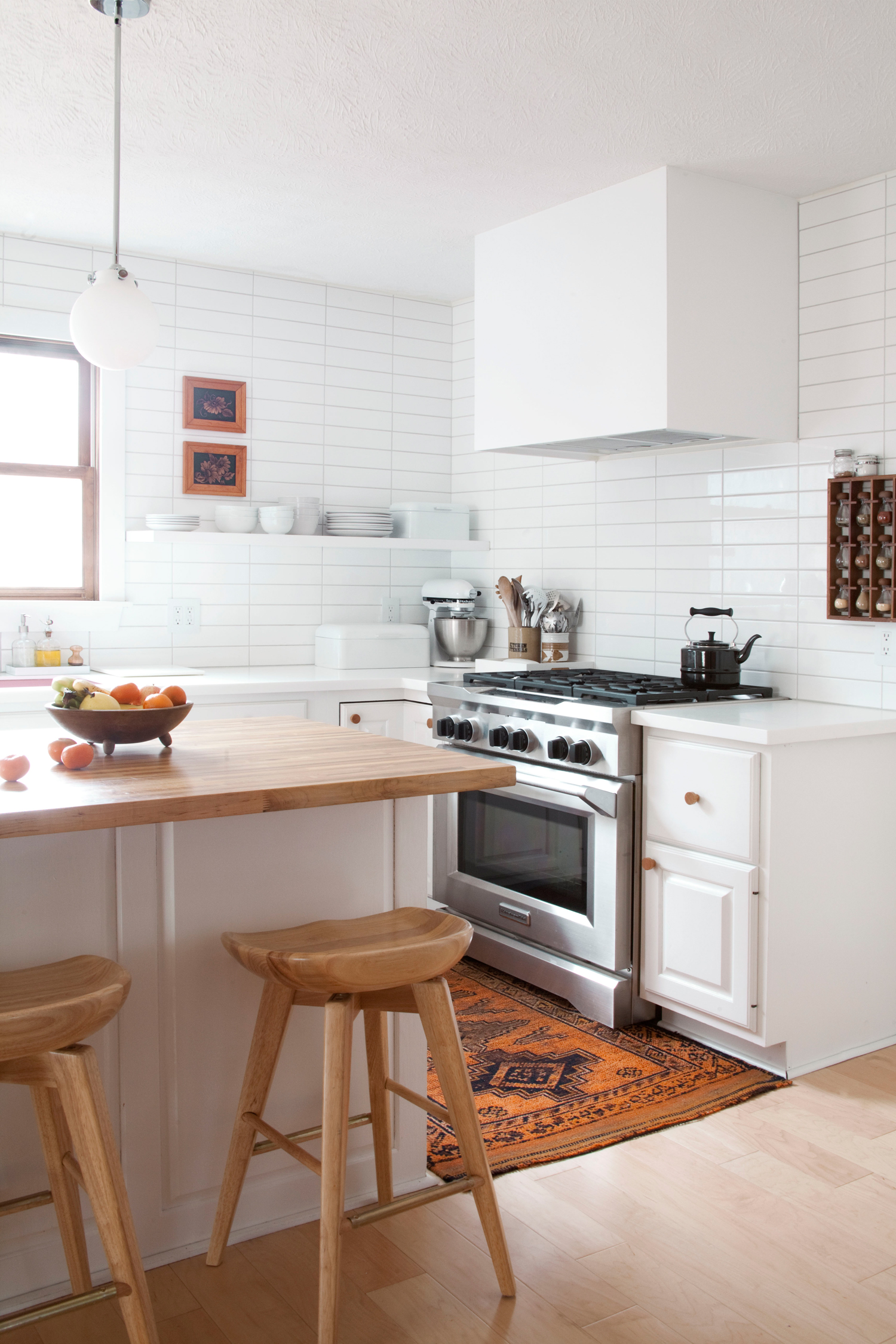 If you all have any questions about the shelves, my dad and I are happy to answer them in the comments below! Thanks as always for following along. It's much more fun being about to share these home renovations with you guys.
Product Sources

Blind shelf supports: Amazon
Feeler stock / steel shims: Amazon
Wall paint: Benjamin Moore's Super White
Outlets and switches: Legrand Radiant
Cabinet paint: Annie Sloan's Pure White
Lighting: Hinkley Congress collection
Wall tile: Home Depot
Tile grout: TEC Silverado
Pink sink: Thermocast
Faucet: Kraus from Home Depot
Island butcher block: Lumber Liquidators sealed with Waterlox
Flooring: Lumber Liquidators maple engineered wood
Knobs: eBay
Stove: KitchenAid from Home Depot
Dishwasher: KitchenAid from Home Depot
Coffee maker: KitchenAid
Island stools: The Classy Home
Rug: vintage Turkish kilim from Etsy