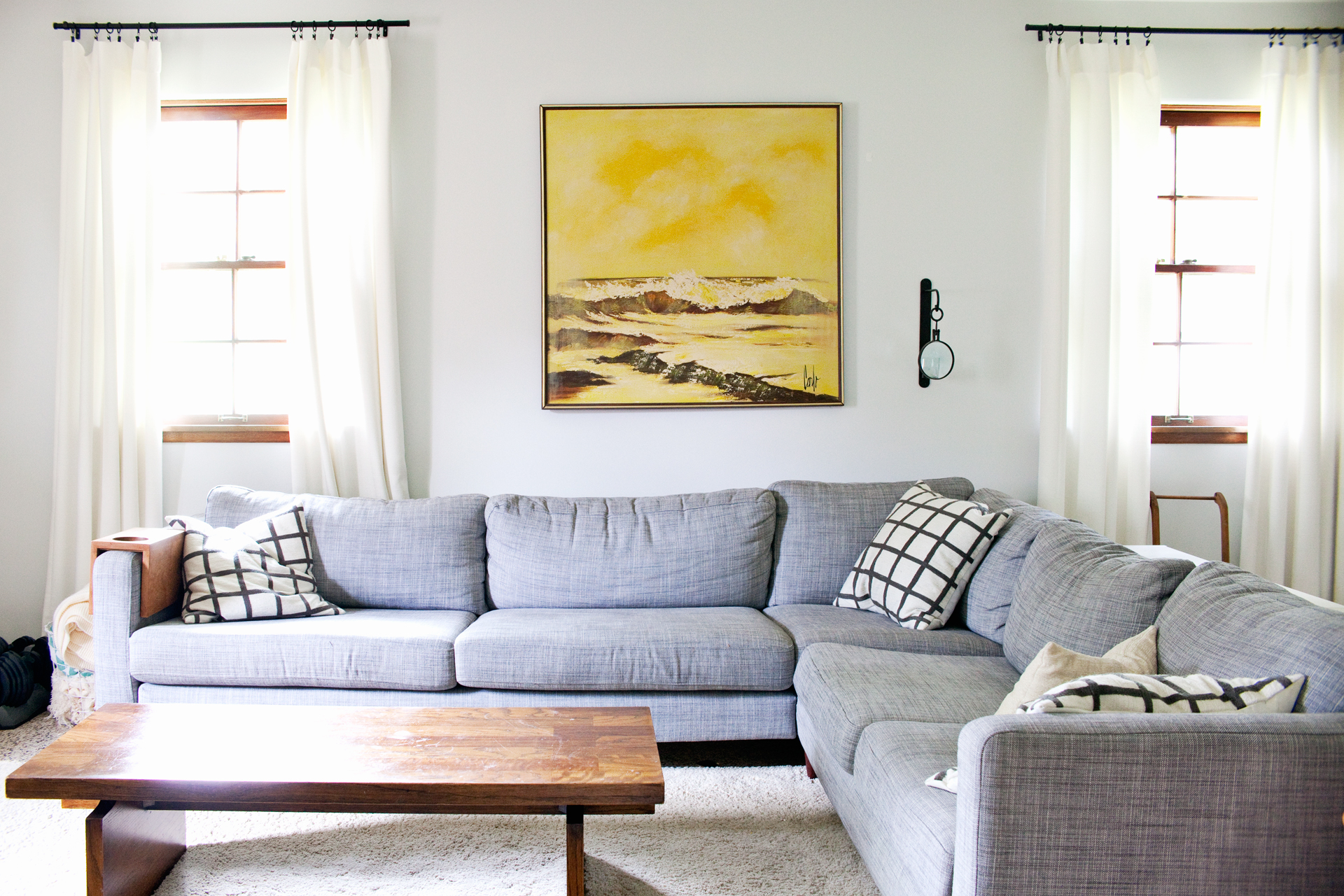 Lately we've been feeling antsy about our living space. Feeling like we're outgrowing our home. Wondering if we need more space or less things. (Less things.) We've put together a savings plan that should get us into another home (hopefully one we build) in five or so years, which means we'll be in our little ranch for quite a while longer. I'd say a wee bit of attention is in order!
First I began purging some of our less sightly toys and trimming down the kiddo side of things. Then I began to reassess usability of spaces, organization, and- the fun part- decor! The biggest thing I don't like about this space is the cover of our large Ikea Karlstad sectional. I've been wanting to get a custom cover for it for quite some time, and it's finally happening! I ordered some fabric samples from Comfort Works, a slipcover company that specializes in custom-made Ikea slipcovers, and I am beginning to plan a few refreshes for our living room that will make this space feel a bit more cohesive and pleasant to be in.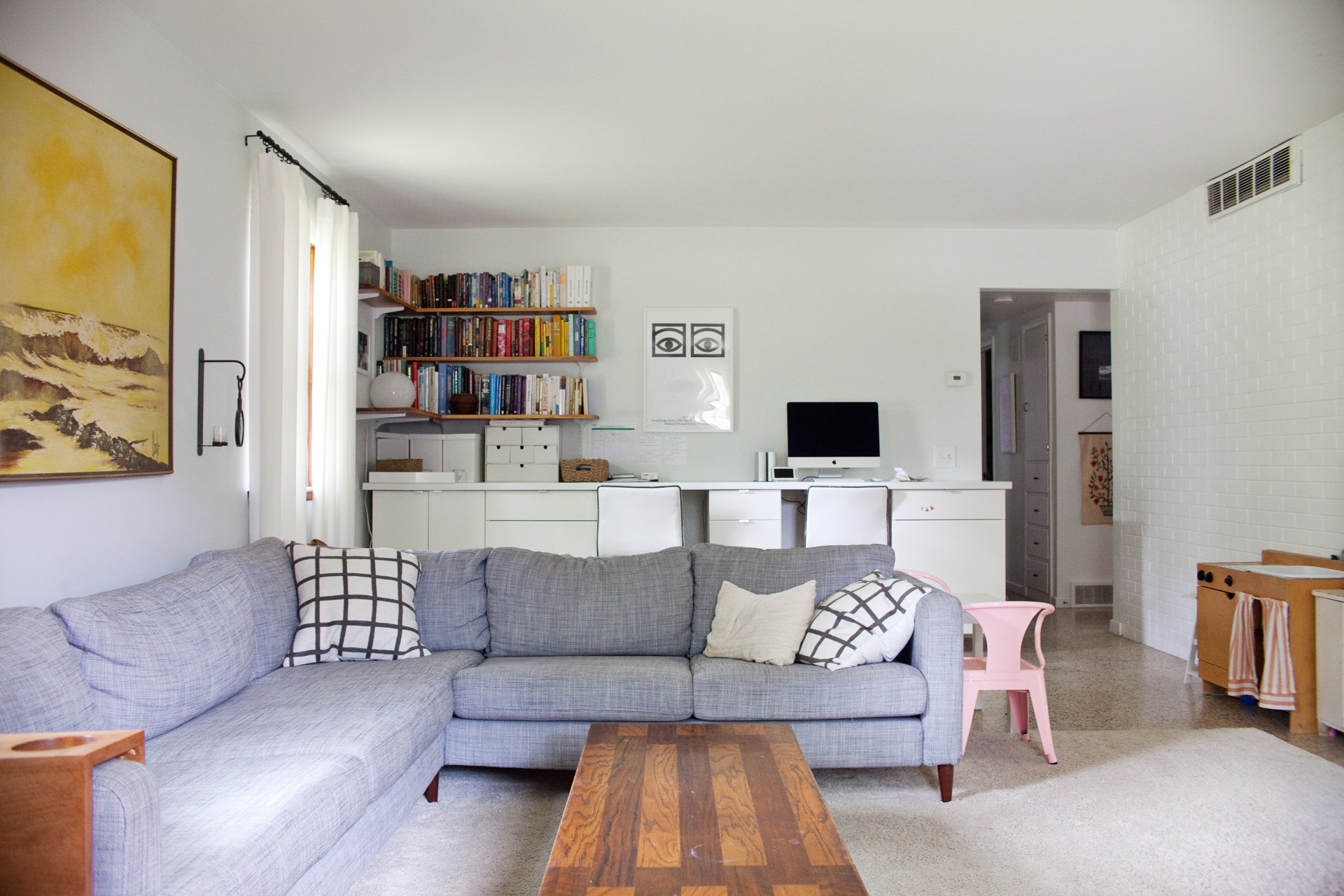 This is our only shared living space in our home, besides the kitchen and dining area, and also serves as an office and playroom. Things can get really cluttered really fast! So I decided it's important to keep decor on the neutral side of things to maintain a calmer feelings in the midst of everything that has to fit inside this room. So here are a few things I'm hoping to change, and I'd really love your opinions before I make each change!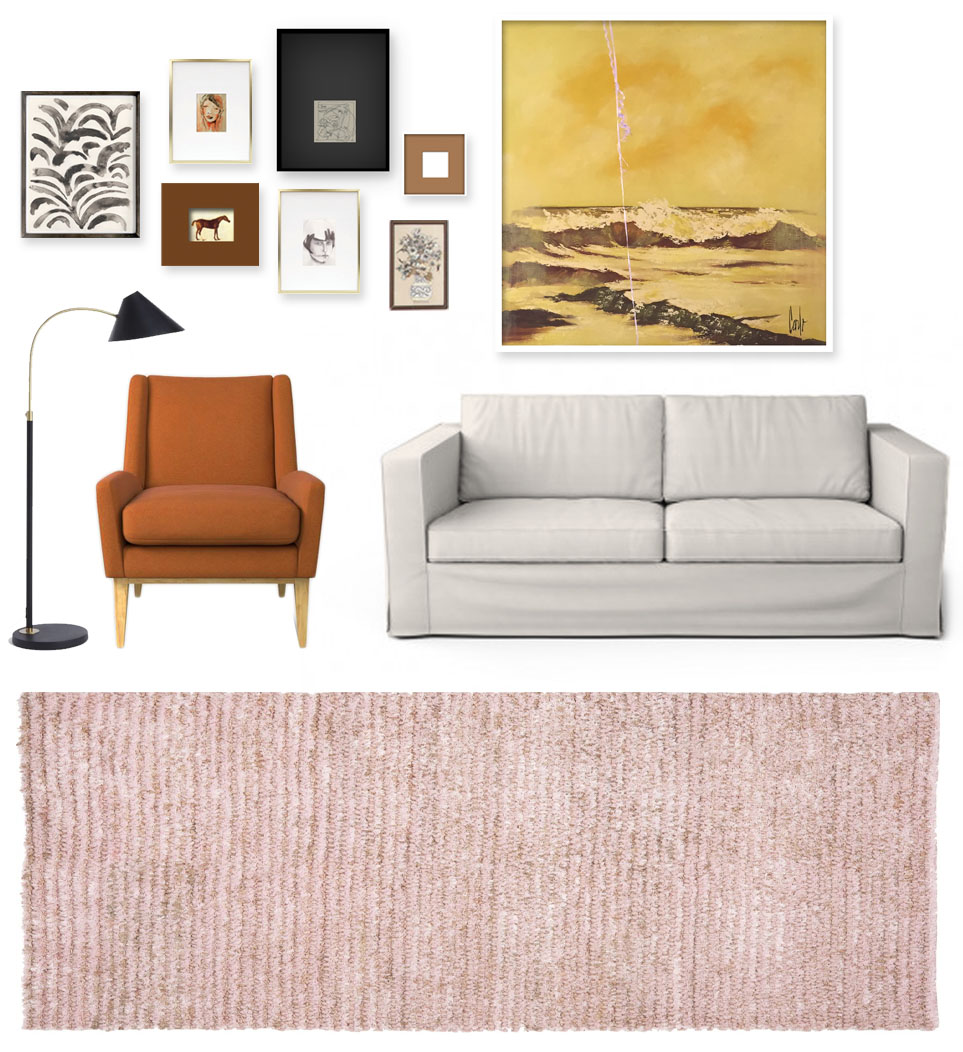 lamp / orange chair / slipcover / rug


As I mentioned, I'm going to be recovering the sofa with a replacement slipcover from Comfort Works, which will probably be the biggest impact of this entire refresh. I'm very set on a light colored slipcover which we will have coated to protect from spills and dirt. It will have piping at the edges and also a skirt for a more tailored feel than what we have now. In addition to the cover, I'm going to remove the throw pillows and replace them with two custom-made bolsters from Comfort Works which will match the slipcover material and add to the tailored look of the newly slipcovered sofa. Having fewer pillows certainly takes away some interest from the sofa but helps calm the room overall with less visual clutter.


Right now we have two large Ikea rugs that are similar in color to our terrazzo floors, so there is no delineation of zones with our rug choice, and also no decorative impact. I liked that it is a simple rug with no pattern, but I would like to have a little color on the floor in the seating area, so I think I'd like to replace the ivory low-pile rug with a light colored, dusty pink, medium-pile shag rug instead. Am I crazy? I'm thinking the dusty pink acts like a neutral, to a degree, but would contrast nicely alongside a light colored slipcover.


The armchair featured in the collage above is actually from West Elm, but it's similar in shape to the one I have now which was a thrift store score from years ago. The fabric is very worn down from my brother's dogs, and in desperate need of reupholstering. I'm thinking I would like to go a bit darker with the material to contrast with the pink rug, but I don't want it to be too dark and stand out too much in such a light space. I'm leaning towards this rusty orange shade featured in the image above, but I can't seem to pull the trigger just yet. Also, I'm considering a fabric with a subtle pattern as well. Something 60s inspired- possibly geometric or floral. Would that be too crazy when I'm trying to go more neutral?


At first I considered doing away with the gallery wall above the sofa and adding shelves to make the cabinet into more of a media center. I haven't given up on the idea yet, but for now I'm just swapping out some art, as well as a couple of frames, and simplifying the colors of the gallery wall to be a bit more calm and neutral. The large yellow art over our sofa is something I found at the thrift store last summer, and certainly am not wedded to it, but I do love its shape, color, and content. However, is it too bright of a yellow for the calm look I'm trying to achieve? It would be nice to have a big pop of color since I am trying to go more neutral with other things, but what about the pink rug? And what about our armchair by the fireplace? Is having a pink rug, yellow art, and an orange armchair too much?

This room has no overhead lighting, so we rely heavily on lamps to keep the space functional in the evenings. We do use the lamp by the television frequently, though I think that the current one is a bit overwhelming for the space. I like the idea of using a simple, vintage-inspired floor lamp that arcs over the cabinet so I can still have options for placing other objects on the tv cabinet, like plants or holiday decorations. I'd also love a bracketed light hanging near my computer at our office station on the opposite wall from the tv, but I don't think I want to expand my current budget for this just yet, as the lamps I like are all above the $100 price range. I might choose to do that down the road.


I have decided to keep the light color of the walls because of how long the room is and how low the ceiling is in comparison. Creating contrast between the ceiling and walls would just emphasize the low wall height, so I'm opting for the light color to keep things bright in a room that actually doesn't get very much natural light thanks to our small windows and heavily wooded lot.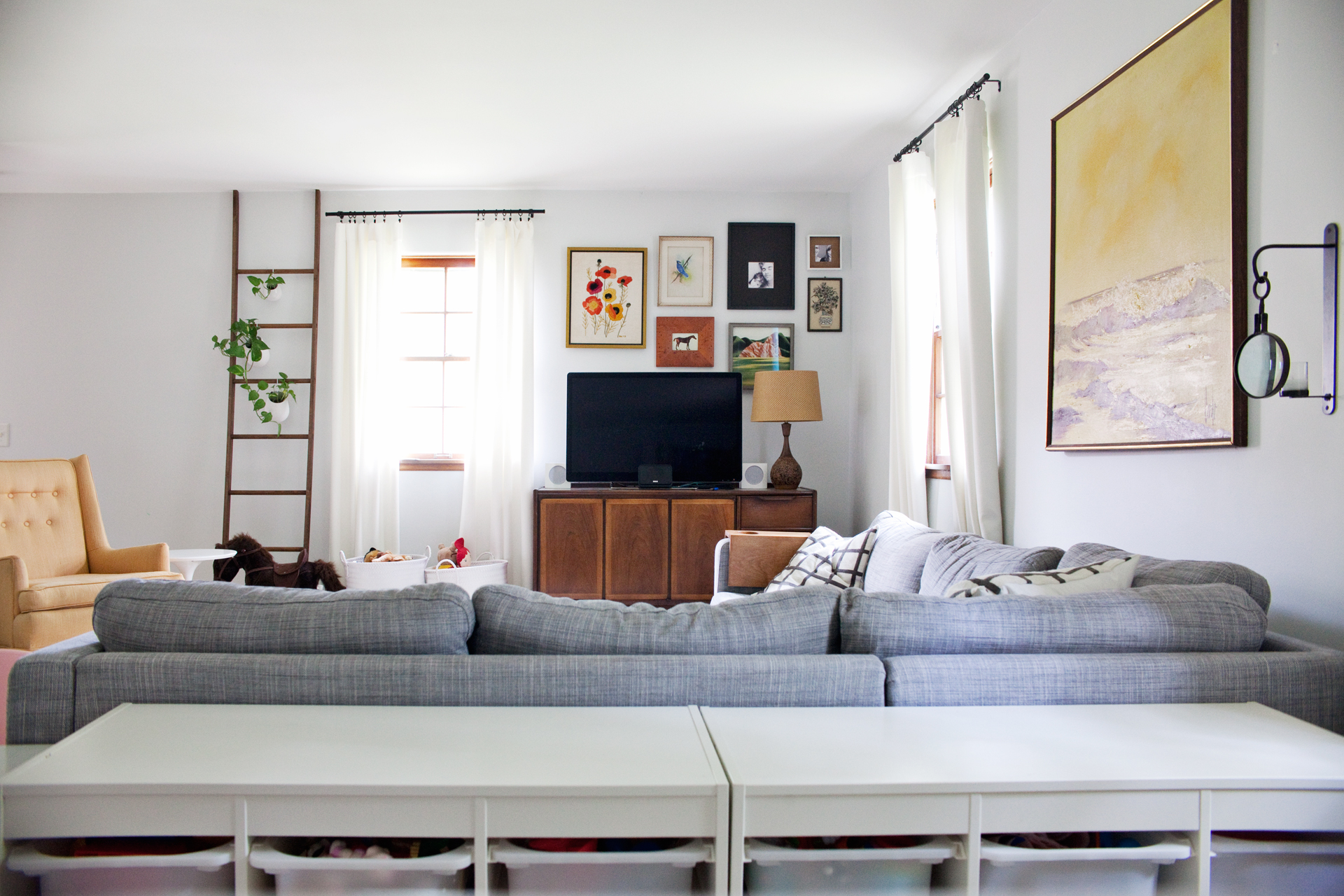 We have a very useful toy storage situation behind our sofa which is actually the first thing you see when you walk into our living room. I don't love how it looks, or love that it's so clearly visible upon entry, but there is no other option for toy storage that would be so perfectly placed and out of the way. All of the toys are organized and the girls know how to clean up on their own, without me needing to do it for them. That's sort of invaluable, if you ask me. I've considered building a nice top, sides, and doors for the toy cabinet, but I think it would be more difficult for the kids to get their toys in and out of here if I did that, and honestly the doors wouldn't be closed except for after bedtime, most likely, and open doors might actually make the room seem more cluttered, rather than the opposite. Ah well, kids. Whatcha gonna do?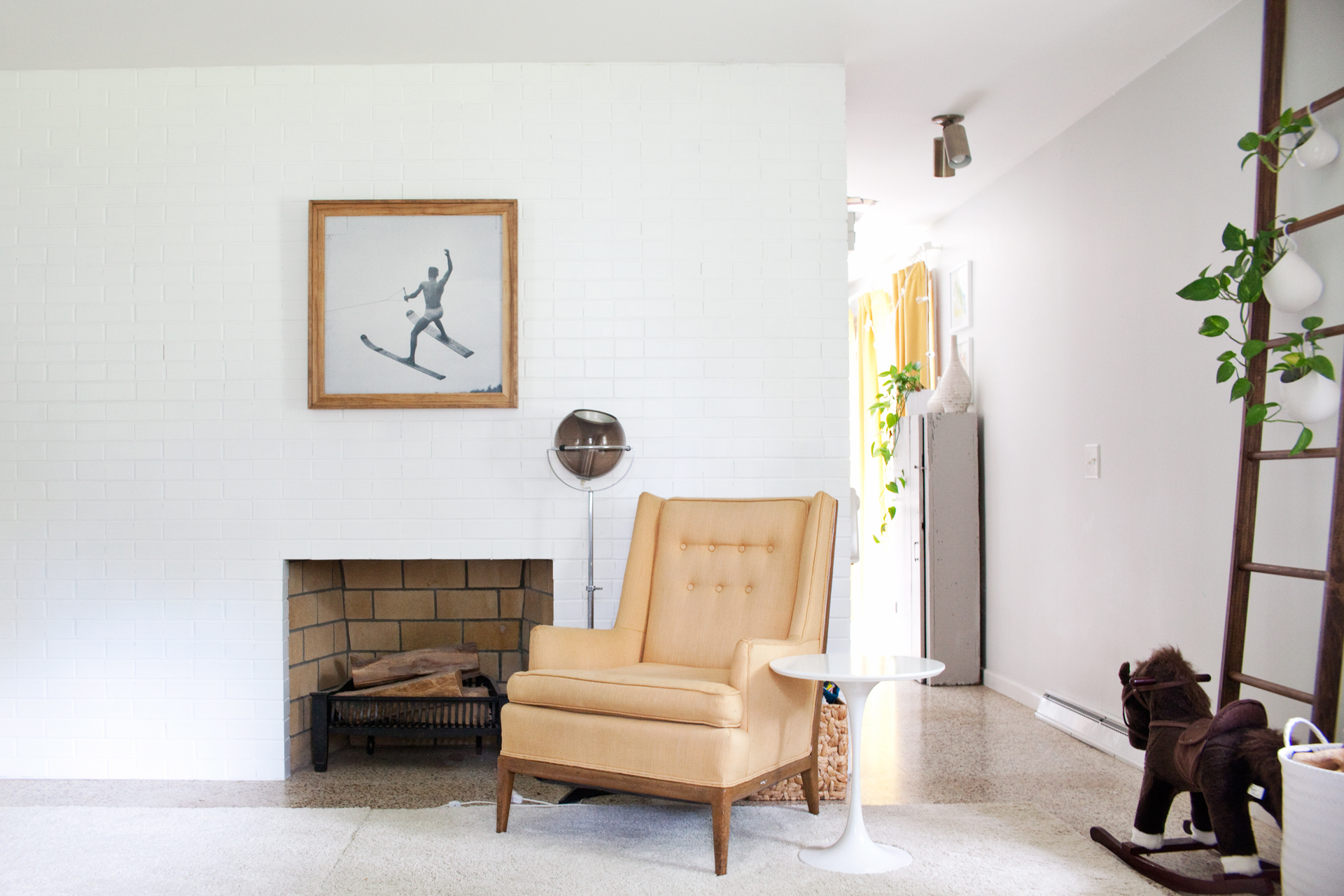 The last thing I feel a bit unsettled about is the fireplace wall. I guess it's pretty stark and simple right now. Off to the left, outside this picture's frame, is the girls' kitchen set, which I will share more after the refresh is complete. Maybe it's nice to have a more bare wall in such a jam-packed room? What do you think? What about the art? I keep overanalyzing it and am wondering if I should put a round mirror here instead.
Too many decisions, too little money, and I suppose lots of time to live in this home, so we really want to make this living room a space we can enjoy together!