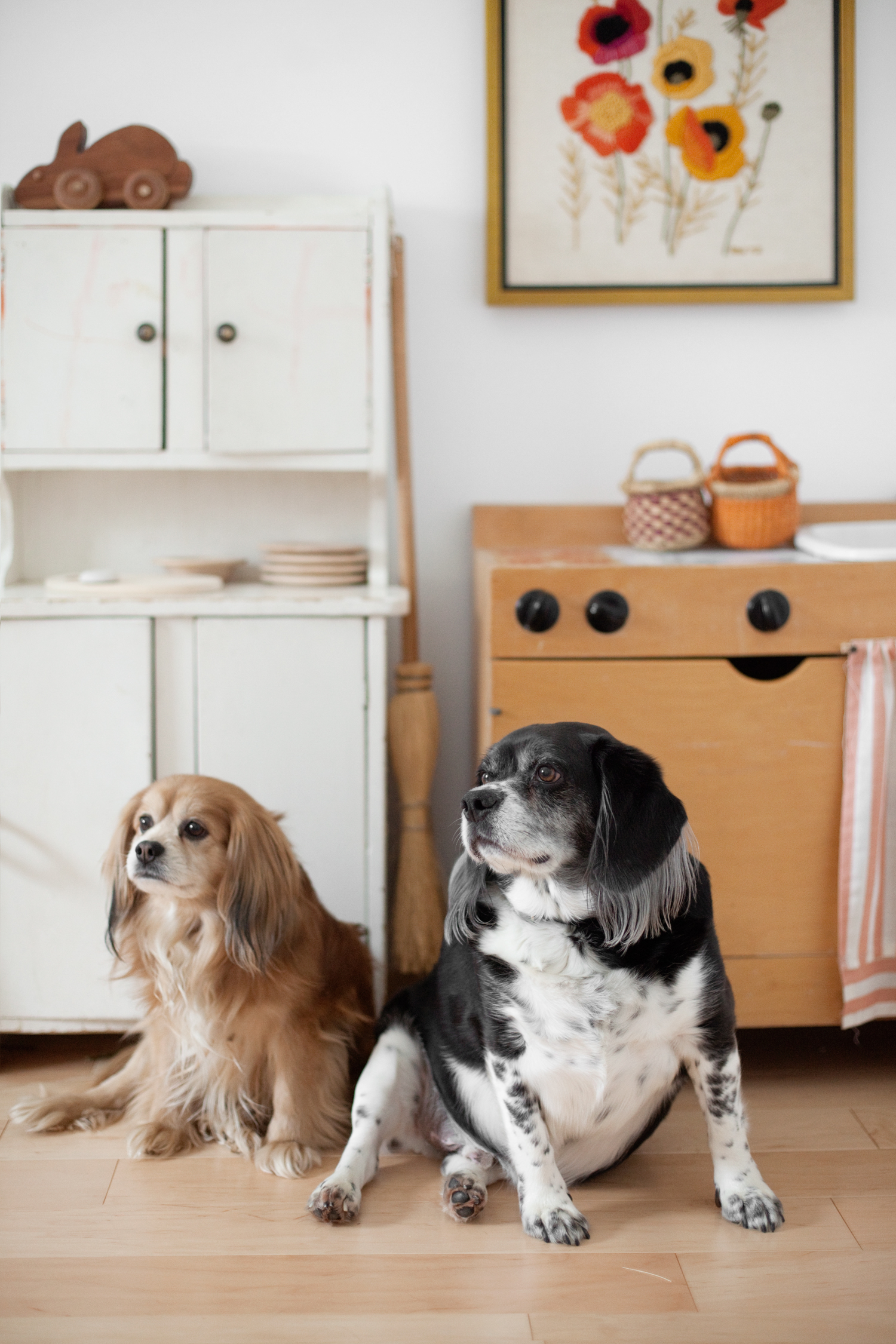 I'm so excited to finally be able to introduce you to our dogs, Alfie and Theo! If you've been following me on Instagram stories, you'll know that we decided last December to get a dog, and began looking into options around Christmastime. Four months later, and here we are, perfectly matched with our forever furry friends. I wanted to share our dog adoption journey with you, and hopefully encourage those of you who are also looking for a dog to bring into your family.
I've had dog fever for the past ten years which had been briefly satiated during the two years I lived with my brother. We dog sat for a couple of months for a friend whose family was dealing with an extreme health emergency, when we were given the opportunity to just keep him. Archie, a Yorksire Terrier, hadn't been our first choice of dog breed, but he quickly worked his way into our hearts as we acclimated to one another, becoming quite attached in no time. I was on cloud nine being Archie's mama, until I moved out two years later and my brother kept the dog. That was eight years ago, and I had begun looking for another small breed my landlord would allow us to have, but the trick was talking Phil into it. At some point along the way we decided to try to get pregnant and put our dog plans on hold, uncertain we'd be able to handle both dog and newborn at the same time.
Here we are, two kids in, discussing whether or not we'll have another child, when I asked Phil if he was finally ready to get a dog. And he said yes! (Cue the rejoicing!) We liked the spunk and sass of the terrier breed, but we didn't think we wanted a Yorkie again, because no Yorkie would be as awesome as Archie had been, but also because we wanted a dog a bit larger than a Yorkie. I was 90% sure I wanted a West Highland Terrier, because I had spent the past ten years longing for one and admiring friends' and neighbors' Westies. But the more we looked, the more we learned of the difficulties in adopting a Westie. I spent hours filling out application forms for a few Westie-specific rescue organizations in Ohio, along with very long and detailed applications for general dog rescue shelters in northeast and central Ohio. I followed organizations on Facebook and browsed Petfinder every day. I even considered flying a rescue dog all the way here from California, but that seemed excessive, and how would we know for sure if the dog would be a good fit for us and our girls?
We did find some Westies and Westie mixes in shelters, but either someone else got to them before we did, or they were not recommended for homes with children under the age of five. So I began to widen my search to other breeds. I looked at all kinds of breeds around the 10-20 pound range, but again, most of the dogs we found in shelters were not recommended for young children, or someone else got to the dogs first. It made me think that maybe we should consider puppies, because they would have no past trauma, and they could be raised around our respectful kids and know no other kind of life. We considered finding an ethical breeder and getting a puppy like a Cockapoo, or going the more affordable route of taking in a couple of my brothers' dogs' puppies (he has a Yorkie and a Morkie and plans to breed them once before spading and neutering them), though the small breed wasn't our first choice. Lucy caught wind of this discussion and was dead set on having Morkie puppies just like Uncle Matt, so we kept that option in our back pocket as I continued the search.
In March a friend told me about a bunch of dogs that had been rescued from a dog hoarding situation in Mineral Ridge, Ohio. There were dozens of smaller dogs, and some pregnant ones too! Thanks to some connections she gave me, I was able to find out where the pregnant mothers were being taken care of, and applied to adopt them. I finally felt like our search would have a happy ending. We were so excited about taking in two rescued puppies, but also a bit terrified of all of the work and destruction that raising puppies entailed.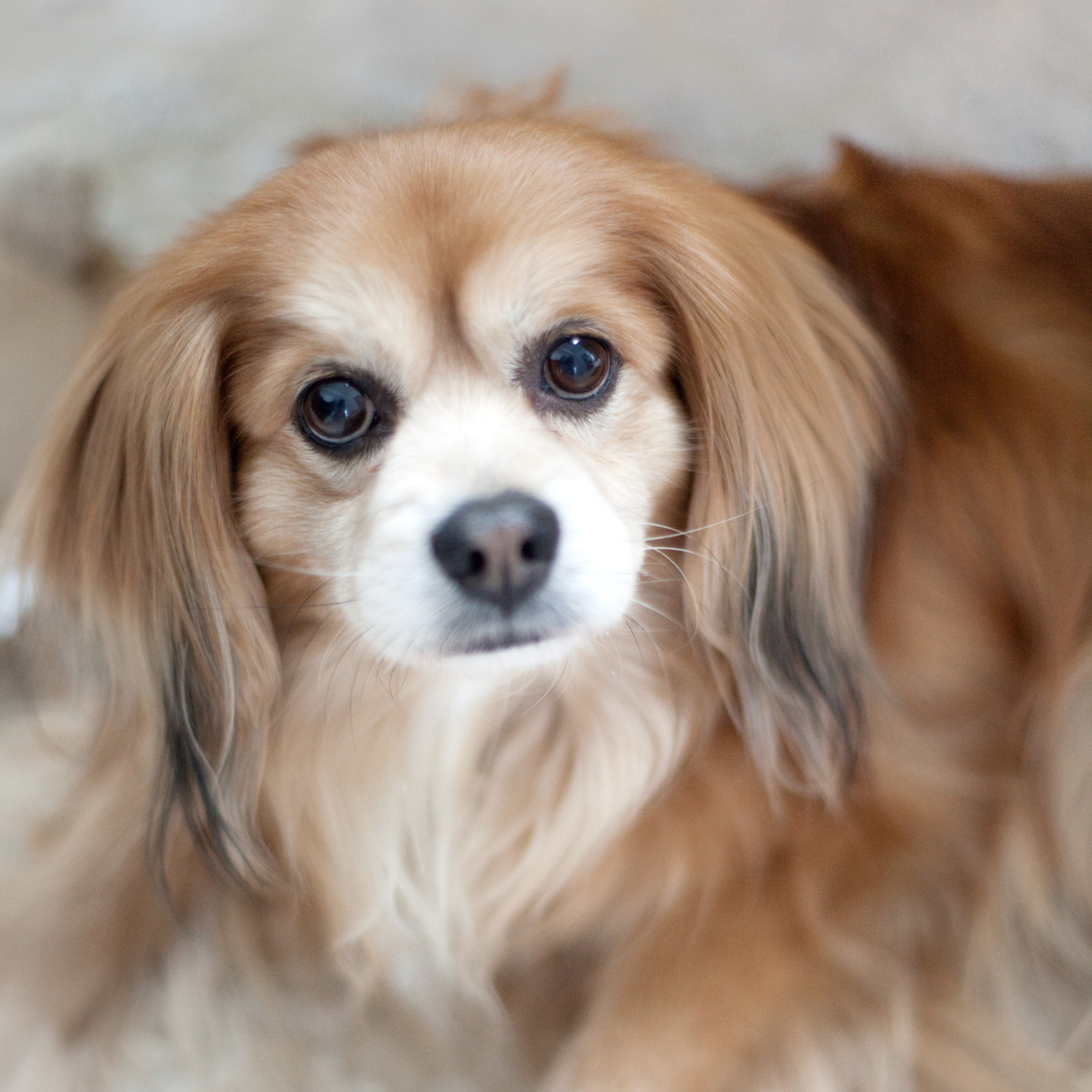 While I was waiting on the puppies, admittedly with cold feet, I began thinking about my childhood dog, JJ, who had been a cocker spaniel. I thought about how she had been such a good dog and how a dog like that would be perfect for our family. On a whim I began searching for spaniel breeds on Petfinder. One page in, I was immediately drawn to a photo of a beautiful, sad looking Cavalier King Charles Spaniel in Lisbon, Ohio— only an hour from me! I immediately clicked on the image of the dog named "Ren." My eyes searched the description, ready to see that he was not fit for small children, but the disclaimer wasn't there! I read on to see that this dog is only three years old, has a sweet, calm demeanor and would be a good fit for homes with children. I was intrigued, and beginning to get excited.
As I continued reading about Ren, I learned that he had been picked up as a stray along with a dog friend he had become quite bonded with— a six-year-old spaniel mix the dog pound named Stimpy. Yep— Ren and Stimpy. (I didn't let the names deter me.) Hmmm… two dogs. When we had talked about getting two dogs before, they were only about 10lb guys. Two medium-size dogs? I didn't know… could I handle that? And Stimpy— he was quite obese. 48lbs on a frame fit for 25lbs. What if he had diabetes? What if they had some kind of trauma from the time they were strays? What if… Ah, what if we just head to the pound and see what they're like in person?
So the next morning, I loaded the kids into the car and did just what. Oh, did I mention Phil was away at a phone-free retreat that entire weekend? That's right— no way to contact him until Sunday afternoon. It was Saturday morning, and the pound was full of visitors. I started feeling anxious, thinking about all of the other dogs that we missed out on. What if that happened again? My brother advised that I not get too swept up in my emotions, and to really consider if getting both of these dogs would be the right move for our family. "There are other dogs out there," he assured me. So I walked into the pound without expectations or fears, with the intent only to see what these dogs were like.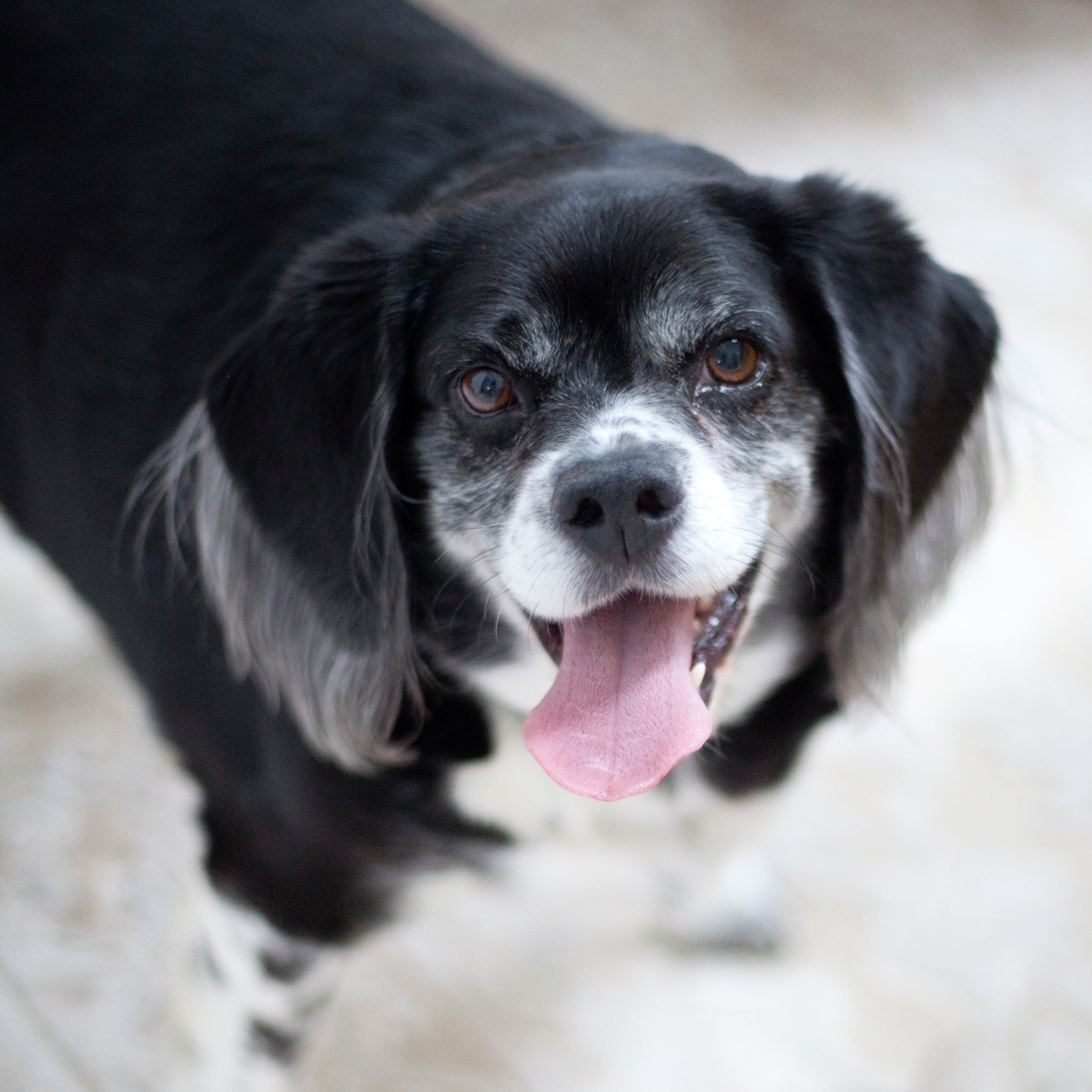 Stimpy (above) ran right up to me, so excited, happy, and bursting with energy. I noted that if we took him home, it probably wouldn't be too difficult to get him down to a healthy weight, because he didn't stop moving the entire hour of our visit! Ren, on the other hand, was very calm and snuggly. He was shy at first, but then cuddled right up to me— so meek and mild. You could tell immediately that the two were quite attached to one another, and it would have been devastating to Ren to separate the two. Stimpy was obviously dominant and led Red, who happily would give up his food and his space to please Stimpy. Their antics were amusing, and I liked them right away. Surprisingly, so did both of my girls! Lucy is dog obsessed and not deterred by very large dogs or dogs who bark. It would've been hard for her to say she didn't like any dog. Juniper, on the other hand, is very timid around dogs and oftentimes cries if they get near her. But she warmed to Ren and Stimpy immediately, and the entire way home the girls campaigned for their cause of taking both of the dogs home.
"We'll have to talk to your dad," I said. "I don't know how he'll feel about taking two dogs home. And I don't know if they'll still be there when we go back! Don't get your hope up." That was a joke, because of course their hopes were up, as were mine! Just thinking about someone else adopting them made me feel panicky again. All someone would have to do is walk into the pound, say they want the dogs, and walk out with them. If they weren't there when we went back, I would be crushed. So what should I do? Should I go back the next morning and offer to foster them? So then if Phil comes home and freaks out, I can say, "They're only foster dogs, we can take them back!" But let's be real, I would be putting him in a bad position, making him crush all of our hearts by saying no. I just couldn't do that to him, and I wouldn't appreciate him doing the same to me if I had been gone on a phone-free retreat. So… what to do, what to do?
I took the girls around town and gathered all of the supplies we'd need to take two dogs home, reminding them the entire time that we might have to take everything back to the store. We picked out kennels, leashes, dog food, treats, toys, beds, tie-outs, and even hair brushes. The plan was to go back to the pound the next day and hope that Phil would answer his phone in the half hour between when he was supposed to get his phone back and before the pound closed. During the hour drive out, I called him every ten minutes with both knots and butterflies in my stomach as I worried that the dogs wouldn't be there, and envisioned what our life would be like if we were able to take them home.
Finally, with ten minutes to spare, he answered his phone, and the words I'd been waiting to say came tumbling out of my mouth. "We're on our way to the pound to potentially get two dogs— they're bonded, they're so sweet, and I know that you'll love them! What do you think?" "Seriously?! The dogs you sent me a picture of?" "Yeah! Those. What do you think?" "You guys met them yesterday and like them?" (So he'd seen my texts.) "Yes! They're so great!" "Welll… okay! Let's do it!" Lucy began shouting with excitement from the back of the van, and I realized I had forgotten to get cash from the bank, which the pound required as payment. After an unbearably long detour to an ATM (we were out in the country), I was at the pound fifteen minutes before it closed, cash in hand, ready to take the dogs home.
We decided to rename the dogs Alfie (who had been Ren) and Theo (who had been Stimpy), and it killed us that we had to ride for an hour with them in the car, facing the opposite direction, unable to pet and play with them. When we got home, we took them on a short walk, and then they ran about the house, excitedly exploring their new territory. We got the dogs bathed, brushed, fed, and the boys didn't leave my side the entire day. I walked two feet away, they walked two feet away. We tried crating them that first night, but they were devastated every time they had to leave my side. So we settled on having them sleep in their beds beside my side of the bed, and they sat there staring at me for quite a bit until deciding it was safe to go to sleep. Honestly, it freaked me out a bit, as I really didn't know them yet, and my face was right at their level. But after my nerves settled, I realized that I was their hero, and they already loved me to the ends of the world.
It feels pretty good to be these dogs' hero. We'll see how their personalities develop as time goes on, but so far it's been a week and a half and they're such obedient, happy dogs who still think I'm the greatest thing to walk the earth. We're pleased as punch and so grateful for our happy ending!